Sacramento Kings vs. Golden State Warriors: Game Grades for Golden State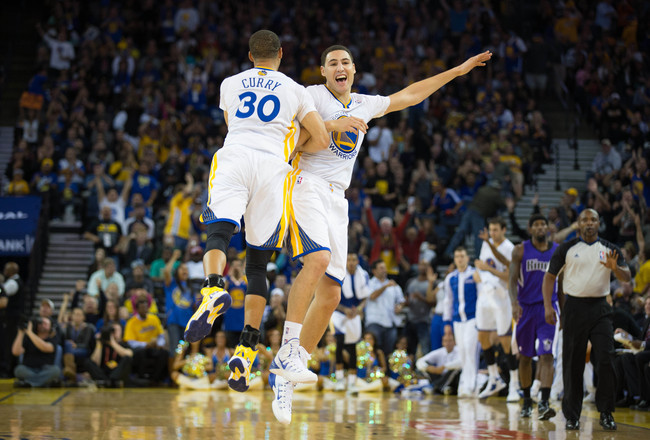 Kelley L Cox-USA TODAY Sports
Mike Malone returned to his old stomping grounds on Saturday night as the head coach of the Sacramento Kings, but it was the Golden State Warriors who emerged victorious, 98-87, thanks to superlative performances from Klay Thompson and Stephen Curry.
Thompson had his way with Kings defenders all night long and poured in a game-high 27 points on 10-of-17 shooting, including three three-pointers.
Curry, meanwhile, coasted to a double-double with 22 points and 12 assists while shooting an efficient 61.5 percent from the field.
On the night, the Warriors converted on 51.3 percent of their field goals, while their stingy defense, led by Andre Iguodala, limited the Kings to a putrid 34.5 percent shooting from the floor.
A night after the Kings engaged in an intense battle with the Los Angeles Clippers, they simply lacked the energy and drive that the Warriors had in spades.
Next up for the Dubs is a meeting with the 3-0 Philadelphia 76ers on Monday night in the City of Brotherly Love.
Point Guard: Stephen Curry
Rocky Widner/Getty Images
Stephen Curry came out firing on all cylinders, making substantial progress toward a double-double with eight points and five assists in the first quarter.
With the flatfooted Greivis Vasquez tasked with guarding the sniper early, Curry took advantage, using his quickness to create separation on the perimeter and hoist shots or drive the lane, where he found cutting teammates open at the rim.
And while Curry didn't match his explosive 38-point output from Thursday night against the Clippers, the Warriors point guard was rock-solid with 22 points on 8-of-13 shooting (5-of-8 from three), 12 assists, one rebound and one steal in a cakewalk over the Dubs' Pacific Division opponents.
He did, however, lead the Warriors with seven turnovers.
Curry will feast on porous defenses in efficient fashion all season long, and Saturday night was a reminder that he's just as capable of setting up teammates as he is at knocking down threes.
Grade: A
Shooting Guard: Klay Thompson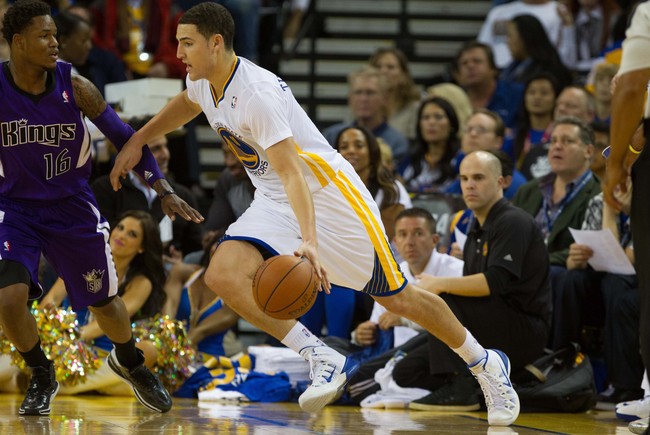 Kelley L Cox-USA TODAY Sports
Klay Thompson's offensive dexterity was on full display against the Kings, as he worked defenders both inside and out to the tune of a game-high 27 points on 10-of-17 shooting.
The high man for the Warriors in the first half, Thompson poured in 17 points over the game's first 24 minutes, knocking down six of nine shots in that time frame.
Thompson and Curry combined to score 31 of the Warriors' 56 first-half points, with Marcus Thornton and the rest of the Kings backcourt no match for the lethal strokes of the Splash Brothers.
And just when it looked like the Kings were going to cut into the Warriors' lead in the third quarter, Thompson rained down threes on two consecutive possessions, stretching the Dubs' lead back to 18.
It's also worth noting that Thompson grabbed seven boards, the second-highest total of any Warrior in the win.
Grade: A+
Small Forward: Andre Iguodala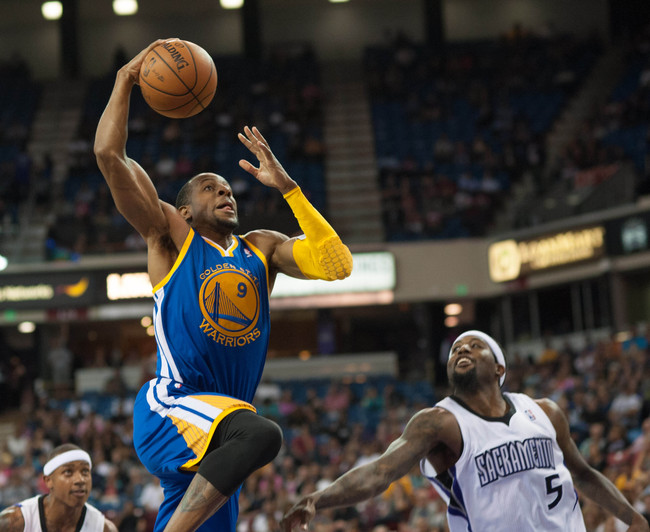 Ed Szczepanski-USA TODAY Sports
As has become the norm, Andre Iguodala's contributions were not easily quantifiable by simple box-score statistics.
Iguodala's impact in the scoring column was limited, as he dropped in five points on 2-of-5 shooting, but he provided his typical swarming defense on the Kings' rotation of perimeter players.
Iguodala stifled John Salmons, in particular, limiting Sacramento's starting small forward to three points on 1-of-6 shooting.
The Warriors' new swingman also played the role of offensive catalyst, dishing out five assists with quick ball rotations and strong dribble-drives as the Dubs continued to use him in a point-forward role in the half court.
Iguodala's versatility was on full display Saturday night, and it's clear that Mark Jackson has been afforded a major luxury now that he has a player of Iguodala's stature capable of running the offense while Stephen Curry and Klay Thompson move off the ball to get free for catch-and-shoot opportunities.
Grade: B
Power Forward: David Lee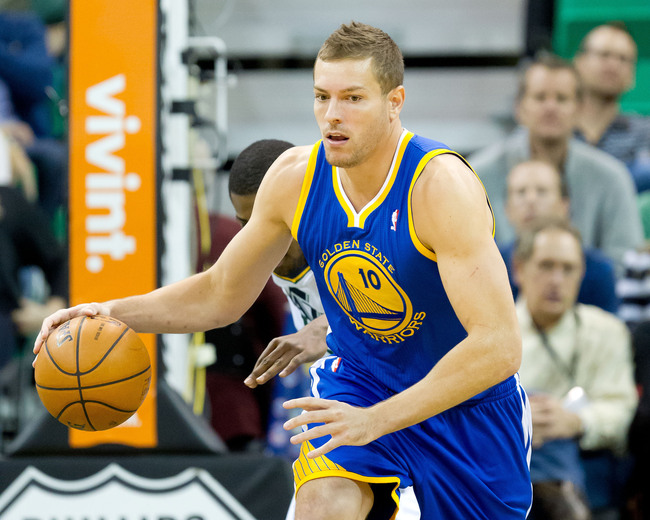 Russ Isabella-USA TODAY Sports
With Klay Thompson and Stephen Curry at the offensive controls for most of the night, David Lee found himself the Warriors' tertiary option against the Sacramento Kings.
However, that didn't mean that Lee was phased out of the offense.
With plenty of touches to go around, Lee dropped in nine points on a tidy 4-of-7 shooting in the first half, grabbed six boards and posted a plus/minus rating of plus-20, tying Andre Iguodala for the team's highest mark over the first two quarters.
Lee's final line of 15 points, 12 rebounds, three assists and one steal was more than enough to complement the Warriors' dynamic backcourt, and the Dubs have to be pleased with the forward's efficient 54.5 percent shooting from the field.
His plus/minus rating of plus-22 led all players.
Grade: B+
Center: Andrew Bogut
Kelley L Cox-USA TODAY Sports
Mark Jackson drew up two early post-ups for Andrew Bogut, who opened the scoring with back-to-back buckets over Kings center DeMarcus Cousins.
And although Bogut's offensive highs came in the game's first few minutes, his defense on Cousins was a cause for celebration.
Cousins managed a meager eight points on 3-of-8 shooting, and his struggles were due largely in part to Bogut's stout defense down on the blocks.
Not that it was out of the ordinary, but Bogut played with a clear edge on Saturday, as he and Cousins traded jabs throughout the evening.
Ultimately, it was Bogut who won out, as he frustrated Cousins continually, forcing the big man into several unnecessary fouls that limited him to just 12 first-half minutes and 18 overall.
The Aussie finished with six points, six boards and four blocks in 20 minutes.
Grade: A-
Sixth Man: Draymond Green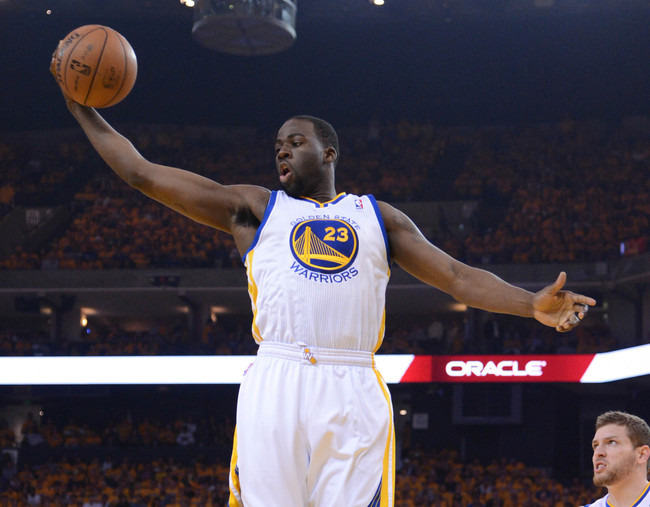 Kyle Terada-USA TODAY Sports
Harrison Barnes sat out his third consecutive game on Saturday, which meant it was Draymond Green's turn to fill in as the Warriors sixth man.
Green saw 24 minutes off the bench in the win and flashed the range that made him a staple of Mark Jackson's rotation last season as he knocked down a three from the top of the arc at the end of the first quarter.
The former Michigan State Spartan was also active defensively, racking up three steals, one of which led to a Klay Thompson three-pointer that put the Warriors up 21 points with two minutes to play in the first half.
Once Barnes returns, Green will deserve his fair share of minutes as a member of a Dubs bench mob that could very well be among the league's best.
He finished with six points, three rebounds and a plus/minus rating of plus-seven.
Grade: B-
Bench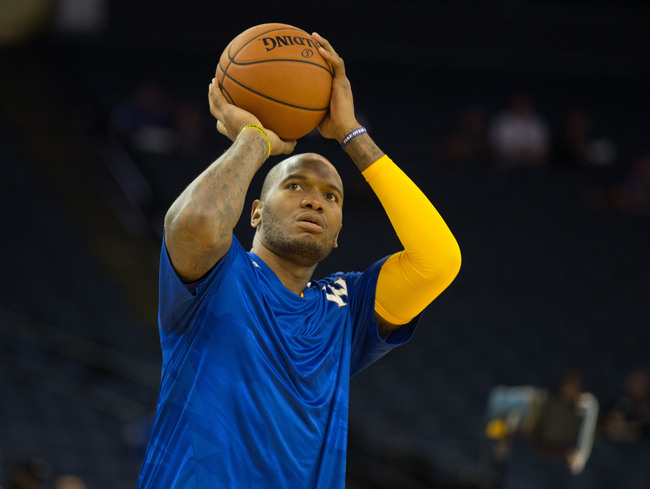 Kelley L Cox-USA TODAY Sports
Mark Jackson's starters carried the load over the first three quarters, with Marreese Speights, Toney Douglas and Kent Bazemore combining to play just 22 minutes over the game's first 36 minutes.
Entering the fourth quarter with a 20-point lead, Jackson opted to stick with that trio and mix in his starters for a majority of the period, although the reserves (outside of Draymond Green) failed to make any sort of significant impact.
Speights flashed a nice stroke with a few mid-range jumpers for a total of six points, while Douglas and Bazemore dropped in five and six points, respectively.
Grade: C
Keep Reading

Golden State Warriors: Like this team?