Should Nazem Kadri Be Maple Leafs' No. 1 Center When Tyler Bozak Is Healthy?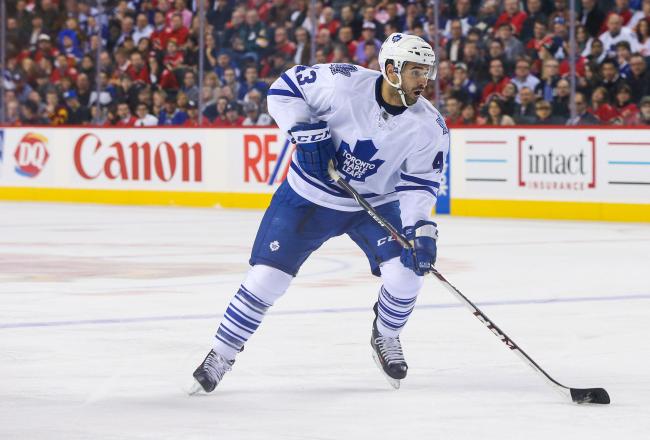 Sergei Belski-USA TODAY Sports
Nazem Kadri has been playing as the No. 1 center while Tyler Bozak is out with injury. The former No. 7 overall pick in the 2009 NHL draft has been productive in this role and has displayed some very good chemistry with winger Phil Kessel.
Head coach Randy Carlyle has been reluctant to have Kadri be his No. 1 center, and on some nights, he's even served as the No. 3 center. When the Leafs have needed to play a defensive style, late in games, Kadri has been replaced by former Blackhawk David Bolland.
With Bolland also out with a long-term leg injury following Saturday's game against Vancouver, Kadri's responsibilities are going to be that much greater for a number of weeks.
#Leafs coach Randy Carlyle says Dave Bolland's injury is similar to Erik Karlsson's. He will have surgery tonight: http://t.co/6unMTweGef

— Sportsnet (@Sportsnet) November 3, 2013
With an emphasis on the last two seasons, let's consider some key categories to see how the two centers match up.
While Kadri is continuing to learn the defensive game, he is plus-17 over the past two NHL regular seasons. It has been only 62 games, with last year's shortened season included, but that is a very good number.
Over that same period of time, Bozak has been plus-4. Granted, much of that time Bozak has faced a higher quality of competition, but Kadri has a decided advantage.
If we consider their relative Corsi numbers, Kadri was 11.3 in 2012-13 and in 2013-14 he is 0.6. His head-to-head competitors are .824. Conversely, Bozak's 2012-13 relative Corsi number was 4.0 and this year it is -3.8. His competition has been slightly stronger though as their combined relative Corsi number is .964.
While the relative Corsi number is not perfect for individualizing performance, essentially, when Kadri is on the ice, the Leafs create more offense than when Bozak is on the ice.
If we look at some head-to-head offensive statistics, the two are close in power-play goals, but not in the other major categories over the past two seasons:
Scoring Comparison of Bozak versus Kadri in Past 2 Seasons

| | | | | |
| --- | --- | --- | --- | --- |
| Player | Goals | Power Play Goals | Assists | Points Per Game |
| Bozak | 15 | 6 | 19 | .72 |
| Kadri | 23 | 7 | 34 | .92 |
| | | | | |
nhl.com
Centermen also need to be effective at the faceoff dot. Bozak was 52.6 percent last year, and in 2013-14 he is at 46.2 percent. Kadri has not been as good here. Kadri was 44.2 percent in 2012-13 and he is at 43.7 percent this year.
While the Corsi numbers and the plus/minus favor Kadri, what about some other defensive stats? If we look at 2012-13, Kadri had 62 hits and 22 blocked shots. Tyler Bozak had 65 hits and 23 blocked shots.
In 2013-14, Kadri has 20 hits and seven blocked shots. Meanwhile, Bozak has 22 hits and nine blocked shots. Kadri has now played a few more games than Bozak.
In terms of minutes played in 2013-14, Kadri has averaged 16:52 minutes per game. Bozak has averaged 21:17 minutes and is clearly counted upon to a much greater extent by head coach Randy Carlyle.
One final category that is worth considering is individual giveaways. So far in 2013-14 Kadri has committed 13 giveaways, while Bozak has committed 4 giveaways.
Other than his faceoff percentage and his giveaways, statistically, Kadri seems on the cusp of being ready to be the Leafs' No. 1 center, even when Tyler Bozak is healthy.
Unquestionably, he has to continue to work at his all-around game as he does struggle with many defensive battles down low. He'll never be a physical presence, but he can get stronger. Additionally, he isn't always on the goal side of his defender in the defensive zone; an issue that must be addressed.
The best scenario might be for Kadri to increase his minutes played per game and play even more with Phil Kessel as they continue to build their chemistry. When the club needs some defensive bolstering, either Bozak or Bolland, when healthy, could step in.
It seems clear that if he continues to mature as rapidly as shown in the past two seasons, Kadri should be the Leafs No. 1 center by the end of the 2013-14 season.
Should Nazem Kadri be the Leafs' No. 1 centre when Tyler Bozak is healthy?
All basic offensive and defensive stats can be found on espn.go.com.
All advanced stats are from behindthenet.ca.
This article is
What is the duplicate article?
Why is this article offensive?
Where is this article plagiarized from?
Why is this article poorly edited?

Toronto Maple Leafs: Like this team?