The San Diego Chargers and Washington Redskins will be going head-to-head on Sunday, and the Chargers will win in what is bound to be a big time shootout.
Entering this game, the Chargers are 4-3, coming off of a bye week. Before the bye week, they had won two straight games, beating the Indianapolis Colts and Jacksonville Jaguars.
For the Redskins, they're only 2-5 this year and are coming off of a tough loss against the Denver Broncos. They were able to go up 21-7 thanks to a DeAngelo Hall pick-six, but the Broncos scored 38 unanswered points to beat Washington down.
Both teams have offenses that can put points on the board. At the same time, both teams have struggling defenses that will give up plenty of points.
Philip Rivers is leading a high-powered offense by holding onto the ball and limiting turnovers. He's completing 73.9 percent of his passes, throwing for 2,132 yards, 15 touchdowns with just five interceptions and zero fumbles.
The emerging weapon for the Chargers this year has been rookie wide receiver Keenan Allen. He hadn't done much to start the season, but over the past four games, he's caught 23 passes for 369 yards and two touchdowns.
Eddie Royal and Danny Woodhead continue to find the end zone as well. The two have combined for 599 yards and nine touchdowns through the air, while Woodhead has racked up another 172 yards and a score on the ground.
As a team, the Chargers are putting up 402.9 total yards per game, the fourth-most in the league, while also scoring 24 points per contest. Meanwhile the Redskins have one of the worst defenses in the NFL, giving up an average of 397.1 yards and 32.7 points every game.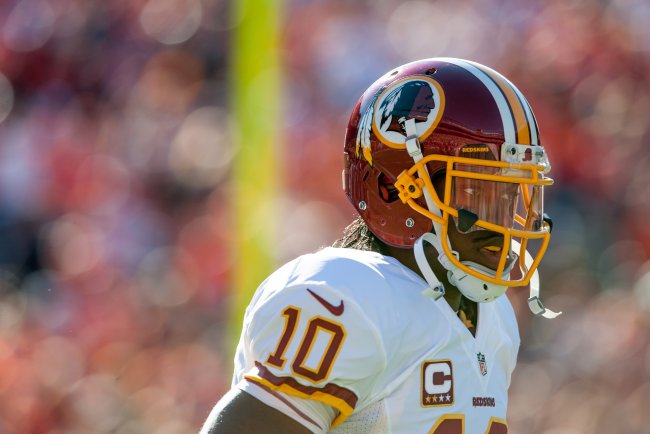 Dustin Bradford/Getty Images
While Robert Griffin III hasn't had the season he's hoped for so far, he's at least starting to feel more comfortable on his knee. He's completing only 59 percent of his passes, throwing nine touchdowns and eight interceptions while fumbling nine times. He is starting to run a bit more, however, as he's recorded 240 rushing yards and 43 carries.
We've talked a lot less about Alfred Morris this season, but he's still been terrific when the Redskins have ran the ball. He's racked up 565 yards and four touchdowns this year while averaging 5.2 yards per carry.
Jordan Reed has become a legitimate weapon at the tight end position. The rookie out of Florida already has 34 receptions, 388 yards and two TDs this season, making some big plays over the past few games.
As a whole, the Redskins can still put points on the board. We saw them score 45 points against the Chicago Bears, and they're putting up 24.7 points per game. The Chargers were seriously struggling defensively to start the season, but they're starting to pull it together, allowing just 15 points in their last two games.
Both teams are improving on both sides of the ball, but the Redskins have yet to find a way to keep opposing teams from scoring. This is bound to be a high-scoring affair, but with how well Rivers and the rest of the offense has played in 2013, the Chargers should be able to pull out the win.