It's never pretty, it isn't always easy but goodness can it be effective.
In the age of offense, points, spread attacks and scoreboard explosions, Michigan State is a lonely but lovely sort of ancient relic, winning with defense, takeaways and brute force that most teams simply cannot match. Against Michigan on Saturday, it showed just how effective this bruising brand of football could be in a 29-6 win.
Sparty did more than beat its rival—likely sending quarterback Devin Gardner to the cold tub for at least a few days. It asserted itself as a threat in the conference and a potential BCS team depending on how the regular season closes out.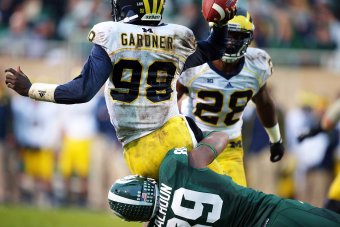 Mike Carter-USA TODAY Sports
For the third game in a row, Michigan State did not allow a touchdown. Although the Wolverines found success through the air early on, they could not sustain it. More specifically, the offensive line had zero answers for the Spartans' front seven, which made another strong case as the nation's best.
Michigan quarterback Devin Gardner was under duress the entire afternoon, and in total Michigan State sacked him seven times. The Wolverines' running attack was nonexistent, and the abundance of negative plays left Michigan with minus-48 rushing yards on the day.
That's not a typo: minus-48 yards.
Michigan finishes w/minus 48 yards rushing, fewest in school history. Not close to NCAA record: minus 109 by NIU vs. Toledo in 1967

— Brett

McMurphy

(@McMurphyESPN) November 2, 2013
In total, Michigan State limited the Michigan offense to just 168 yards and only two third-down conversions out of 14 attempts. The defense was as good as advertised—perhaps even better—and it has now allowed 20 points or less in eight out of nine games.
Head coach Mark Dantonio said it best when asked about his defense. Given what it showed on Saturday, it's hard to argue with this simple (but effective) strategy. All he had to do was open the door.
Sean Merriman from the Big Ten Network had this quote from Spartans coach Mark Dantonio following the game:
"When game time comes you got to let the Lion out of the cage, and that's what we did today,"- MSU coach Mark Dantonio

— Sean Merriman (@BTNSean) November 2, 2013
The offense wasn't dynamic—it rarely is, and it rarely has to be. But it did have its moments. Quarterback Connor Cook seemed more comfortable as the game progressed, and his 252 passing yards were more than enough in Week 10.
He does go through ugly stretches, but there is some momentum in the offense that has been absent for some time.
It's a work in progress, as seen by the team's unimpressive 14-0 victory over Purdue just a few weeks ago, but it does appear to be improving. And if it continues on this upward trend, Michigan State is poised to be a tough out for every opponent—including a potential matchup with Ohio State—going forward.
Will Michigan State make a BCS Bowl?
Dantonio's team will enjoy its bye week and then close the season with games at Nebraska, at Northwestern and home against Minnesota. These are critical matchups for the Spartans, who currently have a one-game lead in the loss column in the Legends Division over Nebraska.
With only loss, however, Michigan State has set itself up nicely for a potential spot in a BCS bowl game. At 8-1, and with tough (but manageable) games on deck, the Spartans could have a chance at the Rose Bowl or as an at-large bid. Wisconsin is certainly competition for this potential second BCS bid to come from the conference, and the Badgers are also on the path to improvement.
Michigan State, however, could have an extra game to prove its worth. It also has one less loss.
Ohio State, of course, is the overwhelming favorite to win the Big Ten, but a potential Big Ten Championship matchup against Sparty is brewing.
Although the Buckeyes have become a football-dismantling machine, a matchup against one of the nation's best defenses would be intriguing. Perhaps the Ohio State offense would be too much, although at the very least the once cakewalk finish for OSU suddenly has a significant obstacle looming before the finish line.
Michigan State can worry about the Buckeyes if it gets to that position, and vice versa. For now, however, the Spartans can put the lion back into its cage, at least for a short while.