Notre Dame needed a fourth-down stop in the final minutes of the game to ensure a victory, but it secured the win over a scrappy Navy ballclub, 38-34, in South Bend. In the process, the Fighting Irish showed they now have two options at the running back spot.
With a defense that just could not stay out of trouble with injuries and execution, Notre Dame's offense had to do the heavy lifting. The passing offense has taken center stage in recent weeks, but against Navy, the ground attack got going against the overmatched Midshipmen.
Scott Strasemeier, Navy's senior associate athletic director for sports information, noted as much during the game:
ND's huge offensive line is just laying on Navy's depleted defensive line #NavyFootball

— Scott Strasemeier (@ScottStras) November 2, 2013
As the offensive line leaned on the Mids, the freshman who showed flashes a week ago against Air Force blossomed into a major contributor. Tarean Folston, who totaled 47 yards on 11 carries in Colorado Springs, got the lion's share of the carries against Navy, and the true freshman from Florida delivered. He put up a game-high 140 yards on 18 carries, proving that he deserves to be a key player in this offense.
ESPN's Matt Fortuna is among those who wants to see more of Folston following two weeks of solid performances:
I think I speak for everyone who's seen Tarean Folston play the last two weeks when I say "we want more we want more" #NotreDame

— Matt Fortuna (@Matt_Fortuna) November 2, 2013
Now, with the previously little-used Folston coming into his own and Cam McDaniel remaining the steady player he has been most of the season, the Fighting Irish have running backs to ride into the final stretch.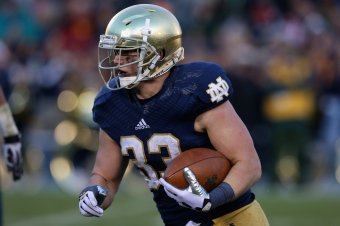 Jonathan Daniel/Getty Images
Brian Kelly's team has three games left to push for BCS bowl eligibility, including contests against the stout defenses of BYU and Stanford. The emergence of a true run game—a facet that must continue to be nurtured against Pittsburgh—is a must for Notre Dame to stay balanced against high-caliber defensive units.
Folston has shown that he can run between the tackles and still get loose on the edge to pick up the extra yards. McDaniel has displayed increasing confidence in his own speed and still brings the physical approach to the game that Notre Dame needs, especially in short-yardage scenarios.
Fortuna pointed that out on Saturday:
George Atkinson runs it 41 yards for a #NotreDame TD. Set up, remember, by Cam McDaniel's 4th-and-1 conversion a play earlier. 7-0 Irish

— Matt Fortuna (@Matt_Fortuna) November 2, 2013
George Atkinson III, the explosive running back whom Notre Dame expected to be the lead back this season, will still be an important player—just not in the feature role. The speedster is better suited as a change-of-pace, pass-catching back than the heavy-carries-between-the-tackles back that Notre Dame needs.
Finally, after three-quarters of a season, Kelly has the tandem backfield he was looking for this year. This will prove crucial with the defensive front facing injuries all over, as relayed by Brian Hamilton of the Chicago Tribune:
#NotreDame HC Brian Kelly on injured guys: "All require some attention. I'll have to get further information. It was a triage in there."

— Brian Hamilton (@ChiTribHamilton) November 2, 2013
With plenty of question marks surrounding who suits up for the defense, it will be up to the offense to pick up the slack—something this Irish defensive unit did quite well a season ago.
Picking up the slack means keeping the opposition's offense off the field, and the best way to do that is with long, clock-eating drives. That means running the football, and with Folston and McDaniel working behind a more confident offensive line, the task has become a lot more manageable.