LeBron James Receives More Backhanded Compliments and Digs from Peers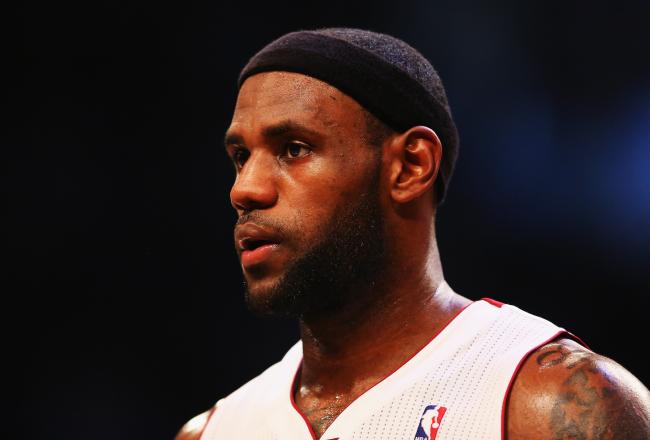 Al Bello/Getty Images
LeBron James might have the basketball world in his palm, but not everyone's willing to kiss the King's two championship rings just yet.
Charlotte Bobcats owner and six-time NBA champion Michael Jordan—how's that for a varied resume?—is slowly coming around to recognizing James' place in the current NBA landscape. Well, as long as he can put an asterisk on James' title as the greatest player in the game today.
Hesitant to even address that topic in an interview with the Associated Press, Jordan begrudgingly offered his answer. Kind of:
It's hard to pick. It's hard to say the best player. You would have to say LeBron because of what he's capable of doing. Kobe is coming off an injury and you don't know where he is going to be at his age. I would have to say LeBron.
So James is the best player, but only because of the uncertainty surrounding Kobe Bryant's return from the torn Achilles that's kept him sidelined since April.
James and Bryant have become two of Jordan's favorite topics of discussion, because apparently even the Bobcats owner doesn't like talking Bobcats basketball.
Back in February, Jordan got the basketball world buzzing by saying he'd take Bryant over James because "five beats one every time," referring to Bryant's five championship rings and—at the time—James' one, via ESPN.com. In an October promo interview for NBA 2K14, he said Bryant, not James, would have the best chance of beating him one-on-one because Bryant "steals all of my moves," via Yahoo! Sports.
Jordan's hedging his bets here, and for good reason.
As much as we'd like a definitive answer on which of the two is greater, they're completely different players at different stages of their careers. When they have walked away from the game, then both resumes can be compared. Assuming, of course, that helps us form any sort of conclusion.
Someone who's not hedging his bets, though, is Brooklyn Nets defensive specialist Andrei Kirilenko. He was more up front in an interview with Tim Bontemps of the New York Post when asked whether James is the toughest one-on-one cover in the league today:
He's definitely one of those guys who is tough to guard. I wouldn't say he's the toughest to guard 1-on-1, but he's definitely in that category.

For me, personally? I would say Kevin Durant and Kobe [Bryant], because they're very motivated to play with the ball. LeBron is way unselfish, and he will pass it as soon as the guy is open.

Kevin and Kobe, unless the guy is wide open, like wide open and ready to shoot, they will keep going at you. They'll keep going at you. That's why it makes it harder to play against those guys.
I hear what Kirilenko's saying. Bryant and Durant are seen more as scorers than James, although the four-time MVP does have a higher career scoring average (27.5) than both Bryant (25.5) and Durant (26.2).
Who do you think is the toughest cover in the NBA?
Put the layers upon layers of James' overall game together, though, and I don't see how anyone in the league would be a more difficult matchup. With both a three-ball and a powerful post game now added to his arsenal, he requires the constant watch of an entire defense.
Then again, like NBC Sports' Kurt Helin wrote, "It's a matter of perspective and...who are we to tell him who he thinks is more difficult?"
If nothing else, this keeps us talking heads, well, talking. The beauty of sports debates is that the best ones have no correct answer, no matter how hard we try to search for one.
So, let's do what we do best as hoops heads and keep on searching. Now's as good a time as any to strike up the Kobe vs. LeBron debate in the comments section below.
This article is
What is the duplicate article?
Why is this article offensive?
Where is this article plagiarized from?
Why is this article poorly edited?