The Georgia Bulldogs now have bragging rights over the rival Florida Gators after a physical 23-20 win over their rival at Everbank Field in Jacksonville, Fla.
It wasn't easy, though.
The Bulldogs had to hang on for dear life to a 20-point halftime lead over their feisty counterparts to keep their hopes of winning the SEC East alive.
The first half went about as poorly as possible for the Gators. Georgia received the opening kickoff and proceeded to drive the ball 75 yards on seven plays, capped off by a five-yard touchdown jaunt from Todd Gurley to go up 7-0 early on.
Gurley, who returned to the field after missing three games with an ankle injury, continued to torment the Gators. The sophomore running back showed off his explosive playmaking ability with a 73-yard touchdown reception on the following Georgia drive to produce a 14-0 lead over the Gators.
The challenge of acclimating himself to the demands of playing in an actual game for the first time in over a month would eventually slow Gurley, but the offense kept clicking. Field goals of 49, 27 and 32 yards from Marshall Morgan would give the Bulldogs 23 points in the half.
UGA's Todd Gurley struggling, gassed and sidelined for time being. And It's not the ankle pic.twitter.com/XE3TRrAcqJ

— Tracy Wolfson (@tracywolfson) November 2, 2013
With Florida's usually impressive defense faltering against Murray and Gurley, head coach Will Muschamp needed quarterback Tyler Murphy and the offense to respond to keep the second half close. Unfortunately, the offense struggled to do much with its opportunities.
The Gators scored just three points through 30 minutes of play in the form of a 31-yard field goal from Francisco Velez.
HALF: Georgia 23, Florida 3. Gators' biggest deficit this yr. UF has an 82yd pass, but 69 yds on its other 37 plays. UGA offense has 335.

— Jason Lieser (@PBPjasonlieser) November 2, 2013
The second half saw signs of life from the Gators, as an Aaron Murray fumble deep in Gator territory led to a five-yard touchdown run from Mack Brown.
After the teams exchanged punts, Loucheiz Purifoy registered a safety on a cornerback blitz to cut Georgia's lead to 11 as the game entered the fourth quarter.
Getting the ball back after the safety, Tyler Murphy drove the Gators 50 yards in five plays and utilized his athleticism on a 14-yard touchdown scamper. A successful two-point conversion narrowed the Georgia lead to three points at 23-20.
The rest of the fourth quarter was marked by the physicality of this rivalry, as both teams got chippy. However, the Bulldogs preserved the three-point lead thanks to their offense running the final 8:17 off the clock.
Player Grades
Aaron Murray, QB, Georgia: B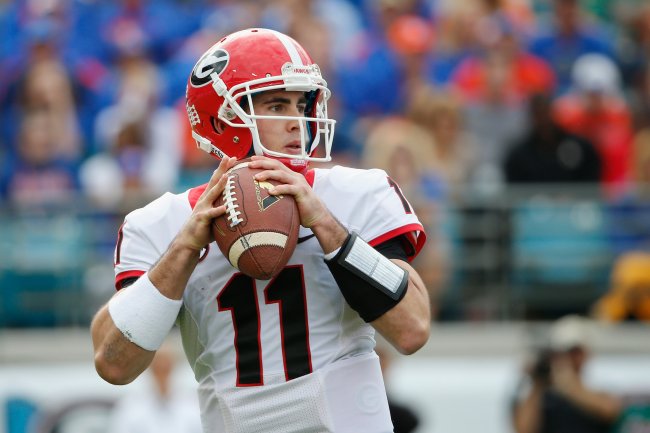 Sam Greenwood/Getty Images
This won't go down as the sexiest game in Murray's career. He passed for just one touchdown and 258 yards.
But after losing his last two games, the win is the only stat that really matters here. Injuries and a porous defense have derailed Murray's senior season at times, but this will be a positive mark on his resume when his career in Athens is over.
Tyler Murphy, QB, Florida: C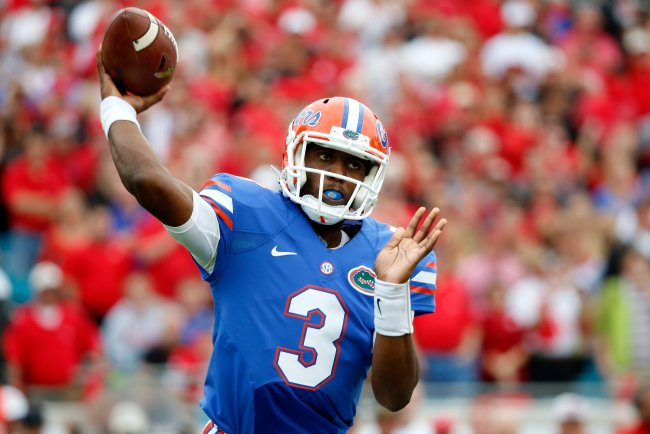 Sam Greenwood/Getty Images
This is going to be a tough loss for Florida to swallow, but it should be encouraged by Murphy's play in this game. The junior was unable to do much through the air, finishing just 13-of-29 for 174 yards, but his ability to get into the open field with his legs was pivotal in the Gators' comeback attempt.
Todd Gurley, RB, Georgia: A-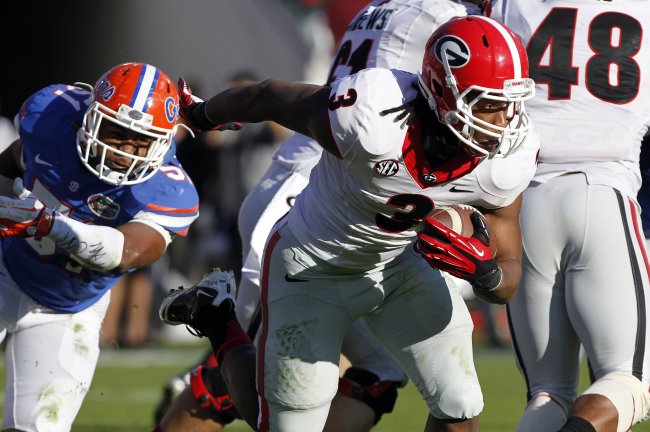 Kim Klement-USA TODAY Sports
Gurley wasted little time in letting fans and the opposing team know that he's still the same explosive playmaker he's been since arriving in Athens.
Todd Gurley -- 5 touches, 122 yards, 2 TDs already.

— Chris Huston (@HeismanPundit) November 2, 2013
However, as the game wore on, it was clear that he still might need a few weeks to get back into optimal shape. Considering the numbers he posted against the Gators (187 total yards, two touchdowns), that's a scary thought for the rest of the teams on Georgia's schedule.
What's Next
Georgia will host FCS program Appalachian State on Saturday, Nov. 9 before traveling to Auburn on Nov. 16.
Florida will continue its SEC slate when it welcomes the Vanderbilt Commodores to the Swamp on Nov. 9.