In the 106th meeting between two bitter in-state rivals with a potential trip to the Big Ten championship on the line, Michigan State downed the Michigan Wolverines and took home the Paul Bunyan Trophy with a 29-6 victory.
Much like the Spartans' last victory in East Lansing in 2011, it was a brutal defensive battle in which the nation's best unit stunted the Wolverines' offensive attack and sacked quarterback Devin Gardner seven times.
The Spartans have now won five of the last six against Michigan. CBS Sports and ESPN captured the big win perfectly:
FINAL: Michigan State 29 Michigan 6. Little Brother wasn't so little today.

— Eye on College FBall (@EyeOnCFB) November 2, 2013
The celebration is on for Michigan State fans. Hopefully they don't get hit in the face like this one #SCNotTop10 » http://t.co/RHfqPOsObu

— SportsCenter (@SportsCenter) November 2, 2013
No. 21 Michigan vs. No. 22 Michigan State

| | | | | | |
| --- | --- | --- | --- | --- | --- |
| | 1st | 2nd | 3rd | 4th | Final |
| Michigan Wolverines | 3 | 3 | 0 | 0 | 6 |
| Michigan State Spartans | 3 | 10 | 3 | 13 | 29 |
ESPN
From the first gun, it was easy to see these two in-state rivals don't care for each other very much—this scuffle came on the opening kickoff:
Michigan got the ball first and had little issue moving down the field courtesy of three first-down receptions from star receiver Jeremy Gallon, including a 35-yard bomb to get things started.
The drive eventually stalled against the top defense in the country, and Michigan was forced to settle for a 49-yard field goal from Matt Wile.
Michigan State and quarterback Connor Cook came out hot as well with a 49-yard pass to Trevon Pendleton before Michael Geiger knocked through a 40-yard field goal to tie things up.
After early fireworks, the two sides settled down and exchanged punts for the rest of the first quarter; a quarter in which Gardner was sacked four times and Cook could not hit wide open receivers.
Michigan State ended the offensive drought on its first drive of the second quarter with two third-down conversions from Cook through the air before another field goal from Geiger.
After an intentional grounding penalty on a woeful drive for the Spartans, Michigan took the ball down the field and also settled for a predictable field goal that almost went awry:
Michigan State would respond in a major way by driving all the way down the field. With Cook accurate and back Jeremy Langford effective in bunches on the ground, the Spartans closed out the first half with a 14-yard touchdown pass from Cook to Bennie Fowler to give the Spartans a 13-6 lead:
The Spartans picked up right where they left off to start the second half. Cook and Co. rumbled down the field before finally stalling near the Michigan red zone after a sack:
Another field goal from Geiger gave the Spartans a 10-point lead. After a quick punt from Michigan, the Spartans followed with a punt of their own.
The game continued in this manner, and as expected of a rivalry, things continued to be chippy after every play, with Michigan left tackle Taylor Lewan as the perfect example:
The two sides again exchanged punts (surprise!),but only after a costly Michigan fumble that was upheld after review:
Cook then made his first critical mistake of the game with an interception as Raymon Taylor left his zone coverage assignment while reading Cook's eyes and made the big play:
Unfortunately for Michigan, the offense was once again unable to do anything with good starting field position as Gardner was yet again battered behind his line, which ultimately resulted in a Wolverines punt.
With the smell of blood in the air, Cook and Co. drove down a short field and Cook himself finished off the Wolverines with this touchdown scamper:
The Spartans defense took it from there, hitting Gardner multiple times on the next drive before intercepting him to all but seal the deal.
Langford then made sure the game was officially over with a 40-yard touchdown run to make things final at 29-6.
Key Player Grades
Devin Gardner, QB, Michigan B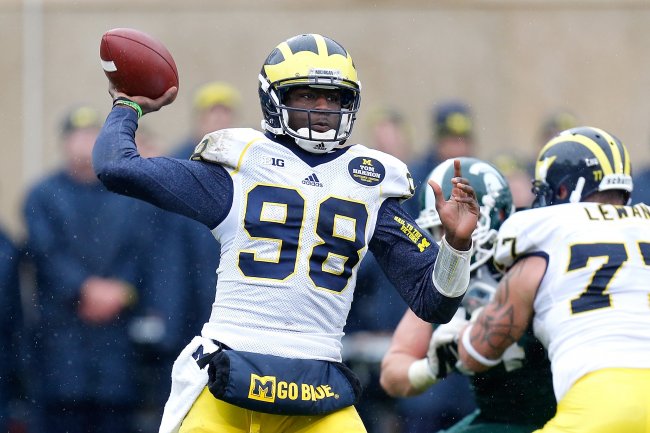 Gregory Shamus/Getty Images
Simply put, Devin Gardner cannot do it all on his own, especially against the nation's No. 1 ranked defense.
Gardner dropped back 27 times and was sacked a ridiculous seven times. He finished with 210 yards, zero touchdowns and an interception, but it is his offensive line that must shoulder the blame here.
Gardner was accurate when he actually had time to throw the ball, extended plays with his feet when he could and outside of a late interception with the game already decided, he was easily the Wolverines best player.
Connor Cook, QB, Michigan State A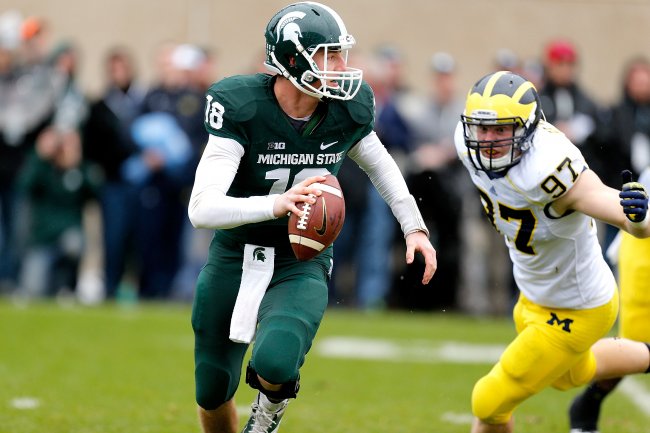 Gregory Shamus/Getty Images
The object of much scrutiny in East Lansing this year, Connor Cook has elevated his play in recent weeks with the final culmination being a major win over the Wolverines.
Outside of an interception that had little impact on the outcome, Cook did what he was asked to do—make mostly accurate throws in shoddy weather conditions and put his team in a position to score.
Cook finished 18-of-33 with 252 yards, one touchdown and an interception, but was also the man to finish off the Wolverines with his rushing touchdown late in the fourth quarter.
Jeremy Langford, RB, Michigan State A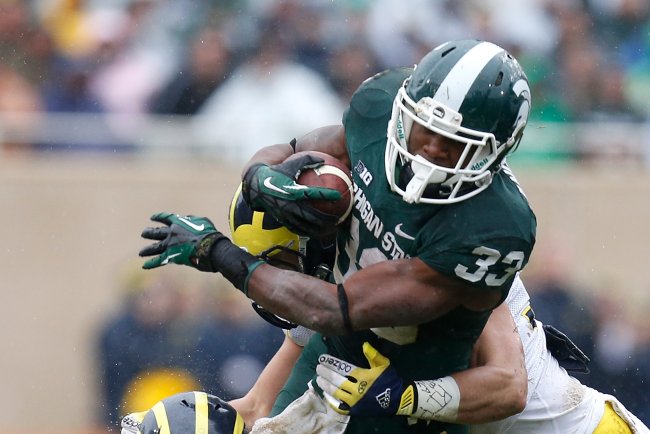 Gregory Shamus/Getty Images
In a violent, defensive game such as this, the team that rushes the ball the best wins. Period.
Jeremy Langford made it happen for the Spartans, exploding with 26 carries for 120 yards and a score.
Langford was impressive, his 4.6 yards per carry average helped sustain drives for Michigan State all game. His continued effectiveness made things much easier for Cook through the air and also keep Gardner and the Michigan offense off the field.
What's Next?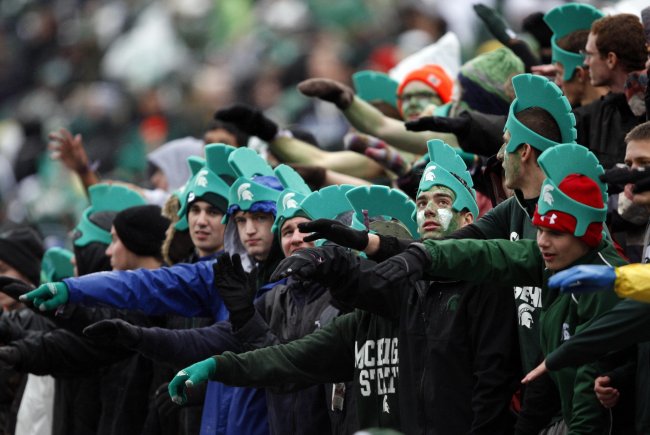 Raj Mehta-USA TODAY Sports
Michigan now sits at 6-2, with both losses coming in Big Ten play. The Wolverines have little time to dwell on the defeat at the hands of their in-state rivals, as Gardner and Co. have a date with Nebraska next week.
For the Spartans, things are much simpler. The team sits at 8-1 overall and has a perfect record in Big 10 play. Cook and Co. have plenty of time to relax and celebrate the major win with a bye week on the horizon before a date of their own with the Cornhuskers.