Kansas vs. Texas: Live Score and Highlights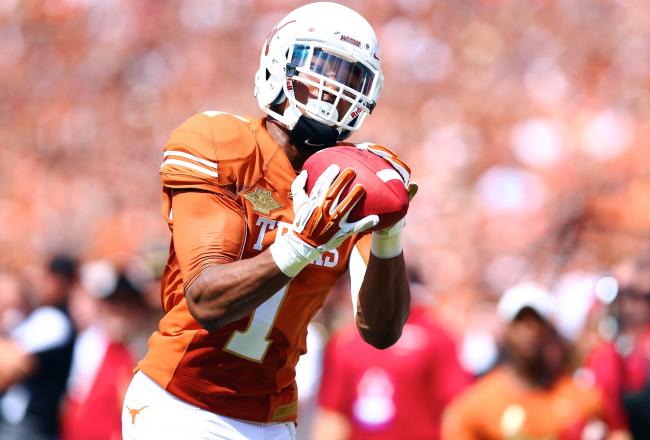 Texas 35, Kansas 13—Final
Thanks for following along in this Big 12 matchup between the Texas Longhorns and Kansas Jayhawks.
You can view the full box score from the Longhorns' win at NCAA.com.
Thanks for following today. I appreciate all of you and hope you enjoy the rest of your weekend. After you read my final analysis, that is.
Malcolm Brown: 20 carries, 119 yards, 4 TD
Johnathan Gray: 18 carries, 68 yards
Brown's carry total has increased each of the past three games, and he has clearly emerged as the goal-line back. He excelled while Gray had somewhat of a down game compared to what he has been doing, but the combination of both is wearing down the opposition.
More on this in the "10 Things We Learned."
Kansas' 13 points was also the fewest it has scored against a Big 12 opponent this season. Take that as you will.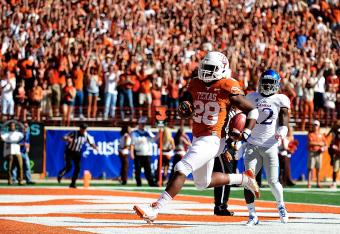 Key Stats from the Game
246: The Longhorns ran for 246 yards, led by Malcolm Brown's 119. This is the third-consecutive game in which they have broached the 200-yard mark, outscoring their opponents 111-40 in those games.
2: The Jayhawks were able to force two Case McCoy interceptions but were unable to convert them into points. Texas returned Kansas' lone turnover for a touchdown.
53: The Longhorns converted 53 percent of their third downs, compared to just 29 percent for the Jayhawks. Texas also converted a fourth-down opportunity for a 30-yard Malcolm Brown touchdown.
Final score: Texas 35, Kansas 13. #KUvsTEX

— ESPN Texas (@ESPNTexas) November 2, 2013
I was three points off on my prediction. Just thought you all should know that.
Tyrone Swoopes takes over at QB with 3:39 left in the game. #KUvsTEX

— ESPN Texas (@ESPNTexas) November 2, 2013
Even Bevo got excited for this. Maybe.
Kansas 13, Texas 35—4th Quarter
Montell Cozart scores Kansas' first touchdown of the game on a 20-yard keeper. Where has he been all day for the Jayhawks?
Where has Darrian Miller been all game? Just picked up two first downs on two carries.
Injury Update
S Adrian Phillips (hip): The senior safety is back on the sideline, but it appears unlikely that he will return to action in the blowout. Doesn't appear to be serious.
If Tyrone Swoopes does not get in the game when Texas is up 35-6, then I won't know what to say. #KUvsTEX #Longhorns

— Taylor Gaspar (@Taylor_Gaspar) November 2, 2013
It. Is. Time.
Texas 35, Kansas 6—4th Quarter
Malcolm Brown continues his career day with his fourth touchdown of the game on a 30-yard run. Play was under review after Case McCoy fell down on the handoff, but is quickly confirmed
Kansas defense playing winning football. WR Mike Davis has been all but shut out, Isaiah Johnson has two interceptions and longest play from scrimmage was 31 yards. Unfortunately, the offense has been sad.
Swoopes is tossing the rock around on the sideline. Will we get to see him on the field? Odds are getting better. #KUvsTEX

— Sean Adams (@thatsean) November 2, 2013
Especially after Case McCoy's most recent interception to Isaiah Johnson.

Injury Update
WR Rodriguez Coleman (knee): Trying to make his third remarkable catch of the day, Coleman appears to have sustained a knee injury. It doesn't look good for Kansas' best offensive player of the day. Let's hope it's just a routine sprain.
S Adrian Phillips being taken into the locker room. Not sure what happened with him. #KUvsTEX #Longhorns

— Taylor Gaspar (@Taylor_Gaspar) November 2, 2013
Could be very bad for Texas if it's serious.
Injury Update
Adrian Phillips (unknown): The senior safety was helped to the sideline. No noticeable pain in any particular area, so could he have just had the wind knocked out of him. If he's out, Leroy Scott will see increased action.
Texas 28, Kansas 6—3rd Quarter
Malcolm Brown scores his third touchdown of the game, the first hat trick of his career. Fat guy touchdowns do amazing things.
Chris Whaley has more touchdowns for #Texas than Jaxon Shipley and Joe Bergeron. Who'd a thunk that? #KUvsTEX

— Sean Adams (@thatsean) November 2, 2013
I just made so much money. Not.
LB Steve Edmond being helped off field. Looks like he may have been injured celebrating. That is not a typo #KUvsTEX

— Taylor Gaspar (@Taylor_Gaspar) November 2, 2013
Injury Update
Steve Edmond (ankle): A celebration injury. Tim Cole seems the immediate candidate to take his place.
Texas 21, Kansas 0—3rd Quarter
When you need a big play, who else do you look to but a defensive tackle? Chris Whaley picks up a Jake Heaps fumble and rumbles 40 yards for his second touchdown of the season. Fat guy touchdowns are always the best.
Dalton Santos with a stop for no gain on 3rd and 8. Kansas will punt. #KUvsTEX

— ESPN Texas (@ESPNTexas) November 2, 2013
He is making nice plays all over the field.
Why can Texas crush TCU but have trouble with Kansas?

— Nathan Goldstein (@nathan0223) November 2, 2013
Most Texas fans are probably wondering the same thing after Case McCoy gets sacked for the first time in 84 pass attempts.
Kansas 6, Texas 14—3rd Quarter
The Longhorns hold in the red zone for the second time of the game. Ryan Doherty gets lucky on a 27-yarder, clanking it off the right upright and in for three.
Rodriguez Coleman now has two catches for 85 yards. Jayhawks not afraid to test Texas deep.
This article is
What is the duplicate article?
Why is this article offensive?
Where is this article plagiarized from?
Why is this article poorly edited?