Breeders' Cup 2013 Results: Day 2 Live Analysis and Reaction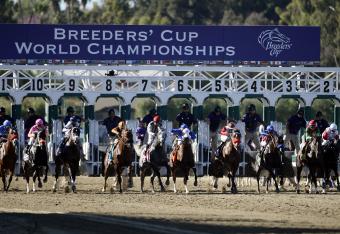 Day 2 of the Breeders' Cup is here
Robert Hanashiro-USA TODAY Sports
The second day of the Breeders' Cup World Championships shaped up to be even more exciting than the first.
The day began with an eventful running of the Juvenile Fillies. She's a Tiger was disqualified from the win and Ria Antonia was awarded the upset victory. The race was marred by tragedy when Secret Compass was injured and unable to be saved. Jockey John Velazquez was injured in the spill and trainers had to scramble to find replacement riders.
The form from the 2012 Breeders' Cup held up strongly with Mizdirection, Groupie Doll and Wise Dan all repeating their winning efforts. Horse of the Year Wise Dan turned in one of the most impressive efforts of the day with a stunning effort in the Mile.
After the day began with sadness with the loss of Secret Compass, Bob Baffert has saddled two winners in New Year's Day in the Juvenile and Secret Circle in the Sprint, both with Martin Garcia aboard.
The Europeans continued to dominate the turf races with a win by The Magician over the filly The Fugue in the Turf.
The Classic was everything it was billed to be. Gary Stevens added the elusive Classic win to his list of accomplishments with a gritty win aboard Mucho Macho Man over three-year-old Will Take Charge.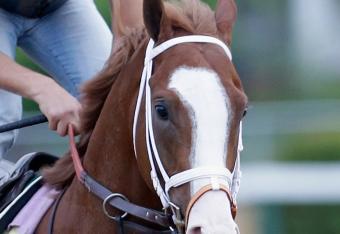 Take nothing away from Will Take Charge here.
He will be a real force to be reckoned with next year. Like the massive Mucho Macho Man, this gigantic colt will just keep getting better the more he grows into himself.
Wow. Mucho Macho Man just beats Will Take Charge. Fantastic classic. Gary Stevens can now sleep at night. He's won the Classic

— Ray Paulick (@raypaulick) November 3, 2013
Kathy Ritvo became the first woman to saddle a winner of the Breeders' Cup Classic. She got her start on the New England racing circuit and has done an incredible job with this horse.
Gary Stevens is simply a master. At 50-years-old, he has proven that age is just a number.
Gary Stevens is incredible. What an amazing race.
For what it's worth: Fort Larned is breathing fire. Will Take Charge looks incredible. Declaration of War is a beast. 'Dude is Dude. #BC13

— MollyJoRosen (@MollyJoRosen) November 3, 2013
Defending champion Fort Larned did have an aggressive warm-up. With that sort of preparation, expect him to be forwardly placed as he tries for a repeat.
Many might not know Dec of War was sent to TPletcher after first 2 starts to be trained for the KY DERby.Did not pan out but interesting.

— Simon Bray (@SimonTVG) November 3, 2013
Really stellar impression on the track from the European invader Declaration of War.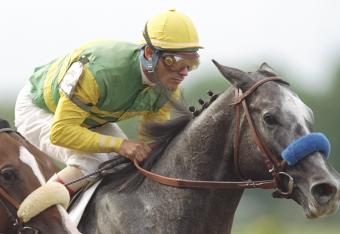 A year ago, I never in a million years would have guessed Gary Stevens would be back in action as a jockey.
He has had many achievements in horse racing - numerous victories in Triple Crown races, multiple prestigious Breeders' Cup wins and a victory in the Dubai World Cup... but he has never won the Classic.
He is one of the most competitive athletes in the game and I am willing to wager that he really, really wants that addition to his trophy case and Mucho Macho Man could be the horse to do it.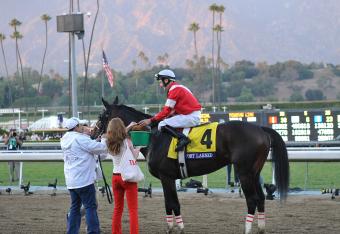 Fort Larned is trying to repeat and prove his Classic victory last year was legitimate.
He appears quite warm in the paddock and looks like he is running the risk of leaving his race there.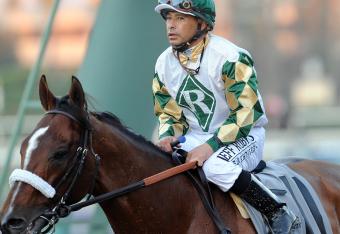 My top selection before yesterday was the up and coming Will Take Charge. I love the way this horse has come into his own the second half of the year. However, the speed bias yesterday really had be doubting whether or not he would be able to close.
The track seems much more fair today and I do like his chances.
A big chance also for Mucho Macho Man. His winning effort in the Awesome Again Stakes at Santa Anita was impressive and Gary Stevens will try to pull the impressive sweep of the Distaff and Classic.
Paynter has done so much for us all! He is a true warrior and champion. #TeamZayat can't wait for the BC Classic! @jazz3162 @JustinZayat

— Paynter (@PaynterZayat) October 29, 2013
This is such an interesting, wide open Classic.
My heart is pulling for Paynter. He overcame two very serious diseases this time last year, colitis and laminitis. Most horses could not live through one of those ordeals, let alone come back and compete against Grade 1 company.
He has nothing at all to prove, but will be remembered as a legend if he can pull off this win.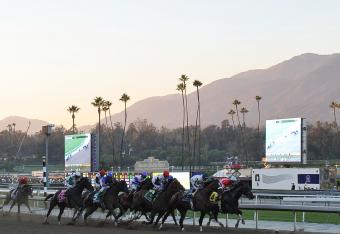 It is incredible to see so many winners from 2012 come back to either repeat, or in Beholder's case, win a different race. Kudos to the connections of Groupie Doll, Mizdirection and Wise Dan for treating racing fans to another great year.
Can Fort Larned repeat in the Classic? We will know soon enough.
1998 Breeders' Cup Classic
Watching the 1998 Breeders' Cup Classic is still a punch in the stomach.
I remember being a young, new racing fan and just desperately wanting Silver Charm to win. Looking back, that was I think the greatest field ever to assemble in the Breeders' Cup.
Za Approval runs an incredible race to finish 2nd in the BC Mile to horse of the year Wise Dan. We are all really happy with his performance

— Christophe Clement (@clementstable) November 2, 2013
Some credit should be given to Za Approval. Under most circumstances, that was a winning effort and he ran the race of his life.
He is getting better and better and should be a top player next year.
Owner Morton FInk:"It means my life goes on" when asked what Wise Dan's win means to him. Very cool! #BC13

— Greg Jones (@WOOKIE318) November 2, 2013
Listening to owner and breeder Morton Fink talk about what Wise Dan means to him was moving. These horses touch the lives of all involved with them.
I will admit, I was one of the critics of Wise Dan this year for his campaign. He made a believer out of me with this stunning effort.
That was an amazing race to watch and call! Great job by Jose Lezcano aboard the great Wise Dan in the Mile!

— Larry Collmus (@larrycollmus) November 2, 2013
Enjoying some spectacular calls today courtesy of the great Larry Collmus.
I had the pleasure of working with Larry at Suffolk Downs for several years and learned so much from him.
Wise Dan!
Wow. He is a tremendous horse. The best part is watching Jose Lezcano struggle to pull him up after the race - he still has a ton of horse.
Clutch ride by Jose Lezcano stepping up in a game time decision.
Those blinkers they added to Olympic Glory have good-sized cups on them for sure. #bc13

— Marcus Hersh (@DRFHersh) November 2, 2013
The Europeans look formidable here as well. Cristoforo Columbo and Olympic Glory both look sharp. Cristoforo Columbo also gets gets Lasix for the first time today.
Good observation on Twitter about the blinkers on Olympic Glory. He may be very quick out of the gate and to the lead.
Cool, calm and collected boys! Time to do work! #BC13 #bcmile

— Wise Dan (@WiseDan_) November 2, 2013
Wise Dan looking good on the track as well.
I also like long shot Za Approval. He has been knocking heads with the top horses all season and now gets a chance to step up and win one for himself.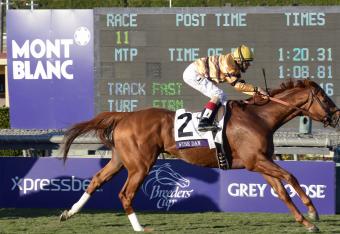 Wise Dan looks just super in the paddock. His coat is gleaming and he looks like the picture of equine wellness.
If he wins this race and Game on Dude loses the Classic, he realistically has to be in the conversation for a repeat Horse of the Year title.
Up next is the Mile in which Wise Dan will try to redeem himself after his undefeated streak was snapped in the Shadwell Turf Mile which actually wound up being run on synthetics, not turf.
His campaign has been criticized for lacking ambition. Though I do wish he had tackled the top older males on conventional dirt, he is a truly special turf miler and his win in the Mile last year was awe-inspiring.
Enjoy him for what he is, not what you would like him to be.
Secret Circle becomes the third horse to win two different @BreedersCup races, joining Zenyatta and Beholder. #BC13

— Daily Racing Form (@DRFInsidePost) November 2, 2013
Secret Circle joins some historic company with that win.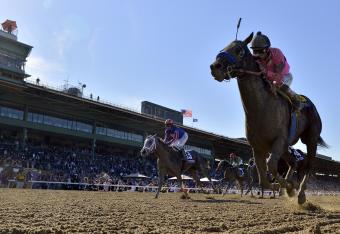 Secret Circle proves that horses can close on this track today and gives Baffert and Garcia two wins on the card.
The pair will also team up with Paynter in the Classic.
Jose Lezcano will take the mount on defending @BreedersCup Mile champ Wise Dan in place of John Velazquez #BC13 #BreedersCup

— Lane Gold (@lanegold) November 2, 2013
It is official. Jose Lezcano will replace Johnny V on reigning Mile winner and Horse of the Year Wise Dan.
Charles Lopresti got very lucky that Lezcano was available. He does know this quirky horse very well and rode him to back to back victories early in the year.
Trinniberg's form may be poor this year, but he looks sharp and on his toes on the track.
At his best, he is fast enough to keep up with anything out front.
This article is
What is the duplicate article?
Why is this article offensive?
Where is this article plagiarized from?
Why is this article poorly edited?