The Most Fearsome Ball Players of the 1990s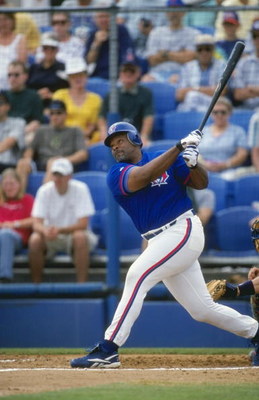 The '90s were an interesting decade for Major League Baseball. They saw a player strike cut a season short, they saw the New York Yankees dominate.... a lot, and they saw some incredible ball players.
We're in the year 2009 now, and most players from the '90s are rarely even spoken of anymore—not all of them though. The best of them have stood the test of time, and my generation now looks back at them fondly as the players we watched when we were little kids.
Others may simply look back at them as great players, the best of their era. Either way, anyone who got to see them play should be able to think back and recognize the truly great ones, and that's one I'm going to attempt to do.
These are, the way I see it at least, the best players of the 1990s (by position).
Please keep in mind, that all of this is subject to opinion, so feel free to let me know what you think, and which players you would have chosen.
Enjoy.
Catcher - Mike Piazza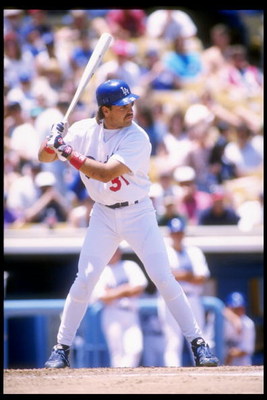 In his prime, Mike Piazza was not only one of the best hitting catchers I've ever seen, but one of the best hitters I've ever seen in general.
In the '90s alone, Piazza made seven NL all-star appearances, won seven silver slugger awards, and was near the top of the MVP voting almost every season.
'90s stats (1991-1999): Home Runs - 240, RBI - 768, Hits - 1200, Doubles - 173, Batting Average - .328
'90s Accolades: NL All-Star x7, 1992 Rookie of the Year, Silver Slugger Award x7
The numbers don't lie. The Dodgers were truly blessed to have a player like Mike Piazza on their team. The only thing that bothers me about him, though, is that for some reason his name makes me really hungry.
Honorable Mention - Sandy Alomar Jr, Ivan Rodriguez, Benito Santiago
First Base - Frank Thomas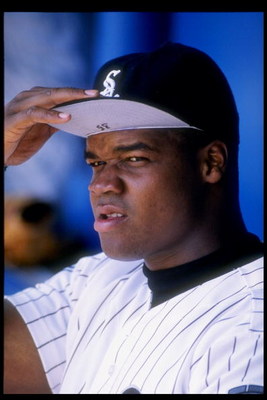 It's almost impossible to not like the Big Hurt. Not only is he one of the few home run hitters from the steroid era that isn't heavily suspected of using, but he also has that whole, lovable giant persona about him.
Much like the giant from "The Princess Bride."
There are a lot of great candidates for this spot, but the fact that Frankie has been able to combine ridiculous power with a high batting average pushed him over the top in my eyes.
'90s Stats (1990-1999): Home Runs - 301, RBI - 1040, Hits - 1564, Doubles - 317, Batting Average - .319
90's Accolades: MVP x2, AL All-Star x5, Silver Slugger Award x3
Frank also put up some ridiculous numbers in the early 21st century, and has also played in the MLB as recently as last year. Keep on goin, Frank!
Honorable Mention - Jeff Bagwell, Mark McGwire, Cecil Fielder, Andres Galarraga, Mark Grace, Mo Vaughn
Second Base - Roberto Alomar
Between Craig Biggio, Jeff Kent, and Roberto Alomar, it was really tough to choose who the best second baseman of the '90s was. It's definitely subjective to opinion, and very debatable. I went with Alomar though.
Roberto was among the best at getting on base, swiping bags, and scoring runs. He also had the ability to hit for some power, and drive in a decent amount of runs - he drove in 120 in 1999.
90's Stats (1990-1999): Hits - 1678, Runs - 951, Stolen Bases - 311, RBI - 732, Batting Average - .308
90's Accolades: AL All-Star x9, NL All-Star x1, Gold Glove x8, Silver Slugger Award x3
That's an impressive resume, Robby.
Honorable Mention - Craig Biggio, Jeff Kent
Shortstop - Omar Vizquel
Omar Vizquel was the poster-boy of consistency in the 1990's, not just at the plate, but in the field as well. He was arguably one of the best fielding shortstops to ever play the game.
He was also a good hitter, though, racking up numerous stolen bases and runs scored throughout his career. The Indians were privileged to have such a class act on their team during his prime, and it seems now that he's training a protege to follow in his footsteps.
90's Stats (1990-1999): Hits - 1344, Runs - 689, Stolen Bases - 237, RBI - 429, Batting Average - .279
90's Accolades: AL All-Star x2, Gold Glove x7
Honorable Mention - Barry Larkin, Nomar Garciaparra, Derek Jeter, Alex Rodriguez
Third Base - Chipper Jones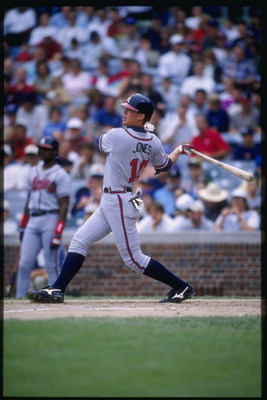 If this were the best players of the 1980s, this spot would most definitely belong to Wade Boggs. But it's the '90s, and Chipper's numbers in the back end of the decade were unreal.
Chipper was another real consistent guy, he hit for an impressive batting average every year (and still does), drove in a lot of runs, and hit for power. Chipper was also a key part of the dominating Atlanta teams of the late '90s.
'90s Stats (1995-1999): Home Runs - 153, RBI - 524, Hits - 869, Runs - 540, Stolen Bases - 83, Batting Average - .301
'90s Accolades: NL All-Star x3, NL MVP x1, Silver Slugger Award x1
Chipper has also continued his success well into the 2000's, leading all of baseball in 2008 with a .364 batting average, and hitting well over .300 in '06 and '07.
Honorable Mention - Matt Williams, Wade Boggs
Left Field - Barry Bonds
Although the general consensus is that Barry Bonds took steroids, it's still unclear as to exactly when he started taking them. I'd like to think he wasn't on them during the 1990s.
Either way, he was considered by a lot of people to the best hitter in baseball at the time. He was certainly the most feared hitter.
He led all of baseball in walks five times in the '90s, on base percentage fives times, slugging percentage three times, and OPS (on base + slugging) five times. Needless to say, pitchers didn't like facing Barry Bonds.
'90s Stats (1990-1999): Home Runs - 361, RBI - 1076, Stolen Bases - 343, Walks - 1146, Runs - 1091, Batting Average - .320
'90s Accolades: NL All-Star x8, NL MVP x3, Gold Glove x8, Silver Slugger Award x7
Even if he cheated, steroids could have only helped him so much, given him that extra power boost, but there's no way that steroids are responsible for those numbers. There's no denying that Barry Bonds was a great baseball player.
Honorable Mention - Rickey Henderson, Juan Gonzalez, Albert Belle
Center Field - Ken Griffey Jr.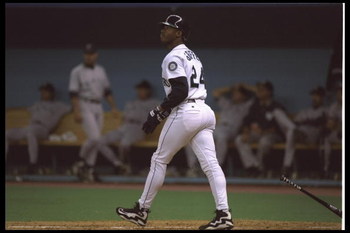 Due to the fact that I'm a Mariners fan, and Junior is one of my favorite players of all time, I could probably write pages about why I've chosen him for this spot. But in all fairness to the other players on this list, I'll try to take it easy.
Ken Griffey Jr is one of the greatest players to ever play the game of baseball. I find this statement impossible to argue with. This is especially evident when you think about what his stats would like if not for injuries.
There's a very real possibility that he would be the home run king, and not Barry Bonds.
Since he broke into the big leagues in 1989, The Kid has been one of the best all around players in the game. He could hit for average, hit for power, run, and play an outstanding center field.
On top of all this, he is also a member of the elite group of home run hitters that isn't suspected of steroid use (see: first base).
'90s Stats (1990-1999): Home Runs - 382, RBI - 1092, Doubles - 297, Hits - 1622, Batting Average - .302
'90s Accolades: AL All-Star x10, AL MVP x1, Gold Glove x10, Silver Slugger Award x7
Honorable Mention - Kenny Lofton, Kirby Puckett, Bernie Williams
Right Field - Tony Gwynn
A lot of Tony Gwynn's greatness occurred in the 1980's, but he was a force in the '90s as well.
Throughout his career, Tony was always a guy who could get a lot of hits, and hit for a really high batting average. He even came close to hitting .400 in 1994. That season was shorter than normal due to the player strike, but it was still an impressive feat.
He was also a huge fan favorite, I doubt there are fans of any team that love a player any more than Padres fans love Tony Gwynn.
He was the heart and soul of the Padres in the '80's and '90s, and he spent his entire career with them - something that not a lot of players do nowadays.
'90s Stats (1990-1999): Hits - 1713, Runs - 744, Doubles - 330, RBI - 688, Batting Average - .344
'90s Accolades: NL All-Star x10, Gold Glove x2, Silver Slugger Award x3
Now, his son is playing for the Padres—maybe one day, someone will choose him for an article like this one. You never know!
Honorable Mention - Joe Carter, Paul O'Neil, Larry Walker, Gary Sheffield, Sammy Sosa,
Starting Pitcher - Randy Johnson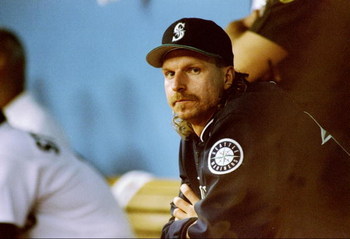 Randy Johnson is one of the best pitchers to ever grace a Major League baseball field, and the 1990s were certainly not exempt to his dominance of hitters.
The Big Unit was the essence of the Seattle Mariners, and him combined with Griffey is what made the team fun to watch, and what made them good. Soon he'll be adding 300 wins to his Major League resume, yet another well deserved accomplishment for the best pitcher I've ever had the privilege of watching.
On top of his ridiculous pitching ability, he's also a great guy. Enough really can't be said about a class act like Randy Johnson. I just really hope he knows how much he means to Seattle.
'90s Stats (1990-1999): W-L - 150-75, Strike Outs - 2538, ERA - 3.14, Shutouts - 25, Complete Games - 65, Innings Pitched - 2063.1
'90s Accolades: AL All-Star x5, NL All-Star x1, AL Cy Young x1, NL Cy Young x2, No-Hitter x1
Honorable Mention - Greg Maddux, Roger Clemens, Tom Glavine
Relief Pitcher - Trevor Hoffman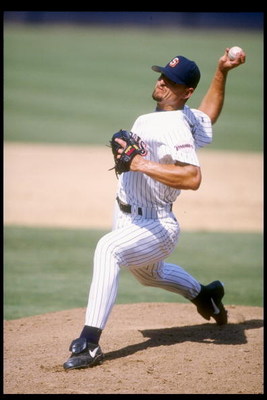 I'm not sure what exactly made Trevor Hoffman decide to be a closer, but I can't help but think he's glad he did it.
When there was a save situation in San Diego in the '90s, you could always relax, because Trevor Hoffman would be taking the rubber.
Trevor has been shutting down batters and closing out games for 16 years now, and he's still going strong - currently for the Milwaukee Brewers. He already holds the record for most saves recorded in a career, but he's still striving for more.
As it is now, he's still an effective closer, so it should be interested to see how far he'll go.
'90s Stats (1993-1999): Saves - 228, ERA - 2.69, Strike Outs - 580, Innings Pitched - 509, W-L - 36-28
'90s Accolades: NL All-Star x2
Honorable Mention - Mariano Rivera, Dennis Eckersley
Keep Reading

New York Yankees: Like this team?