College Football Week 10: Live Updates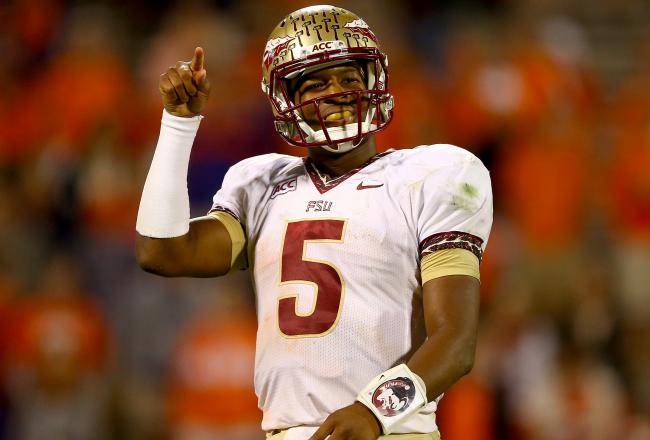 Streeter Lecka/Getty Images
The 2013 college football season is already entering Week 10, and major BCS storylines are starting to play out while huge matchups are taking place each Saturday.
Week 10 features several marquee games. While the slate is highlighted by the No. 7 Miami Hurricanes traveling to the No. 3 Florida State Seminoles, there are two other games between ranked teams as well (No. 18 Oklahoma State at No. 15 Texas Tech and No. 21 Michigan at No. 22 Michigan State).
Add in several more Top 25 teams facing serious tests against unranked competition and this is shaping up to be a wild week of college football.
While the focus will be on the marquee matches on the schedule, the conversation will naturally shift to the Heisman Trophy race. With front-runner Marcus Mariota's Oregon Ducks off this week, this is the chance the rest of the hopefuls needed to gain ground on the sophomore quarterback.
The player with the most to gain is Florida State's Jameis Winston. The nationally televised game against Miami (ABC at 8 p.m. ET) will be the showcase the freshman quarterback needs to move past Mariota as the Heisman favorite.
Below is a closer look at the top contenders for the Heisman playing Saturday (Winston and Texas A&M's Johnny Manziel) and what they face in Week 10.
Heisman Contenders to Watch
Jameis Winston, QB, Florida State
While Mariota tops the ESPN.com's Heisman Watch, the focus this week will be on the No. 2 player on that list, Winston. With a marquee meeting against the No. 7 Hurricanes, this is his chance to stake his claim on the prize.
Miami may boast the 10th-ranked defensive unit in the nation (17.7 points per game), but the Seminoles have leaned on Winston and his excellent production (2,177 passing yards and 23 touchdowns against just four interceptions—not to mention 126 yards and three more touchdowns on the ground) and will do so again Saturday.
Johnny Manziel, QB, Texas A&M
The defending Heisman Trophy winner is Texas A&M Aggies sophomore Johnny Manziel, but he comes into the week as the No. 3 candidate to win the sport's most prestigious individual award.
Manziel has still proven to be one of the most dynamic dual-threat quarterbacks in the NCAA, but a drop in overall numbers and a jump in turnovers have his stock slipping. A tough SEC schedule has wreaked havoc on his chances of winning the Heisman, but a matchup with the UTEP Miners will be a chance to pad his stats and make his case to be a favorite.
Stay tuned throughout the day for updates on the biggest developments in college football, from high-profile games to upsets, with instant analysis included.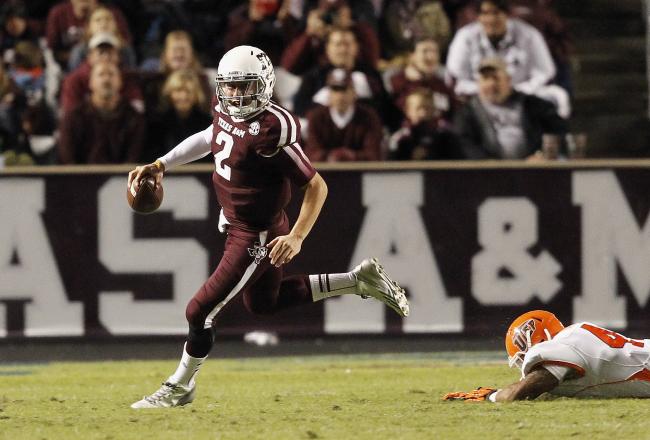 Marcus Mariota. Jameis Winston. You're on notice.
Johnny Manziel was far from the national scope on Saturday. His Texas A&M Aggies were playing in the rare midseason paycheck game, hosting then-1-6 UTEP. The game went essentially as one would imagine, with Texas A&M putting all 57 of its points up in the first three quarters en route to a 57-9 victory at Kyle Field.
That's not noteworthy.
What is, however, is that Johnny Football may have stat-padded his way back into the Heisman race.
Manziel was in fine form from the outset Saturday, scoring six total touchdowns and using every ounce of his ability to get the job done. He completed 16 of his 24 passes for 273 yards and four scores, surprisingly only one of whose going to Mike Evans.
He hit Travis Labhart for two score and 83 yards. Malcome Kennedy had four catches for 63 yards and a touchdown. Evans, who came in touted as a possible Heisman favorite himself, wound up with 46 yards on four grabs—most of which came in garbage time.
But the story was Manziel. Running the read option to perfection, Manziel led the team with 67 yards and two touchdowns on the ground.
It was the type of performance that screamed Heisman push. With all of the Winston and Mariota hype taking over college football, it's easy to miss the fact that Manziel may eclipse his Heisman-winning numbers from last season.
While he lacks the signature win he scored a year ago against Alabama, performances like Saturday are the reason you can never quite count him out. Johnny Football's Heisman hopes may be down, but they're not out.
This article is
What is the duplicate article?
Why is this article offensive?
Where is this article plagiarized from?
Why is this article poorly edited?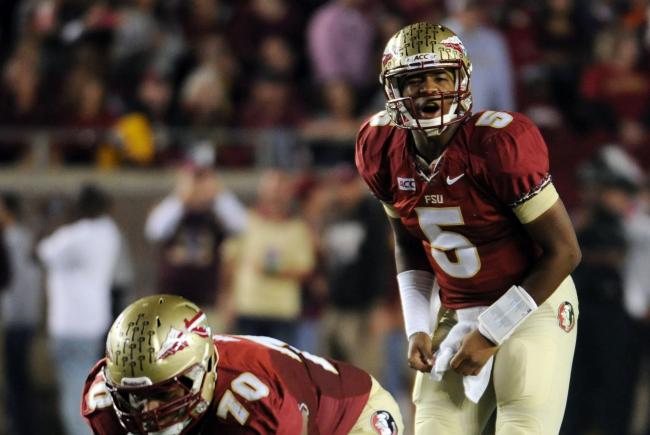 The freshman was at it again on Saturday.
This time the victim was the Miami Hurricanes as Jameis Winston led the Florida State Seminoles to a massive 41-14 victory over their bitter in-state rivals.
Winston struggled in the first half with two costly interceptions that led to Miami touchdowns, but those ended up being the only points the Hurricanes would score on the night.
The two touchdowns are an issue, but Winston still finished with 325 yards, one touchdown and two interceptions. Any time that sort of line is considered bad against the No. 7 team in the nation, it's clear the guy is a Heisman candidate.
Even better, Winston's Heisman candidacy may come under fire because it was not his typical eye-popping stat night, but put it in perspective—a freshman threw for over 300 yards and only fired eight incompletions against a top 10 team in what is his worst game to date.
Yeah, Winston's Heisman chances are just fine.
Florida State remains undefeated and has a legit shot at a national championship. While wins should mean little in the definition of a team sport, it remains something Heisman voters look at when making the all-important decision.
Winston has the perfect combination of wins, stats and more. One questionable performance that may very well be the low light of his Heisman résumé here won't change things. If it were anybody else, the stats would be considered acceptable.
If this is as bad as it gets for Winston, they might as well already hand him the trophy.
This article is
What is the duplicate article?
Why is this article offensive?
Where is this article plagiarized from?
Why is this article poorly edited?
Not only were the Miami Hurricanes down big by the time the fourth quarter rolled around in Saturday's contest against in-state rival Florida State, the team lost star back Duke Johnson to an injury as well.
Johnson fell after a rush and caught his ankle underneath his body while several lineman piled on, and as ESPN elaborates, it did appeared to be a gruesome injury:
Duke Johnson had his right foot/leg twisted under him in that pile. Tough to watch the replay. #MIAvsFSU

— ESPN ACC (@ESPN_ACC) November 3, 2013
As a result, Johnson left the field on a cart with his ankle on ice as captured by 7 News:
Duke Johnson taken from the bench via cart. @miamiradiobeast @Brandon_Odoi pic.twitter.com/nt2xFgKMb0

— scejas (@scejas) November 3, 2013
Entering the contest, Johnson had rushed for 823 yards and six scores on a 6.7 yards per carry average and was having another solid outing with 97 yards on 23 carries before the injury.
With major contests against Virginia Tech and Pittsburgh on the horizon, the Hurricanes need Johnson at full strength to remain competitive.
On the year Johnson was approaching his carry total from his freshman year last season in which he racked up 947 yards and 10 touchdowns.
This article is
What is the duplicate article?
Why is this article offensive?
Where is this article plagiarized from?
Why is this article poorly edited?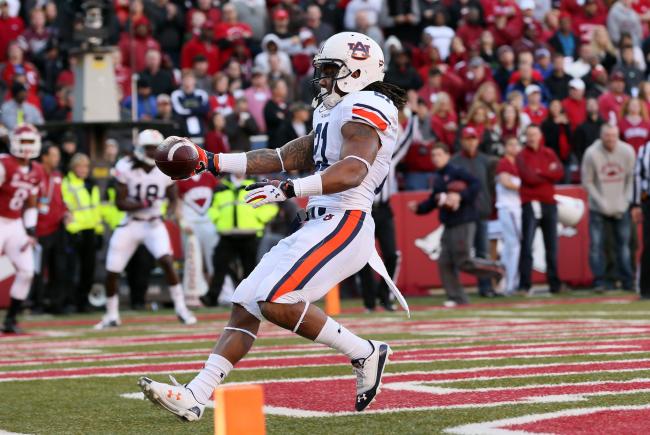 Auburn only needed to throw the ball nine times on Saturday to down the Arkansas Razorbacks.
Much of the reason the Tigers elected to keep things on the ground was because of the stellar efforts from star back Tre Mason.
Mason carried the rock 32 times on the night and still managed to have a stellar 5.3 yards per carry average thanks to his 168 yards and four scores. All of Mason's scores came from four yards out or more, so he was not just racking up his impressive touchdown tally after others did the work to get him near the end zone.
As great as Mason truly was, his outburst was not exactly a surprise. The Razorbacks came in riding a five-game losing streak and on average gave up 172 rushing yards per game.
Combine that with the fact Mason had surpassed the 100-yard mark three times prior and it was safe to suggest the feature back in the Tigers offense was due for a big day.
Now Mason sits at 921 rushing yards and 13 scores on the season with three games to go. The junior back has been explosive all year but has also shown an ability to act as a work horse when necessary.
The No. 11 team in the land is ranked as such with just one loss to their name thanks to one of the nation's best rushing attacks. Quarterback Nick Marshall helps in that regard, but Mason continues to be the player fueling the Tigers' SEC and national title aspirations.
This article is
What is the duplicate article?
Why is this article offensive?
Where is this article plagiarized from?
Why is this article poorly edited?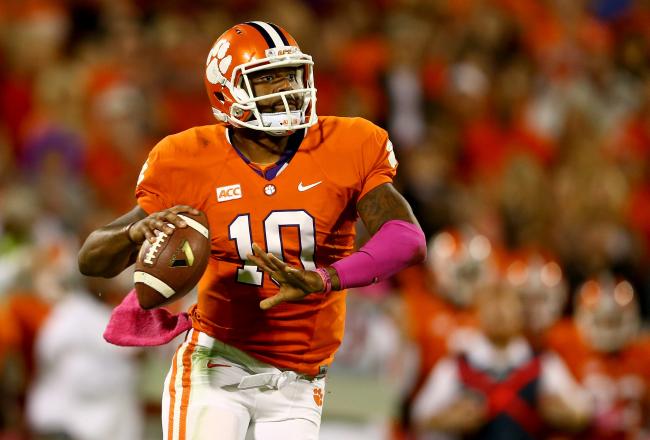 After struggling over the previous three games, Tajh Boyd was finally able to blow up once again, leading Clemson to a huge 59-10 win over Virginia.
In the game, Boyd finished going 24-for-29 for 377 yards, three touchdowns and one interceptions while also grabbing another touchdown on the ground. His biggest play of the day came in the third quarter, hitting Sammy Watkins on a perfect pass for a 96-yard touchdown.
Over the previous three games, Boyd had only had five total touchdowns and had thrown three interceptions, killing his shot at the Heisman trophy. Now, his numbers look much more respectable this season, throwing for over 2,600 yards with 27 total touchdowns and six interceptions while completing over 64 percent of his passes.
Boyd really needed a game to run things around, and he finally got it. Now, Clemson will hope to win out for the rest of the season and try to grab a BCS bowl bid.
This article is
What is the duplicate article?
Why is this article offensive?
Where is this article plagiarized from?
Why is this article poorly edited?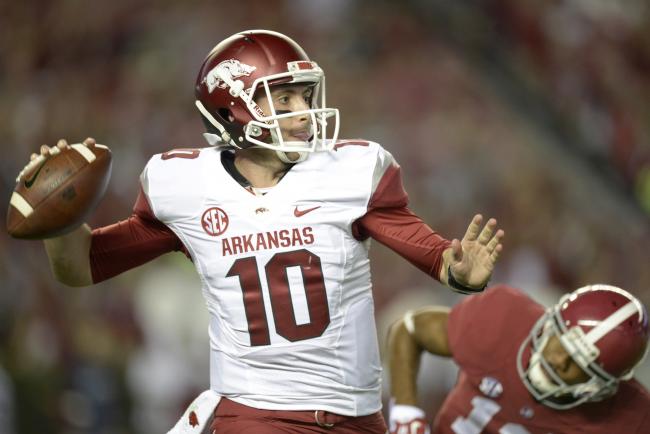 -- UPDATE --
After taking a trip on the cart and a horrific performance from Derby in relief, Allen returned to the game as illustrated by Robbie Neiswanger of the Arkansas News Bureau:
QB Brandon Allen back on the field for Arkansas. Backup AJ Derby had two turnovers on the eight plays he was in the game.

— Robbie Neiswanger (@NWARobbie) November 2, 2013
End Update
If the Arkansas Razorbacks are to pull off a major upset over the No. 11 Auburn Tigers on Saturday, it appears they will have to do so without starting quarterback Brandon Allen.
Allen attempted just three passes in the contest before a cart was needed to remove him from the field per Brandon Marcello of the Alabama Media Group and Joel A. Erickson of the Birmingham News, Mobile Press-Register
Cart coming out for Brandon Allen.

— Joel A. Erickson (@JoelAEricksonAU) November 2, 2013
Arkansas quarterback Brandon Allen down on the field with an injury after a run and slide.

— Brandon Marcello (@bmarcello) November 2, 2013
The sophomore quarterback coming into the game had played well all season with 955 yards, eight touchdowns and seven interceptions, but like the team overall, he had suffered with a brutal four-game stretch against ranked opposition in Texas A&M, Florida, South Carolina and Alabama.
With Allen out of the picture, the task of upsetting the Tigers and halting a five-game losing steak is up to junior AJ Derby, who had attempted just over 30 passes on the year coming into the game.
This article is
What is the duplicate article?
Why is this article offensive?
Where is this article plagiarized from?
Why is this article poorly edited?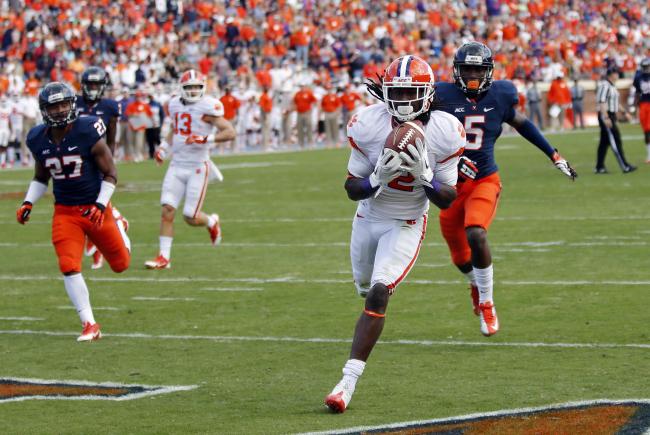 With yet another huge game, Sammy Watkins has officially proven that he should be the No. 1 wide receiver taken in the NFL draft in May.
With around four minutes remaining in the third quarter against Virginia, Watkins had already caught eight passes for 169 yards and two touchdowns. The second touchdown came on an incredible 96-yard pass from Tajh Boyd, with Watkins getting behind the secondary and taking it all the way to go up 42-7.
Heading into Saturday, Watkins already had 58 receptions for 813 yards and five touchdowns. While his numbers aren't as impressive as the ones Mike Evans from Texas A&M has, he's still the better NFL prospect.
What makes Watkins so special is that he's a dynamic receiver that's capable of making defenses pay deep while being physical enough to break tackles and pick up yards after the catch. He's easily the best all-around receiver in the draft, and he will most likely be a top-10 pick in May.
This article is
What is the duplicate article?
Why is this article offensive?
Where is this article plagiarized from?
Why is this article poorly edited?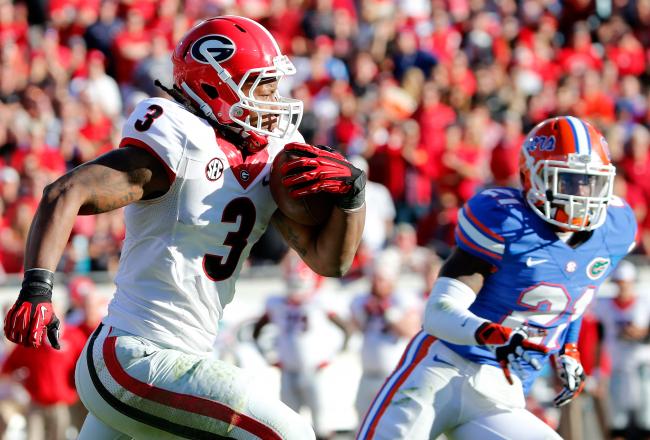 The Georgia Bulldogs didn't have much trouble against the Florida Gators, and a big reason for that was the return of Toddy Gurley, who had a big day.
With around eight minutes remaining in the third quarter, Gurley had already ran for 64 yards and a touchdown on just four carries. To go along with that, he also had three receptions for 87 yards, including a huge 73-yard touchdown to put Georgia up 14-0.
With how many injuries the Bulldogs have had to deal with, Gurley was finally able to give the offense a much-needed lift. Aaron Murray and the rest of the team had been struggling, losing their last two games.
While Georgia likely won't be going to the SEC championship or a big bowl game, at least now they can start turning things around. After this game, the Bulldogs will be playing four other games, with No. 11 Auburn being their only big test for the rest of the year.
If Gurley can stay healthy for the rest of the year, then the Bulldogs will finally be back in business.
This article is
What is the duplicate article?
Why is this article offensive?
Where is this article plagiarized from?
Why is this article poorly edited?
The Wisconsin Badgers were able to take down the Iowa Hawkeyes 28-9, and James White came up with yet another game.
White finished with 132 rushing yards and two touchdowns on just 19 carries, averaging 6.9 yards per carry. It was his second consecutive game with two rushing touchdowns, and he's scored at least once in seven of the eight games for Wisconsin this season.
On the year, White has now ran for 804 yards and nine touchdowns while averaging well over six yards per carry. Meanwhile, Melvin Gordon has been big for Wisconsin as well, running for 1,074 yards and 11 touchdowns of his own.
While he may not be a Heisman candidate, White certainly having one of the best seasons for a running back in all of college football.
The Badgers are now 6-2 this season, and if White continues to play like he has, they should have no problem finishing at 10-2 in the regular season.
This article is
What is the duplicate article?
Why is this article offensive?
Where is this article plagiarized from?
Why is this article poorly edited?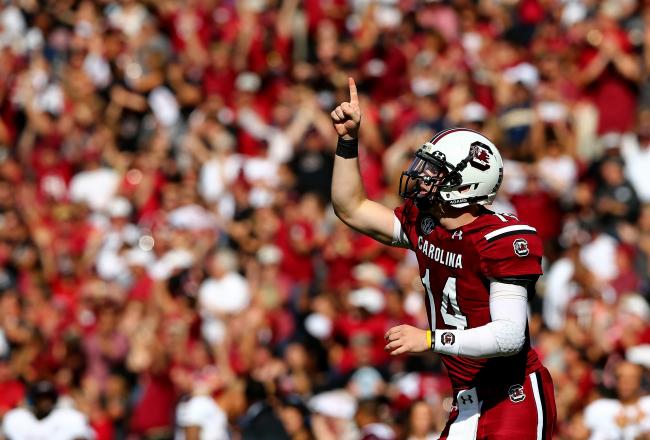 Connor Shaw was able to have a monster game as South Carolina coasted pass Mississippi State on Saturday, proving that the Gamecocks are still one of the best teams in the SEC.
With just under 13 minutes remaining in the fourth quarter, Shaw had already thrown for 147 yards and four touchdowns, the most he's thrown in a game this season. Heading into Saturday, he'd already had 17 total touchdowns and just one interception.
The Gamecocks will now move to 7-2 this season with a 5-2 record in the SEC. If the Missouri Tigers lose to Tennessee, South Carolina will retake the top spot in the SEC East, giving them a shot at winning the conference championship this year.
After this, South Carolina will have just three remaining games, playing Florida and Coastal Carolina before playing No. 8 Clemson to finish the year. If they can win out, they will be in great shape to go to a possible BCS bowl.
This article is
What is the duplicate article?
Why is this article offensive?
Where is this article plagiarized from?
Why is this article poorly edited?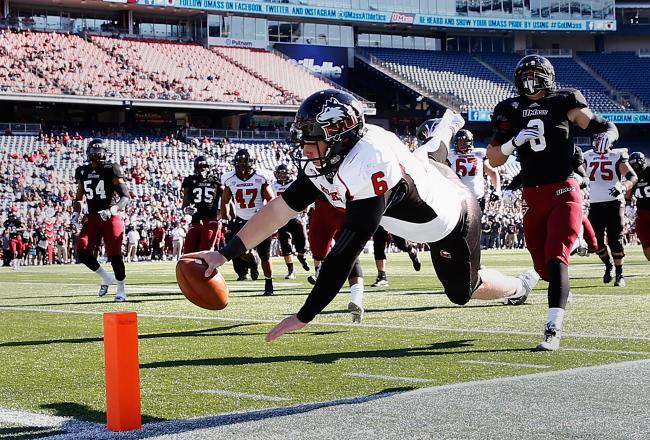 There have been few players in college football as explosive as Jordan Lynch, as he had a monster game against Massachusetts, showing that Northern Illinois is easily the best team in the MAC.
Through the first half of the game, Lynch threw for 160 yards and a touchdown with another 101 rushing yards and three touchdowns on the ground. He finished the game with 279 total yards and five total touchdowns. He now has 31 total touchdowns and nearly 3,000 total yards this season.
The Huskies have now moved to 9-0 on the year with a 5-0 record in the MAC. With three remaining games after this one, the only real remaining test will be against Ball State, as the Cardinals are 8-1 with a 5-0 MAC record.
Still, there isn't a more dominant team in this conference than Northern Illinois, and with Jordan Lynch playing under center, they very well could finish with a perfect 12-0 record heading into what will likely be a very prestigious bowl game.
This article is
What is the duplicate article?
Why is this article offensive?
Where is this article plagiarized from?
Why is this article poorly edited?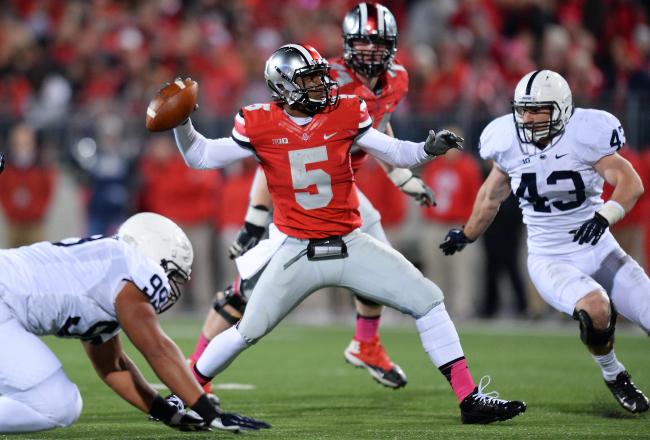 Ohio State Buckeyes junior quarterback Braxton Miller has started off his Week 10 in glorious fashion, throwing for 233 yards and four touchdowns in the first two quarters against the Purdue Boilermakers.
While Miller turned the ball over with an interception, he brought his team out fast and furious Saturday and dominated the first 30 minutes, heading into halftime with a 42-0 lead.
According to Ari Wasserman of the Cleveland Plain Dealer, head coach Urban Meyer sat Miller in the second half of the game:
Urban Meyer opts to sit Braxton Miller in second half, Kenny Guiton adds touchdown to Ohio State's lead over Purdue: http://t.co/M1IBCcAaC6

— Ari Wasserman (@AriWasserman) November 2, 2013
Miller and the entire Ohio State program continue to ride under the radar. The longshot Heisman Trophy candidate has led his team to a perfect record this season and came into this week's matchup with over 1,000 yards passing and 11 touchdowns despite missing two games with a knee injury.
The Buckeyes stepped up big with Miller out of the lineup, but the team is vastly better with him in the game. Ohio State has not found a great rhythm with the deep pass this year (ranked 74th in the nation with 221.6 passing yards per game), but the ability of Miller to run the football alongside powerful back Carlos Hyde has given the team the ninth-best ground attack in the country (averaging 295.6 yards per game).
Huge victories over Wisconsin, Northwestern and Penn State with Miller leading the program have made it clear that all of the Buckeyes' BCS dreams go through the junior. Despite staying undefeated to this point and dominating the Big Ten, the lack of success for the rest of the conference has hurt the program's chances of earning a BCS Championship bid.
The only hope for Ohio State will be utterly dominating teams like it did against Purdue and earning style points with the voters. The team can't change its easy schedule, but it can take advantage by putting up huge numbers on offense and defense.
This article is
What is the duplicate article?
Why is this article offensive?
Where is this article plagiarized from?
Why is this article poorly edited?