Michigan Basketball: 5 Keys to a Strong Start to the 2013-2014 Season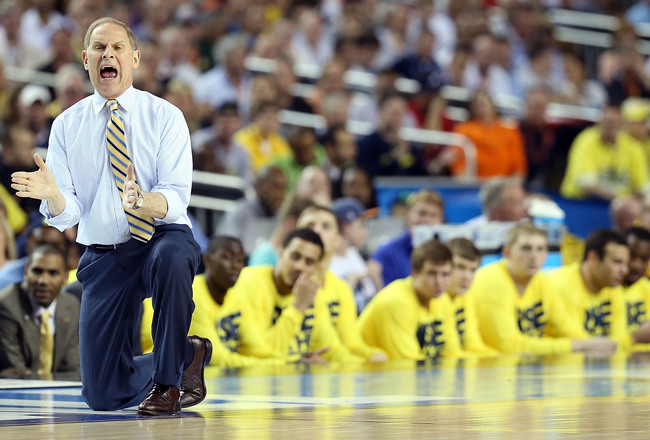 The Wolverines will look to repeat last season's postseason success under the tutelage of head coach John Beilein.
Streeter Lecka/Getty Images
The Michigan Wolverines return to the hardwood fresh off the program's best season in 20 years. Six months ago, they watched their dreams of winning a national championship slowly dissipate. Now, they enter the 2013-14 season determined to prove that last year's ascendance to college basketball supremacy was legitimate.
This season, much of the onus for offensive production will be on the three returning starters, Mitch McGary, Glenn Robinson III and Nik Stauskas. Robinson and Stauskas averaged double digits in points and steadily played key roles in 2012-2013.
Conversely, McGary played the majority of the season as a backup but emerged at the most opportune time. In the NCAA tournament, he burst out of obscurity by grabbing rebounds at will, finishing efficiently around the rim, blocking shots and displaying clever no-look passing. McGary morphed from a backup big man to a projected top-20 NBA draft pick within one month.
For the upcoming season, a talented recruiting class, along with several returning complementary players, will accompany the skilled trio. They will look to return to the heights they reached in the 2013 NCAA tournament.
The first step is maintaining last season's supreme level of play from the opening tipoff.
These are the five keys to a strong start for Michigan's 2013-14 campaign.
Find Your Identity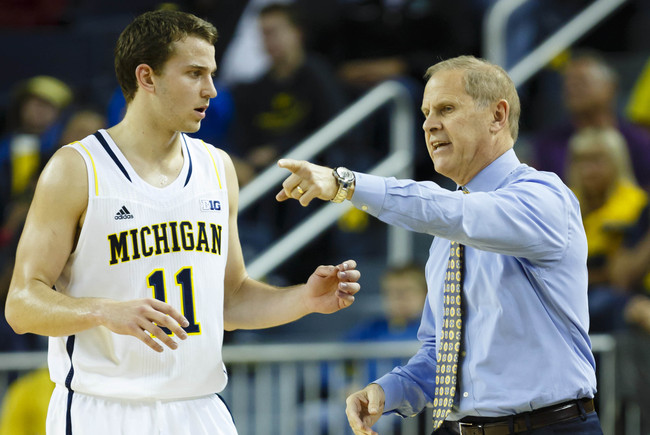 John Beilein will have the tools necessary to build another 30-win season, including Nik Stauskas' lethal jump shot.
Rick Osentoski-USA TODAY Sports
John Beilein's "2 guard" offense is infamously built to emphasize good three-point shooting, which typically highlights the backcourt players as the focal points. In his five years at the helm, Beilein's Michigan teams have ranked in the top two spots for three-pointers attempted in the Big Ten every year.
But this season could be slightly different.
Beilein actually has the luxury of a 6'10", 249-pound center without a glaring flaw at his disposal. In the 2013 NCAA tournament, Mitch McGary erupted, averaging 14.3 points and 10.7 rebounds. After this complete metamorphosis in McGary's production, will he be utilized to his fullest potential in the upcoming season? Or will the versatile McGary remain a product of a system that sees post players' roles minimized?
The Wolverines also return a talented backcourt with three-point specialist Nik Stauskas and the athletic Glenn Robinson III. Robinson III has voiced his eagerness to take on a more prominent role in the 2013-2014 season. And Stauskas has turned heads in the offseason, gaining 20 pounds of muscle. Both of these sophomores can score at a high volume and seem poised for breakout seasons.
Incoming freshmen Zak Irvin and Derrick Walton will not be asked to replicate the production of their predecessors, although both of their skill sets are strikingly similar. Irvin's ability to shoot off the pass and dribble, as well as his craftiness around the rim, make him a tough cover, much like Tim Hardaway Jr. Walton's ability to run an offense with great efficiency is similar to that of Trey Burke.
If these two newcomers can play near their high potential, Michigan will have four legitimate scoring threats at the guard positions.
The strong, athletic players that John Beilein now has to work with deviate from the types of players he has had on past teams. Whether or not he will continue to preach taking outside shots as a primary means of scoring remains to be seen. But this year's team has overwhelming athleticism and can score in a variety of ways.
Also, the excess of talent at nearly every position will likely be a blessing more than anything, but it could potentially raise issues about who the team's "go-to guy" is.
Not a bad problem to have.
Remain Cautious with McGary's Back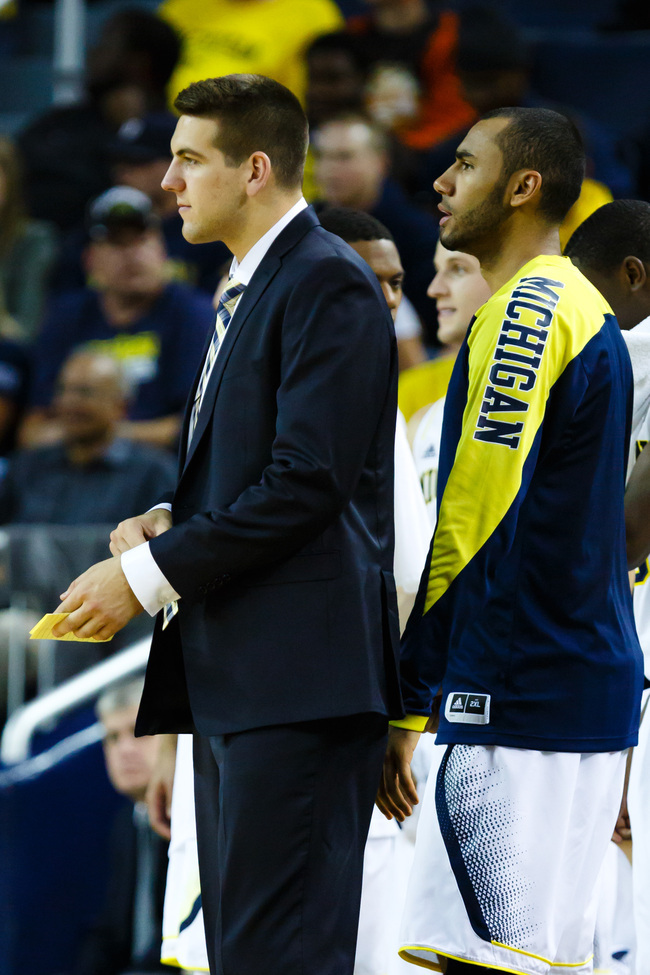 While Mitch McGary's ideal start to the season isn't sitting on the bench in a suit and tie, that may be the smartest option.
Rick Osentoski-USA TODAY Sports
A lingering back injury to preseason All-American Mitch McGary could hamper the prospect of him playing the entire season. At the moment, McGary's recuperation process is moving along slower than expected. Currently, the diagnosis doesn't suggest very much. His potential timetable to return has remained unchanged for the last several weeks: to be determined.
McGary is still not cleared by doctors to play. But he shouldn't rush.
Michigan's first five games come against unranked, unheralded teams that the Wolverines should handle without McGary's presence. By the time the ACC-Big Ten Challenge rolls around, McGary should be nearing a return, barring any setbacks.
That early season heavyweight matchup on December 3 at Duke should be the date circled for him to return to the lineup. And still, while winning a big-time game against a revered opponent would be great for Michigan, it isn't worth risking arguably its best player's health.
If McGary's recovery is prolonged, this will allow the other primary players, Glenn Robinson III and Nik Stauskas, to handle the load offensively. The highly touted freshmen Derrick Walton and Zak Irvin will also be exposed to increased playing time. Caris Levert and Spike Albrecht will have opportunities to prove their worth as well. By the time mid-March hits, Michigan will need all of these guys working comfortably in unison to pursue the championship.
In 2012-2013, McGary was plagued by foot problems for the majority of the regular season. And it showed in his production, as he only hit double figures in points seven times, which is something he routinely reached in the tournament. Michigan wants the healthy player who dominated the 2013 NCAA tournament back for a big-time sophomore season.
Given McGary's relentless and reckless style of play, returning before being fully healthy is a troubling prospect. A chronic back problem could limit McGary's boundless potential.
Take it slow.
Play the Newcomers Immediately
Freshman Zak Irvin's well-rounded ability should help fill the void at the shooting guard position in the wake of Tim Hardaway Jr.'s departure.
Rick Osentoski-USA TODAY Sports
Michigan boasts ESPN's No. 12-ranked recruiting class, headlined by guards Derrick Walton and Zak Irvin. With the departures of stars Trey Burke and Tim Hardaway Jr., Walton and Irvin could have ample opportunity to prove that the hype surrounding them is merited.
Coach Beilein should provide that immediately.
Consider this: Four of the team's first five games come against mid-major opponents, none of which are relevant in the national rankings. Out of the 14 games prior to conference play, only two opponents have earned a Top 25 ranking in the preseason. Beilein can afford to tinker the lineup in these matchups by moving around players in various roles and playing the freshmen frequently.
Also, if Mitch McGary's back still hasn't completely healed, then Glenn Robinson III could potentially return to the 4 spot, the position he played all of last season. Subsequently, Nik Stauskas would move from the 2 to the 3, leaving a gap at the shooting guard slot.
This is exactly where Irvin could assert himself and prove that he is worthy of a serious role in the offense. He will more than likely see a boost in playing time if McGary is still held out.
Unlike Irvin, freshman point guard Derrick Walton's path to the starting spot is much more accessible. The only player standing in his way is sophomore Spike Albrecht, who is more equipped to assume the role of a solid backup. Even if Albrecht begins as the temporary starter at the beginning of the season, Walton's ceiling of potential is conspicuously higher, so he should promptly see a healthy share of reps.
The Wolverines will have a dose of early season games that they should easily take care of. But not every non-conference opponent will be inferior.
Some contests that will challenge the Wolverines include: three games at the Puerto Rico Tip-Off, a showdown in Cameron Indoor Stadium against No. 4 Duke and a home matchup with No. 6 Arizona. That period of time should adequately prepare Irvin and Walton for the supreme level of play that the Big Ten provides.
Welcome to big-time college basketball.
Repeat Last Season's Efficiency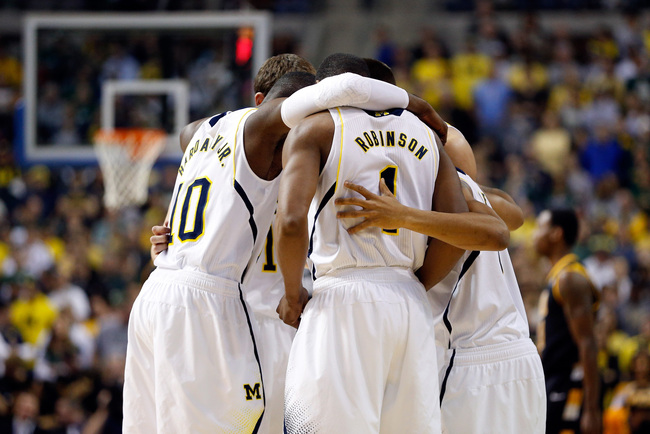 Last season's Wolverines played at an incredibly efficient rate. They must continue those ways in the 2013-2014 season.
Gregory Shamus/Getty Images
Michigan's 2012-13 season was a paradigm of efficient play. The Wolverines were the best offense in the country, hardly turned the ball over and fouled less than any other team.
In the upcoming season, they must attempt to continue those habits if they want to succeed the way last year's team did in the 2013 NCAA tournament.
While point guards Albrecht and Walton don't have near the starting experience Trey Burke had, both have a history of taking care of the ball. Robinson III, Stauskas, McGary and Irvin will all help take some of the pressure off the team's two point guards as well. The Wolverines have the personnel to keep the turnovers at a minimum once again.
Last season, Tim Hardaway Jr.'s and Trey Burke's shooting averages were actually lower than the team's output of 48.4 percent. Burke shot 46.3 percent and Hardaway was at 43.7 percent.
Both of these players were targeted as the top scoring threats, and their shooting percentages subsequently suffered. Part of the reason that the other players' percentages were noticeably higher was because of the attention being given to the two stars, thus allowing for more open shots to the other players.
However, returning are Robinson III (57.2 percent field-goal percentage), McGary (59.8 percent), Stauskas (46.3 percent) and Morgan (57.7 percent). These four players accumulated their spectacular shooting percentages while averaging 15 or more minutes played per game last season. That's efficiency. Much of the production will rely in their hands in the upcoming season.
This year's Wolverines have a plethora of offensive options, and Michigan is capable of scoring points at a frenetic pace. How head coach John Beilein will choose to devise his lineups remains to be seen.
But expect the Wolverines to be a well-rounded, efficient offensive unit once again.
Utilize Your Versatility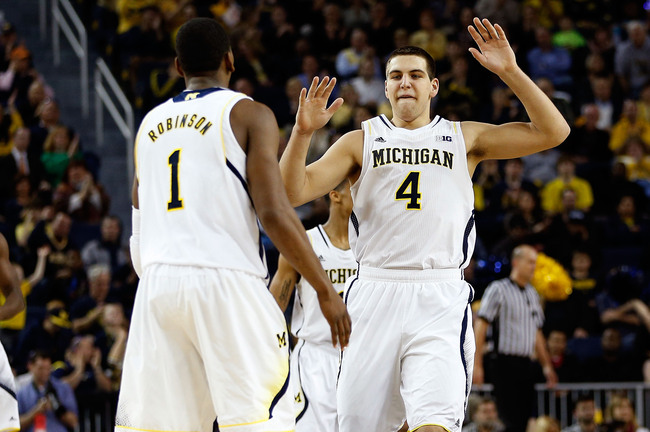 The versatility of Glenn Robinson III and Mitch McGary will present Michigan with endless possibilities in the upcoming season.
Gregory Shamus/Getty Images
John Beilein has considerable depth at every position this season. One of the many luxuries that presents is having the opportunity to test several different lineups.
Last year, the Wolverines' high-powered backcourt automatically moved Glenn Robinson III from his natural position of small forward to power forward. And despite his lack of size, Robinson made the transition swimmingly. Robinson shot an astounding 57 percent from the floor, averaged 11 points per game and finished second on the team in rebounding.
While he proved that he's more than capable to play that spot, his greatest potential remains as a small forward.
Nik Stauskas, who is 6'6", is also projected to assume his natural spot at the 2 position. Last season, he played the 3 and was forced to rebound and guard bigger players, which he certainly did well.
Zak Irvin has the ability to play multiple roles as well. The 6'5" freshman scoring machine has a complete offensive game and can guard multiple positions on the other end of the floor. Given his versatility, Irvin could potentially move to the 3 slot when Stauskas or Robinson III are on the bench.
Caris Levert is another 6'6" athlete who can play an assortment of spots. Levert is an elite defender with an improving offensive game. He has looked impressively well-rounded on the offensive end in the preseason and could potentially have a very productive season.
Derrick Walton and Spike Albrecht comprise the depth at the point guard position. Albrecht has steady, reliable ball-handling and shoots threes at a high percentage. Walton is the more athletic and Trey Burke-like of the two. Who will earn the starting spot remains to be seen, but both are qualified to run this team.
With all of the possibilities at guard, John Beilein also has more options than he ever has had in the frontcourt. Along with the versatile Mitch McGary, Michigan has senior leader and defender Jordan Morgan, who is projected to start alongside McGary.
Jon Horford is another experienced big man who plays sound post defense and can finish around the hoop. He and McGary are both 6'10", and Morgan is a bulky 6'8".
At Big Ten media day, Coach Beilein put it simply: "We can play big. We can play guards—all guards. We can do a lot of things."
That versatility will lead to ongoing success for the Wolverines in the 2013-14 season.
Keep Reading

Michigan Wolverines Basketball: Like this team?