USC vs. Oregon State: Live Score and Highlights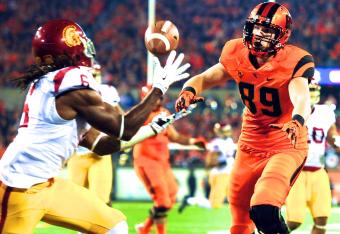 USC 31, Oregon State 14—FINAL
Relying on a strong running game and a staunch defense, the USC Trojans defeated the Oregon State Beavers by a score of 31-14.
USC rushed for 242 yards on the ground. Both Silas Redd and Buck Allen each rushed for over 100 yards on the night. Cody Kessler had a strong game, going 17-21 for 247 yards and a touchdown.
A full box score of the game can be found at NCAA.com.
Bleacher Report appreciates you staying with us. Tune in for live analysis, scores and much more!
*Here are 10 things we've learned from the Trojans win over the Beavers.
A big thank you from Bleacher Report for following the game tonight with us!
We hope you all have a pleasant weekend.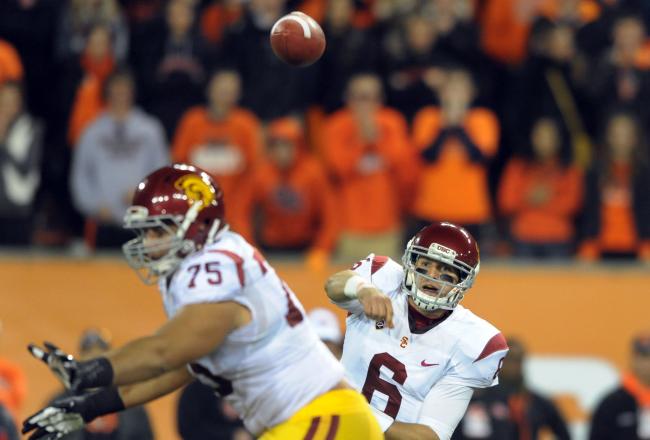 PLAYER OF THE GAME: CODY KESSLER
The unheralded quarterback from Bakersfield, Calif., has steadily improved every week.
Tonight, he went 17-21 for 247 yards and a touchdown. Outside of the one interception, he was supremely efficient and accurate. After what was possibly a weakness at the beginning of the year, the quarterback position may be turning into a strength. At the very least, it's solidified for the moment.
THOUGHTS FROM THE GAME: USC
1. This is a dangerous team. Although depleted from a depth standpoint, Ed Orgeron has brought an attitude. This group truly thinks that it can win any game that it plays.
Numbers aren't big, but the overall talent is. This team is squarely in the hunt to win the Pac-12 South Division. If it does, Ed Orgeron might be appointed as the man in charge from this point on.
2. USC absolutely dominated the LOS on both sides of the ball. The offensive line opened up massive holes, exploited by both Silas Redd and Buck Allen. Defensively, the line made it so Mannion was not in any semblance of a rhythm the entire night. It threw off the timing of OSU's offense, and unsurprisingly it struggled.
THOUGHTS FROM THE GAME: OREGON STATE
1. Sean Mannion was victimized by both poor decision-making and poor protection up front. He forced an inordinate amount of throws in tight windows tonight. He was intercepted three times, and it realistically could have been seven or eight. Coming into this game, he had only thrown three interceptions on the night.
He looked like the quarterback last year that threw for 13 interceptions. However, he didn't get much help up front. Mannion was constantly pressured and it forced rash decisions.
2. Oregon State was manhandled up front on both sides of ball. USC rushed for 242 yards on the night. It was opening up huge holes against a smallish OSU front seven.
On the other side of the ball, the USC defensive line was pushing the OSU OL into the backfield. The Beavers aren't known as a rushing team per se, but it only rushed for 92 yards on the night. Whether it's from a training or recruiting standpoint, both lines need to improve immensely.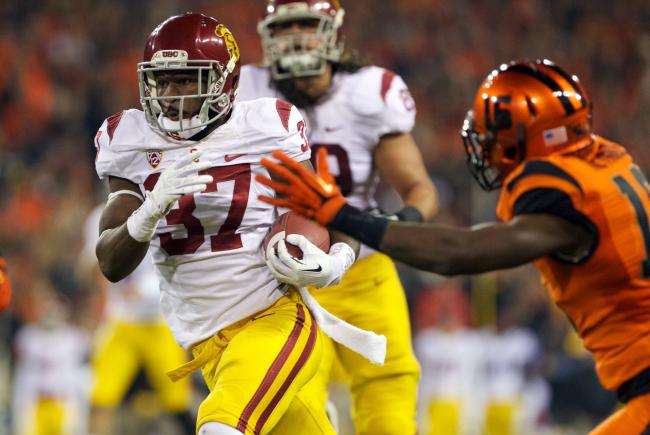 FINAL!
USC 31, Oregon State 14
The Trojans will have a nice flight back to Los Angeles. The victory over the Beavers was the first win in Corvallis for the USC program since 2004.
We will have postgame analysis and final thoughts shortly...
With this loss, OSU has virtually no shot at winning the Pac-12 North.
On SC's end, it's got a viable chance at contending for the Pac-12 South crown. Games against Cal and Colorado should be easy victories. The contest against Stanford should be difficult, and the finale against UCLA at the Coliseum could be VERY interesting...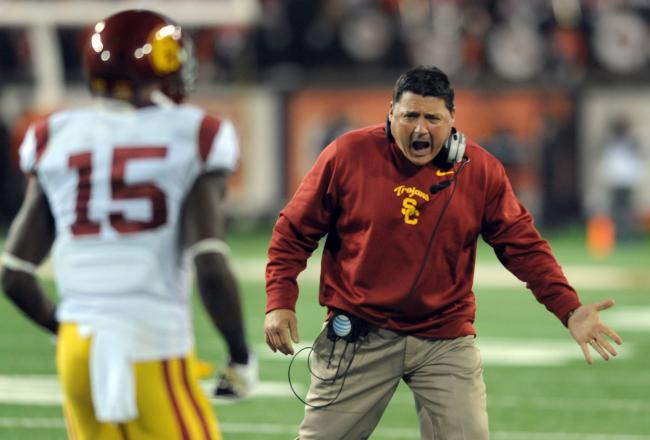 USC appears to be content with running the ball and chewing up clock.
Here's a question for SC fans:
Is Ed Orgeron a viable candidate to take over as the head coach of this program?
INTERCEPTION!
As I say that, Mannion is intercepted by Trojans' defensive back Kevon Seymour. It's the third interception thrown on the night by the Beavers' signal-caller.
He had thrown three interceptions in the first 8 games of the season before tonight.
This pretty much ends the night for Oregon State.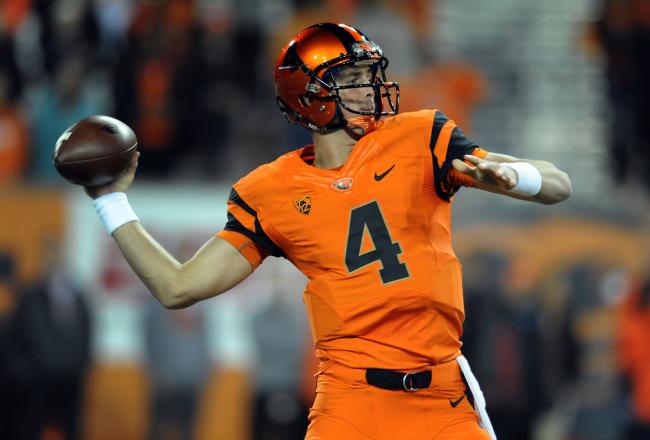 Mannion has just looked very off tonight. Aside from forcing throws into tight windows, he's shown little in the way of accuracy.
If not for butterfingers by SC's secondary, he realistically could have thrown six interceptions on the night. Credit does to to USC's defensive line for bringing pressure, but Mannion's decision-making has been questionable.
With a little more than 6 minutes remaining, OSU needs points...and quick.
It must be noted that Oregon State truly hasn't tackled very well tonight. The SC running backs are getting to the second level and have been breaking tackles at will.
Oregon State can't blame refs. Zero Oregon State penalties. USC has 7 for 57 yards. Beavers are having a Stanford hangover. #USCvsORST

— ESPN Pac-12 (@ESPN_Pac12blog) November 2, 2013
The Beavs are truly beating themselves tonight...
INTERCEPTION!
Sean Mannion throws another interception, and the Trojans will take over deep in its own territory. Dion Bailey made a nice diving play for the grab.
OSU is now 0/3 in the red zone tonight.
USC true freshman safety Leon McQuay just head-butted Brandin Cooks in front of an official.
Wow.
Spotlight been on Oregon State last 2 weekends. And it has proven to be too bright for the Beavs. Sean Mannion..NOT who we thought he was.

— Max Bretos (@mbretosESPN) November 2, 2013
Tell us how you feel, Mr. Bretos.
Last week against Utah, the Trojans mustered only 30 yards on the ground.
Tonight, USC has 207 yards on a 6.3 yards per carry clip. Both Redd and Allen have each rushed for over 100 yards.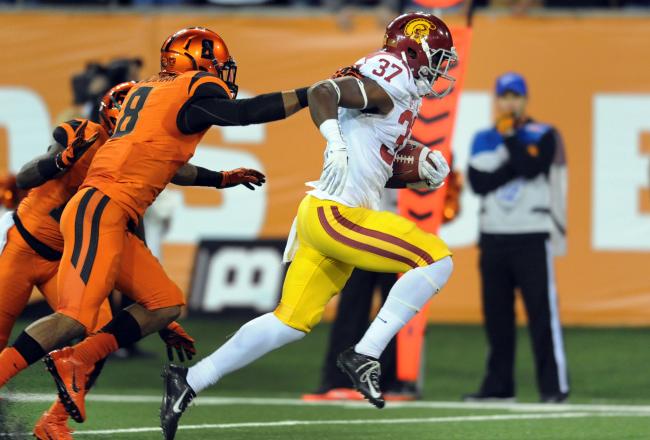 TOUCHDOWN!
USC 31, Oregon State 14
The Trojans just continue to dominate up front on both sides of the ball. Buck Allen ran through a massive hole and scored on a 52-yard rush for the score. It's Allen's third touchdown on the night.
A 6 play, 90 yard drive has pretty much broken OSU's spirit at this point. Barring a complete collapse, this game looks firmly in favor of the Trojans.
Kessler has 233 yards passing, Mannion 185. Who saw that coming? #USCvsORST

— ESPN Pac-12 (@ESPN_Pac12blog) November 2, 2013
This might be the most unbelievable stat of the night.
Mannion entered averaging over 420 yards passing per game.
Kessler came in with an average of about 210 yards.
The Beavers just converted on third down for the first time in the game.
There's 4:40 left in the third quarter. A 1/7 mark on third down won't win you many games.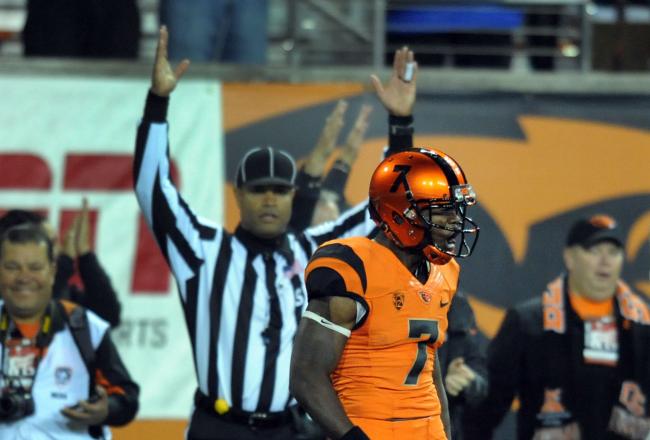 The Beavers will now start with the ball.
It's imperative that the offense get into some sort of rhythm. It appeared that way on the last drive, but the missed field goal nixed the momentum effectively.
If I'm OSU, I keep getting the ball into the hands of Brandin Cooks. He's far and way the best option offensively for the Beavers.
Despite not getting credit for that catch, Marqise Lee looks like Marqise Lee tonight for the first time this season.

— Michael Lev (@MichaelJLev) November 2, 2013
Lee has been a vital weapon for the Trojans tonight. His mere presence opens up things down the field for other receivers.
He's caught three balls on the night for 100 yards. On all three catches he's looked extremely explosive.
USC is really starting to assert itself on the ground.
Silas Redd has now surpassed the century mark rushing the football. On the night he's got 16 carries for 109 yards.
Beavers drive stalls at 9-yard line, Romaine boots 26-yard field goal and is wide left...ouch... #GoBeavs

— Gary Horowitz (@GHorowitz) November 2, 2013
Oregon State is now 0/2 in the red zone tonight.
MISSED FIELD GOAL!
After a promising start to the drive, the Beavers sputtered in the red zone and settled for a Trevor Romaine field goal from 26 yards.
However...he missed wide by a considerable margin. It's the second missed field goal attempt by the Beavers tonight.
The Trojans take over at its own 20-yard line.
This article is
What is the duplicate article?
Why is this article offensive?
Where is this article plagiarized from?
Why is this article poorly edited?

USC Football: Like this team?