Miami Heat vs. Brooklyn Nets: Postgame Grades and Analysis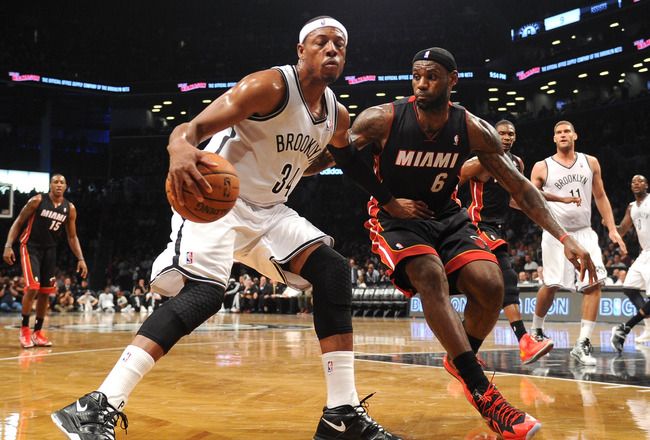 Maddie Meyer/Getty Images
Paul Pierce and Joe Johnson scored 19 points apiece and helped lead the Brooklyn Nets to a thrilling 101-100 victory over the Miami Heat in the opener at the Barclays Center on Friday night.
The Nets hardly trailed in the game and led by as much as 16 in the second half. They out-rebounded the Heat 40-30 and got 36 points from their bench to help take down the two-time defending champs.
LeBron James led the Heat with 26 points, and Dwyane Wade scored 21 of his own.
Miami has now dropped two straight after winning its season opener, and Brooklyn has its first win of the year.
Point Guard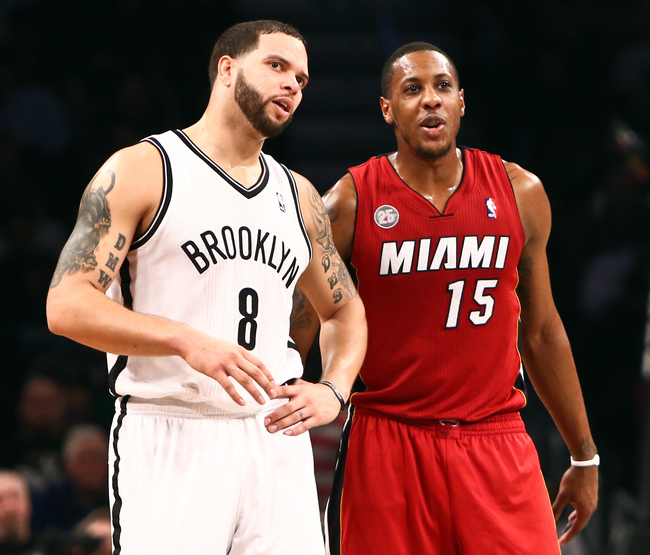 USA TODAY Sports
Mario Chalmers
This was a mediocre night for Mario Chalmers.
The floor general scored 12 points off 3-of-8 shooting, all three of his makes coming from deep. He also tallied three assists and registered a plus-minus rating of minus-three in 32 minutes of action.
We see outings like this from Chalmers a lot, so this was pretty standard for the Kansas product.
Grade: C+
Still limited due to a bum ankle, Deron Williams played as well as could be expected of him on Friday night.
The point guard recorded eight points, eight assists and shot 3-of-7 from the field in 27 minutes of action. He also made some crucial passes late in the game, particularly on a couple of Joe Johnson threes.
Most importantly, Williams looked fresh. He repeatedly pushed the ball up the floor and looked very confident in making quick moves. It looks like that ankle is going to be just fine.
Grade: B+
Shooting Guard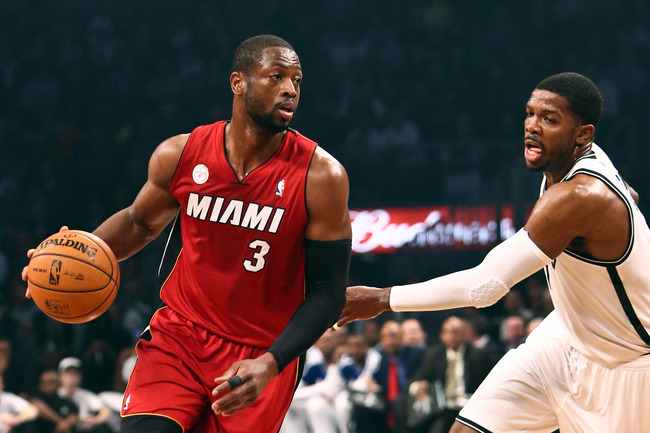 USA TODAY Sports
Dwyane Wade
Dwyane Wade was very good in this one.
Although he shot only 5-of-12 from the floor, he got to the free-throw line consistently and made 10 of his 11 attempts from the stripe. He ended up scoring 21 points overall and kept the Heat in the game when the Nets made their big run during the second half.
Wade also tallied five rebounds and four assists in 38 minutes of action.
Of course, Wade had sat out Miami's previous game against Philadelphia. He looked just fine tonight.
Grade: A-
Joe Johnson
Joe Johnson quietly had a very impressive outing.
In just 27 minutes of floor time, the big guard scored 19 points off an impressive 6-of-8 clip. He also hit two gigantic threes in the fourth quarter and knocked down two big free throws to help seal the deal late.
Not only that, but Johnson played solid defense on both LeBron James and Wade, displaying the ability to switch between the two and hold his own on that end of the floor.
All of that said, the key thing about Johnson's performance was his clutch shooting down the stretch.
Grade: A-
Small Forward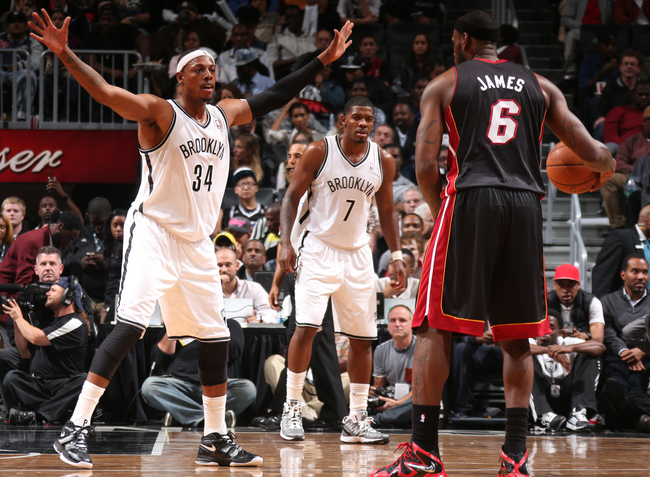 Nathaniel S. Butler/Getty Images
LeBron James
LeBron James put forth yet another gaudy statline in this one, recording 26 points, seven rebounds and six assists. He also shot an efficient 11-of-19 from the floor.
Still, he never truly made his trademark imprint on this game.
James' points were scattered, and he never really went on one of his patented runs during this contest. He was also sloppy with the basketball, turning the ball over five times and getting bailed out by lucky bounces on a couple of other instances.
He gets a good grade because he had a nice game overall, but this wasn't the LeBron we're used to seeing.
Grade: A-
Paul Pierce
After scoring only two points in the first half, Paul Pierce erupted over the final 24 minutes, tallying 17 points and playing ferocious defense on LeBron. He hounded James on the perimeter and came up with a vicious swat on the Heat star in the fourth quarter that proved to be a key play in the game.
Pierce hit big shot after big shot in the second half, and he drained two huge free throws late to help put Miami away.
His final numbers? 19 points, six assists and five rebounds while shooting 5-of-10 from the floor. He also shot 8-of-8 from the charity stripe.
Well done, PP.
Grade: A-
Power Forward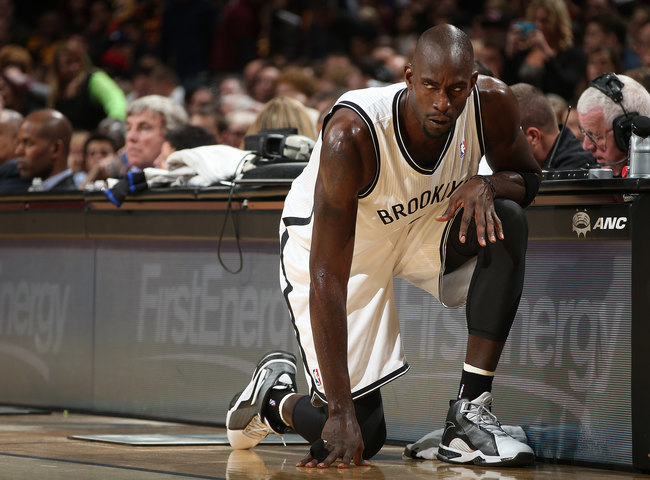 Ned Dishman/Getty Images
Udonis Haslem
Udonis Haslem wasn't exactly effective in the nine minutes he played. He went 1-of-4 from the floor and was used by Brook Lopez in the post. He also picked up five fouls, three of them coming during a 37-second stretch during the third quarter.
Yikes.
Grade: D-
This wasn't a great outing for Kevin Garnett.
He shot only 3-of-11 from the floor and rushed some shots late in the game, one of which was a blown layup. He did play some fine defense though, demonstrating his usual great understanding of team D. He provided excellent help on James and always seemed to be in the right spot at the right time.
Plus, he flew into the stands to try and save a loose ball in the third quarter. Typical KG hustle.
Regardless, it's hard to overlook his lack of efficiency.
He ended up with six points and seven rebounds in 26 minutes.
Grade: C+
Center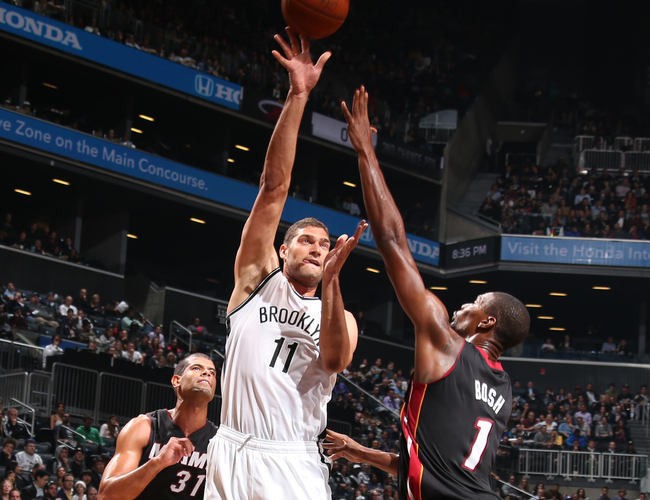 Nathaniel S. Butler/Getty Images
Chris Bosh was the only Heat starter to not post a negative plus-minus, and he scored 17 points off 4-of-8 shooting while hitting on all eight of his free-throw attempts. So, clearly, this was a solid night for Bosh, even if he failed in trying to intentionally miss his last foul shot.
He only pulled down four rebounds in 34 minutes, though, and for a star center, that is unacceptable.
Still, you have to like how Bosh kept the defense honest by knocking down some mid-range jumpers (and a three) to help spread the floor for Miami.
You just wish that he makes more of an impact on the glass regularly.
Grade: B+
Brook Lopez
Brook Lopez was dominant in the first half, imposing his will on the Miami defense and opening up Brooklyn's offense. However, he was plagued by foul trouble in the final two quarters, keeping the big man from being able to continue his dominance for the rest of the contest.
All things considered, Lopez absolutely made an impact in this game. He tallied 13 points, six boards and two blocks and altered countless other shots at the rim. His presence clearly changed the complexion of the matchup. Its just a shame he was only able to play 20 minutes.
As long as the big man can stay out of foul trouble, he is going to have a big year.
Grade: B+
Sixth Man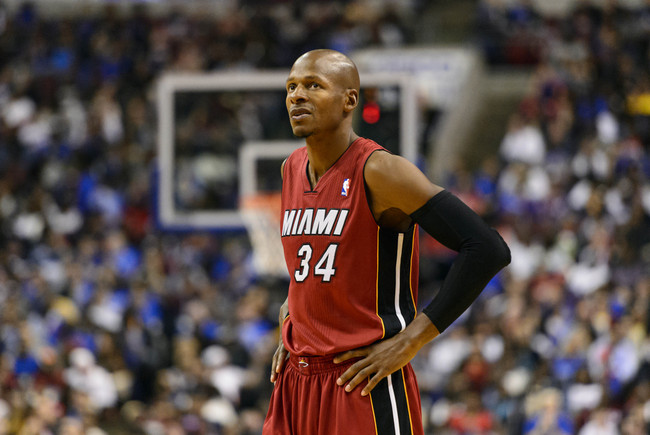 Howard Smith-USA TODAY Sports
Ray Allen
Ray Allen did an alright job off the pine in 29 minutes. He scored 12 points off 4-of-6 shooting despite only getting off two three-pointers (he made one). However, he struggled mightily defensively and was beaten numerous times off the dribble, even by Andrei Kirilenko. He also missed a crucial free throw with seven seconds remaining in the fourth period.
Still, his overall stat line was solid, as the veteran also added four rebounds to his box score.
Grade: B
Andray Blatche
Andray Blatche was the first man off the bench for the Nets, and he was solid in this one. The big man played 25 minutes and tallied nine points and six rebounds. He did look slightly uncomfortable at certain times down low, but he was efficient in going 4-of-8 from the floor. Blatche also notched a couple of steals and made some fine passes throughout, even if that isn't reflected on his stat sheet.
Grade: B+
Bench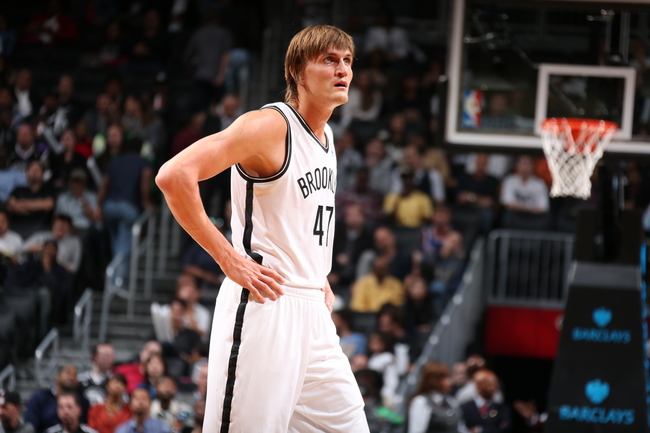 Nathaniel S. Butler/Getty Images
Heat
The Heat bench didn't do all that much in this one. Norris Cole picked up six points and five assists, but outside of a three-point play by Chris Andersen to end the third period, that was basically it. Rashard Lewis, Shane Battier and Joel Anthony all saw minutes, but none of them scored. Battier did pull down four rebounds and drew a charge to negate a Lopez bucket in the first half, though.
Grade: C+
Nets
Alan Anderson was absolutely huge for the Nets. The guard had eight points, four rebounds and a very nice block on Wade. Andrei Kirilenko provided a nice boost, as well, scoring eight points after missing the first game of the season with back spasms.
Jason Terry also knocked down a couple of threes, and Shaun Livingston picked up four points and had a beautiful drive to the rack in the fourth quarter.
Very solid all-around effort from Brooklyn's deep bench, which scored 36 points as a whole.
Grade: A
Keep Reading