Justin Blackmon has been suspended indefinitely by the NFL for violating the league's substance abuse policy. Per ESPN's Chris Mortensen Friday, via Rotoworld, the Jacksonville Jaguars wideout is "done for the year."
Blackmon served a four-game suspension at the beginning of the 2013 season for a separate substance abuse policy violation.
Fox Sports' Jay Glazer sent the following tweet about the receiver's future options:
Although Blackmon is suspended indefinitely i'm told there are ways he can apply for reinstatement for the start of next season

— Jay Glazer (@JayGlazer) November 1, 2013
The question is, does Blackmon deserve another chance after two repeat violations in the same year?
At this stage, it's vital not to draw definitive conclusions from speculation or assumptions about the 23-year-old wideout.
But here's what's known about his past.
Blackmon was arrested in the fall of 2010 on a misdemeanor DUI charge. At the time, he was a member of the Oklahoma State football team. Head coach Mike Gundy suspended the then-sophomore receiver for one game, though the charge was later reduced to an underage alcohol possession charge.
Less than two months removed from being selected No. 5 overall in the 2012 draft, Blackmon was arrested on an aggravated DUI charge in Stillwater, Okla., when he blew three times the legal BAC limit.
Fortunately for Blackmon, both alcohol-related incidents happened before he signed his rookie contract, therefore avoiding punishment under the auspices of the league. With two arrests as well as two substance-abuse violations since 2010, the Jaguars will undoubtedly take a long, hard look into their relationship with Blackmon going forward.
But should the Jags front office decide to cut ties in the future, there will surely be no shortage of teams looking to give Blackmon another chance. Because when he hasn't been serving a suspension, Blackmon has been quite the productive wide receiver:
Comparing Justin Blackmon's Stats to Other Top WRs (Since 2012)

| | | | | |
| --- | --- | --- | --- | --- |
| | Catches Per Game | Catches Per Target | Yards Per Catch | Yards Per Game |
| Justin Blackmon | 4.65 | .51 | 13.8 | 64 |
| Torrey Smith | 3.47 | .46 | 18.55 | 64.5 |
| Jordy Nelson | 4.63 | .69 | 15.8 | 73.3 |
| Vincent Jackson | 4.91 | .56 | 17.2 | 87.2 |
| DeSean Jackson | 4.73 | .56 | 15.2 | 72.2 |
| Stevie Johnson | 4.86 | .53 | 12.7 | 62.3 |
ESPN
In essence, he's emerged as one of the top 15-20 wideouts in football during a time in which the Jaguars arguably had the league's worst quarterback situation and one of the most porous offensive lines.
At 6'1'' and around 210 pounds with a solid frame and sub-4.5 speed, Blackmon is undoubtedly an upper-echelon receiving talent.
According to NFL.com's Albert Breer, although Gus Bradley didn't draft him, Blackmon had gained his coach's trust:
It does seem like Gus Bradley was able to earn Justin Blackmon's trust. And there is the possibility that Blackmon will play for Jags again.

— Albert Breer (@AlbertBreer) November 1, 2013
Despite their team's current 0-8 record and bleak outlook, Bradley and GM Dave Caldwell likely don't have to worry about losing their jobs at the end of the 2013 campaign so soon on the job. If they believe Blackmon has matured, it's very conceivable that the rebuilding Jaguars would be open to taking back their No. 1 receiver instead of leaving a glaring hole at the position.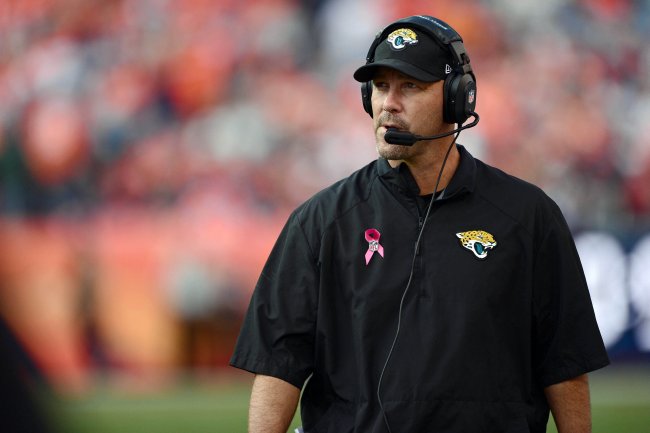 Ron Chenoy-USA TODAY Sports
But first and foremost, Blackmon needs counseling. Which is where he's allegedly headed:
#Jaguar WR Justin Blackmon will seek treatment to help him solve his issues. He had been improving, and the team embraced him. Until this.

— Ian Rapoport (@RapSheet) November 1, 2013
For as sad as the impact of Blackmon's suspension is for all parties involved, he must get his mind right. After that, Blackmon deserves another chance at the NFL, and it'd be surprising if he didn't get one. Though, technically, it'd be a "third chance."
Should Justin Blackmon get another chance to play in the NFL?
If Justin Blackmon seeks help during his suspension and eventually demonstrates he's learned from the assortment of past mistakes, he should get another shot to revive his once encouraging NFL career.