Justin Blackmon Suspended Indefinitely for Violation of Substance Abuse Policy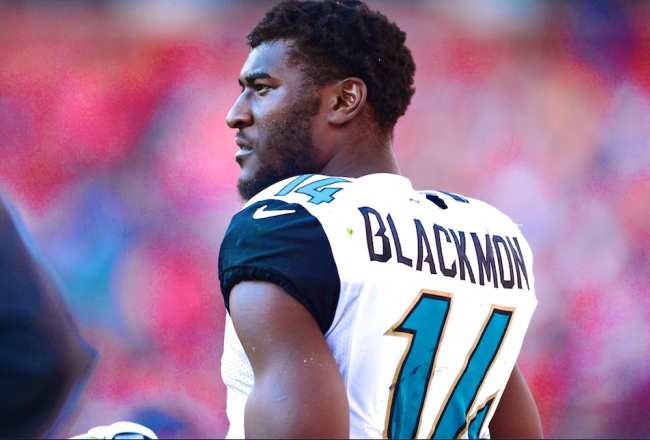 Justin Blackmon has received an indefinite suspension from the NFL after violating the league's substance abuse policy.
Ryan O'Halloran of the Florida Times-Union broke the news:
Blackmon suspended indefinitely without pay for violating the NFL Policy and Program for Substances of Abuse.

— Ryan O'Halloran (@ryanohalloran) November 1, 2013
Michael DiRocco of ESPN talked to Jaguars players for their reaction to Justin Blackmon as he tries to get treatment after being suspended for violating the league's substance abuse policy:
"It's not about us, you know what I mean?" Shorts said. "It's not about the football, the NFL, Jacksonville. It's about him and him getting better, and that's all that I care about. Football is going to be here forever, but it's life after that.

"He needs to really take care of himself and get better and I think he's doing the right thing right now."

...

"You hate to see that happen," center Brad Meester said. "We're standing behind him and hoping that he can get some help because obviously it's about more than football so we're hoping that he can get the help and get his life straight.

"Nobody's mad at him. That's not what this is about. This is about him getting help and getting his life right. That's the most important thing."
Head coach Gus Bradley also commented on Blackmon's suspension and treatment (via Jaguars.com)
Bradley, speaking on Monday for the first time since the suspension was announced, talked more about Blackmon personally than his pending absence on the field.

"My whole purpose on this to be honest with you is away from football," Bradley said. "I just looked at him as a person, and what we needed to do to help him in the right direction. I think some of this that was facilitated through the NFL will guide him in the right direction."
ESPN's Adam Schefter reports Justin Blackmon will enter rehab following his latest suspension from the NFL:
Jacksonville Jaguars wide receiver Justin Blackmon will enter a rehab facility, league sources told ESPN.

[...]

The NFL has increased its awareness of players with recurring issues and has placed added emphasis on support, as opposed to just discipline.

The NFLPA also has been pushing for treating players rather than disciplining them, and has tried to steer players that need help into rehab facilities before disciplining them. San Francisco 49ers star defensive end Aldon Smith recently was released from an alcohol treatment center.
From NFL Network's Ian Rapoport:
#Jaguar WR Justin Blackmon will seek treatment to help him solve his issues. He had been improving, and the team embraced him. Until this.

— Ian Rapoport (@RapSheet) November 1, 2013
Original Text
Jaguars general manager Dave Caldwell released a statement, per Jaguars.com:
All of us who are a part of the Jaguars family care very deeply about Justin and his well-being. That said, he must be held accountable and accept the consequences announced today by the NFL. His suspension will provide him the opportunity to receive the attention and professional treatment necessary to overcome his challenges, and we will support him during this time. The Jacksonville Jaguars will evaluate Justin's status once he has successfully met the criteria to be considered for reinstatement to the league.
Mark Long of the Associated Press provides more of Caldwell's statements:
Jaguars GM Caldwell: "Justin needs support right now. This is not about Justin Blackmon the player. It's about Justin Blackmon the person."

— Mark Long (@APMarkLong) November 1, 2013
Caldwell on Blackmon: "It's not in our nature to turn our backs on someone in his position."

— Mark Long (@APMarkLong) November 1, 2013
GM Dave Caldwell says he hopes WR Justin Blackmon will play for the Jaguars again

— Mark Long (@APMarkLong) November 1, 2013
Pro Football Talk's Mike Florio has Blackmon's apology:
"I want to sincerely apologize to Mr. Khan, my teammates, my coaches and to the Jaguars fans for not utilizing the resources that I was provided to overcome my challenges," Blackmon said in a statement released to PFT. "I am determined to overcome the issues that have resulted in this situation, and I truly appreciate the support that the Jaguars and my agent have shown me.

"I will address these matters with the type of intensity I usually direct toward my on-field play so that I can be ready to be a productive member of the team and community next season. Again, I am truly sorry to Mr. Khan, my teammates and coaches and to the Jaguars fans for the impact of my situation on the team as well as to my family and friends and those that have been there for me during these challenging times. Nobody is more disappointed with all of this than me."
It's the second time the 23-year-old wideout's been suspended this year, after missing the first four regular-season games after a violation of the substance abuse policy back in April.
As a result, this punishment is much more swift. Blackmon won't even be eligible to play until the 2014 season, at the earliest.
Blackmon eligible for reinstatement prior to start of 2014 season. #Jaguars

— Ryan O'Halloran (@ryanohalloran) November 1, 2013
NFL Network's Alber Breer described the Jaguars' perception of Blackmon's progress prior to this incident:
My understanding is the Jaguars did get Blackmon help, and really felt like over the last 6 months, he'd made very, very good progress.

— Albert Breer (@AlbertBreer) November 1, 2013
Pro Football Talk discusses the financial impact of the suspensions:
Total cost to Jaguars WR Justin Blackmon for his four-game and eight-game suspensions in 2013: $3.19 million.

— ProFootballTalk (@ProFootballTalk) November 1, 2013
Blackmon showed promise after a rookie season in which he had 64 receptions for 865 yards and five touchdowns. In four games this year, he has 29 catches for 415 yards and a touchdown.
Teams are willing to give players—especially the extremely talented ones—second chances. But third chances are much harder to come by.
This article is
What is the duplicate article?
Why is this article offensive?
Where is this article plagiarized from?
Why is this article poorly edited?