Halloween is a fun time of the year when conventional rules of dress go out the window. For an entire extended weekend, costumes are acceptable pretty much anywhere.
This weekend, several college football teams are joining in on the fun, rolling out new alternate uniforms. North Texas, Troy and Houston started the trend Thursday. Oregon State in all orange will keep it going Friday and several teams will keep it going through Saturday, including Fresno State's blackout in the nightcap.
Come and check out which new uniforms to look for and others you might have missed through Week 10's holiday action.
Oregon State: All Orange Everything
Oregon State will host USC Friday night and the Beavers are staging an "orange out." As a result, they will wear orange-on-orange-on-orange uniforms. While that might sound repulsive, early images actually look pretty sharp.
Phil Hecken of Uni Watch tweeted images of the full uniforms, as well as close ups of the shiny helmets that feature bold black numbers on the sides and a smallish beaver logo on the back. OSU also tweeted a promo for the game, featuring the orange uniforms.
ICYMI: Oregon State will wear their all-orange uni combo tonight vs. USC pic.twitter.com/nTdVG2HOBs

— Phil Hecken (@PhilHecken) November 1, 2013
Some shots of the Oregon State helmet for tonight's game. pic.twitter.com/z95nKwt72h

— Phil Hecken (@PhilHecken) November 1, 2013
It's Gameday! Remember, it's an #OrangeOut at 6 p.m. vs. USC and on ESPN2. #gobeavs pic.twitter.com/PI7cbmnsBx

— Beavers Football (@OSUBeaversFB) November 1, 2013
Tune in to ESPN2 at 9 p.m. ET on Friday to see the Beavers in all their orange glory against USC. Until then, check out a few more shots of the uniforms from Bleacher Report's Ken Chin.
Blackouts: Troy and Fresno State
Troy wore some interesting all-black uniforms Thursday night against Louisiana-Monroe. The Trojan football Twitter account released an image of the new threads and helmets shortly before their 49-37 loss to the Warhawks.
The Trojans are #BackinBlack tonight at 6:30 p.m. on @ESPNU against ULM @The_Sun_Belt @ESPNCFB pic.twitter.com/bDuCupLR7b

— Troy Football (@TroyTrojansFB) October 31, 2013
Fresno State will also be blacking out Saturday night against Nevada, and the Bulldogs will hope their all-black bash will be more successful than the one staged by Troy.
Hecken, ESPN and Fresno all tweeted out shots of the uniforms and also some blackout fan apparel. The Bulldogs' new duds:
Fresno State doing the blackout thing (with all black uni) this Sat. vs. Nevada pic.twitter.com/ucfdSd59sf

— Phil Hecken (@PhilHecken) October 29, 2013
#NEVvsFRESNO RT @FSAthletics: Are you ready for the #Blackout?! pic.twitter.com/FHmWn2wedh

— ESPN CollegeFootball (@ESPNCFB) October 29, 2013
Get your #BLACKOUT gear SIGNED by Coach @TimDeRuyter on Thursday at 11:30am @TheBulldogShop! #GoDogs pic.twitter.com/qKZXpQJ359

— FresnoState Bulldogs (@FSAthletics) October 30, 2013
The Bulldogs will take on the Wolf Pack on Saturday at 10:30 p.m. ET on ESPNU.
Houston and North Texas Win in Halloween Alternates
Houston took down South Florida 35-23 Thursday night to move to 7-1 overall and 4-0 in American Athletic Conference play.
While the Cougars remained one of just two teams still undefeated in AAC play, they did so while sporting some new black and red threads. ESPN tweeted a picture of the uniforms earlier in the week that looked more orange than red. However, that wasn't the case on the field.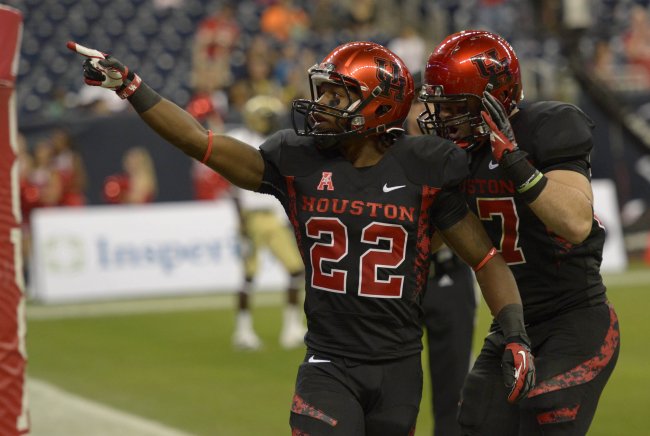 Thomas Campbell-USA TODAY Sports
Houston will wear black uniforms w/a new red helmet w/black decal for its 10/31 game vs USF http://t.co/SHq81RTTI9 pic.twitter.com/aMyyfptMQV

— ESPN CollegeFootball (@ESPNCFB) October 28, 2013
Meanwhile, North Texas also rocked some new black threads with green helmets in a win. The Mean Green football Twitter account released a photo of the new jerseys and helmets Thursday.
They were a solid look on the field too, especially considering they brought UNT a 28-16 win over Rice.
Here they are...BLACK OUT! #GoMeanGreen #Hit6 @CUSAFB pic.twitter.com/yAy73cjoYz

— MeanGreenFootball (@MeanGreenFB) October 31, 2013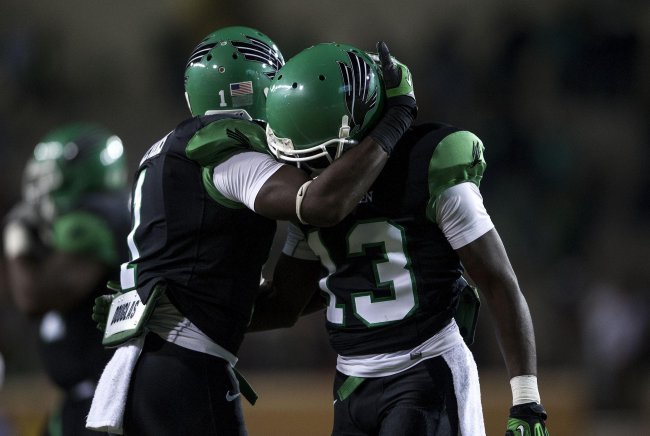 Jerome Miron-USA TODAY Sports
Rutgers' Hurricane Sandy Relief Helmets
Rutgers head coach Kyle Flood tweeted a picture of a new helmet the Scarlet Knights will wear this weekend against Temple in honor of the one-year anniversary of Hurricane Sandy (h/t Matt Lombardi, CollegeSpun).
#SandyRelief Jersey Strong pic.twitter.com/xzsOA2583k

— Kyle Flood (@KyleFloodRU) October 28, 2013
The helmets feature a small block "R" logo set on top of a black silhouette of New Jersey. The decal is set on a weathered sliver and black helmet.
These helmets look pretty good and the cause is even better.
Stars and Stripes
Hecken tweeted a pair of patriotic tributes that will be seen this weekend. Massachusetts will wear a stars-and-stripes decal on its helmet.
Check out more information on the tribute from Daniel Malone of MassLive.com.
UMass to wear special Stars/Stripes helmet decals tomorrow vs NIU -> http://t.co/nm8XEvm4XR pic.twitter.com/c4pKvacoHC

— Phil Hecken (@PhilHecken) November 1, 2013
He also forwarded a tweet from Rusty Burson of 12th Man Magazine, who has a couple shots of Texas A&M's new patriotic paint scheme at Kyle Field.
Kyle Field looking sweet and patriotic!! pic.twitter.com/ntGKxusDwS

— Rusty Burson (@12thManRusty) November 1, 2013
Wow factor for Military Appreciation Day! Awesome paint job! @AggieFootball pic.twitter.com/OCMSNALQcV

— Rusty Burson (@12thManRusty) November 1, 2013
The Aggies will host UTEP on Saturday at 9 p.m. ET on ESPN2, while UMass will host Northern Illinois on Saturday at 12 p.m. ET.