Why Roma Are a Major New Force in European Football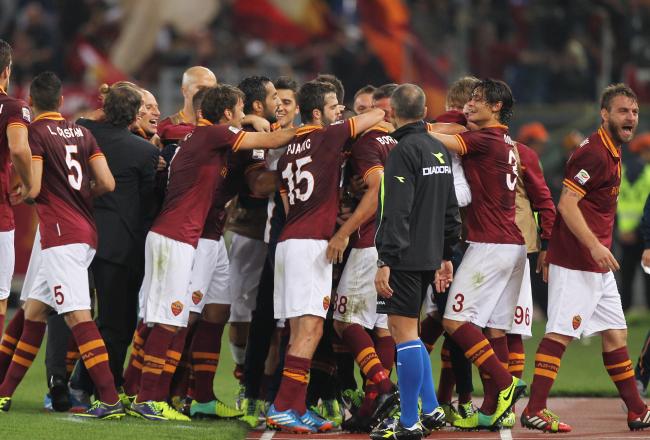 Paolo Bruno/Getty Images
It's a confusing time for Roma fans right now. They're not supposed to be this happy. Their team isn't meant to be this good. And yet, there they are, sitting top of Serie A having won their first 10 games, scoring 24 goals and conceding just once in the process.
No matter what happens later in the season, Rudi Garcia has proven that Roma are now right to dream. The new manager has worked wonders, finding an effective balance on the field and harmony in the dressing room—two things that have escaped plenty of managers at the Olimpico in the past.
Roma is a huge club, with a passionate fanbase and a great history. The problem in recent years has been the pressure that that all brings.
On their day, Luciano Spalletti's Lupi were as good a side as you'd find in Europe, but there was always the potential to implode. The 7-1 mauling at the hands of Manchester United at Old Trafford back in 2007 is the most famous example, but it wasn't an isolated event.
It held Roma back throughout the last decade, and though most would agree that Spalletti did a very good job at Roma, his spell on the bench is tinged with disappointment because, for all the problems off the field, there was enough talent there to have achieved more. The streakiness continued under Claudio Ranieri and Luis Enrique, before evolving to full-blown schizophrenia under Zdenek Zeman.
Garcia's changed all that. The Frenchman's built a unit that's well-drilled, perfectly prepared and patient. The players are now calm under pressure and assured of their own abilities and those of their teammates. Both on and off the ball, they're as elegant as they are explosive, combining hard work and endeavour with intelligence and artistry.
It's a formidable package—with the emphasis on package. Roma is now a side greater than the sum of its parts, the credit for which has got to go to Walter Sabatini.
Transfer policy has been patchy in recent years, but the former Perugia, Lazio and Palermo director of sport had finally imposed a methodical and calculated mentality at Trigoria. Big name players have been sold; money has been made and reinvested; and the team looks the better for it.
There's a unity of purpose right now at Trigoria. The new Roma is all about hard work, shared understanding, co-operation, solidarity and support. The wilder side of the Lupi have been tamed without pulling their teeth—or losing the club's sense of identity.
That last point is something that might not matter to a lot of international fans, but in Rome, any victory achieved without doing it in a very Roman way would be a hollow one. They don't want an identikit club here, regardless of the success it could bring. They want Roma.
It's been a steep learning curve for the new owners. Difficult times with Enrique and Zeman were exacerbated by the fact that they'd taken over a huge enterprise on the brink of collapse in an industry that was new ground to them. But this summer, they finally found the right formula.
Garcia was chosen because of his track record. The success he achieved at Lille, with little to spend and his best players frequently leaving, was evidence enough that, given a competitive squad and some financial backing, he could excel on a bigger stage.
The departure of Franco Baldini, though lamentable given his history with the club and the upstanding nature of the man, allowed Sabatini more responsibility and more space to develop what he believed was the best plan for the long-term development of the club. With his track record, it's no less than he deserves.
Some people questioned the sale of Marquinhos to Paris Saint-Germain, and pretty much everyone balked at the departure of Erik Lamela to Tottenham. But those sales allowed Sabatini to bring in Mehdi Benatia, Kevin Strootman and Gervinho, three players who suited Garcia's football better and who have among the league's best performers this term.
It also allowed the addition of Adem Ljajic, an immense natural talent, and Maicon, a hugely experienced and still exceptionally motivated footballer who needed a new environment to resuscitate a flagging career.
Benatia's partnership with Leandro Castan at the back is the revelation of the season. The pair are nothing short of imperious in the way that they boss the back line and seem to get better by the game. Is Marquinhos a fabulous talent? Certainly. But Roma don't miss him.
Last season, his pace and quick reactions spared the Lupi more than a few blushes, but under Garcia, the regimented defence is no longer porous and prone to lapses in concentration. The centre-backs don't have to perform like 100-meter sprinters.
Neither Benatia and Castan are blessed with tonnes of pace, but they're both intelligent and physically imposing and can use their understanding of the game and their strength to make speed less of a factor.
Roma's defensive record also speaks to the reinvigorated marvel that is Daniele De Rossi. The midfielder is back to his best after a difficult year and has been running the show for Garcia not only in the centre of the park, but often at the heart of the defence.
The Roman is often the last man, and when under pressure, he's been fluidly and effectively dropping deep and acting as a third centre-back. His willingness to defend also allows Strootman and Miralem Pjanic—who has been sublime under Garcia—to concentrate on the centre and moving play quickly forward once Roma regain possession.
On this form, De Rossi is among the very best players in the world, so his rejuvenation is worth more to the club than any signing they could realistically afford. Which brings us on neatly to another Roman who's been delightful and devastating in equal measure: Francesco Totti.
There's been a lot of drivel talked about Totti outside of Italy. That he hasn't done it on the big stage—neither had Zlatan Ibrahimovic until he embarrassed England—and that it was only because of some weakness or lack of desire that he chose to stay at a club he loved.
There's also the much-touted line that he's a problem for managers because they have to pick him unless they want to anger the dressing room and the fans. All nonsense.
That he was happy to stay at Roma says more about what drives other footballers than it does about him. Throughout his career he's been moved around the pitch repeatedly by coaches with minimal fuss—imagine what reaction that might illicit from most of today's biggest players—and his attention to personal fitness and dedication to his work is an example for young players to follow.
On top of that, he's one of the finest players of all time. Far from being a coach's nightmare, he's a dream.
Garcia said as much in a recent interview with L'Equipe in France (here in Italian via the Corriere dello Sport):
Francesco is unique. He's totally normal and at the same time he's a living legend. I sincerely believe that the greatest players are able to play with ease on the field because they're humble off of it, and Totti is like that.
Totti's partnership with his fellow Roman Alessandro Florenzi and Gervinho has been a revelation. On paper, it didn't sound up to much. A 37-year-old paired with a midfielder-turned-wide-forward and a player who was universally derided for his poor displays during a two-year spell in the Premier League.
And for back-up, only the ageing and unsettled Marco Borriello, the injured Mattia Destro and the aforementioned Ljajic, a player whose talents were still viewed to be a little raw. Dani Osvaldo's departure to Southampton, common opinion went, was going to hurt.
Instead, it's been Osvaldo who's stumbled. Garcia has managed to revive—there's that word again—Gervinho, and the Ivorian is now back to the technically brilliant, expeditious wide-man who attracted so much attention back at Lille.
They are, of course, without European football this year. But that might not be a bad thing. The squad will be the better for not having to play as much football, and injuries and fatigue will be less of a concern come the tail-end of the season.
There is money to spend at Roma—provided there's good reason to do so. Should he continue the challenge for the title and qualify for the Champions League next term, Garcia will be rewarded with more players. And as ever, the Roma youth system is likely to throw up another star or two in the near future. There's quite a few of them already on the fringes.
The American owners have been working hard to shore up the financial side of the club, and several lucrative partnerships have now been secured, including a major kit deal with Nike. A new stadium is in the planning stages—something that would allow the club to better control and profit from the huge resource that is its fanbase—and early moves into the American and Asian markets have been promising.
All of which will mean plenty more money in the bank to allow Sabatini do what he does best, unearth great talent. It will also make sure that any future local boys like Totti and De Rossi won't be lost to the lure of bigger contracts elsewhere.
In terms of earning power, it's still a long way to the likes of Manchester United and Real Madrid, but clubs like Juventus and Borussia Dortmund have shown in recent years that you can do an awful lot with less, provided it's managed carefully.
But then, potential has never been a problem for Roma. It's been the sleeping giant of Italian and European football for longer than most fans care to remember. The issue in the Italian capital has always been processing that promise into meaningful and lasting prosperity.
A lot can still go wrong, and it's very early into the Garcia era to be certain of great things, but this season's swashbuckling ascent to the top of Italian football should have the rest of Europe sitting up and paying attention. Because, with each passing weekend, this is looking more and more like the dawn of a new Roman empire.
This article is
What is the duplicate article?
Why is this article offensive?
Where is this article plagiarized from?
Why is this article poorly edited?