Predicting Which NHL Goalies Will Have the Highest Save Percentage in 2013-14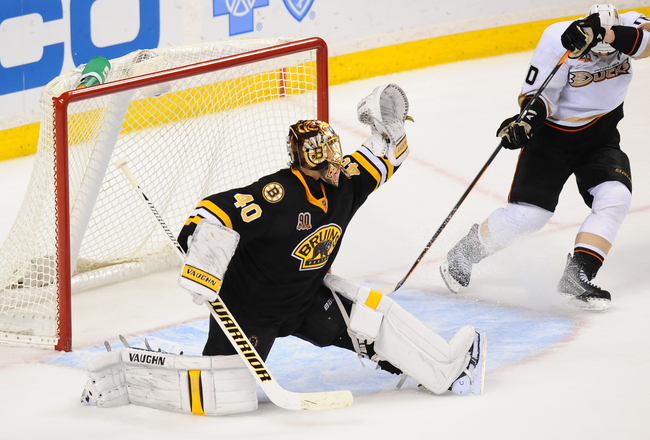 Steve Babineau/Getty Images
There is no perfect statistic to measure a goalie's effectiveness.
However, save percentage is an excellent way to judge a goalie's efficiency and consistency. It can be a more effective tool than goals-against average.
Save percentages have been rising sharply through the years. In 1999-2000, Ed Belfour of the Dallas Stars led the NHL with a .919 save percentage. Compare that with Ottawa's Craig Anderson, who led the NHL last year with a mark of .941.
All top-10 goalies in that category exceeded Belfour's mark, indicating that the standards have changed dramatically.
Here's our look at the NHL's starting goalies who will have the top save percentage in 2013-14.
10. Jaroslav Halak, St. Louis Blues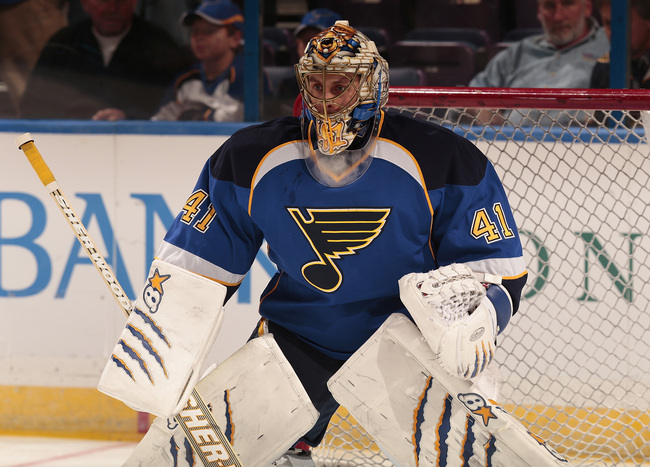 Mark Buckner/Getty Images
Current save percentage: .917
Predicted save percentage: .922
Analysis: Jaroslav Halak has split the goaltending duties in St. Louis in recent years with Brian Elliott, but he is the No. 1 goalie this year, and he has played like it so far with a 7-1-1 record and a 2.16 goals-against average.
Halak is supported by a talented and mobile defense, along with a team that is committed to shot-blocking. Head coach Ken Hitchcock makes sure his team plays defense first, and Halak should have a solid season that includes a top-10 finish in save percentage. Look for the Blues to challenge the Chicago Blackhawks for the top spot in the Central Division.
9. Jonathan Quick, Los Angeles Kings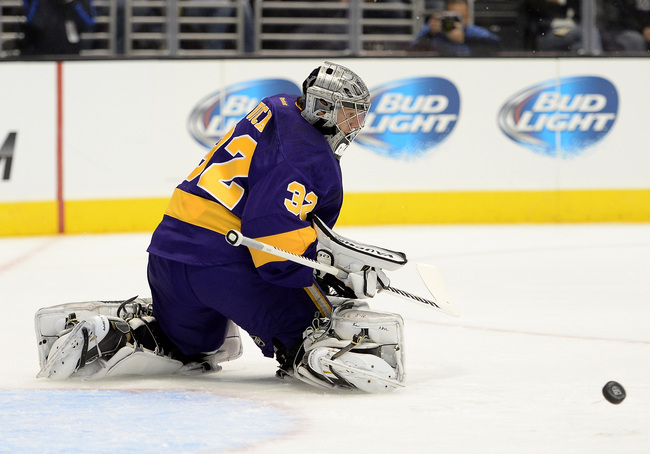 Harry How/Getty Images
Current save percentage: .903
Predicted save percentage: .923
Analysis: Jonathan Quick has not gotten off to the fastest start, but his track record indicates he will be ranked with the top goalies by the end of the year. Quick has an 8-4-0 record and a 2.56 GAA through the first month of the season. He had a .929 save percentage and a 1.95 GAA in 2011-12 during the last complete regular season.
Quick is a proven playoff performer, and that gives head coach Darryl Sutter and his teammates complete confidence that he will be on top of his game as the year moves along.
No goalie moves better when sliding post-to-post than the agile and acrobatic Quick.
8. Josh Harding, Minnesota Wild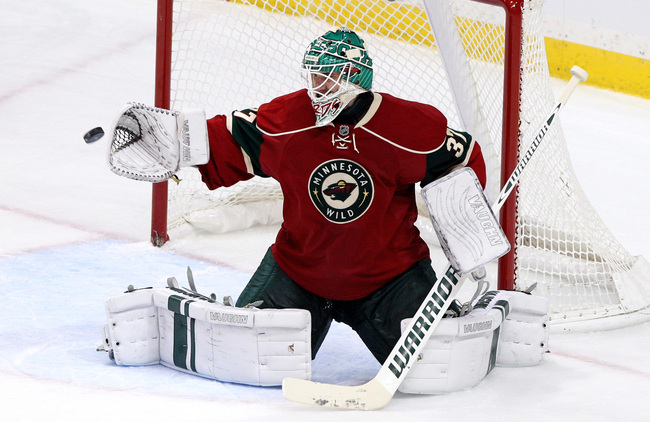 Brace Hemmelgarn-USA TODAY Sport
Current save percentage: .953
Predicted save percentage: .925
Analysis: Josh Harding has gotten off to a sensational start with the Wild, getting the majority of the playing time because Niklas Backstrom had offseason sports hernia surgery and is not in top form.
Harding's performance has allowed him to become the team's No. 1 goalie. Harding has had to battle multiple sclerosis, and his symptoms were quite debilitating last year, but he is doing much better this year. A recent lower-body injury should not have any long-term impact.
Harding has a 5-2-1 record and a shocking 1.00 GAA. While he can't be expected to remain at the same level, we see dramatic improvement for Harding in what should be the best season of his career.
7. Henrik Lundqvist, New York Rangers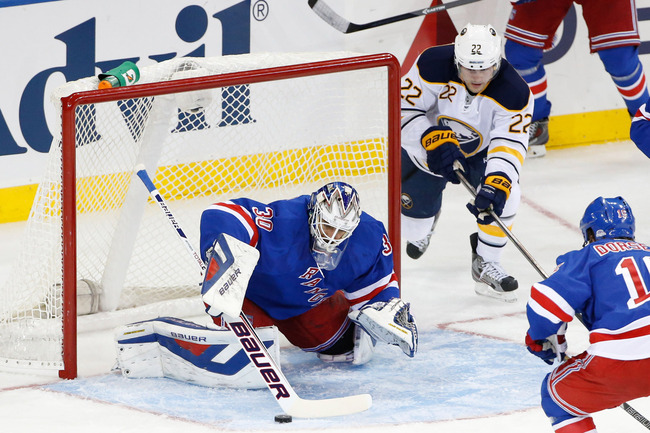 Anthony Gruppuso-USA TODAY Sport
Current save percentage: .908
Predicted save percentage: .926
Analysis: Henrik Lundqvist has gotten off to a substandard start, just like the rest of his teammates. The Rangers struggled badly in the first month of the season, and it may take them a while to get used to Alain Vigneault's coaching style.
Eventually, the Rangers will come around and so will Lundqvist. He has been a top-three goalie in the NHL for years, having won the Vezina Trophy in 2011-12.
Lundqvist did not lose his ability overnight, and his numbers will come back to form. He has a 2.26 GAA and a .920 career save percentage. Look for him to come close to the .930 mark he had in his Vezina Trophy season.
6. Corey Crawford, Chicago Blackhawks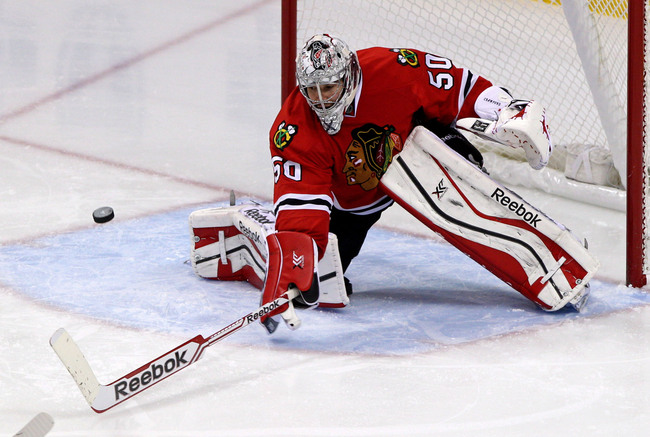 Brace Hemmelgarn-USA TODAY Sport
Current save percentage: .916
Predicted save percentage: .927
Analysis: Corey Crawford is one of the best clutch goalies in the league. He had a brilliant 2013 regular season and then answered every remaining question in the Stanley Cup playoffs when the Blackhawks emerged victorious and won their second championship in four seasons.
Here's why Crawford will once again be among the leading goalies in the league by the end of the year: He's always mentally prepared and he plays the game in the moment. If Crawford gives up a bad goal, he accepts it and moves on. He doesn't dwell on past mistakes, and that's why he's so tough to beat when the game is on the line.
Crawford had a 1.94 GAA and a .926 save percentage last year, and that save percentage should serve as his baseline for the current season.
5. Jonathan Bernier, Los Angeles Kings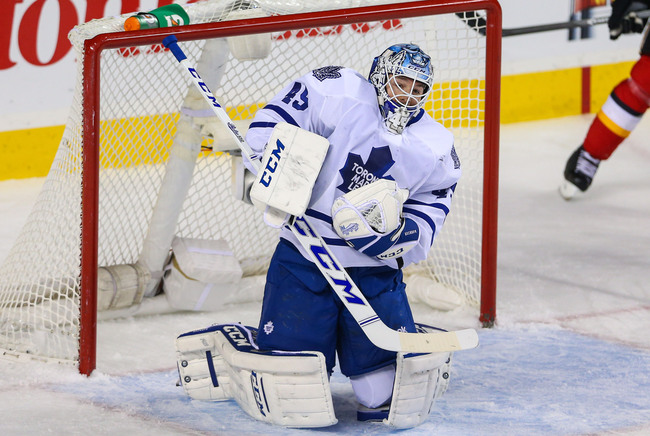 Sergei Belski-USA TODAY Sports
Current save percentage: .933
Predicted save percentage: .928
Analysis: This is the big opportunity for Jonathan Bernier, and so far, he is making the best of it.
Officially, Bernier is not yet the No. 1 goal for the Toronto Maple Leafs. He is battling for that spot with James Reimer. Bernier has had the majority of the time for the Maple Leafs, and it's difficult to see him losing the job to Reimer by the time the end of the season rolls along.
Bernier has a 2.35 career GAA and a .916 save percentage working largely as a backup for Jonathan Quick. He's been solid since the start of the season, and he shows no signs of slowing down.
4. Semyon Varlamov, Colorado Avalanche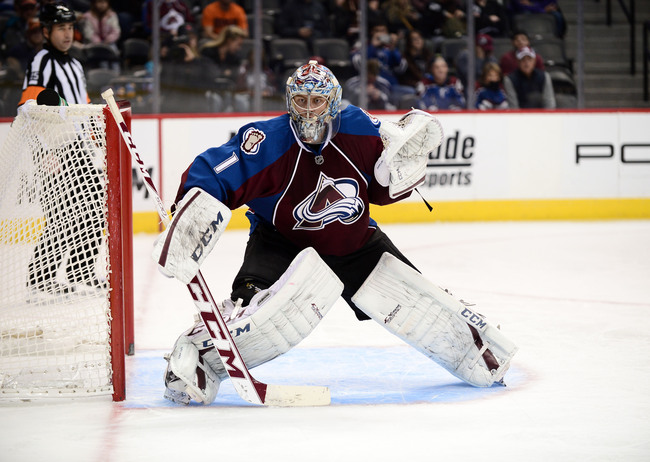 Ron Chenoy-USA TODAY Sports
Current save percentage: .945
Predicted save percentage: .929
Analysis: Semyon Varlamov's play has been a big part of the reason the Colorado Avalanche have gotten off to such a surprisingly hot start. Varlamov has a 7-1-0 and a 1.76 GAA in addition to his stellar save percentage.
Varlamov recently landed in the news for an alleged domestic violence incident. While that will obviously be a major concern for Varlamov and the Avs the rest of the way, he has appeared focused and consistent on the ice.
In addition to playing well for the Avalanche, Varlamov is expected to play for the Russian hockey team in the 2014 Sochi Olympics. He is motivated to have a superior season, and he is on track to deliver.
3. Carey Price, Montreal Canadiens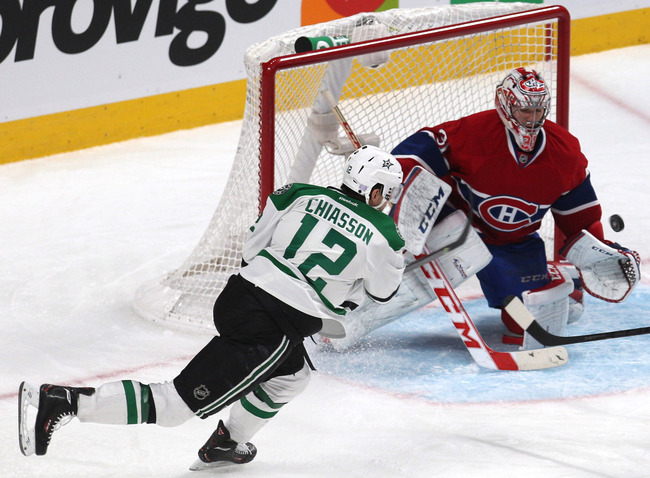 Jean-Yves Ahern-USA TODAY Sports
Current save percentage: .939
Predicted save percentage: .930
Analysis: The 2013 season did not end well for Carey Price. While the Montreal Canadiens finished the season as the top team in the Northeast Division, they did it despite a slump by their top goalie in the final weeks of the season.
Price's ordinary play continued in the postseason as the Canadiens were eliminated by the Ottawa Senators in the first round.
As the 2013-14 season got underway, there were concerns about the Canadiens' top goalie. Would he be able to return to form and did he really deserve to be one of Canada's top goalie candidates for the upcoming Olympics?
Price has been back in form this season. He has a 2.02 GAA, and he has been consistent in net. Not only does he flash his quick glove, but his positioning and ability to square up to the shooter have also given the Canadiens a big lift.
2. Antti Niemi, San Jose Sharks
Gary A. Vasquez-USA TODAY Sports
Current save percentage: .924
Predicted save percentage: .931
Analysis: Antti Niemi rarely gets the respect he deserves. He is one of the top goalies in the league and he has the 2010 Stanley Cup championship (with the Chicago Blackhawks) at the top of his resume.
Niemi is nearly always in the proper position, knows the shooters he is facing and has excellent anticipation. He has gotten off to a sensational start with the hottest team in the NHL, as he has a 1.72 GAA to go along with his 9-1-2 record.
Head coach Todd McLellan can feel secure every time he looks at Niemi in goal for the Sharks. He has had just one bad game in his first 12, and he can be expected to maintain that ratio the rest of the season.
1. Tuukka Rask, Boston Bruins
Current save percentage: .940
Predicted save percentage: .934
Analysis: Tuukka Rask plays the game with amazing consistency. He may not always be perfect, but he almost never has a bad game. Head coach Claude Julien knows that if Rask is at his worst, he's still not going to take the Bruins out of the game.
Rask had five games (out of 36) in which he gave up four goals or more during the 2013 regular season.
Rask, who will likely battle Niemi for the Vezina Trophy and the starting goalie position for Finland in the 2014 Sochi Olympics, has a 1.73 GAA and a 7-4-0 record.
The Bruins once again have aspirations of winning the Stanley Cup. If they reach that goal, it's quite obvious that Rask will be one of their best players.
Keep Reading