MMA Stock Report for the Month of October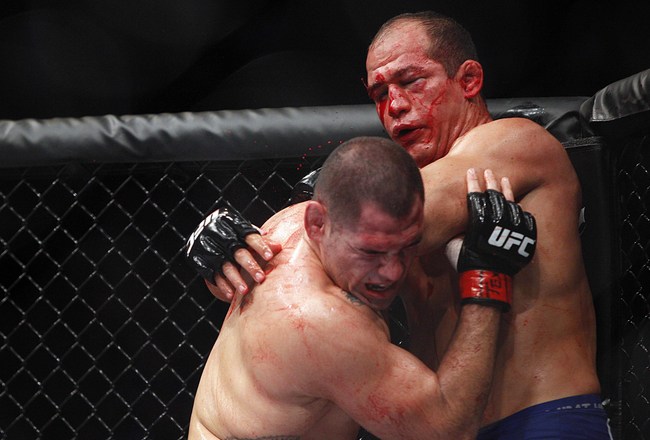 Andrew Richardson-USA TODAY Spor
Mixed martial arts was aplenty in October. There was not a weekend without some action coming to your television.
The UFC put on three events in the month, with two of those on Fox Sports platforms. The lone pay-per-view saw Cain Velasquez retain his UFC Heavyweight Championship with another dominant performance over Junior dos Santos.
With all the fights and breaking news of the month, there were significant shake-ups in the sport. More challengers emerged, others faltered, and fans were thoroughly entertained by it all.
This is the stock report for the month of October.
Stock Down: Rousimar Palhares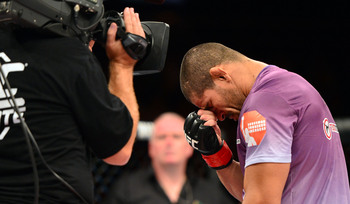 Jason Silva-USA TODAY Sports
Rousimar Palhares defeated Mike Pierce, but how he won is why his stock dropped.
Defeating Pierce should raise one's stock. It is a quality win in the welterweight division. However, Palhares held on to another submission for far too long. It was the straw that broke the camel's back. Or rather, the straw that got him fired.
Dana White told Jeremy Schaap on Olbermann that Palhares was done in the UFC. The Brazilian went from picking up his first welterweight win to looking for a job.
We won't see Palhares back in the UFC, and it is entirely his fault.
Stock Up: Dong Hyun Kim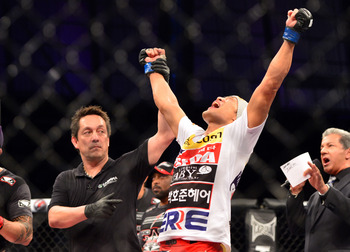 Jason Silva-USA TODAY Sports
Dong Hyun Kim and Erick Silva met at UFC Fight Night 29. They were both seeking a big win in the division to get back into the upper echelon. It was Kim who came through with his best performance to date.
Silva was the dynamic striker, while Kim was the controlling grappler. And sometimes in this crazy sport, the roles get reversed.
Kim nailed Silva on the button and put him out. It was a shocking result in Brazil. The Korean's stock skyrocketed with the KO.
No one saw the emphatic result coming, and it will help Kim in his quest to get in the Top 10 of the division. He could find himself in another big welterweight fight in 2014.
Stock Up: Jake Shields
Jason Silva-USA TODAY Sports
The main event of UFC Fight Night 29 looked to be an interesting battle between Demian Maia and Jake Shields. Shields had other plans.
Shields controlled the bout on the mat and stifled Maia's attempts to generate offense. After Maia's complete domination of top-level grapplers such as Jon Fitch, it was a surprising outcome that moved Shields back up the welterweight ladder.
He often does not get the credit he deserves, but it is important to note that in eight years his only losses are to Georges St-Pierre and Jake Ellenberger. He is an elite fighter.
After his performance against Maia, it will be difficult to keep Shields out of a top-level matchup in his next fight. The result already moved him back into the Top 10 at No. 8. Shields had a big night in Brazil.
Stock Up: Jessica Eye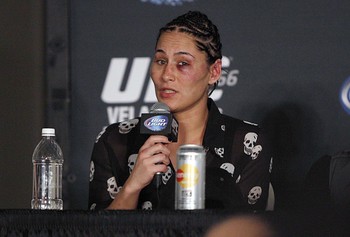 Andrew Richardson-USA TODAY Spor
Jessica Eye was once the top-ranked flyweight in the world, but she made the move to 135 pounds to accept a fight against No. 2-ranked Sarah Kaufman at UFC 166.
There were a lot of questions coming into the fight about the move. Could she handle the strength differential? How would she fare against one of the most powerful strikers in the division?
She answered those questions by defeating Kaufman by split decision.
After the judges' scorecards were released, the result became slightly controversial due to one judge giving Eye the third round, but regardless, her stock rose after the bout. She was competitive against the elite of the division. Her speed, footwork and clinch game were on point.
Eye jumped to No. 7 in the division following the big win. With the division still growing, she is not far off from a title shot. If she continues to perform like she did at UFC 166, we may see her as a contender in 2014.
Stock Down: Nate Marquardt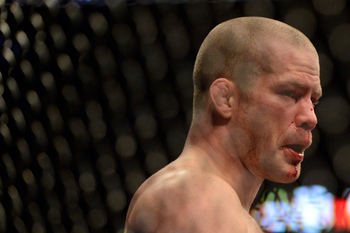 Eric Bolte-USA TODAY Sports
Nate Marquardt's return to the UFC has not gone well.
Since returning to the organization, he has been knocked out two straight times. First, Jake Ellenberger did the honors, and at UFC 166, it was Hector Lombard's turn. He is now on a three-fight losing streak.
Marquardt was once a middleweight title contender, Strikeforce welterweight champion and legitimate threat in the division. He is now relegated to the middle tier of the division at best. At 34 years of age, his clock as a relevant fighter may be running out.
Lombard looked like the fighter many expected, but Marquardt couldn't last two minutes in the fight. If he gets another fight in the UFC, it could be his last. He is coming to the end of the road.
Stock Up: Gilbert Melendez and Diego Sanchez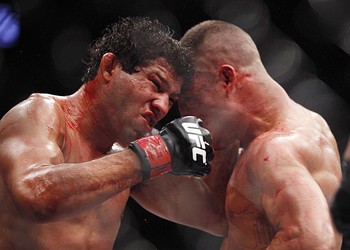 Andrew Richardson-USA TODAY Spor
Rarely do both fighters in a fight see their stock rise, but after Gilbert Melendez and Diego Sanchez went to war at UFC 166, that is exactly what happened.
Melendez picked up the victory in his quest for another title shot, but Sanchez's penchant for exciting brawls elevated their clash to Fight of the Year status.
For Melendez, the exciting fight put him in the good graces of fans. That will assist in getting him another title shot in the near future. At the very least, he will find himself in a contender's fight soon.
Sanchez entered as an unranked lightweight and remains unranked following the loss. But he showed he is still competitive against the elite fighters at 155 pounds. As long as he continues these types of performances, the UFC will put him in high-profile fights.
Melendez and Sanchez stole the show, got a bonus check and continue their upward trend in the division.
Stock Down: Junior Dos Santos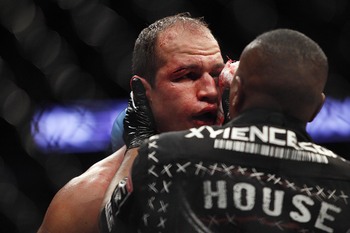 Andrew Richardson-USA TODAY Spor
UFC 166 could not have gone much worse for Junior dos Santos.
He was beaten, but it wasn't just the loss that dropped his stock. It was the manner in which Cain Velasquez demolished the former UFC heavyweight champion.
This was the third fight in their series. The first saw Dos Santos clip Velasquez and finish him. The second was a one-sided beating at the hands of Velasquez. The third was even more of a beating than the second encounter. It firmly planted Velasquez above Dos Santos.
The second straight domination of Dos Santos makes it a hard sale for the former champion to contend against Velasquez. He did nothing to give anyone a feeling that he could topple the champion. He was manhandled.
The loss puts him in an odd position. He remains one of the better heavyweights, but he is not going to be challenging for the belt anytime soon.
Stock Down: Fighter Safety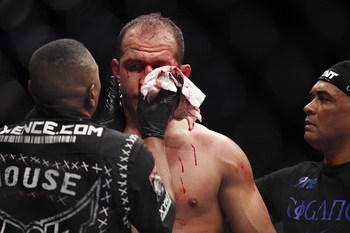 Andrew Richardson-USA TODAY Spor
Fighter safety took center stage at the tail end of October.
Junior dos Santos' beating lasted longer than it should have. The fighter claims he doesn't remember the majority of his fight. UFC president Dana White even admitted that he thought the fight should have been stopped.
Just a week later, the issue cropped up again when Jessica Andrade laid a beating on Rosi Sexton.
It is a shame that referees, doctors and the fighters' own corners are reluctant to stop one-sided bouts. However, these two back-to-back fights put a spotlight on the issue. That is a good thing.
Time will tell if more is done to save fighters from themselves, but plenty of damage has already been done.
Stock Down: John Lineker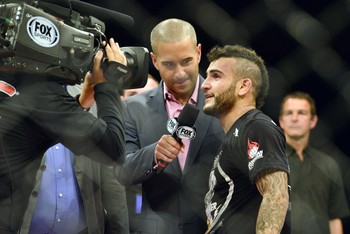 Jason da Silva-USA TODAY Sports
John Lineker is the No. 5-ranked flyweight in the world, and he continued his winning ways with a TKO over Phil Harris at UFC Fight Night 30.
However, he missed weight. Again.
It is a failure to miss weight once. It is unprofessional to do it a second time. There is virtually no excuse for it to happen three times in five fights. Lineker has done exactly that, and he is lucky the UFC did not fire him after the event. A dismissal would have been justified.
When fighters miss weight, they are fined. That is thought to be a deterrent. Apparently not. It has had no effect on Lineker, and more should be done. If he had been able to make weight, he could have been a title contender, but there is no way the UFC would risk that right now.
Lineker cannot be taken seriously in the division. Until he can prove he can make weight consistently, he doesn't deserve his spot. He's been unprofessional in his UFC tenure.
Stock Down: Mark Munoz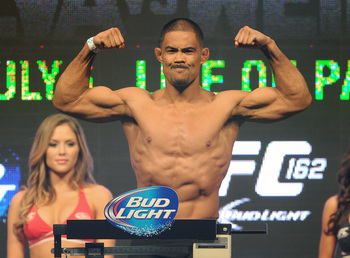 Jayne Kamin-Oncea-USA TODAY Spor
Mark Munoz had his chance to continue to be relevant in the middleweight division against Lyoto Machida. Instead, he was knocked out in 3:10 of the first round in England.
Machida hit him with repeated body kicks, and it was apparent that he was setting up a head kick. Munoz was unable to make the adjustment, ate the head kick and was ousted quickly.
At 35 years old, Munoz will have a hard time becoming a contender in the middleweight division. It is jam-packed right now and shows no sign of easing up. Against two of the division's elite, he has been dominated and stopped.
Munoz is an excellent coach and trainer, but as a fighter, he may be nothing more than a gatekeeper from now on.
Stock Down: Bellator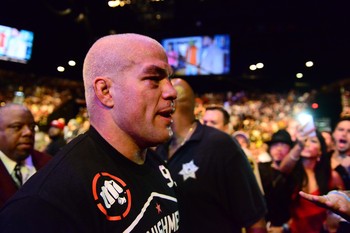 Mark J. Rebilas-USA TODAY Sports
Bellator has had a rough time increasing its stock in this sport. Its public contract disputes do not come off well to fans, and the announcement of Tito Ortiz vs. Rampage Jackson on PPV was met with harsh criticism.
And now that isn't even happening. A week away from their overpriced PPV debut, Tito Ortiz pulled out with an injury, which forced the card to appear on Spike.
It was just another in the list of failures from Bellator. To continue having these difficulties is not good. It takes away from the credibility of the organization.
With a better main event on free TV, it looks like Bellator will increase its stock in November, but October was not a good month for the organization.
Stock Up: Interesting Divisions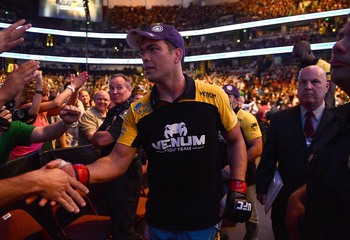 Jayne Kamin-Oncea-USA TODAY Sports
The UFC's three-card month gave a lot of divisions more contenders and intrigue.
Lyoto Machida announced himself as an instant middleweight contender, former title contenders John Dodson and Gilbert Melendez won impressively to inject themselves back into the title pictures of their respective divisions, and Jake Shields knocked off potential contender Demian Maia.
There were plenty of other happenings as well. Jessica Eye arrived to the women's bantamweight division, Hector Lombard made an impactful welterweight debut, and Raphael Assuncao kept winning to move to No. 4 at 135 pounds.
Many divisions used to be stagnant. The middleweight division may be the prime example. However, with the influx of talent and exciting fights we are now seeing, these divisions have interesting contenders lined up for the foreseeable future.
If the UFC continues on this path, each division will be exciting to watch in 2014.
Keep Reading