Breeders' Cup 2013: 10 Bold Predictions for This Year's Races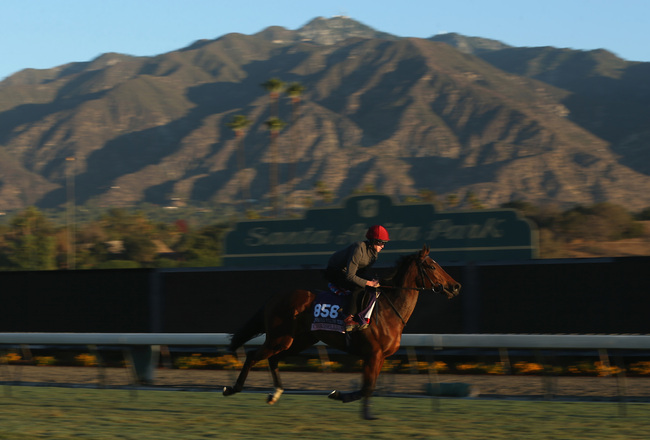 Predictions bold as the San Gabriel Mountains.
Jeff Gross/Getty Images
Perhaps the boldest prediction of all is that I think most of the favorites are going to win this year. But that's not specific enough and, besides, that's boring. An editor of mine has a line he uses every year that says, in effect, "As an event, the Breeders' Cup never fails to fire." Very true and wise words, indeed.
What makes for an extra sizzle is a bomb like Court Vision coming in and stealing the show from Goldikova. I will go out on a limb and, to quote Mike & Mike in the Morning, these are predictions sure to go wrong.
Any non-cited information I use like speed figures or speed fractions or workouts for this piece comes from purchased Daily Racing Form past performances.
Game On Dude off the Board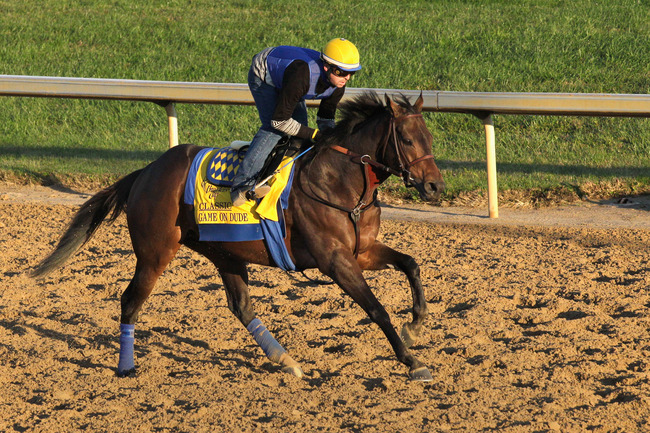 Rob Carr/Getty Images
Why waste time getting to the big one, right? Game On Dude will be a heavy favorite in the Breeders' Cup Classic and deservedly so. His problem has to do with race tactics: He's a speed horse, and there's plenty of speed already loaded into this field.
Moreno.
Fort Larned.
Even Palace Malice and Mucho Macho Man are first-flight horses.
That's a lot to contend with for Game On Dude. A year ago Game On Dude finished seventh as the favorite. It was also the also the last race he lost.
Off the board he goes in his third attempt at this race.
Wise Dan Can't Close in the Mile
Wise Dan may be the world's best miler but he may meet his match in the Mile this year. Let's back up a step. He lost in the Shadwell "Turf" Mile at Keeneland to Silver Max. I quotationized turf because it was rained off the turf and run on Keeneland's Polytrack. Wise Dan still finished second, but sometimes that puts doubt into a horse's head.
He had won nine races in a row to that point. The conditions weren't ideal for him, but it's like when Rocky hit Drago: it put doubt in his head. What does this mean for Wise Dan? The end of world Communism, of course.
The Best Race of the Weekend Will Be Friday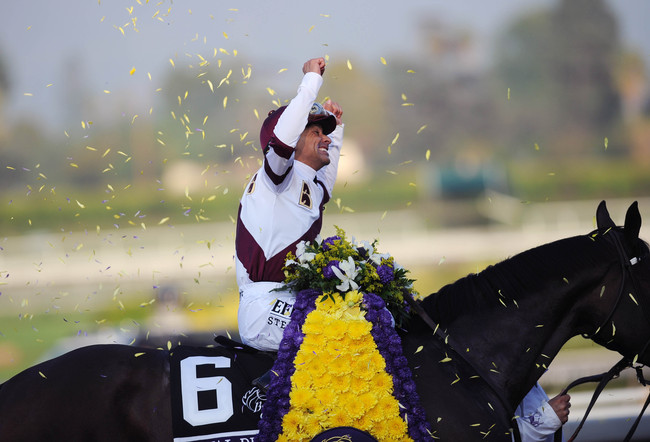 Kelvin Kuo
I know it's only a six-horse field, but the Breeders' Cup Distaff may be the most compelling race of the weekend. Within the race there's three horses everyone will be watching: Royal Delta, Princess of Sylmar and Beholder.
Royal Delta is the alpha mare. She's won races by 10 ¾ lengths this year and 4 ¼ lengths. She's dominant. She's raced against the boys (albeit to lackluster results, no Rachel Alexandra here, ahem.). She did get hit in the teeth in her last race by …
Princess of Sylmar. This three-year-old filly won the Kentucky Oaks, the Coaching Club American Oaks, the Alabama and the Beldame where she steamrolled by Royal Delta. If one of these two ladies wins, they're in the running for Horse of the Year.
Beholder is another three-year-old with some speed, so this race within a race between these three could be the best we see all weekend.
Pletcher's Havana Handed First Loss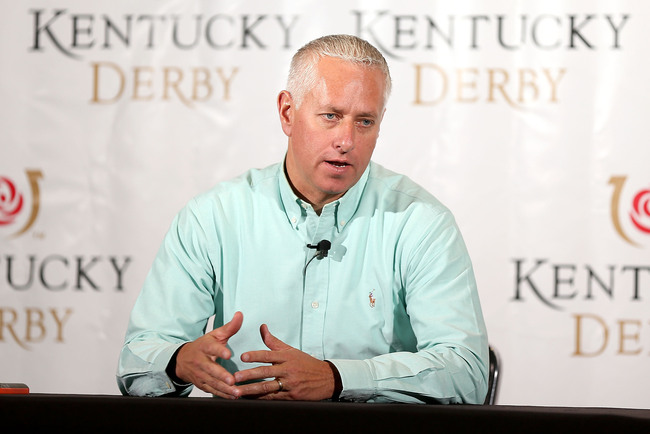 Matthew Stockman/Getty Images
This may be the boldest of predictions, one made solely to be bold, bold like Doritos. This horse exploded to break his maiden at Saratoga with a 102 Beyer.
Two-year-olds don't run that fast. They're not supposed to. That kind of speed is reserved for three- and four-year-olds.
He bounced while winning the Champagne, but he bounced to a 93. He breaks from Post 13 and will have to outrun the speed to his left. This could cook him too early and this slam-dunk favorite could be out of the trifecta.
Moreno Will Finish Top 3 in Classic
I almost can't say this one with a straight face, but here it goes: Moreno, the talented son of Ghostzapper, can finish in the Top 3 in the Classic.
Make no mistake, even if it burns all he's got in the tank, Joe Talamo is taking this colt to the front. He has one gear: fast. He set opening fractions of 47, 48 and 46 in his last three races: The Jim Dandy, Travers and Pennsylvania Derby. He finished no worse than third and nearly won the Travers.
Here's the but…he did it against three-year-olds. Every time he defies logic. Sometimes there are horses that defy the stopwatch and keep on running. Maybe he gets loose on the lead and he'll be just like his daddy in 2004.
Michelle Beadle Will Sound Silly, but Look Stunning Doing It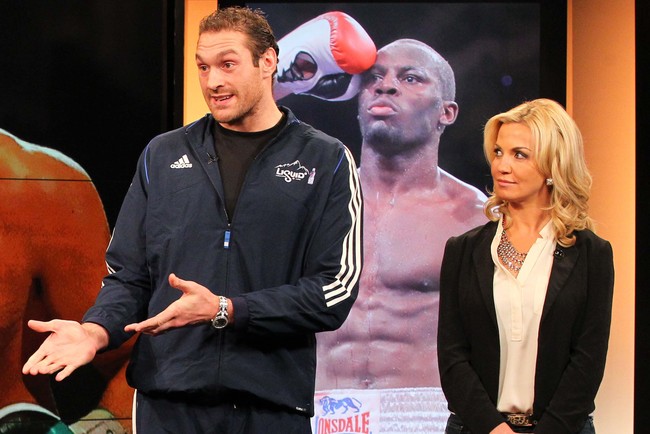 Ed Mulholland-USA TODAY Sports
I saw Michelle Beadle at a café in New York last winter. Yes, she looked stunning and what a voice! She did talk a lot, go figure. If she's put on camera for NBC's horse racing coverage you can guarantee this: She'll sound mildly irritated she's not interviewing LeBron James, maybe grab a horse's tongue and go out on the huge limb of picking Game On Dude.
She's a great talent, but horse racing is the great humbler of on-air talent. It's such a jargon-laden sport that even Bob Costas, to the trained ear, sounds moronic. But since there's only three dozen trained horse racing ears in the country, they're good to go.
The Sprint Will Be Won by a Double-Digit Horse
The Sprint is a favorite of mine. It's a war. These are the fastest horses in the world. The fractions and internal fractions they run, to the trained eye, are astounding. (Here's your training: opening quarter-mile fractions of 22 or lower are blazing. There's your PhD! Hazzah!).
There's a lot of speed in this race. Couple that with fast Santa Anita dirt and we're looking at a 21 and 3/5ths-second opening quarter and probably 43 and change half. This will swing the door open wide for some of the closers in the field. Bahamian Squall at 10-1 and Laugh Track at 20-1 can't be dismissed because of all the front-running speed in this race.
Baffert Goes 0-for-Saturday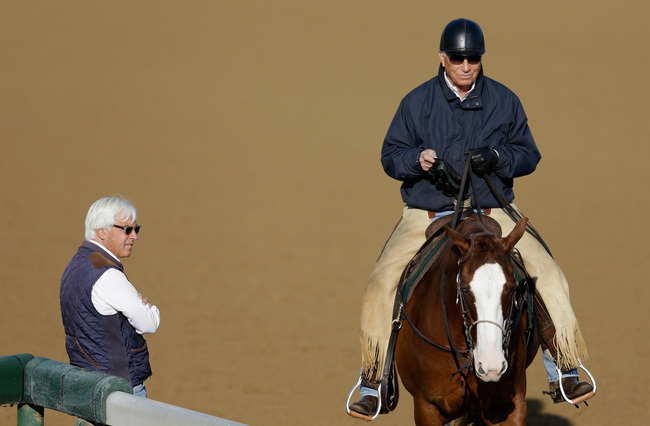 Rob Carr/Getty Images
Bob Baffert, trainer to the stars, has seven horses entered in five Breeders' Cup races on Saturday and he won't win a single race.
He's got Secret Compass (6-1) in the Juvenile Fillies, Book Review (6-1) in the Filly and Mare Sprint, New Year's Day (8-1) and Tap It Rich (6-1) in the Juvenile, Secret Circle (4-1) in the Sprint and Paynter (12-1) and Game On Dude (8-5) in the Classic.
He's never won the Classic and this year won't be the one he does it either.
Verrazano Chokes Again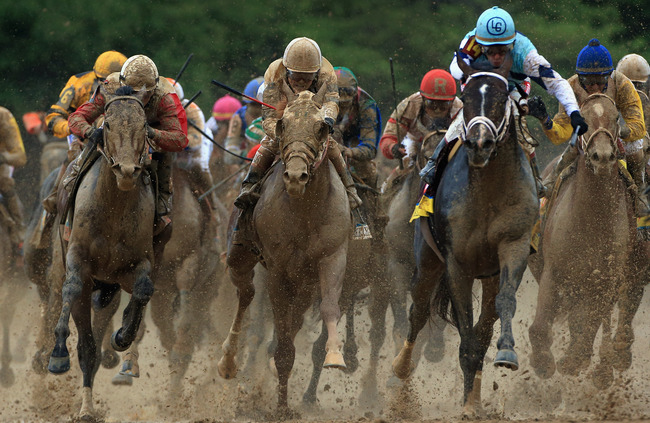 Doug Pensinger/Getty Images
Verrazano has talent, there's no denying that. Yet when the heat is at its highest he folds faster than origami. He was unbeaten heading into the Derby, then finished 16th. He was scary fast at Monmouth this summer, winning the Pegasus and the Haskell by a combined 19 lengths, then finished a distant seventh in the Travers.
He's the type of horse that needs urging. His trainer, Todd Pletcher, has to train him in company with other horses to keep him focused. He's like Allen Iverson.
He hasn't raced in over two months and I have to figure that even though he's the favorite and he takes a lot of money, he's going to be a gross underlay.
Point of Entry Runs Off the Screen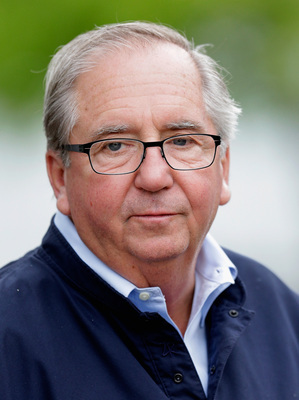 Rob Carr/Getty Images
He hasn't raced since June 8th. He hasn't won a race by more than 2 and one-quarter lengths since Dec. 26, 2011, but he's the best turf horse in America no matter how long he's been on the bench.
He's won seven of eight races and while I expect him to win, the bolder prediction is that his jockey, John Velazquez, kicks him clear by daylight like English Channel in 2007.
There isn't a tremendous amount of European talent this year, so it's up to Point of Entry to put on a show.
Keep Reading