Arizona State vs. Washington State: Live Score and Highlights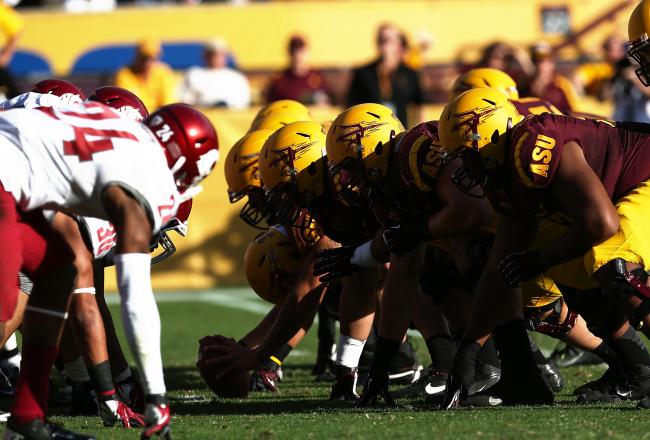 Allan Henry-USA TODAY Sports
Washington State - 21
Arizona State - 55
FINAL
Arizona State earns its first road win of the season and becomes bowl eligible after destroying Washington State. The Sun Devils jumped out to a 21-point lead in the first quarter and never looked back.
Quarterback Taylor Kelly had a game for the ages, scoring seven total touchdowns and leading an offense that generated 557 yards. Washington State struggled on both sides of the ball and will now drop to 4-5 on the season and digs a hole for itself as far as bowl eligibility is concerned.

Looking ahead, Arizona State will play Utah next week, while Washington State will have the week off to prepare for a road game against Arizona.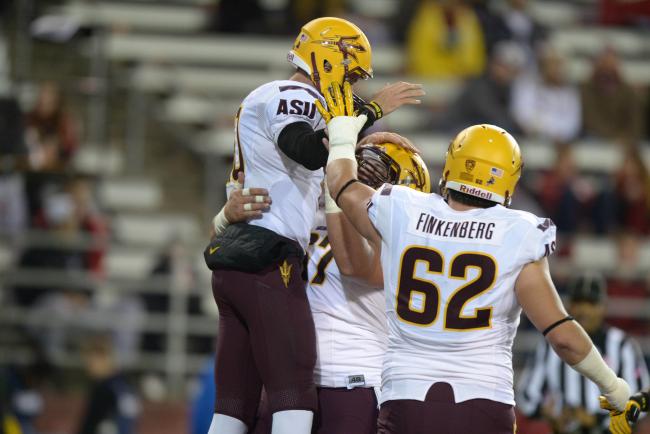 FINAL THOUGHTS
Not exactly what anybody expected, but the better team won tonight.
Arizona State is an extremely talented team and has the pieces in place to make a run for a Pac-12 title. If the team that showed up tonight can manage to play that way for the remainder of the season, Oregon and company will have its hands full. The offense was firing on all cylinders and the defense generated a solid pass rush and played well in coverage.
Consistency has been an issue, but the Sun Devils proved tonight that they are capable of playing scary football at a high level.
Washington State proved that there is a lot of work that needs to be done. I like how the team never gives up, but there simply isn't enough talent to compete with the big boys. The running game needs to get going and the defense needs to step it up. Is Mike Leach the guy to turn this program around? Questions will be asked after this weak performance.
With a 55-21 win over Washington State, Arizona State is bowl eligible at 6-2.

— Tyler Lockman (@TylerLockman) November 1, 2013
Bowl eligible!
In a game that lasted about three hours too long, Arizona State destroys Washington State.
Washington State - 21
Arizona State - 55
FINAL
Kelly is out of the game, and Arizona State is running out the clock. This is something that should have happened about an hour ago.
#ASU QB Taylor Kelly tonight: 22-31, 275 yards 5 TDs, 1 interception, 13 carries, 66 yards, 2 TDs.

— Tyler Lockman (@TylerLockman) November 1, 2013
What a night.
Exactly why you don't leave key players in when the game is already decided. Arizona State's Robert Nelson is down on the field and trainers seem to be looking at a knee/leg injury.
Washington State - 21
Arizona State - 55
Zane Gonzalez nails a 36-yard field goal just for kicks.
Less than six minutes remaining in the fourth quarter.
5th time this season ASU has recorded more than 500 yards of total offense, including third straight game #HighOctane

— Sun Devil Football (@FootballASU) November 1, 2013
Oregon isn't the only impressive offense in the Pac-12.
Why is Taylor Kelly still in the game?
Get him out of there!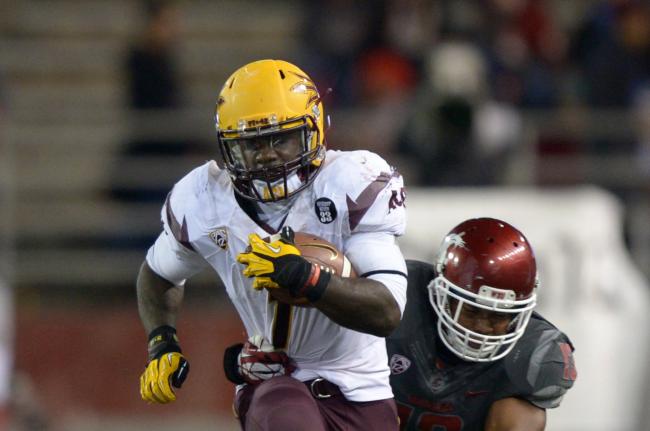 Washington State linebacker Darryl Monroe is down on the field and looks to be in severe pain. We'll provide updates as soon as possible.
And just like that, Halliday gives it right back. Senior defensive back Robert Nelson comes away with an interception. It's his third pick of the season.
Back-and-forth we go...
Taylor Kelly is human!
Deone Bucannon continues to make plays for Washington State, as he comes away with an interception. It's his fifth pick of the season.
Arizona State has 227 rushing yards. Washington State? Nine.
Washington State - 21
Arizona State - 52
We have our first field goal of the game!
Zane Gonzalez drills a 37-yard attempt to really, really put this game out of reach.
So, how was your Halloween night?
End of third quarter ASU leads 49-21

— Devils Digest (@DevilsDigest) November 1, 2013
Only 15 minutes away from ending a game that was over by the first quarter.
Are we really reviewing a three-yard pass in a game where a team leads by 28 points?
REALLY?!
Not sure what's more unlikely: ASU having 7 TDs halfway thru the 3rd quarter or Marion Grice not having any of them.

— Shane Dale (@territorialcup) November 1, 2013
It's Halloween!
You know things are bad when you allow a first-down on back-to-back fake punts (Washington State).
I can't make this stuff up.
Marion Grice appears to be dinged up and is walking gingerly on the sidelines. No word on his status, but he's clearly not himself.
We'll update you the second we hear anything.
Washington State has now punted the ball away and practically any chance of making a true comeback. With only five minutes and change remaining in the third quarter, this game may finally be safe to put in the books.
Unless, of course, Washington State can dig deep and sting together a few more game-changing plays.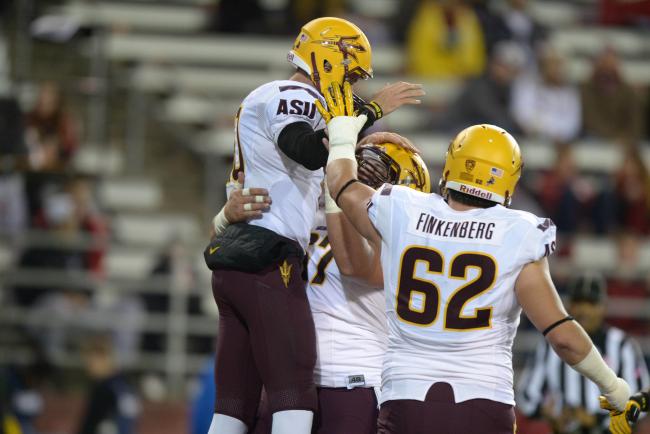 Taylor Kelly now has seven total touchdowns in this game. Somebody give this kid a pat on the back!
This article is
What is the duplicate article?
Why is this article offensive?
Where is this article plagiarized from?
Why is this article poorly edited?