Eric Gordon Will Be New Orleans Pelicans' X-Factor This Season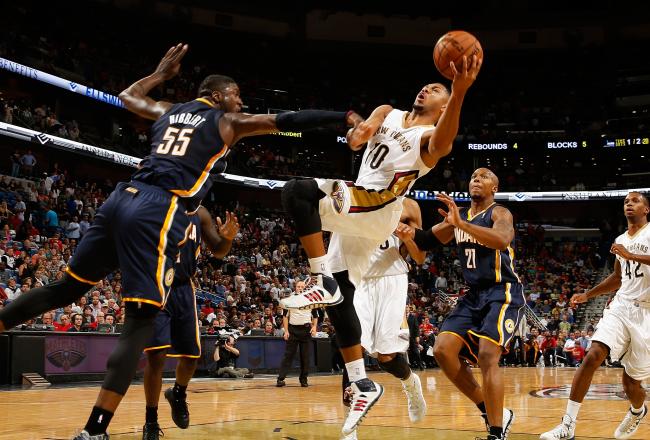 Chris Graythen/Getty Images
Eric Gordon, once touted as a future star, has faced his fair share of adversity. Surrounded by uncertainty, there's no doubt he's the X-factor for the New Orleans Pelicans this year.
Gordon has spent more time on the mend than he has on the court while in New Orleans. Out of a possible 148 games over the past two seasons, Gordon has managed to lace 'em up in only 51.
These struggles have been well documented. As a result, many around the league have openly questioned whether the Pelicans would be better off trading him, instead rolling out a backcourt of Jrue Holiday and Tyreke Evans.
But beyond the chatter, the surgeries and the uncertainty, a considerable amount of talent lurks within.
Flash back to Gordon's days as a member of the Los Angeles Clippers, where highlight reel plays were the norm, not the exception:
Gordon was able to get away with being undersized at 6'3" because of the serious springs he has in his legs.
Having a beautiful stroke doesn't hurt either.
Coming out of Indiana, scouts raved about Gordon's picturesque form.
Consider this tidbit from Jonathan Givony, curator of DraftExpress.com, written in the midst of Gordon's final season at Indiana:
Shooting is probably Gordon's biggest strength at the moment, showing a beautiful stroke, with a quick release, NBA range and a terrific follow through. He has a knack like few others in college basketball for setting his feet and squaring his shoulders as soon as he catches the ball, meaning he's always ready to shoot the ball, and he's surely always willing, due to the supreme confidence he has in his shooting ability. Gordon can hit shots coming off a screen or pulling up off the dribble, fading away and with a man in his face. His shot-selection isn't always the best, but he has a go-to scoring mentality (and ability), which is something that NBA scouts love to see, especially in a player this young.
The go-to mentality that Givony spoke of in his profile was evident in Gordon's very first game as a part of the New Orleans franchise, where he propelled his team to victory with a last-second shot:
It would appear as if this guy has it all going offensively. But despite the obvious talent, Gordon has exhibited troubling signs since leaving Los Angeles.
Eric Gordon: Trending Downward?

| | | | | |
| --- | --- | --- | --- | --- |
| YEAR | PPG | FG% | 3P% | PER |
| 2010-11 (L.A.) | 22.3 | 45.0 | 36.4 | 18.5 |
| 2011-12 (N.O.)* | 20.6 | 45.0 | 25.0 | 19.2 |
| 2012-13 (N.O.) | 17.0 | 41.2 | 32.4 | 15.4 |
Basketball Reference
*Gordon appeared in only nine games in 2011-12
Seeing his raw numbers drop would be one thing, but the dramatic fall of Gordon's efficiency is more troubling than diminished production. How could someone with multi-faceted gifts on offense fall off a cliff like this?
Looking closer, the answer lies in the painted area.
Gordon was extremely effective going to the basket during his last season in Los Angeles, shooting 66.3 percent at the rim during the 2010-11 season. Also of note is the high rate at which he shot near the rim: His 264 attempts there were only eclipsed by his 291 three-point shots attempted. That type of inside-out balance is atypical of the league's top scorers.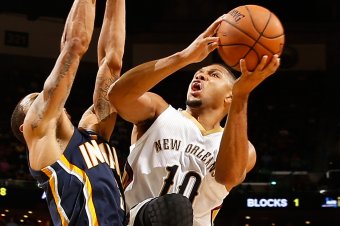 Chris Graythen/Getty Images
Last season, he typically shot from the same areas he frequented just two seasons before. The difference? Gordon shot 54.3 percent at the rim, a drop off of 12 percent that severely damaged his peripherals.
This presents a two-fold problem and a few explanations for the falling numbers.
Suffering from various injuries, Gordon has clearly not been himself. Without the same burst and fearlessness he displayed early in his career, it's hard to imagine Gordon having success finishing among the trees in the painted area. Without the athleticism to override being vertically challenged, Gordon is at a disadvantage from the get go.
Unfortunately, this also presents a problem for his strength in shooting. Defenders are like sharks that smell blood in the water. Present them with a weakness, and they'll attack it until their opponent succumbs to their will.
With Gordon at less than 100 percent, the threat of him blowing by you or rising up to finish in the lane drops significantly. This allows a defender to press him more, taking away space on the perimeter and forcing him into contested shots. Though a strong shooter, Gordon's shot selection has hampered him.
Gordon himself has told reporters that he feels ready to go, finally free of the injury bug that has plagued him.
He told Jimmy Smith of The Times-Picayune that the mental aspect of health is just as important as the season begins:
The past few years I've been thinking about injuries and re-habbing and seeing what I can get through during the game. Now I don't have to worry about that and I can really just focus on what we need to do.

Since I've been here it's been a little tough along the way. I feel good now . . . . It's just been great. I look forward to having a great year.
The other problem facing him has been the lack of talent around him. When he has been able to play, Gordon has been one of the lone shot creators on the team, asked to carry a heavy burden despite his weakened state.
That excuse is off the table now.
With Jrue Holiday and Tyreke Evans joining him in the backcourt, the Pelicans have the personnel they need to go to war. More importantly, they're talented enough to shade attention away from Gordon, giving him room to operate.
Of the trio, it feels as if Gordon has the most unrealized potential. There have been flashes of the player that management thought they were getting in exchange for Chris Paul:
But they have come few and far between. Whether you're consulting box scores or Gordon himself, all signs point to inconsistency. He has been far from a dependable player these past two years.
That's what makes this season so compelling. Gordon looks and sounds free of his woes, and merely returning to his old form would raise the ceiling of the team.
Can he remain healthy? Will 25-point outings like his opener against the Indiana Pacers be the exception or the rule? Will he mesh with his new teammates?
X-factor? This guy could be a game changer.
This article is
What is the duplicate article?
Why is this article offensive?
Where is this article plagiarized from?
Why is this article poorly edited?

New Orleans Pelicans: Like this team?