Oklahoma's Big-Game Experience Could Pay Dividends Against Baylor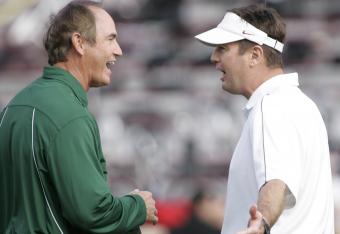 Brett Deering/Getty Images
My, how times have changed in Waco.
It wasn't long ago that Baylor was consistently at the bottom of the basement in the Big 12 and struggling to notch more than one conference win in a season.
But now, those days seem to be just a distant memory.
Thursday night will be an opportunity for the Bears to show the country just how much their football program has evolved in the last three years. A sold-out crowd will be on hand to watch a matchup of Top 10 teams, and arguably the biggest game in school history, when Oklahoma rolls into town.
It's the perfect stage for Baylor to assert itself into the national spotlight. It's a chance to solidify its stake as the best team in the Big 12.
However, with everything that will be on the line in this game, could the stage be a little too big for the Bears?
Oklahoma will enter this game as a huge underdog. Granted, Baylor hasn't exactly played the stiffest of competition this season, but it's tough to argue that OU will enter this matchup as the better team.
The Sooners have had their share of problems on both sides of the ball this year, and now they have the task of trying to slow down an offense that's averaging 63 points per game. This will be, without a doubt, OU's toughest test so far this season.
But there's one factor that could end up playing a bigger role than most people expect.
Baylor hasn't seen a game with the magnitude of this type. Sure, the Bears did win the last time the Sooners came to town in a matchup of Top 25 teams, but considering the national title implications that are on the line, this game is much bigger.
The one advantage that the Sooners have coming into this game is the fact that they've been involved in several big-time games such as this one. Winning eight Big 12 titles and appearing in four national championship games since 2000, OU hasn't been a stranger to games with these types of implications.
Granted, the nickname "Big Game Bob "doesn't have quite the luster that it once did, but there's no denying Bob Stoops' track record in games of this magnitude.
Emotions will certainly be running high in this game, but for the Bears this will be unfamiliar territory.
Floyd Casey Stadium will be rocking, and it will make for a tough visiting environment for the Sooners. But how the Bears respond with so much at stake will be an interesting storyline in this game.
If Baylor is to stumble out of the gate, does the team panic? Or do the players collect themselves and continue at the offensive pace they've been at all season?
This is a huge unknown.
Baylor is the better football team; few people would argue that.
But with so much on the line for both teams, it could be Oklahoma's experience that plays an overwhelming factor in this game.
This article is
What is the duplicate article?
Why is this article offensive?
Where is this article plagiarized from?
Why is this article poorly edited?