Golden State Warriors vs. Los Angeles Clippers: Live Score and Analysis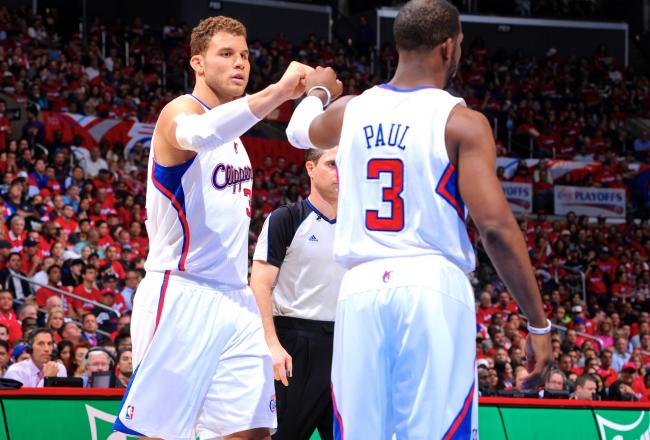 In what wound up being a remarkable 1-on-1 battle between Chris Paul and Stephen Curry, the Clippers have defeated the Warriors 126-115.
The pace in this one was fast and furious throughout, as both teams were looking to run from the opening tip. Golden State's 24 turnovers gave Los Angeles more opportunities to do so.
Stephen Curry put on yet another great shooting display, hitting 9-of-14 three-point attempts. But his 11 turnovers really hurt the Warriors' chances at Staples.
The obvious player of the game in this one was Chris Paul. In the history of the NBA, no one has ever recorded 42 points, 15 assists and six steals. Well, at least until tonight. CP3 did it and it was pretty amazing to witness.
If he plays with this kind of intensity all year, the Clippers could be real contenders in the Western Conference.
Chris Paul is first player w/ 40 Pts, 15 Ast & 5 Stl in one game since steals were 1st recorded in 1973-74 season (via @EliasSports).

— SportsCenter (@SportsCenter) November 1, 2013
One more time...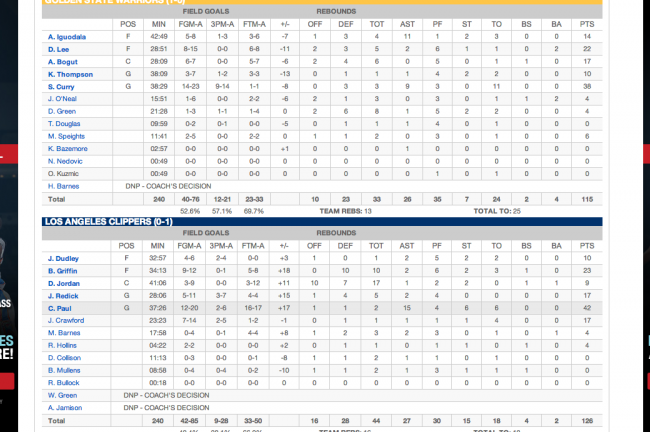 Final box score.
Draymond Green just yelled the classic "AND ONE!" His team is down 11 with 18 seconds left. And he didn't make the shot. And he just missed the first free throw. And the second.
Dude. Chris Paul has 42 points, 15 assists and 5 steals

— Marcus Thompson (@gswscribe) November 1, 2013
Things winding down now at Staples.
1st player since 73-74 with 40 points and 15 assists. CP3
I've never been able to find an Australian dude wide open under the rim.

— Phillip Barnett (@imsohideouss) November 1, 2013
I'm telling you guys, Bogut can still score! 17 tonight on 6-of-7 shooting and he just finished a high-flying oop! Looks healthy, spry even.
Warriors 113, Clippers 122 — 2:09 left in the fourth quarter.
CP3 just got to 40. Three off his career-high. Early MVP frontrunner.
Stephen Curry is the 5th player in NBA history with at least 3 games of 9-or-more three-pointers (Kobe, B. Gordon, D. Scott, J.R. Smith)

— GSWStats (@gswstats) November 1, 2013
Chris Paul isn't the only making history tonight.
Chris Paul may have just set the nail up for J.J. Redick to drive it through the coffin. Huge three.
Warriors 109, Clippers 120 — 2:50 left in the fourth quarter.
Blake Griffin just fouled out with 23 and 10. Might not matter with how well CP3 is playing.
It looks to me like Andrew Bogut can still score. He just had a crafty, continuation and-one with the left. Golden State simply doesn't go to him on that end.
Warriors 106, Clippers 117 — 3:54 left in the fourth quarter.
.@CP3 just became the 1st player in NBA history since 1985-86 to tally 38+ pts, 14+ asts & 5+ stls. #ItsTime #EarlyMVP

— Los Angeles Clippers (@LAClippers) November 1, 2013
This is one of the best point guard performances I've ever witnessed.
For all the fireworks from Stephen Curry, Chris Paul has still been the better player tonight. They each have 36, but Paul has 14 assists and has forced a bunch of turnovers out of Curry.
Warriors 104, Clippers 116 — 4:44 left in the fourth quarter.
@StephenCurry30 oh GOD!! Flame thrower

Fellow sharpshooter with some respect.
112-102 -- CP3 with 34 points and 14 assists. Steph Curry with 36 points and 9 3's. 5:44 of good basketball left.

— Dan Woike (@DanWoikeSports) November 1, 2013
The NBA's first great 1-on-1 matchup of the 2013-14 season.
This Curry Paul matchup is ridiculous.

— Steve Kerr (@SteveKerrTNT) November 1, 2013
Indeed.
Clips have averaged 1.09 points per Warriors turnover. Curry's averaging 1.76 points per shot. So, yeah, he's making up for mistakes.

— J.A. Adande (@jadande) November 1, 2013
Great stat from Adande here. Obviously, Warriors would still like those wasted possessions back though.
Aside from his bunch of turnovers, Curry has been phenomenal. Just hit a nice driving layup to get to 32 points. Followed by a fast break, and-one three. Free throw coming for the four-point play.
Warriors 102, Clippers 110 — 6:05 left in the fourth.
I've been on pins and needles waiting for this video to come to me from the NBA. Blake's three straight dunks from the third quarter.
Draymond Green acting as a little buzzkill for the Warriors. Got to within 10 and then he gets a tech. Shortly after that, fouls before the ball's inbounded, resulting in two more free throws.
Warriors 91, Clippers 106 — 8:43 left in the fourth quarter.
Threes are raining from both teams right now. Curry, Draymond Green, and Jamal Crawford.
Warriors' range doesn't do much if they keep giving up the threes on the other end too.
Warriors 89, Clippers 102 — 9:38 left in the fourth quarter.
Doc Rivers to #Clippers in timeout: "This is your stretch! We've got to to play our game, we've got to come through, we've got to be solid!"

— Madelyn Burke (@MadelynBurke) November 1, 2013
Can the Clippers hold off any late surges from the Dubs?
Curry just knocked down his sixth three. I may be getting redundant, but the way GS shoots the three is what keeps them in any game.
Warriors 83, Clippers 93 — 11:22 left in the fourth quarter.
This article is
What is the duplicate article?
Why is this article offensive?
Where is this article plagiarized from?
Why is this article poorly edited?