10 Epic Arsenal vs. Liverpool Clashes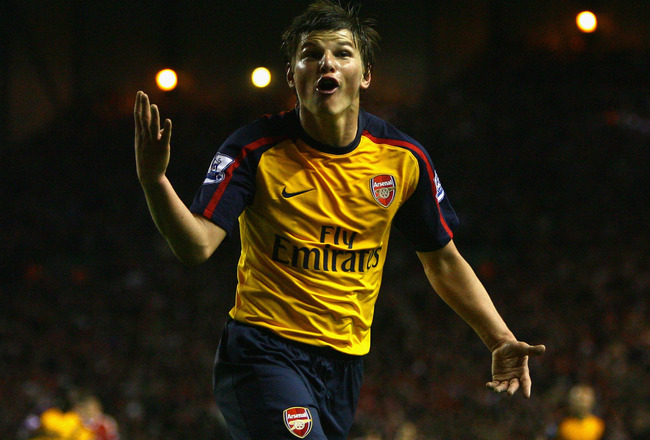 Alex Livesey/Getty Images
When Liverpool travel to the Emirates Stadium this weekend, a ferocious battle is sure to ensue.
The Reds are attempting to eclipse Arsenal in the table and ascend to first place, while the Gunners need to affirm their title credentials in a six-point match on their home turf.
Yet in the history of the rivalry between two of England's most successful clubs, this next game might not be more than a footnote.
Over the decades, the two have played some of the most epic matches in the history of English football, with massive implications for each side. Let's look at 10 of the biggest.
Arsenal 2-0 Liverpool: 1950 FA Cup Final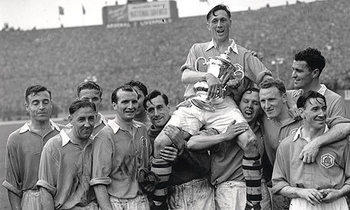 This is arguably the match that got the rivalry started.
Arsenal squared off against Liverpool in the 1950 FA Cup Final, and Joe Mercer captained the Gunners to a legendary win over the Reds.
An incredible 100,000 people packed into the old Wembley Stadium to see a brace from Reg Lewis win the honors for Arsenal in this first meeting of the two clubs with any real historical significance.
Arsenal 2-1 Liverpool: 1971 FA Cup Final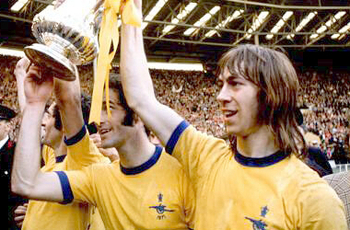 The two teams met again in the FA Cup final 21 years later, and again an Arsenal team of glorious haircuts emerged victorious over their Merseyside counterparts.
This was the first of Arsenal's historic run of FA Cup Final appearances during the 1970s and the first Double won by any team since Tottenham Hotspur a decade earlier.
With the game goalless after 90 minutes, Liverpool actually opened the scoring in the 92nd minute, but two late Arsenal goals stole the trophy to kick off a strong decade of success for Bertie Mee's side.
Liverpool 3-0 Arsenal: August 28, 1994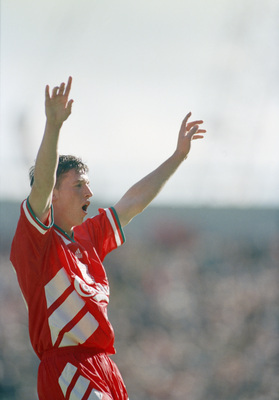 Ben Radford/Getty Images
It took Robbie Fowler only four minutes and 33 seconds to complete the fastest hat-trick in Premier League history.
What a way for Fowler to inaugurate his first full season at Anfield as a 19-year-old. He would finish that season with 25 League goals, second only to then-Blackburn star Alan Shearer.
Arsenal could not recover from the triple-sucker punch they had received before five minutes were up and capitulated during George Graham's final season as manager.
Liverpool 2-1 Arsenal: 2001 FA Cup Final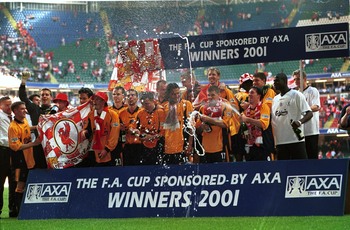 Stu Forster/Getty Images
In 2001, Liverpool finally got redemption for two consecutive FA Cup Final defeats to Arsenal by coming from behind to snatch the trophy from under the Gunners' noses.
The Gunners dominated for the majority of the match and finally made the breakthrough with a 72nd-minute Freddie Ljungberg goal.
But Michael Owen, at the height of his powers, came to Liverpool's rescue and scored two goals in the space of six minutes to win the match in dramatic fashion for the Reds.
It was embarrassing for Arsenal's historically good English defence but a glorious moment of redemption for Liverpool.
Arsenal 4-2 Liverpool: April 9, 2004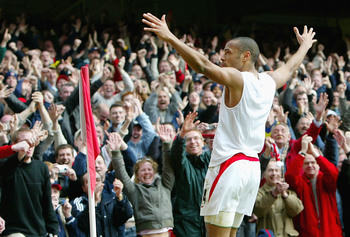 Mark Thompson/Getty Images
It is often forgotten that during Arsenal's famous "Invincibles" season of 2003-04, there were hurdles and heartbreak along the road to immortality.
In fact, when the Gunners played Liverpool on April 9, they had improbably been knocked out of the FA Cup and Champions League in rapid succession and were desperately seeking to regain their form.
Thankfully, Arsenal had Thierry Henry in his prime. The incomparable Frenchman bagged a hat-trick at Highbury as the Gunners returned to the big stage in dramatic fashion.
As in many Arsenal-Liverpool matchups, there was twisting-and-turning drama, as the Reds took the lead twice in the first half before the real Arsenal showed up and Henry rescued all three points for his side.
Liverpool 3-6 Arsenal: January 9, 2007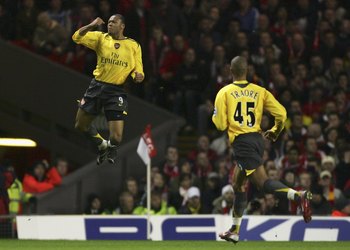 Alex Livesey/Getty Images
Even though this match took place in the Carling Cup, it is still remarkable for its scoreline and shows the unpredictability of matches between these two teams.
Julio Baptista ran riot for Arsenal, netting four goals, as Jeremie Aliadiere and even Alex Song also got on the scoresheet. For good measure, Liverpool scored three on their rivals, refusing to let the game turn into a complete rout.
Liverpool never really came close to snatching the result from Arsenal, but Steven Gerrard did cut the Gunners' lead to 5-3 at one point.
This was more like an inflated hockey score than a soccer one, and the way Arsenal tore Liverpool to shreds so unexpectedly that night shows that anything can happen when these two sides meet.
Liverpool 4-2 Arsenal: April 8, 2008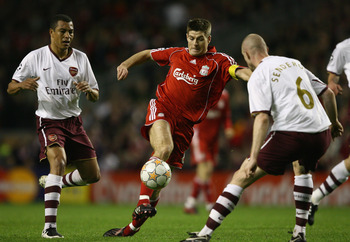 Clive Brunskill/Getty Images
After the two teams drew 1-1 at the Emirates in the first leg of this Champions League quarter-final, an incredibly tense match at Anfield ensued.
Abou Diaby struck first for the visitors before Sami Hyypia and Fernando Torres put Liverpool back ahead. Then a moment of genius from Theo Walcott set up Emmanuel Adebayor for the tap-in and it appeared as though Arsenal were headed to the semi-finals.
But a Steven Gerrard penalty and a Ryan Babel strike would deal two devastating blows to Arsenal, and Liverpool amazingly got the privilege of moving on to face Chelsea.
Andrey Arshavin 4-4 Liverpool: April 21, 2009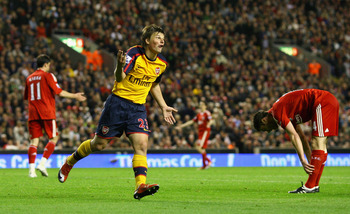 Alex Livesey/Getty Images
Remember when Andrey Arshavin was at the peak of his powers?
Shortly after he became Arsenal's record signing, the diminutive Russian took England by storm with his dynamic ability, and in arguably his greatest-ever display for Arsenal, smashed four goals past Liverpool in a thrilling draw.
At the time, Liverpool had legitimate hopes of winning the Premier League, but Arshavin traded blows with Fernando Torres and Yossi Benayoun and eliminated any hope that the Reds had of holding off Manchester United for the top spot.
It was a thrilling game of football and one that you wish you had the pleasure of watching as a neutral.
Arsenal 1-1 Liverpool: April 17, 2011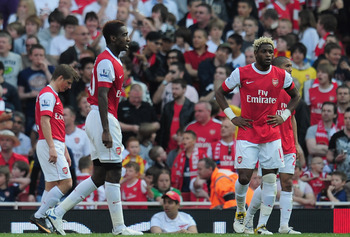 Shaun Botterill/Getty Images
If you are an Arsenal fan, you have probably been suppressing this. May I prod you with the mention of Emmanuel Eboue?
The Gunners were clinging to the last shreds of title hopes when they hosted Liverpool and no less than a win was needed to keep their dreams of challenging Manchester United alive.
Following an injury to Jamie Carragher, Robin van Persie miraculously struck home a penalty in the 98th minute to win the game for Arsenal in stunning fashion. At this point, they hadn't technically won, but how could they possibly not?
Emmanuel Eboue, step forward.
Epitomizing the Gunners' mental fragility, the Ivorian fouled Lucas Leiva in the penalty area while he was moving away from goal and Dirk Kuyt smashed home the resulting penalty to send Arsenal into despair once more.
Arsenal 2-0 Liverpool: May 26, 1989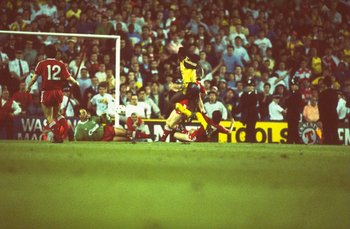 Getty Images/Getty Images
You might have noticed that the rest of this list is in chronological order. This match is a bit of an exception.
With the 1988-89 League title on the line on the last day of the season, Arsenal needed a two-goal win over Liverpool to win the honors.
As stoppage time wore on, Gooners despaired as the score remained 1-0 and Liverpool stubbornly held out as if their lives depended on the result.
But with Arsenal's very last chance, Michael Thomas burst through on goal and chipped a sumptuous finish over Bruce Grobbelar to hand the Gunners the title at the death.
It is the single most famous day in the history of Arsenal FC and undoubtedly the biggest rivalry match of the many great ones that Arsenal and Liverpool have played.
Keep Reading

Arsenal: Like this team?