Improbable torridity must become a state of existence for the Los Angeles Lakers.
Did you expect them to beat the Los Angeles Clippers on opening night, without Kobe Bryant and with a severely limited Steve Nash? You didn't. Admit it.
Did you expect them to roll into Oracle Arena, this time without Nash entirely and still no Kobe, and outshoot the Golden State Warriors, the gold standard for potent offenses? You didn't. And they didn't.
Constructed the way they are and coping with injuries, the Lakers should be 0-2. Games against two stacked Pacific Division rivals should have ended in losses. One did; the other didn't. They're an unlikely 1-1, which, at this stage, constitutes a hot start—one that must make the jump to blistering.
Kobe is gone. Not missing or done, just gone. No one, including Kobe himself, knows when he'll be back, either.
"I don't, I don't," he admitted to Yahoo! Sports' Marc J. Spears. "How can I? I don't even know if I will be able to push it hard tomorrow. I have no idea."
Want of an idea won't stop the regular season. More games are coming, and to keep their playoff hopes alive, the Lakers have to infringe upon the will of the waiting game.
"I think the bottom line, even though there are some bumps and bruises here and there, is Kobe will lead you to victories," head coach Mike D'Antoni told "The Herd with Colin Cowherd" on ESPN radio, via ESPN Los Angeles' Dave McMenamin.
To play for something with him, to win with him, the Lakers must first brave the odds without him.
Uncertainty Springs Almost Eternal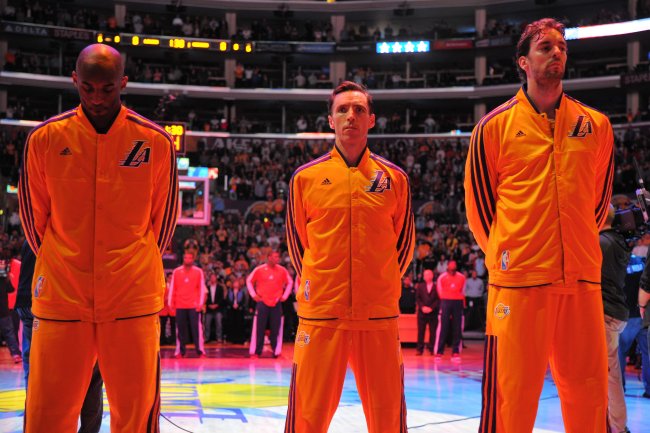 Andrew D. Bernstein/Getty Images
Previously, I gave the Lakers 10 games without Kobe. That's it. If he missed any more time, their postseason chances would go up in flames. I'm not yet ready to distance myself from that gun-jumping, though I am cautiously optimistic I was flat-out wrong.
There's really no setting a definitive number of games the Lakers can go without him. Inform us that he'll miss half the season, and we'll shamelessly push them out of the playoff picture. Beyond a suddenly drastic timetable, though, we don't know how long the Lakers can survive without Kobe—because we don't know how long they'll have to.
Five games could go by before Kobe returns. Or 10. Possibly 20. A cool 25 isn't out of the question, either. Not knowing means the Lakers must hit the ground running and never look back. Hope that he'll return tomorrow, but plan as if he won't. Play as if he won't.
The solution seems obvious, but it's not. There is no solution to this. There could, however, be a tendency to shrug off losses.
Layne Murdoch/Getty Images
Kobe will come back, and it will be fine. They were supposed to lose that one, so there's nothing to see here. Labor on. Things will get better.
Sans that elusive timetable, Kobe can't be counted on to save the day. When he finally returns, he can't be expected to travail through 38 minutes' worth of game time, either. His actual return answers half the question; what he does thenceforth takes care of the rest.
Almost seven months have come and gone since Kobe ruptured his Achilles, since he played competition-driven ball. That span will only increase with each passing game.
So the Lakers must get hot and stay hot. Hot enough to weather both time without Kobe and the transition period he'll require upon return.
Knowing What They're Up Against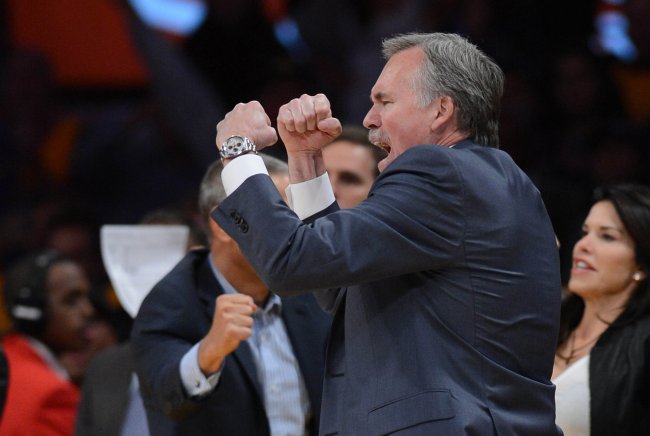 Jayne Kamin-Oncea-USA TODAY Spor
Big picture—the Lakers have an idea of what they're up against.
Though Kobe's impending return is veiled in question marks, they know what it will take to clinch a postseason berth.
The best place to start is last year, when the Lakers finished seventh in the Western Conference with 45 victories. Behind them was the Houston Rockets, also with 45 victories, or a 54.9 percent victory rate.
Dating back five years, the West's eighth seed has won an average of 57 percent of its games, meaning the Lakers would have to finish with somewhere between 46-47 wins to see the postseason. Bagging as many of those 46 or 47 wins as possible now, before Kobe returns, makes his re-emergence that much less stressful and more meaningful.
Playing .500 basketball is great, but it doesn't do enough. Put it this way, if the Lakers win 50 percent of their games before Kobe returns, they'll have to win something like 64 percent of their contests when he's back.
Spears asked him before opening night if it was safe to say he would be back by December, and Kobe was noncommittal at best.
"Dude, I don't know," he said. "I don't give a [expletive] what people believe. When I'm ready, I will play."
December seems like a reasonable starting point. Kobe did admit to Spears that he would need two to three weeks to get right after being cleared to play, anyway. If he were cleared tomorrow, he would be on course to return in the latter half of November. So let's say December for now.
Through Dec. 1, the Lakers play 18 games. Say they were to go 9-9 during that stretch. To reach 47 victories, they would have to go 38-26 the rest of way, 12 games over .500. Is that realistic to ask of a team that played .500 basketball when Kobe is only just returning?
This also seems like the best-case scenario, since Kobe wouldn't even commit to December. His homecoming could come later. Like Christmas, against the Miami Heat.
By then, the Lakers will have played 28 games. A 14-14 record would suggest they need to go somewhere in the ballpark of 33-21 for the rest of the year. Same number of games over .500 (12) but less time to do it.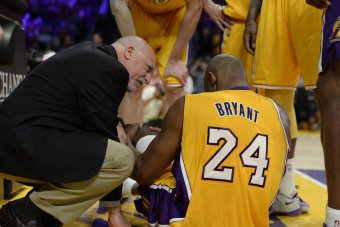 Richard Mackson-USA TODAY Sports
All that's assuming the Lakers sustain a .500 pace. Dipping below would put them in an even larger predicament. It's also assuming that 47 is the minimum number of wins they need. It could be lower; it could be higher. The Oklahoma City Thunder finished eighth in the conference for 2009-10, and they won 50 games.
Parroting what we touched upon already, not knowing when they can expect Kobe back hurts them. But that's the hand they've been dealt and must play.
There is no magic number of victories they must procure. There is only the knowledge that they'll need to be well above .500 to make the playoffs. And the best way to ensure they have a puncher's chance at breaking that bill is to start the uptick of winning before Kobe comes back.
Is It Possible?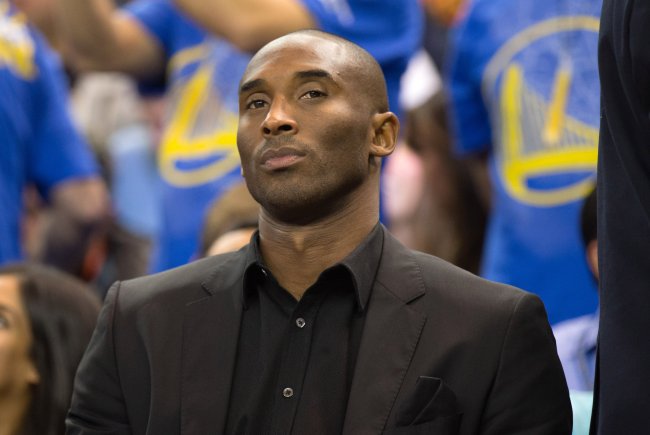 Kelley L Cox-USA TODAY Sports
I defer to Kevin Garnett here:
To clarify, almost anything is possible. The Lakers cannot go 0-10 or 20 (or 25) until Kobe returns and expect to make the playoffs. Anything within the realm of reason is possible. And coached by D'Antoni, who culls more out of unremarkable lineups and faces than any coach in the league, it's fairly reasonable to believe the Lakers have a chance.
For now.
Their victory over the Clippers was enlivening. I don't care how lackadaisical Doc Rivers' troops appeared, how poor Blake Griffin played or how many shots Jamal Crawford missed. On paper, those Clippers are the superior team. The Lakers beat a superior team. Doing so proved they could compete.
Nothing about the victory was especially abstract, either. D'Antoni's crew hit a lower percentage of their shots, simply outworking the Clippers in most aspects of the game—rebounds, rim attacks, deluges of threes—and walked away with the dubyah.
Sheer will won't always win games, just as Xavier Henry won't always set career highs in points. Games will be lost to teams who are simply better, and most games will be a struggle.
Who's the primary scorer after Pau Gasol? Can Steve Blake and Jordan Farmar supplant Steve Nash when he sits? Will Nick Young's field-goal percentage ever climb above 26.3 percent?
More questions than answers. Still. That's the Lakers, a year-long enigma. A revolving question.
How many game must the Lakers win to make the playoffs?
Over the next 10 games, five of which will come against 2013 playoff teams, we'll get some answers. Very few, but some all the same.
Los Angeles, meanwhile, isn't looking that far ahead. Not 10 games, or even five. One. One game at a time, one win at a time. Next up are the San Antonio Spurs. What follows doesn't matter until the Lakers are there.
D'Antoni said, per McMenamin, that "just so many things" need to happen for the Lakers to make the playoffs. None of those things are more important than surviving.
Get hot, one game at a time. Stay hot, one game at time.
Survive life without Kobe, with a doddering Nash and a baseborn core, one game at a time.