Players Carrying Their Team's NBA Playoff Hopes on Their Shoulders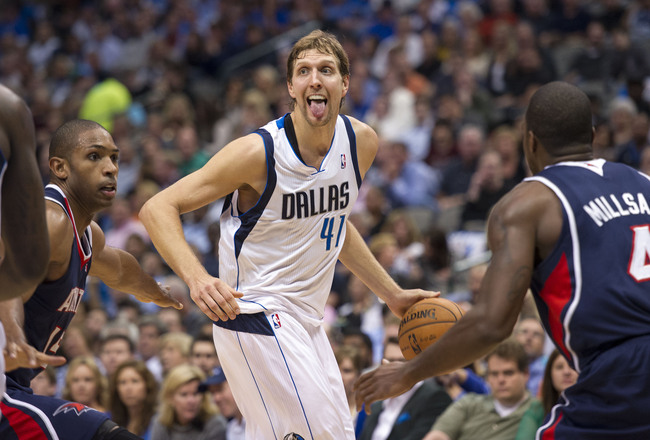 Jerome Miron-USA TODAY Sports
While everyone on an NBA roster is obviously a good basketball player, the majority of ballers would get along great with Sylvester Stallone, Jason Statham and "Stone Cold" Steve Austin.
They aren't suited to be mercenaries—the actors are far better fits for that line of work—but these players aren't truly critical to their teams' efforts.
They're expendables.
Now every team has a few crucial players, but the fringe playoff contenders only have one they just flat-out can't afford to lose. Whether these players slump so badly that they hurt the team, get suspended or get targeted by that pesky injury imp, losing them would effectively kill a shot at a postseason berth.
We're discussing these players in this article, picking out one for each of the teams on the verge of playoff contention.
And don't just think it's always the biggest star on the team.
In the Western Conference, we'll be dealing with the Dallas Mavericks, Denver Nuggets, Minnesota Timberwolves, New Orleans Pelicans and Portland Trail Blazers. In the Eastern Conference, the Atlanta Hawks, Cleveland Cavaliers, Detroit Pistons, Toronto Raptors and Washington Wizards are the teams du jour.
Atlanta Hawks: Al Horford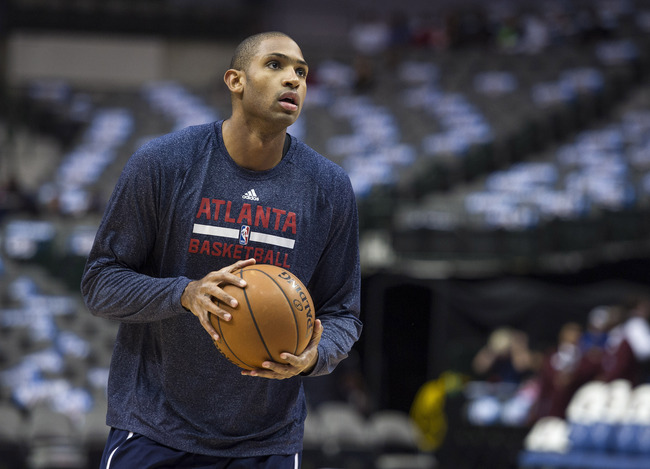 Jerome Miron-USA TODAY Sports
Lou Williams is a strong contender for this spot, as the Atlanta Hawks desperately need him to return from his torn ACL and provide a steady scoring punch. Even with the rest of the roster healthy, Atlanta is going to struggle creating offense on an individual basis.
New head coach Mike Budenholzer can come up with a brilliant system like the one used in San Antonio, sending players on plenty of backdoor cuts and distracting multiple-screen sets, but it won't matter. Other than Jeff Teague, few Hawks can create for themselves.
However, Williams' importance doesn't trump Al Horford's. The big man is by far the best player on the roster.
He is the anchor of this team on both ends of the court. He's a versatile offensive contributor who can score with his unfortunately predictable set of post moves, kick the ball out to a teammate and effectively function as the hub on either the low block or the elbow. Additionally, he's an underrated defender who can shut down the paint throughout a game.
Even more importantly, there's no other center on this undersized roster.
If Horford isn't in the game, Atlanta has to rely on Elton Brand and Pero Antic to play out of position—unless Paul Millsap slides over to the 5 and appears even more vertically challenged than he already is.
Everything in Hotlanta revolves around this particular Florida product. If general manager Danny Ferry trades him during the 2013-14 season, it would be a strong indication that this team is moving in a new direction.
Cleveland Cavaliers: Anderson Varejao
David Richard-USA TODAY Sports
Even with Kyrie Irving and Dion Waiters in the lineup last year, the Cleveland Cavaliers weren't a remarkably dangerous team. They struggled to score points consistently, and defense wasn't in the squad's vocabulary.
Except for when Anderson Varejao played.
According to Basketball Reference, the Cavs were outscored by 4.7 points per 100 possessions when he was on the hardwood and 5.4 when he sat. Now those numbers aren't great, but what does it say about Cleveland when it lost by 4.8 points per 100 possessions when Irving played and 5.0 when Waiters played?
Varejao is by no means the best player on the roster. He's light-years behind Irving, and both Waiters and Tristan Thompson play at a higher level. But that doesn't make him any less important.
Every team needs a presence at center, and the Cavs are relying on Varejao, Andrew Bynum (who still can't be trusted even after he debuted on opening night, much to the shock of the sports world) and Tyler Zeller. Varejao offers the best chance at steady production, and that can't be discounted.
So far, so good for him.
While playing a team-high 35 minutes (five seconds more court time than Thompson) against the Brooklyn Nets, he recorded 11 points, eight rebounds and three assists. Not a shabby debut.
Dallas Mavericks: Dirk Nowitzki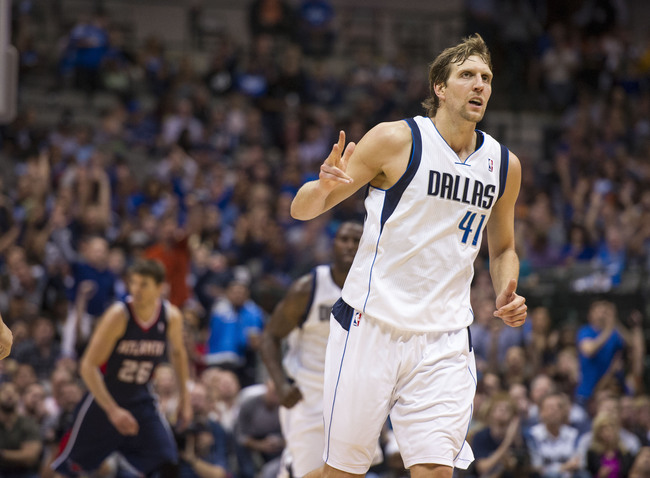 Jerome Miron-USA TODAY Sports
Is there any doubt about this one?
You only have to look at last season, when the Dallas Mavericks were struggling at the beginning of the year. As soon as Dirk Nowitzki returned, he jump-started the Mavs and almost led them to a playoff berth, although they fell just shy of the Los Angeles Lakers.
With Dirk in the lineup, Dallas went 28-25. Without him, the record was a much more lackluster 13-16.
That's a big turnaround, and it underscores just how important the German 7-footer is to the cause. He's the No. 1 offensive option, boasting an unstoppable one-legged fadeaway that I will continue to call the flamingo fadeaway until it sticks. Without him on the court, the Mavericks struggle to score.
According to Basketball Reference, the team produced 1.5 more points per 100 possessions when he played last year. He has gotten off to a great start in 2013-14, posting a game-high plus-18 against the Atlanta Hawks in the season opener.
Monta Ellis may put up more points and assists than his taller teammate on some nights, but he won't be the consistent offensive force that Nowitzki has been for years.
Without him in the lineup, Dallas just isn't Dallas.
Denver Nuggets: JaVale McGee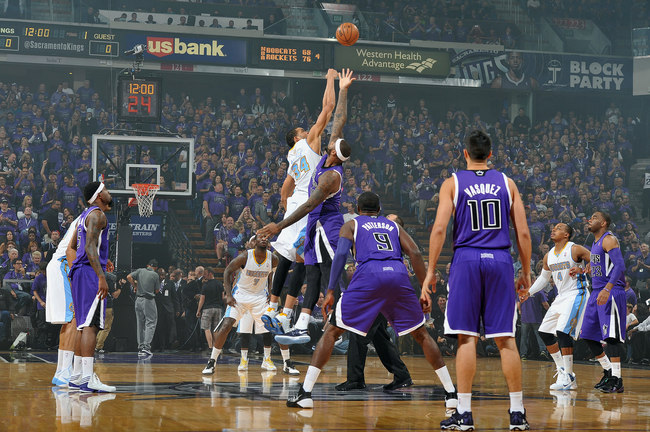 Garrett Ellwood/Getty Images
The Denver Nuggets' opening game against the Sacramento Kings showed exactly why JaVale McGee is the most important player on the roster.
Yes, Denver fans should be shuddering and considering switching allegiances to a different, more stable team.
McGee was plagued by early foul trouble (two in the first five minutes and three by the end of the first half), and he only played 10 minutes throughout the two-point loss. Without him, the Nuggets were left scrambling, playing Timofey Mozgov at the 5 or desperately using a mixture of J.J. Hickson, Anthony Randolph and Darrell Arthur.
And the result?
DeMarcus Cousins ate Denver alive for dinner and was so dominant that he still has some leftovers in his fridge. "Boogie" finished the game with 30 points and 14 rebounds, asserting himself as the most outstanding player on the court.
It's on McGee to make sure this doesn't become a trend. Ty Lawson is also invaluable to the team, but the presence of Andre Miller and Nate Robinson behind him means he doesn't gain a featured spot in this article.
Detroit Pistons: Josh Smith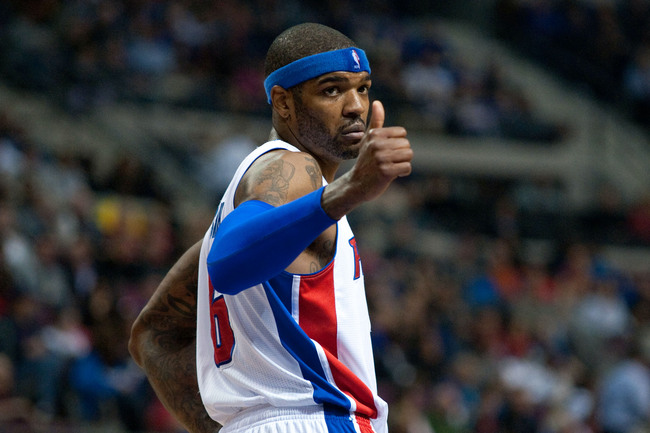 Tim Fuller-USA TODAY Sports
The Detroit Pistons have enough talent to emerge as fringe contenders out of the Eastern Conference.
If it all comes together.
We've already seen that Andre Drummond and Greg Monroe can work well with each other, and Brandon Jennings should enter the mix without any setbacks. Maybe I'm beset by naivete, but the southpaw can turn over a new leaf now that he's playing alongside significantly more talented offensive options.
So that's all fine and dandy.
But what happens when you throw Josh Smith into the fray?
"Smoove" developed a reputation for inconsistency and ill-advised decisions with the Atlanta Hawks, and that can't continue now that it's even tougher for him to mesh with his teammates. He has to be willing to pick and choose shots more efficiently while serving as a perimeter defender who's less inclined to fly over to the strong side and play help defense.
Pistons are ground-bound, and hawks are not.
That's something Smith has to remember as he corrals his athletic instincts and figures out how to fit in with his colleagues in Detroit. He has the ability to push this team into the playoffs, but he could also overdefend and overshoot the Pistons out of the postseason picture.
Minnesota Timberwolves: Kevin Love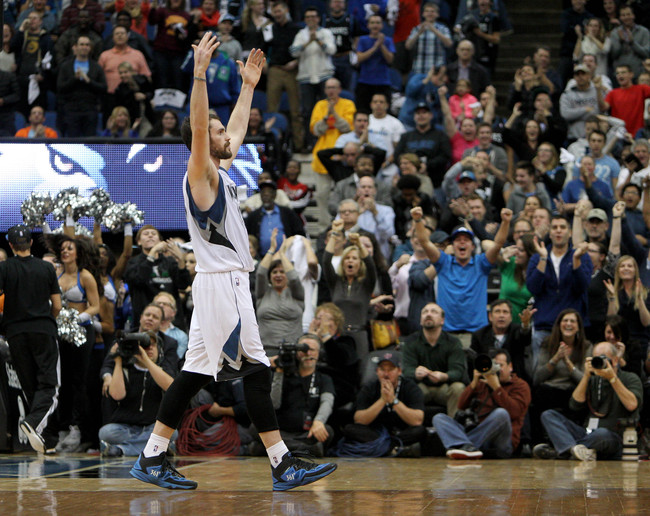 Brace Hemmelgarn-USA TODAY Sport
Kevin Love is a star and one of the 20 best basketball players in the world.
The fact that he's never been to the postseason doesn't change that. He just hasn't had a roster to work with that has been (A) capable of advancing to the postseason and (B) healthy enough to do so. Last year's met the former criterion, but the latter? Ha.
This season, there's a chance, but only if he remains on the court for most of the season.
He might not be a great defender, but his offensive contributions and work on the boards are sublime. In his first game of the 2013-14 campaign, he recorded a ho-hum 31 points and 17 rebounds, including the three-pointer in the closing seconds that sent the game to overtime.
When Love is out of the lineup, Minnesota can't score. Ricky Rubio might end up throwing passes to his power forward even while Love sits on the bench in street clothes because he'd still be the best offensive option in the arena.
Everyone else is replaceable, although losing Rubio would be detrimental to the playoff push as well.
Love is by no means expendable.
New Orleans Pelicans: Anthony Davis
Derick E. Hingle-USA TODAY Sport
Losing Ryan Anderson is a big blow, but it's hardly a death knell. If the power forward is out for 11 games (the number he'll miss if it takes him the full three weeks to recover from the chip fracture in his toe), it'll hurt, but it won't submerge the New Orleans Pelicans' playoff efforts.
Losing Anthony Davis would.
New Orleans has a lot of things working in its favor, but two-way players are few and far between. Not many players on the roster are capable of becoming elite options on both ends of the court.
In fact, Davis may well be the only one.
During a monster preseason, "The Unibrow" showed off a vast array of skills. He put the ball on the floor out near the three-point arc, showed off new form on his mid-range jumpers, rotated properly and bodied up against bigger frontcourt players. Everything points toward a season that will mark him as a strong candidate for an All-Star bid and Most Improved Player selection.
And that's what NOLA can't give up. If Eric Gordon, Tyreke Evans or Jrue Holiday goes down, the other two guards will fill in for the missing backcourt member.
But if Davis is injured or ineffective, it won't be good news in the bayou.
Portland Trail Blazers: LaMarcus Aldridge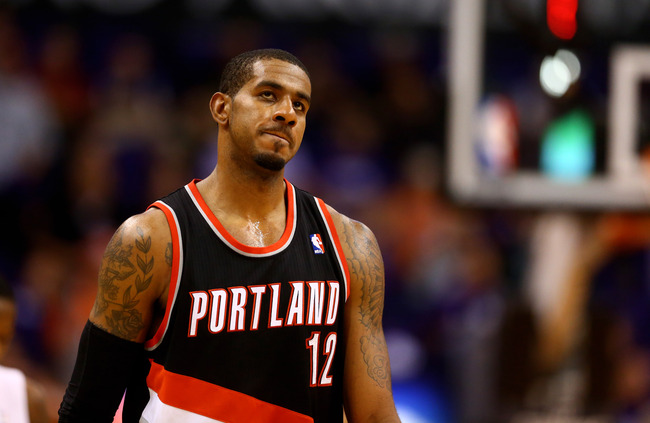 Mark J. Rebilas-USA TODAY Sports
If Damian Lillard slumps or gets injured, a steady replacement would come off the bench in the form of Mo Williams (and C.J. McCollum, once his broken foot heals).
The same goes for Wesley Matthews and Nicolas Batum. The Blazers could have Williams, McCollum, Will Barton or Dorell Wright start and play more minutes.
Would something be lost? Absolutely. There's a reason that each member of that trio finds himself in the starting lineup, and the backups for Rip City—while much improved—still aren't stellar options.
But it wouldn't be the end of the world for them to fall out of the rotation for whatever reason.
The talent disparity between LaMarcus Aldridge and Thomas Robinson, though, is too much to overcome for an extended period of time. If the power forward was held out of the lineup, the Blazers would be doomed.
In 2012-13, Portland was outscored by 0.8 points per 100 possessions when Aldridge played, according to Basketball Reference. When he sat down, that number skyrocketed all the way up to 10.2, which is a monumental difference.
A similar story will unfold in 2013-14, even if the man backing him up has changed. So Portland must minimize how much time Aldridge spends on the pine.
Toronto Raptors: Kyle Lowry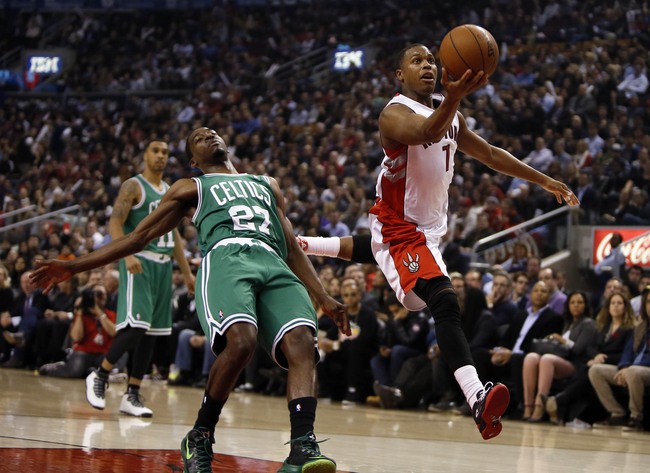 John E. Sokolowski-USA TODAY Spo
D.J. Augustin terrifies me, and the same can be said for Dwight Buycks, whom I'm not ready to buy into following his summer league exploits. They may have landed him a spot in the Toronto Raptors rotation, but that doesn't mean he should be playing large minutes until he has some more NBA experience under his belt.
Last year, Augustin was terrible for the Indiana Pacers.
The offense stagnated when he stepped onto the court as George Hill's replacement, and the defense took a serious step back as well. Per Basketball Reference:
| D.J. Augustin | Points Allowed Per 100 Possessions | Points Scored Per 100 Possessions |
| --- | --- | --- |
| On Court | 102 | 100.3 |
| Off Court | 99 | 106.8 |
Ouch.
The Raptors can't afford to have that mess on the court often, which makes it critically important for Kyle Lowry to remain both effective and healthy, something that's given him trouble throughout his career. He only played 68 games last year, and a number that low would be grounds for Masai Ujiri to blow everything up in 2013-14.
Toronto's new general manager may already be looking for an excuse to put his fingerprints on the roster he didn't build. Rudy Gay, DeMar DeRozan and Jonas Valanciunas are all doing everything they can for the Raptors to stay competitive in the Eastern Conference, and they're all capable of outplaying Lowry each and every night.
However, that doesn't diminish the point guard's importance.
Washington Wizards: John Wall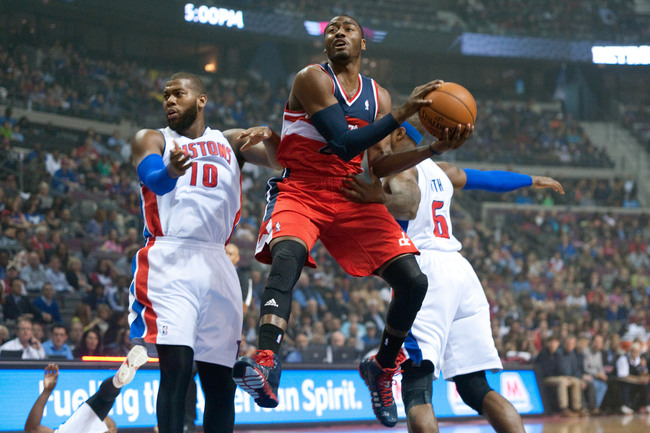 Tim Fuller-USA TODAY Sports
John Wall is the Washington Wizards.
That much was made clear last year, when the team floundered while he was recovering from offseason surgery. As soon as the dynamic point guard returned, the offense exploded, and the Wizards were actually competitive.
The on-court/off-court numbers aren't particularly relevant here, though, because Washington went into unabashed tank mode near the end of the year and wasn't trying to be competitive. More applicable is the middle portion of the season, when Wall guided the Wizards to a 22-18 record before the calendars flipped over to April.
His dynamic play makes all the difference.
He struggled with his shot during the opening game against the Detroit Pistons, and Washington's offense stagnated as a result. If he's not hitting outside looks and finishing at the rim consistently, it's hard for the team to generate offense because no one else in the starting lineup actively creates for himself.
Bradley Beal, Nene and Marcin Gortat will all be critical pieces for the playoff push, but the Wizards could at least survive without them. Without Wall, the same can't be said.
Keep Reading