College Football Players, Coaches and Teams to Watch in Week 10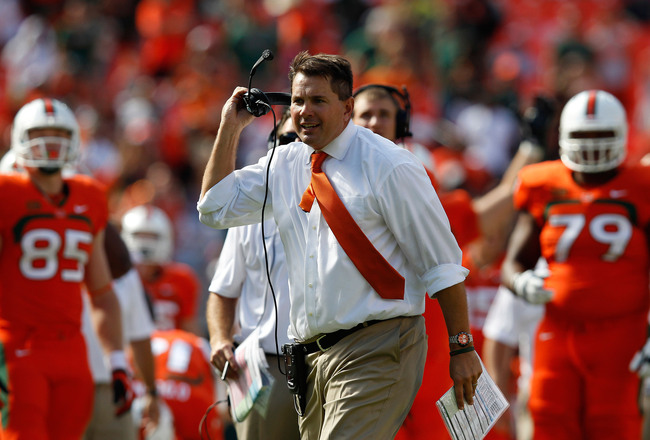 Can the Hurricanes prove they belong among the nation's elite?
Robert Mayer-USA TODAY Sports
With the college football season heading into the homestretch, several players, coaches and teams will be looking to make a statement in Week 10.
Some will try and prove that they are deserving contenders for national and conference titles alike. Others will just be trying to turn around a slump and get back on the winning track.
Whatever the case, these players, coaches and teams will be faced with the pressure of performing when it matters most.
Here are six candidates that should do just that this weekend.
Player: RB Todd Gurley (Georgia)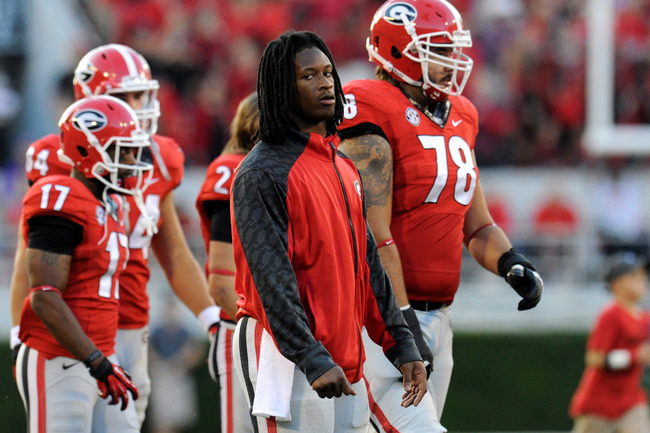 Gurley (center) could only watch from the sidelines as the Bulldogs' season unraveled.
Dale Zanine-USA TODAY Sports
Week 9 Matchup: Georgia (4-3) vs. Florida (4-3), Nov. 2, 3:30 p.m. ET on CBS
The Skinny
With a 44-41 victory over LSU on Sept. 28, the Bulldogs' season was back on track. More importantly, their national title hopes were restored.
However, it came at the cost of running back Todd Gurley, who left in the second quarter with an apparent ankle injury.
He would miss Georgia's next three games.
The loss of the sophomore proved catastrophic. The team lost two of those contests and needed late-game heroics to beat a subpar Tennessee squad.
Fortunately, the Bulldogs are set to return Gurley to the lineup, via The Macon Telegraph's Seth Emerson, just in time for their rivalry showdown with the Gators.
In four games, Gurley rushed for 450 yards and four touchdowns on 71 carries. He also caught five passes for 42 yards and another score.
Gurley will surely be tested against a Florida run defense that ranks No. 9 in the country, allowing just a little over 100 yards on the ground while conceding only 3.65 yards per carry.
Although it's a little too late, Georgia will hope Gurley's presence can carry them to a late-season surge.
Coach: Kliff Kingsbury (Texas Tech)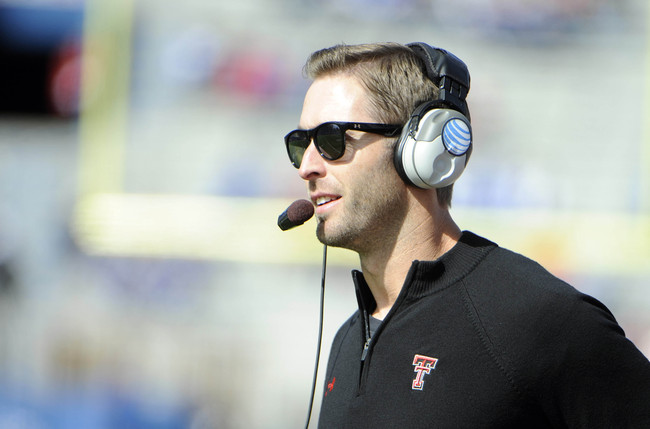 Kingsbury has a tough test ahead of him this weekend.
John Rieger-USA TODAY Sports
Week 9 Matchup: No. 18 Oklahoma State (6-1) at No. 15 Texas Tech (7-1), Nov. 2, 7 p.m. ET on FOX
The Skinny
Following a 7-0 start, not too many people gave Red Raiders head coach Kliff Kingsbury too much credit.
For starters, his team hadn't really played anyone. The only ranked team Texas Tech had played all season—then-No. 24 TCU—already has five losses through eight games.
Not to mention, the team struggled with ball control.
Both aspects came to the forefront, as the Red Raiders were exposed as pretenders in a 38-30 loss to Oklahoma last weekend.
The Sooners proved to be the superior team, outgaining Texas Tech 526-460 yards. Not surprisingly, the Red Raiders coughed up three costly turnovers—two led to Oklahoma points.
Now, all eyes will be on Kingsbury to see how he coaches his team following its first setback of the season.
It won't be easy, as Texas Tech's remaining four opponents have a combined record of 21-7.
It all starts this weekend against a Cowboys team many considered the preseason Big 12 favorite.
Team: Notre Dame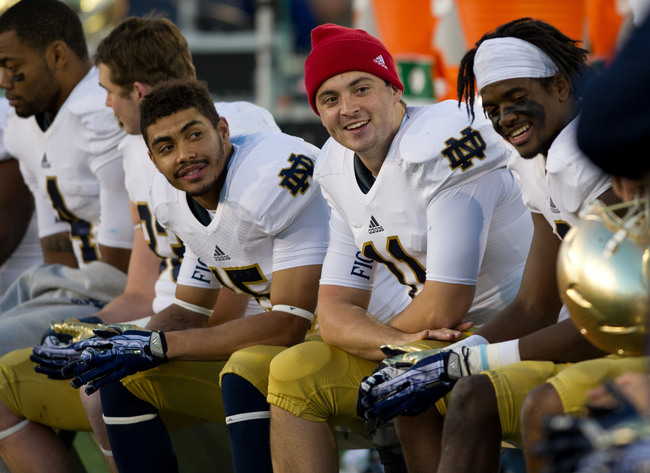 It's been all smiles for the Irish as of late.
Matt Cashore-USA TODAY Sports
Week 9 Matchup: Navy (4-3) at No. 25 Notre Dame (6-2), Nov. 2, 3:30 p.m. ET on NBC
The Skinny
The Irish have been a completely different team ever since losing to Oklahoma back on Sept. 28.
Since then, the team has held both USC and Air Force to just 10 points. And while Arizona State scored 34, Notre Dame did force three turnovers—including a pick-six—while sacking Sun Devils quarterback Taylor Kelly six times.
All things considered, it has been quite the turnaround for an Irish defense that had showed significant deterioration on that side of the ball over the first five games.
Now, Notre Dame has cracked the Top 25 of the BCS Standings and is making a serious charge for a spot in the Top 14, which would qualify the team for an at-large berth in a BCS bowl.
The defense will get a real test this weekend against the Midshipmen and their No. 10-ranked rushing attack.
Is this turnaround for real?
Player: RB Melvin Gordon (Wisconsin)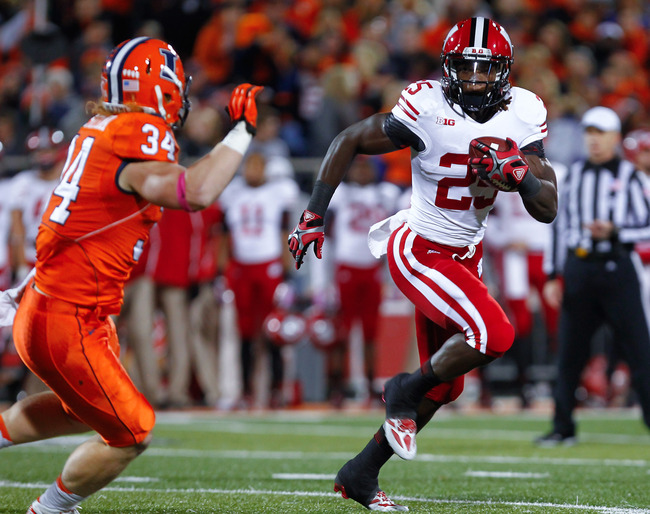 Gordon (right) is making a case for Heisman.
Michael Hickey/Getty Images
Week 9 Matchup: No. 24 Wisconsin (5-2) at Iowa (5-3), Nov. 2, 12 p.m. ET on ABC/ESPN2 (Coverage Based)
The Skinny
Thanks to a controversial call in a 32-30 loss to Arizona State earlier in the season, not too many people have been talking about the Badgers.
Running back Melvin Gordon hopes to change that. And in the process, he just may sneak himself into the Heisman conversation.
Through seven games, the sophomore has racked up 1,012 yards and 11 touchdowns on the ground. Other than Wisconsin's loss to Ohio State, Gordon has rushed for at least 140 yards and a score in every single game.
He'll be tested this weekend against a stifling Hawkeyes defense.
Thus far, the unit ranks No. 24 against the run, allowing just 128.6 yards per game on the ground. Furthermore, Iowa has given up just two rushing touchdowns and concede just 3.7 yards per carry.
We'll learn quite a lot about Gordon on Saturday.
Coach: Gary Pinkel (Missouri)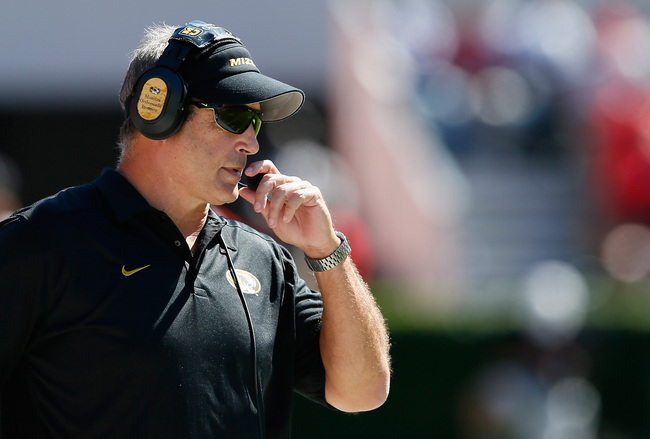 How will Pinkel respond following his first loss of the season?
Kevin C. Cox/Getty Images
Week 9 Matchup: Tennessee (4-4) at No. 9 Missouri (7-1), Nov. 2, 7 p.m. ET on ESPN
The Skinny
Head coach Gary Pinkel and his Tigers had South Carolina right where they wanted them last weekend.
Missouri held a 17-0 advantage heading into the four quarter. Only 15 minutes stood in the team's way of an 8-0 start and a shot at the BCS title.
Unfortunately, it just wasn't meant to be, as the Gamecocks stormed back with 17 unanswered points, eventually winning in double overtime, 27-24.
It's the kind of loss that hangs with players for quite some while. The kind of loss that could easily send a season into a downward spiral.
Now, it's up to Pinkel to prevent that from happening.
The Tigers still hold a one-game lead in the SEC East. But with Ole Miss and No. 12 Texas A&M remaining on the schedule, the team can't afford a setback against the likes of Tennessee and Kentucky.
This will be a very interesting stretch for Pinkel.
Team: Miami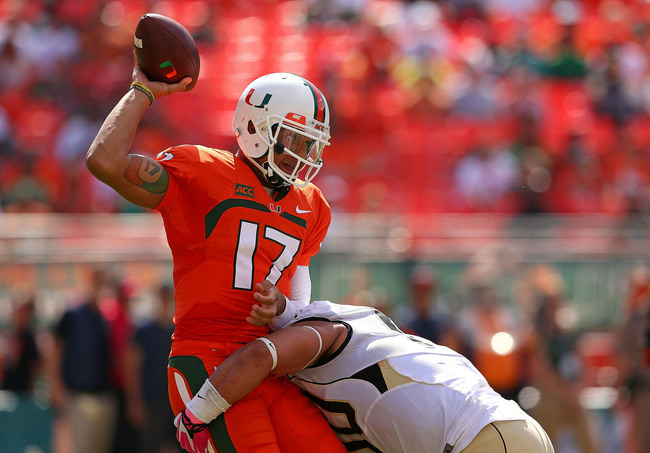 Morris will have to raise his level of play on Saturday.
Mike Ehrmann/Getty Images
Week 9 Matchup: No. 7 Miami (7-0) at No. 3 Florida State (7-0), 8 p.m. ET on ABC
The Skinny
Over the years, the Hurricanes and Seminoles have put together one classic match after another. In a rivalry that dates back to the '50s, it's pretty much what's expected when these two meet.
This season doesn't look to be any different. Both teams come in at 7-0. Both have their eyes set on the ACC title.
Both are in pursuit of a coveted berth in the BCS championship game.
But while Florida State has already proven its worth—a 51-14 drubbing of then-No. 3 Clemson did as much—Miami's credibility is still in doubt.
If you recall, this is a team that has looked nothing like a championship contender over the last three weeks. That includes relying on last-minute touchdowns to escape with wins against the likes of North Carolina and Wake Forest—teams with a combined 6-11 record.
It doesn't help that quarterback Stephen Morris (59.9 CMP%, 1,463 YDs, 10 TDs, 8 INTs, 149.0 RAT) has looked anything but efficient this year.
On the road, against a hated-rival, the Hurricanes can't afford to make any mistakes.
But more importantly, the team will need to raise its level of play if Miami has any hopes of pulling the upset.
All stats and rankings used in this article are courtesy of NCAA.com
For complete coverage and everything college football, you can reach Sebastian on Facebook, on Twitter and by e-mail at Sebastian.LenaBR@gmail.com
Keep Reading