Buying or Selling Every Top 10 Team as a BCS Championship Contender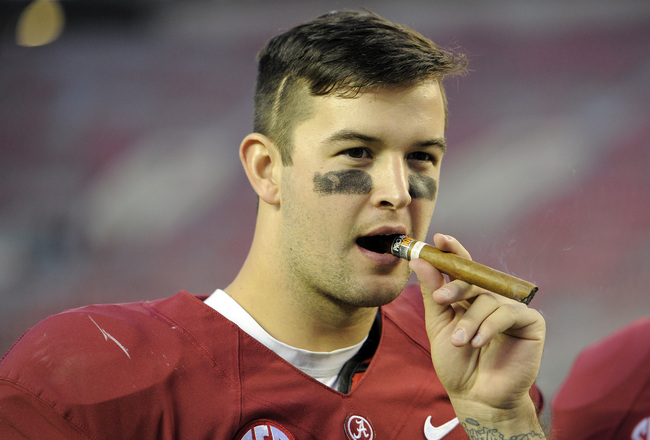 John David Mercer-USA TODAY Sports
As the season winds down, the BCS National Championship picture is supposed to become more clear with every passing week.
While several pretenders have been exposed in recent weeks, the race for the national title is still as muddled as ever at the top of the BCS standings.
Alabama remains as the favorite, with Oregon, Florida State, Ohio State, Stanford, Baylor and others all chasing the Crimson Tide. In the race to knock the Tide and the SEC off their pedestals, it can be tough to tell which teams are fake and which are real.
Come check out which teams have a real shot at making the national title, and which won't be anything more than hopefuls.
Note: All rankings based on Week 10 BCS Standings.
10. Oklahoma: Sell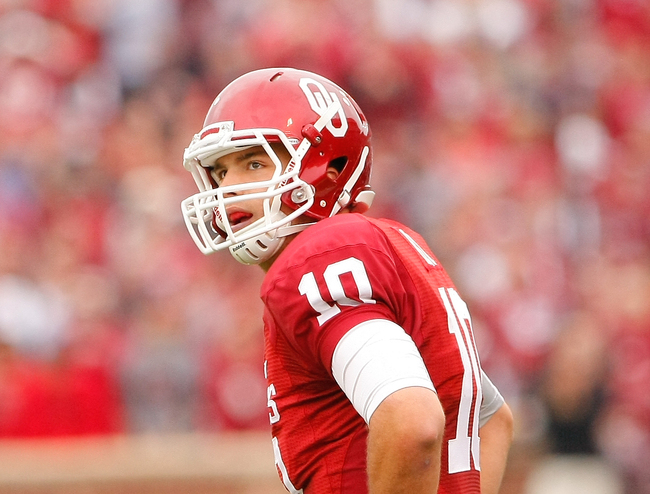 Alonzo Adams-USA TODAY Sports
Oklahoma has a chance to reenter the BCS national title conversation next week when it takes on No. 6 Baylor.
However, beating the Bears in Waco, Texas is going to be a tall task. BU is averaging 70.6 points per game at home this year with an average margin of victory of 56.2 points. A loss to BU will sink OU's title hopes.
Looking at Oklahoma's body of work this season, there isn't much hope going into that game. The Sooner defense has been solid at times but inconsistent on the whole. They gave up 36 points to Texas, which is the most points the Longhorns have scored on a BCS conference opponent all year.
The OU offense has shown improvement over the season but will need to be at its absolute best to keep up with the Bears. Additionally, the Sooners will have to carry on without versatile fullback Trey Millard, who plays a unique but vital role in their offense.
OU is a solid team, but it just isn't a BCS contender this season.
9. Missouri: Sell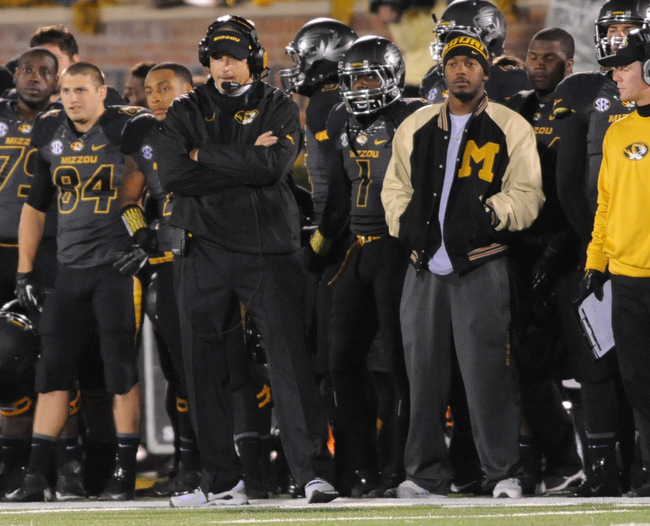 Denny Medley-USA TODAY Sports
The dream is over for Missouri.
A week ago, Missouri was just minutes away from locking down the SEC East Division title and taking the next step toward a national title berth. However, that all ended when the Tigers clanked a field goal off the goal post in overtime, sealing South Carolina's 27-24 comeback win.
Mizzou can still win the SEC East, but it will have to win three of four games against Tennessee, Kentucky, Ole Miss and Texas A&M to close the season. If the Tigers win out, they'll still have a shot at a backdoor route into the national title game.
But to make it there, they'll likely have to go through No. 1 Alabama in the SEC championship game.
The way the Crimson Tide have been playing, the odds aren't in Mizzou's favor.
8. Clemson: Sell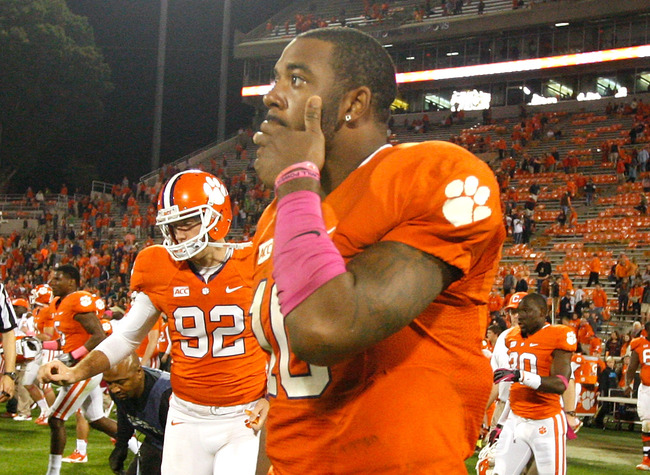 Tyler Smith/Getty Images
Despite being ranked one spot higher than Missouri, Clemson's chances at a national title berth are even smaller.
Unlike Mizzou, CU has almost no chance at winning its conference. The Tigers will need Florida State to lose two of three to Miami (Fla.), Wake Forest and Syracuse to close the regular season, which is about as likely as Alabama fans staying through all 60 minutes of a 52-0 blowout.
However, that is almost a lose-lose situation for Clemson, as FSU's losses would hurt its strength of schedule.
Nothing is impossible with the BCS, but there is almost no scenario where the Tigers would reach the national title game.
7. Miami (Fla.): Sell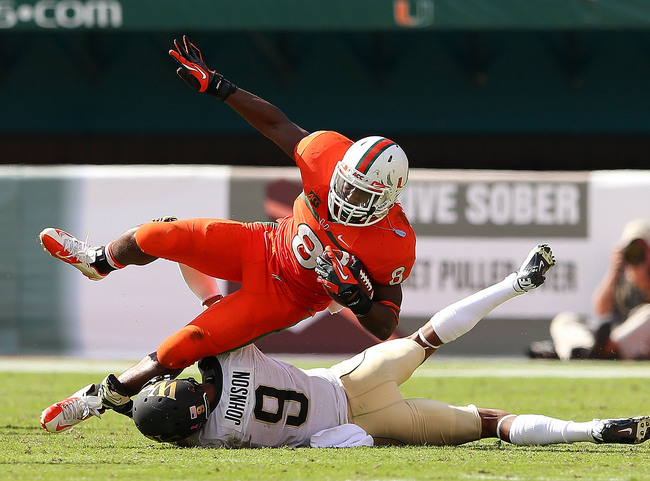 Mike Ehrmann/Getty Images
On paper, Miami has a legitimate chance to make the national title game.
Sitting at 7-0 with a date with No. 3 Florida State coming this week, the Hurricanes could become one of just a few national title favorites with a win over the Seminoles.
However, a quick look at The U's resume changes the outlook. No one in their right mind would buy a team that nearly lost to North Carolina and Wake Forest as a national title contender.
The 'Canes have some talent on defense and at the running back position. They also have a quarterback in Stephen Morris who is capable of greatness when he is playing well. But everything Miami has, Florida State has more of.
Miami is on their way back up, but they aren't good enough to compete for a national title just yet.
6. Baylor: Buy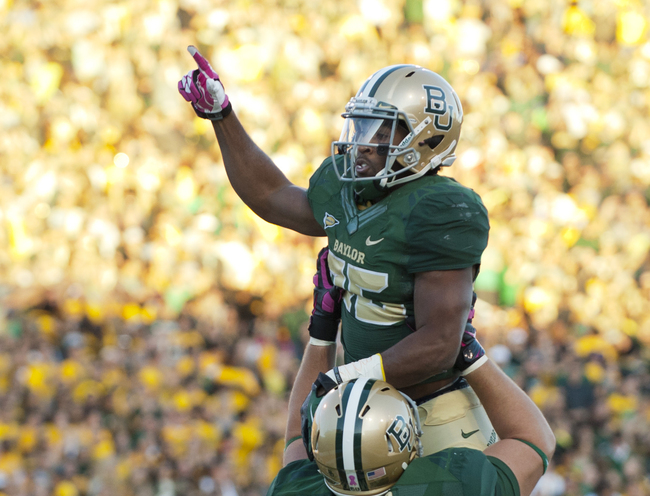 Cooper Neill/Getty Images
When talking about Baylor, the conversation always begins on offense.
The Baylor offense is the most proficient in the nation, averaging 717.3 yards and 63.9 points per game. The Bears have two Heisman Trophy hopefuls, running back Lache Seastrunk and quarterback Bryce Petty.
They also have a fast defense that does more than just keep up with the pace of its offense. The BU defense ranks No. 6 nationally, allowing just 15.9 points per game.
Baylor is the total package and looks capable of beating just about any team in the country. The Bears haven't faced any tough competition yet, so that could change once they are challenged in the coming weeks.
But for now, buy the Bears.
5. Stanford: Sell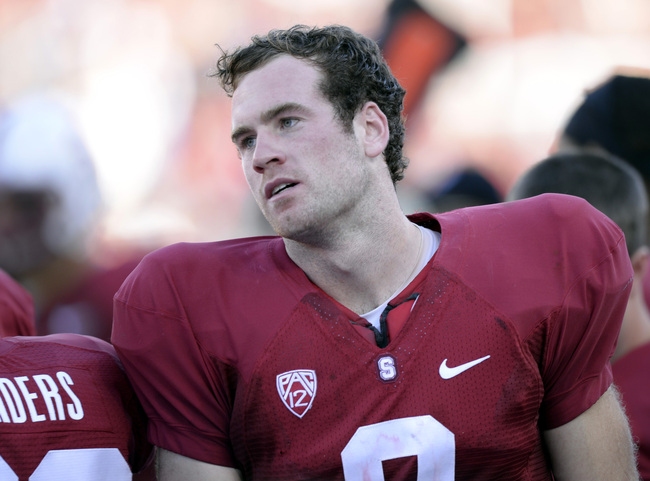 Bob Stanton-USA TODAY Sports
Like Miami and Oklahoma, Stanford's BCS national title hopes hinge on one game.
The Cardinal will host No. 2 Oregon on Thursday, Nov. 7, and can reenter the national title picture with a win. Last season, they faced a similar situation late in the season against an undefeated and national title favorite in UO, and halted the Ducks in a 17-14 overtime win.
However, that win came against a freshman quarterback in Marcus Mariota. This time around, Mariota is the Heisman Trophy favorite and has been unstoppable this season.
Meanwhile, the Cardinal suffered a ghastly loss to unranked Utah.
Stanford knocked Oregon out of a BCS title berth last season, but it won't happen again.
4. Ohio State: Buy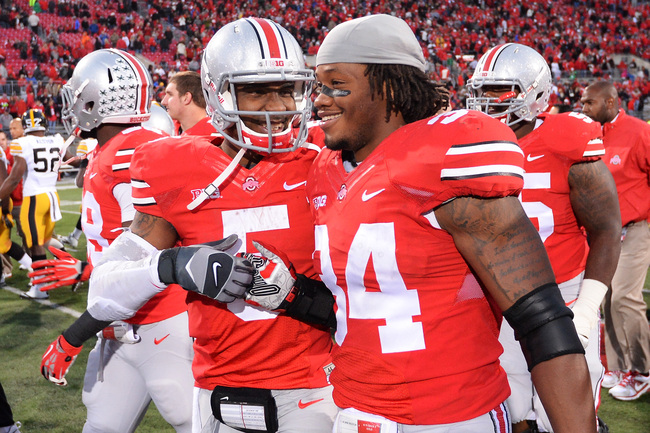 Jamie Sabau/Getty Images
The only thing that will keep Ohio State out of a national title berth is its schedule.
The Buckeyes have just one ranked team, No. 21 Michigan, left on their regular season slate. They are also likely to face another ranked team, either the Wolverines again or No. 22 Michigan State, in the Big Ten Conference championship game.
However, none of these teams should be able to beat OSU. The Buckeyes have taken the best shot from every team they have faced and are still standing tall.
OSU will have no problem putting itself in contention for a national title berth but will need a little help to make it there. However, given how similar situations in past seasons have played out, the Buckeyes can't be counted out yet.
3. Florida State: Buy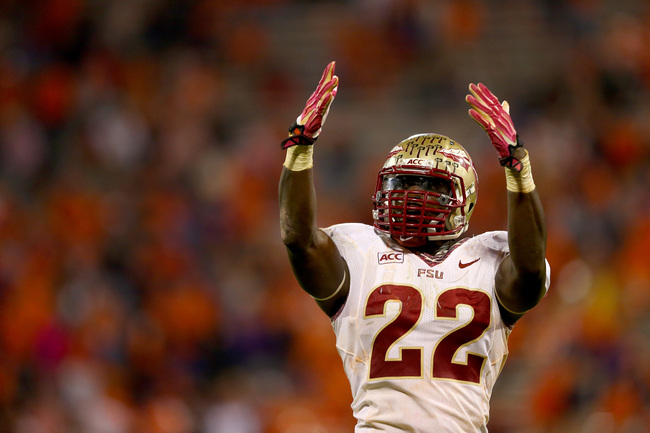 Streeter Lecka/Getty Images
Florida State became a legitimate national title contender when it hammered Clemson 51-14 in Death Valley.
The Seminoles are led by a talented defense that is allowing just 13 points per game, and a Heisman Trophy contender, quarterback Jameis Winston.
The 'Noles will still have a few challenges left to finish the season against rivals Miami and Florida, and in the ACC title game, likely against Virginia Tech or Miami. The way they are playing right now, they shouldn't have any problem passing any of their final three exams.
If FSU performs as expected going forward, it could be matched up with Oregon in the BCS. Whichever team the computers favor will be heading to Pasadena, California for the national title game.
2. Oregon: Buy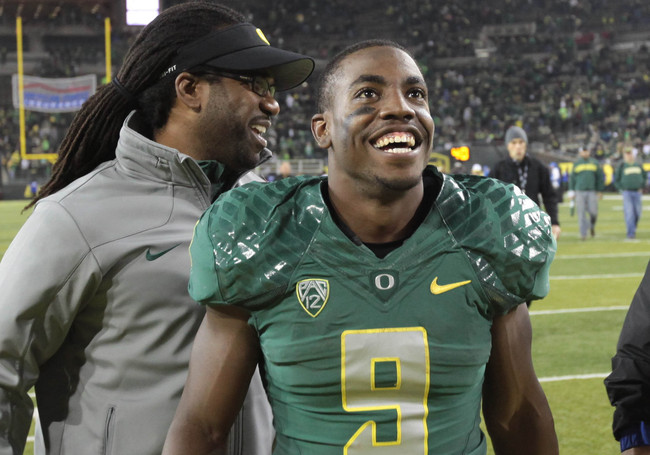 Scott Olmos-USA TODAY Sports
Just like Florida State, Oregon will face several tests to earn a BCS berth.
The Ducks must take down Stanford, rival Oregon State and possibly Arizona State or UCLA in the Pac-12 title game. That will be easier said than done, but they have the talent to beat any team.
Also similar to FSU, UO is led by a Heisman candidate in quarterback Marcus Mariota and a stingy defense.
If Oregon plays anywhere near its potential, there isn't a team left on its schedule that can touch it. And as they showed last week, the Ducks can even beat talented teams on their off days.
Depending on how the BCS rankings play out, UO is looking like one of the most enticing national title picks in the country.
1. Alabama: Buy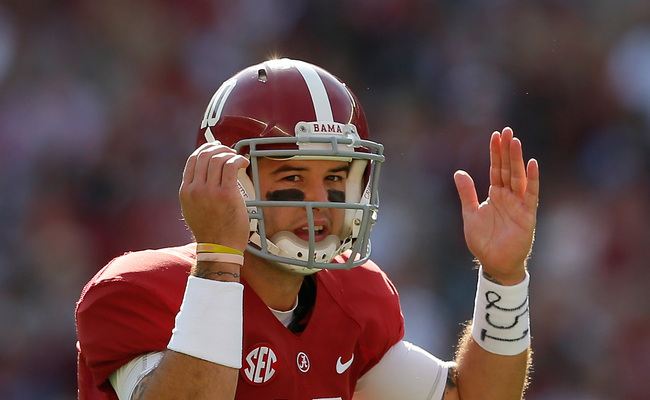 Kevin C. Cox/Getty Images
Ohio State, Baylor, Florida State and Oregon all have a lot in common. They are all talented teams led by skilled quarterbacks and are highly likely to end the regular season as undefeated champions of their respective conferences.
However, there is still one more thing they have in common: They are all still chasing Alabama.
Meanwhile, the Crimson Tide are chasing their third straight national title and just might become the first team in college football history to complete the three-peat.
'Bama will have a few roadblocks to Pasadena, though. The Tide will have to go through two ranked rivals, No. 13 LSU and No. 11 Auburn. Additionally, they will have to win the SEC title game, potentially against Missouri or South Carolina.
The Tide are strong on defense, as they're the only team in the nation allowing less than 10 points per game on average. They are also led by a senior quarterback and a stable of skilled running backs.
Until another team proves otherwise, the national title is Alabama's to lose.
Keep Reading