Scouting the Best of Manchester United's Youth and Reserve Team Players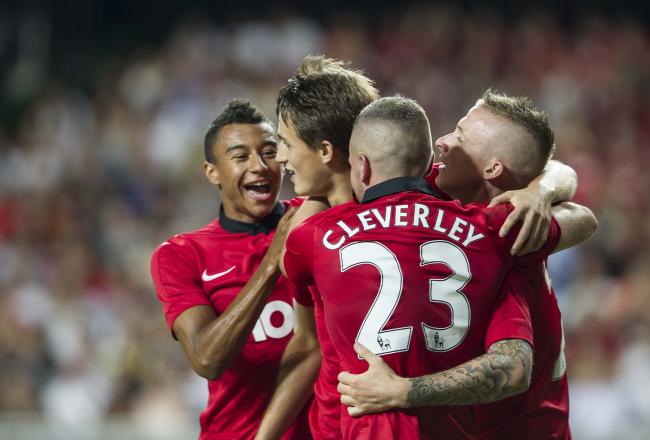 Victor Fraile/Getty Images
The emergence of Adnan Januzaj this season begs the question of what other treasures may be lurking within Manchester United's youth system, just waiting for the opportunity to flourish in first-team football.
After all, ever since Sir Matt Busby's insistence that the club pour their efforts into sourcing and developing their own players, youth has been one of the central tenets preached by both the fans and hierarchy alike at Old Trafford.
United haven't always had it their own way, though. The defections of Paul Pogba and Ravel Morrison in recent years came as bitter blows to supporters who had pinned much of their hopes on the duo coming through to plug gaps in central and attacking midfield respectively.
Yet the club's talent stocks are far from dry even after the promotion of Januzaj, and there is once again a buzz around the current crop of Academy prospects simmering away just below the first-team squad.
David Moyes would be wise to blood these youngsters if only to buy himself some time.
Old Trafford loves to see young players given a chance, and if United are to enter a period of prolonged transition following the retirement of Sir Alex Ferguson, the resulting overhaul may as well feature some major renovations.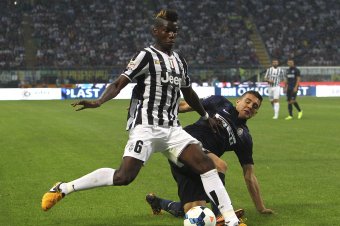 Marco Luzzani/Getty Images
After all, it was arguably Sir Alex's commitment to bringing on the first batch of the so-called Fergie's Fledglings back in 1988 that helped to ensure that those who were growing impatient with his methods and lack of league success held on and found new patience with which to back him.
The likes of Lee Martin and Mark Robins may not be household names today, but their generation played an important role in justifying Ferguson's ideas as well as buying him the time he needed eventually to rise up and become the most dominant manager of the Premier League or any other era for United.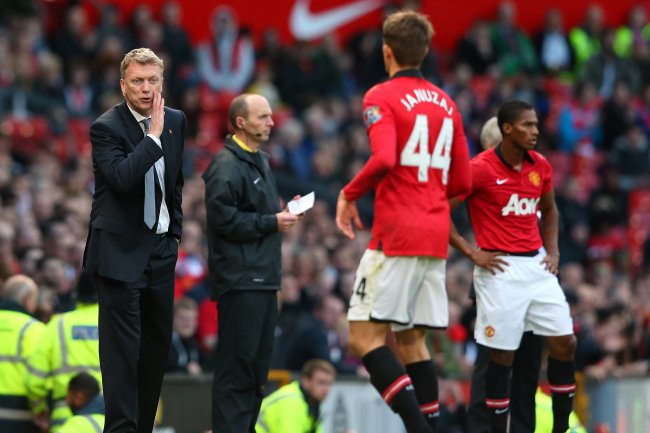 Alex Livesey/Getty Images
Is it time to unleash Moyes' Marvels? Or perhaps Dave's Dynamos?
Below are the players who look most likely to make something of themselves at the Theatre of Dreams in the very near future.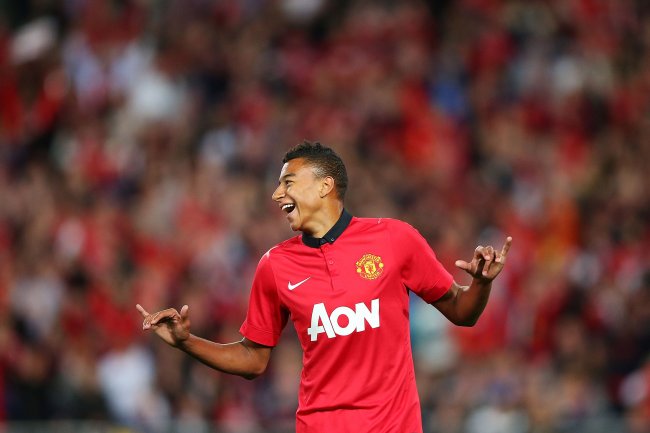 Brendon Thorne/Getty Images
Name: Jesse Lingard
Age: 20

Position: Attacking midfield
Lingard is currently the youth player most likely to make the step up to first-team football, with his devastatingly effective loan spell at Birmingham City—in which he has so far scored five goals in five games, with four on his debut—confirming that the Warrington-born attacker has come of age.
Able to play on either wing or in the attacking midfield slot, the youngster has pace, quick feet and an excellent ability to find both the net and his teammates, as a goalscorer or playmaker.
With Nani, Valencia and Ashley Young still looking less than convincing for United, there's certainly space for Lingard to show what he can do alongside Januzaj, whose success will hopefully embolden Moyes in trusting in more of his youthful creative players.
Birmingham manager Lee Clark made good use of the loan system to bring former United prodigy Morrison in from West Ham United last season and he has been able to breakthrough into Sam Allardyce's first-team plans in the Premier League this year.
Clark's current loanee, Lingard, could well find himself on a similar trajectory should he continue to impress, having recently agreed to extend his spell at St. Andrews to December.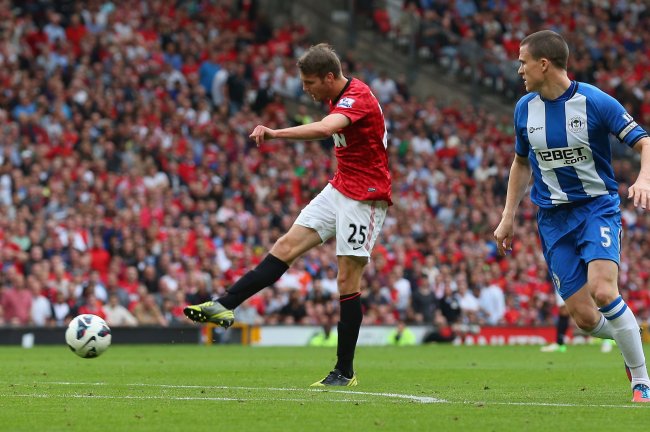 Alex Livesey/Getty Images
Name: Nick Powell
Age: 19

Position: Central midfield
In 1995, David Beckham arrived back from a loan spell at Preston North End, then managed by a pre-Everton Moyes, to become United's star midfielder.
The club will be hoping former Crewe Alexandra Academy product Powell will return from his current assignment with Owen Coyle's Wigan Athletic having enjoyed a similar transformation.
Able to play as a striker, wide man and in central midfield, Powell is a gifted player with a great first touch and an eye for goals. For Wigan, he has already featured in seven of the club's 12 league fixtures in the Championship and has scored three goals in three games in the Europa League.
The Marouane Fellaini and Michael Carrick partnership has clear problems, due to both midfielders' lack of pace and mobility, and Tom Cleverley doesn't look able to remain fit to fulfil the role of a more nimble link-man to aid their combination for a full season.
Depending on who United buy in January, Powell could well walk back into Old Trafford with a ready-made niche in the centre of the park ideally suited to his skills.
A composed passer, who enjoys driving forward to score goals and support attacks—and who isn't afraid of getting involved in the midfield battle for possession—he could prove to be exactly what Moyes is missing come the summer.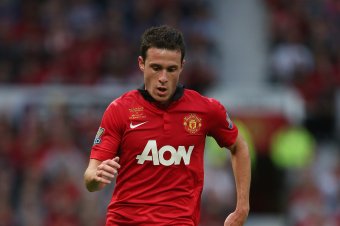 Clive Brunskill/Getty Images
Name: Angelo Henriquez
Age: 19

Position: Striker
There's already talk regarding how United can replace an ageing Robin van Persie, with rumours surfacing of interest in the likes of Robert Lewandowski and Christian Benteke. But on the home front, the club may already have a player capable of becoming a first-choice striker in the future.
Purchased from Universidad de Chile in 2012 after having scored 11 goals in 17 league games for the Primera Division club, Henriquez's development has largely taken place on loan so far.
At Wigan last season, he scored his first Premier League goal and can currently boast a record of four goals in five games with Real Zaragoza, the club he joined until the summer of 2014 back in August.
It shouldn't be too long before Henriquez is troubling the likes of Danny Welbeck and Jaiver Hernandez for their status as United's main back-up strikers. He may even replace both of them to some extent, with the Chilean arguably already a greater all-rounder than Chicharito.
Many a United fan has dreamt up plans of somehow fusing the approach play of Welbeck with the reliability in the box of Hernandez. While he may not be a perfect blend of the two, Henriquez certainly looks like he could become far more than a mere compromise if he continues to develop.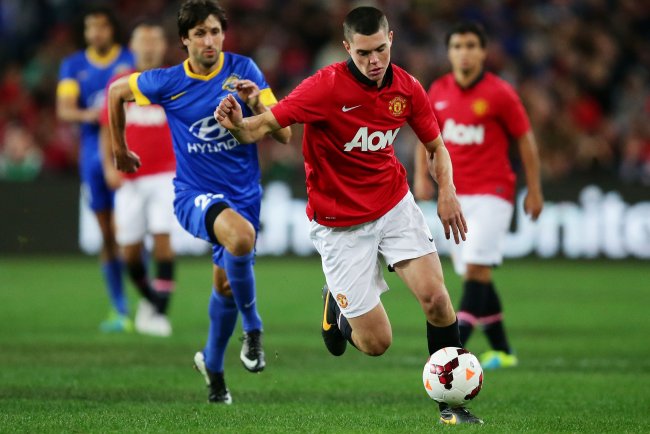 Matt King/Getty Images
Name: Michael Keane
Age: 20

Position: Central defence
Born just a few miles down the road from Old Trafford in Stockport, Keane looked to be on the cusp of regular first-team football in Ferguson's last couple of seasons, with the now-retired manager said to be a great admirer of the defender and his brother—more on Will later.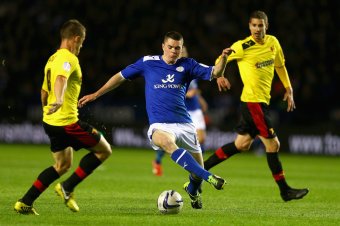 Clive Mason/Getty Images
Following on from an impressive performance against Newcastle United in the league cup in September 2012, Keane was loaned out to Leicester City where he excelled, garnering a player-of-the-year nomination.
With United's defensive roster currently well stocked, it's unlikely that the defender will find many first-team opportunities unless a major injury crisis leaves Moyes struggling for numbers at the back.
This means that Keane is likely to be loaned out in January, but make no mistake: He has all the ability to be an excellent centre-back and will be ready to grab his chance of joining the first team when it comes.
After all, it would be a shame if such a commanding and talented defender, who doesn't seem to suffer from the brittle late-game concentration suffered by many youngsters, was forced to leave to fulfil his immense potential.
Name: Ben Pearson
Age: 18

Position: Central midfield
It looked as though Pearson's chance of making it as a top-level footballer may have been irrecoverably damaged when news broke that the English youngster had contracted glandular fever in 2011.
However, having come back strong the following season, his performances in the heart of Paul McGuinness' U-21 side landed him the coveted Jimmy Murphy Young Player of the Year award, which was presented to Pearson at the club's end-of-season awards ceremony.
He was also handed the captain's armband on his first call-up to play for England's U-18 team against Belgium in 2013.
While it would be unfair to compare him to the likes of Pogba, the Oldham-born midfielder is a complete player with a slick range of passing and good, agile movement, allowing him to get around to quash opponent moves and push forward to support attacks as required.
Throwing Pearson into the first team would certainly be a risk at present—although many elements of his game already look sharp enough for the Premier League, life in United's midfield is very unforgiving at present and he may need to be eased in through League Cup and FA Cup appearances.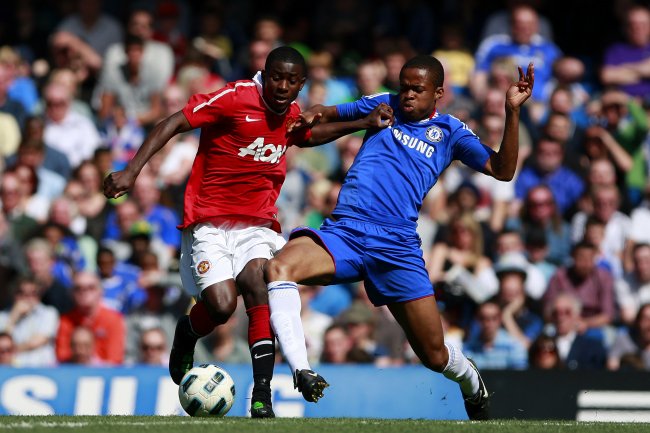 Dan Istitene/Getty Images
Name: Larnell Cole
Age: 20

Position: Attacking midfield
Standing at around 5'5", Cole has long been compared to Paul Scholes due to his cultured passing abilities and diminutive stature.
In fact, it could be argued that Cole would already be in or around the first-team squad if his physique matched his skill level.
A hugely intelligent footballer, the compact playmaker just needs the right opportunity to show off his mental sharpness in a competitive environment. At present it feels as though the midfielder may be being held back by his lack of exposure above U-21 level, and a loan move may be on the cards for January.
There is a worry, however, that by sending Cole out to play regular first-team football elsewhere, his size may play against him, which may explain why the club have been reluctant to send him out in the past.
For the midfielder to thrive rather than struggle, he needs the right club with the right attitude for any temporary arrangement to benefit him.
Otherwise, being stuck out wide or overlooked in favour of more physically impressive players will do little to ready Cole for becoming United's new pass master.
The player's team focus, awareness of the game around him and quickness of thought and feet mean that he must be nurtured as a potential playmaker of the future. He may not be the Xavi of Manchester, but as the success of Spain has shown, trusting in short yet skilful and smart players can pay dividends.
Name: Will Keane
Age: 20
Position: Striker
While his brother Michael has been impressing at the back due to his ability to prevent goals, the other young Keane has become one of United's most talked-about Academy talents for doing the exact opposite.
Sir Alex had planned to promote Will to the first team at the start of last season, only to watch the striker cut down by injury, ruling him out for most of 2012 and 2013.
Back in June 2012, Ferguson told the press, as per The Mail: "I'm very, very disappointed for the lad. He was in the first team squad for next season."
As reported by Give Me Sport, Scholes even went so far as to compare Keane to Ruud van Nistelrooy:
I think Will Keane has the capability to be a top-class centre-forward. He's one of the lads I've been working with. He was always someone I liked when I was watching the youth teams. He's just got a presence about him, he's a strong lad and has great feet - the ability to strike a ball. The kind of things Van Nistelrooy had.
High praise indeed, but Keane still has some way to go to make up for the time lost through injury.
Name: Andreas Pereira
Age: 17

Position: Attacking midfield
Pereira is currently rated as one of the most exciting talents in United's U-18 age group, although his appearances have been largely limited to the team's Milk Cup run rather than regular Academy games.
Still, the attacking midfielder has shown glimpses of quality, although he still has some way to go before his performances justify the hype that surrounded his arrival at Old Trafford.
At the moment the player is more of a YouTube highlight reel star, but his influence on games will only grow with time, and his individual moments of skill are already illustrating how comfortable Pereira is on the ball.
Purchased from PSV Eindhoven in 2011, the Belgian-born Brazilian remains one for the future, but his potential is there for all to see.
Name: James Wilson
Age: 17

Position: Striker
A speedy striker who can also play out wide on the left, Wilson first came to United's attention as a seven-year-old, and he has consistently stood out from every age group he's been included in since.
Now 17, he's already knocking on the doors of the club's U-21 squad.
Wilson, with Henriquez and Keane ahead of him at youth level, and van Persie, Rooney, Welbeck and Hernandez blocking a dramatic rise into the first team, is likely to face real competition for chances upfront, with his ability to play on the left likely to be a more fruitful path for playing time.
[GIF] James Wilson's wonder goal v Arsenal u18s at the weekend http://t.co/WW9gXVJ8wk & http://t.co/vD4I04Cbf7

— BeautifullyRed (@BeautifullyRed) September 9, 2013
Having already begun popping on football highlights sites for his goals at youth level, keep an eye out for Wilson and his progress as he looks to blitz through yet another level of development over the next couple of seasons.
Name: Sean Goss
Age: 18
Position: Central midfield
Signed from Exeter City last summer for a fee thought to be around £500,000, Goss is another highly-rated passer whose name is continually pulled up as a major hope for United's under-strength midfield.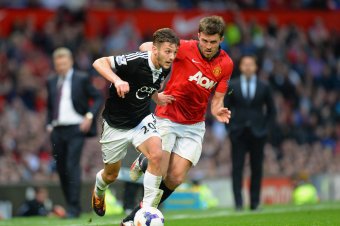 Shaun Botterill/Getty Images
As a midfielder, Goss scored 13 goals in his final season at Exeter and was handed a contract after playing a key role on trial in the Ajax's Aegeon Future Cup for United, sadly missing a penalty in the final to lose out to the hosts.
His assured and elegant presence in midfield has drawn similarities to Carrick, and Goss has fulfilled a similar role to United's first-choice midfielder for the club's Academy teams.
Time will only tell if the midfielder can continue to develop along those lines.
If he can find a breakthrough alongside the likes of Pearson, Powell, Lingard and Cole, it's unlikely that United will be facing another crisis in their engine room anytime soon.
This article is
What is the duplicate article?
Why is this article offensive?
Where is this article plagiarized from?
Why is this article poorly edited?

Manchester United: Like this team?