A much-heralded offseason turned into an absolute dud for the Portland Trail Blazers in their season-opening 104-91 loss to the Phoenix Suns at US Airways Center.
The Blazers (0-1) dug themselves a deep hole early and spent the rest of the game playing catch-up against a Suns team supposedly tanking for a highly talented 2014 draft next summer.
Roles, however, seem reversed as outside of Damian Lillard and LaMarcus Aldridge, Portland struggled mightily to get any significant contributions.
The Suns' backcourt of Eric Bledsoe and Goran Dragic was spectacular, combining to score 48 points on 19-of-33 shooting. Second-year forward Miles Plumlee provided a spark, totaling 18 points and 15 rebounds after coming over in the Luis Scola trade with the Indiana Pacers this offseason.
Player of the Game
Damian Lillard: 32 points, 4 rebounds, 2 assists, 10-20 FGs
Lillard was sensational offensively for the Blazers, but after a much talked-about offseason where he focused on improving defensively, the second-year guard had trouble slowing down Dragic and Bledsoe.
Lillard, though, did set another team record.
Damian Lillard is the first Trail Blazer to make at least five 3-pointers in a season opener. #RipCity

— Trail Blazers PR (@TrailBlazersPR) October 31, 2013
Key Moment of the Game
The Blazers cut a 14-point fourth-quarter deficit to five at 96-91 with 3:15 left when Robin Lopez hit 1 of 2 free throws.
Portland would not score again as Phoenix ended the game on an 8-0 run. The Blazers went 0-of-7 from the field over the final three minutes, and Dragic helped seal the win with eight points in the final period.
Grades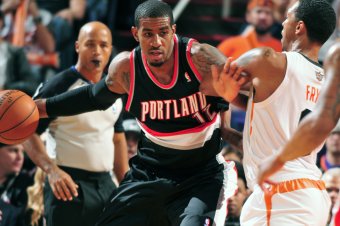 Barry Gossage/Getty Images
Lillard (B+): Can't say enough about his offense, but Lillard's knock has been his defense, which saw his counterparts on Phoenix go off.
Aldridge (B): Against an undersized frontcourt, Aldridge mustered just four boards in 39 minutes. But he was efficient offensively with 28 points on 12-of-22 shooting.
Robin Lopez (D): Three points and two rebounds won't cut it for Lopez and the Blazers' starting center spot.
Nicolas Batum (C): The 13 rebounds were good, but Batum scored just seven points on a paltry 3-of-9 shooting. Portland needs Batum to step up and become the team's third legit scoring option.
Wesley Matthews (C): Coming off a heart issue last week, Matthews provided subpar numbers below his career averages, scoring just nine points on 3-of-9 shooting.
Bench (F): Portland's bench was assumed to be much better than last season. That wasn't the case this time as the reserves had just 12 total points between Thomas Robinson, Dorell Wright, Mo Williams and Joel Freeland.
Twitter Reaction
Will bounce back from 2nite. Looking forward to Fri. #keepbelieving

— Mo Williams (@mowilliams) October 31, 2013
Nobody feels sorry for u in the NBA, & now all the #Blazers have to do is try to end a 9-gm. losing streak in Denver! #nosmallchallenge

— Brian Wheeler (@blazerwheels) October 31, 2013
Officially, #Blazers lost 14th in row (streaks carry over). It could get dicey as 3 more losses would tie them for 22nd all-time longest.

— Mike Tokito (@mtokito) October 31, 2013
Robin Lopez was brutally honest after Suns upset Blazers: "I had a bad game."

— Chris Haynes (@ChrisBHaynes) October 31, 2013
Aldridge (28) & Lillard (32) combine for 60 points, nobody else in double figures. Suns get 52 points in the paint. Suns win 104-91.

— Erik Gundersen (@blazerbanter) October 31, 2013
Takeaways
It's just one game out of 82 for the Blazers as road teams have so far struggled in the NBA's opening week, going 2-15 in the early going.
Big questions surround the team's bench again after a disappointing effort. The reserves combined to shoot 4-of-17 from the field.
Probably most concerning was the Blazers' defense, which lost the points in the paint battle 52-24. Defense was a point of emphasis in training camp, as coach Terry Stotts wanted to prevent opposing teams from getting into the lane too easily and instead, have them settle for midrange jumpers. The Suns did both and ended up shooting an unbelievable 51.8 percent (43-of-83) from the field.
It's far from panic time if you're a Blazer fan, but the schedule doesn't get any easier with the Denver Nuggets on Friday, San Antonio Spurs on Saturday in the home opener and the Houston Rockets on Tuesday. It would've been nice to get the first one against an expected non-playoff contender.