UFC Post-Fight Bonuses for the Month of October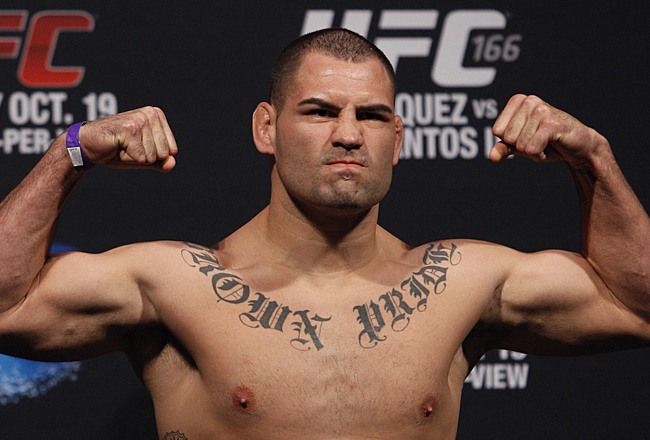 Heavyweight champ Cain Velasquez
Andrew Richardson-USA TODAY Spor
I feel like I always start this slideshow by saying what a memorable month it was.
But this time, I really mean it. All those other times, I was lying.
Because, seriously, what a freaking month. October was highlighted by UFC 166, one of the best, most competitive, most violentest cards we're ever likely to see.
So why don't we look at the fighters who brought home the awards for fight, knockout and submission of the month?
For the uninitiated, these bonuses are exactly like those of the UFC, except these ones cover the entire month, may include some outside the regular "big three," and don't offer a "reward" in the traditional "financial" sense. But they're still prestigious. Very, very prestigious. Please enjoy.
Knockout of the Month: Dong Hyun Kim
I admit it. I thought Erick Silva was going to cruise here. Dong Hyun Kim proved me wrong.
He outwrestled Silva early at UFC Fight Night 29. That wasn't surprising. What was surprising was Kim's stand-up advantage, which emerged early in the second round.
Kim winged a looping left-handed heat-seeking missile and starched the former welterweight phenom in his tracks. Just like that, we had a shakeup at the bottom of the top of the division.
Submission of the Month: Rousimar Palhares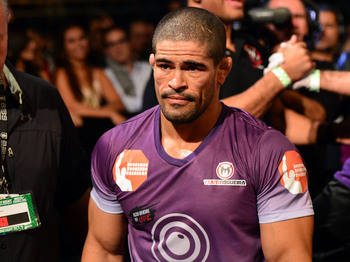 Jason Silva-USA TODAY Sports
I hope that final crank was worth it, Paul. Because it cost you your job.
Rousimar Palhares looked very impressive in his welterweight debut, finishing a tough wrestler in Mike Pierce in 31 seconds at UFC Fight Night 29. But it was all overshadowed when he held the dangerous heel hook just a bit too long. "A bit" is all you need when you're talking about heel hooks, as evidenced by the injury Pierce suffered as a result of the hold. Palhares was subsequently excused from the UFC for good.
He was a repeat offender. And every time, including this time, he has been defiant, insisting he wasn't aware he was over-cranking or didn't notice the ref or something or other. No one was buying it this time. And now Paul Harris will eat his lunch all by himself.
Cheer up, Paul. At least you have this bonus slide. Don't blow it at the track, bro. Make it last.
Fight of the Month: Gilbert Melendez vs. Diego Sanchez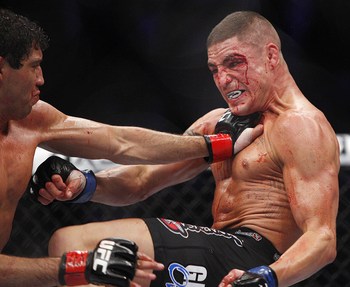 Melendez (left) and Sanchez waged an epic war at UFC 166.
Andrew Richardson-USA TODAY Spor
There's not much else to say about this one. This epic, all-out, all-time, three-round war left both men bloodied, battered and probably a good deal more famous than when they came in.
The fight also cemented Gilbert Melendez as a legitimate lightweight contender and Diego Sanchez as one of the toughest guys in the UFC today. Here's hoping they run it back some day.
Sleep Aid of the Month: Ryan Jimmo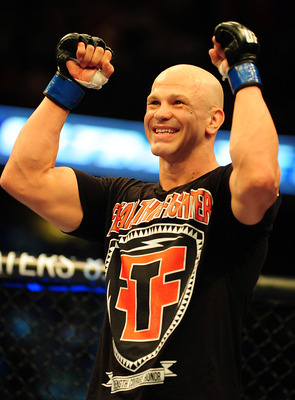 Anne-Marie Sorvin-USA TODAY Sports
Three cheers indeed, Ryan Jimmo. For you are the King Midas of Boring.
At UFC Fight Night 30, Jimmo lost by TKO to knockout artist Jimi Manuwa, who was fighting in front of his British countrymen.
Pretty exciting stat line, no? But hold the phone. That's Ryan Jimmo on the other side of the cage, friend. He clinched his way through a close first round (which he probably lost, but still). And in the second, he sprung his trap, sustaining some kind of freak leg injury and falling in a heap without ever being touched.
Result? Manuwa by TKO.
I'm not implying it was a staged injury or anything crazy like that, nor am I celebrating Jimmo's injury. I hope the light heavyweight returns to action as soon as possible. It's not often we get to see a Picasso of his medium plying his trade in the cage. My lamp is burning for you, King Midas of Boring. My lamp is burning.
Inpatient of the Month: Junior Dos Santos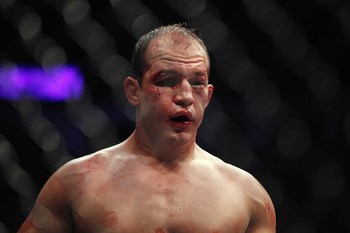 Andrew Richardson-USA TODAY Spor
The big guy took quite a beating at the hands of heavyweight champion and man-I'd-pick-to-fight-the-aliens-if-I-had-to-pick-one-guy Cain Velasquez.
He now seems to be recovering nicely, which is good (though it could be years before any related brain damage begins to emerge). But the next morning, when the prognosis was less clear, it brought a smile to my face thinking of dos Santos in the hospital room, face like an overinflated basketball, sipping ice water through a straw and charming the pants off of every patient, nurse and doctor within a 15-foot radius.
Get well soon, Junior. The sport already doesn't have enough yous. We'd like to keep you around for a while.
Keep Reading