Los Angeles Lakers vs. Golden State Warriors: Live Score and Analysis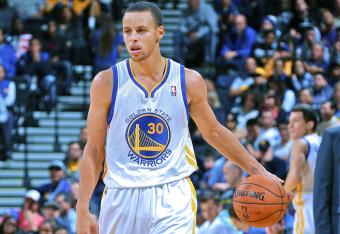 The Golden State Warriors hosted the Los Angeles Lakers at Oracle Arena in Oakland on Wednesday night. They blew the doors off the Lakers with a relentless 125-94 victory.
The Warriors shot the lights out as seven different players knocked down three-pointers. Klay Thompson romped his way to a career-high 38 points. Stephen Curry scored just 10 points, but the Lakers had no answer for the high-powered Dubs on either end of the floor. Andre Iguodala and Andrew Bogut turned in fine performances as well.
The Lakers fall to 1-1, and Golden State will seek 2-0 in L.A. against the Clippers on Thursday night.
By the way, the Lakers bench scored 52 points tonight and they still lost by 31.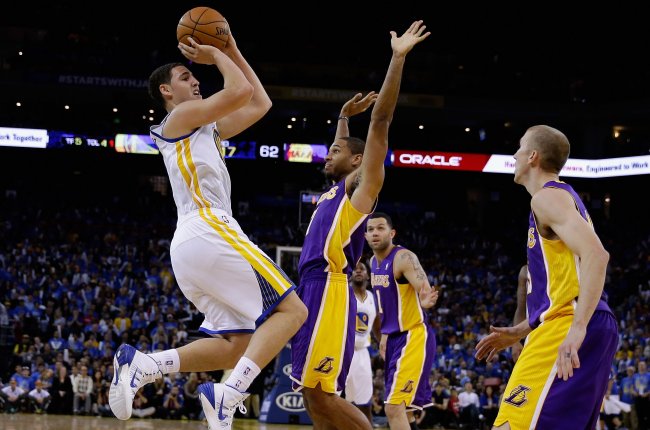 Ezra Shaw/Getty Images
Warriors Leaders:
Klay Thompson: 38 PTS, 15-of-19 FG, 5-of-7 3PT
David Lee: 24 PTS, 8 REB, 5 AST
Toney Douglas: 13 PTS, 4 REB, 4 AST
Steph Curry: 10 PTS, 6 AST
Andre Iguodala: 7 PTS, 4 REB, 4 AST, 2 STL, 1 BLK
Andrew Bogut: 2 PTS, 8 REB, 4 AST, 2 STL, 2 BLK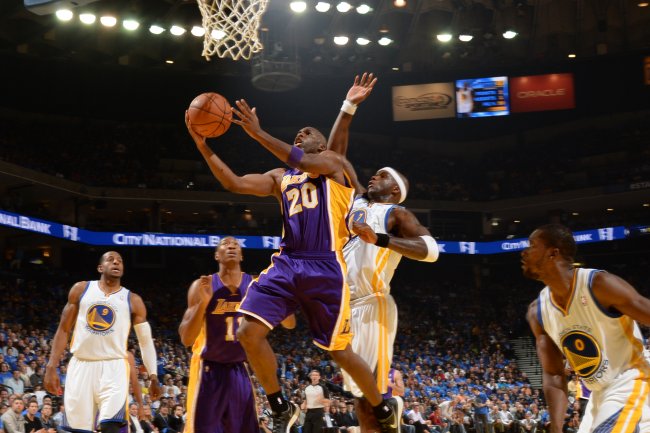 Andrew D. Bernstein/Getty Images
Lakers Leaders:
Jodie Meeks: 14 PTS
Xavier Henry: 14 PTS
Pau Gasol: 12 PTS, 7 REB
Jordan Farmar: 12 PTS, 5 AST
Steve Blake: 10 PTS, 4 AST, 2 STL
On the plus side, the Lakers held Steph Curry to 10 points, Iguodala to seven points and Bogut to just two points. Yet they still lost by 31. They will rue the day they let Earl Clark go.
I don't want to overreact but the Warriors look like an if healthy title contender. If healthy of course. Also: If healthy.

— Ethan Strauss (@SherwoodStrauss) October 31, 2013
But can they stay healthy?
TMZ catches Kobe letting a lion lick his hand.
The Lakers have some real concerns on defense, and they don't have the offensive weapons to sustain Mike D'Antoni's run-and-gun system. Black Mamba had better have a lion lick his Achilles tendon because they need him back as soon as humanly possible.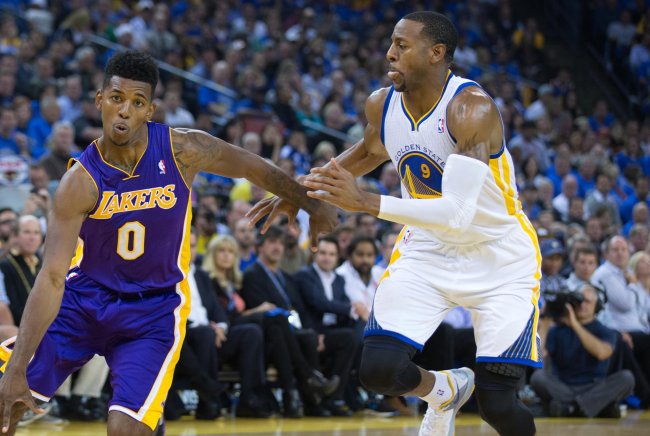 Kelley L Cox-USA TODAY Sports
Andre Iguodala got the postgame interview with Ric Bucher and spoke effusively about Klay Thompson's 38-point performance. If the Dubs can stay healthy (read: Curry, Lee, Bogut), they are definite contenders in a crowded Western Conference. Greg Anthony says they have the best-shooting backcourt in the NBA, which is high praise indeed.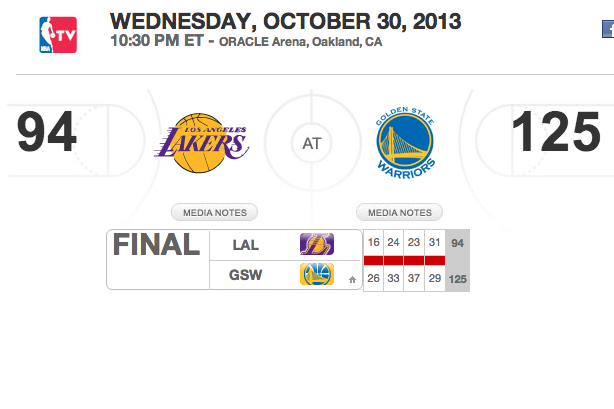 Seven different Lakers scored in double digits, but it hardly mattered. The final buzzer sounds and the Warriors have their largest opening-night win since moving to the West Coast, according to NBATV.
Warriors 125, Lakers 94 — final
. @Mospeights16 becomes 7th different #Warriors player to sink a 3ptr tonight. Dubs leading 125-92. #LetsGoWarriors

— Golden St. Warriors (@warriors) October 31, 2013
The Warriors are 15-of-27 from three-point range. Seven different players have knocked one down, including Speights and a pair from Bazemore.
The Warriors head to Los Angeles tomorrow evening to take on the Clippers. This game worked out perfectly as they rested their starters down the stretch. Curry played 24 minutes and Bogut saw 18. Klay Thompson dropped 38 points in his 31 minutes, a team-high.
Meanwhile, it's hard to fault the Lakers for a flat performance on the end of back-to-back games.
Warriors 125, Lakers 92 — 0:47 remaining in fourth quarter
In a perfect microcosm of their night, the Lakers just fought each other for a rebound and knocked it out of bounds.
Ognjen Kuzmic gets a bucket on the assist from Bazemore. Toney Douglas is fittingly No. 0.
Warriors 115, Lakers 82 — 3:31 remaining in fourth quarter
Judging by tweets I'm seeing main source of solace for Lakers fans is the real possibility Clippers could be 0-2 after playing the Warriors.

— Arash Markazi (@ArashMarkazi) October 31, 2013
But there's always a silver lining to every dark cloud.
Nemanja Nedovic has entered the game, ladies and gentlemen. With Marreese Speights, Kent Bazemore, Festus Ezeli and Ognjen Kuzmic on the roster, garbage time will be fun for the Warriors announcers. Too bad Ezeli is still injured.
Draymond Green is a shot-blocking machine, by the way.
Warriors 107, Lakers 78 — 6:11 remaining in fourth quarter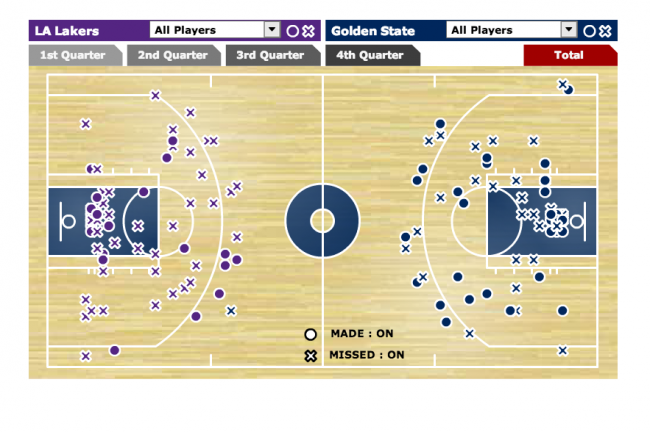 The Lakers are currently shooting 33 percent from the field and have 14 turnovers. The Warriors are shooting 54 percent including 10-of-18 from downtown. The accounts for the crooked numbers on the scoreboard.
Warriors 100, Lakers 71 — 8:47 remaining in fourth quarter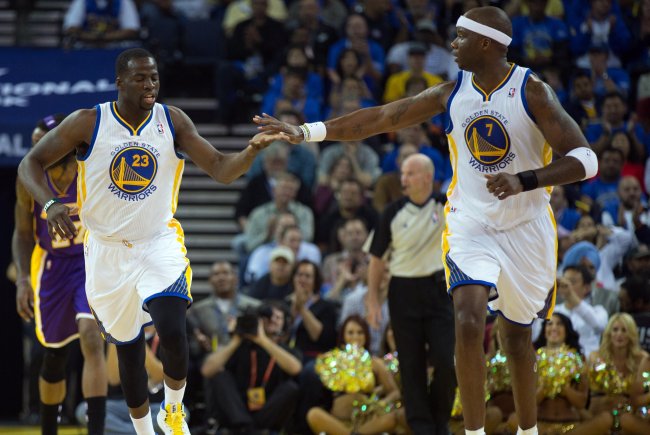 Kelley L Cox-USA TODAY Sports
I love that Jermaine O'Neal is on the Warriors. The 35-year-old draws a charge and it leads to a thunderous dunk from Marreese Speights as he knifes through the middle of the Lakers D!
Warriors 100, Lakers 66 — 10:10 remaining in fourth quarter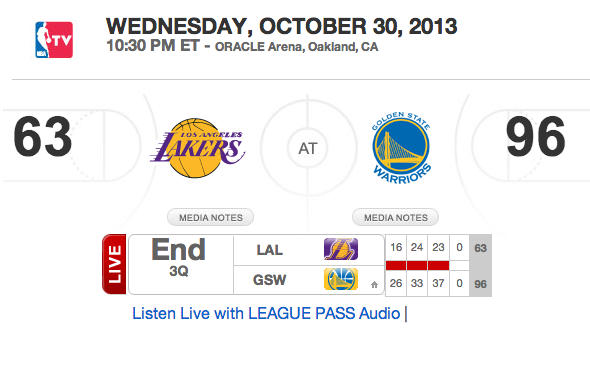 The third quarter mercifully comes to an end. The Warriors outscored the Lakers 37-23 in the quarter and now sit on a cushy 33-point lead. Get ready for garbage time.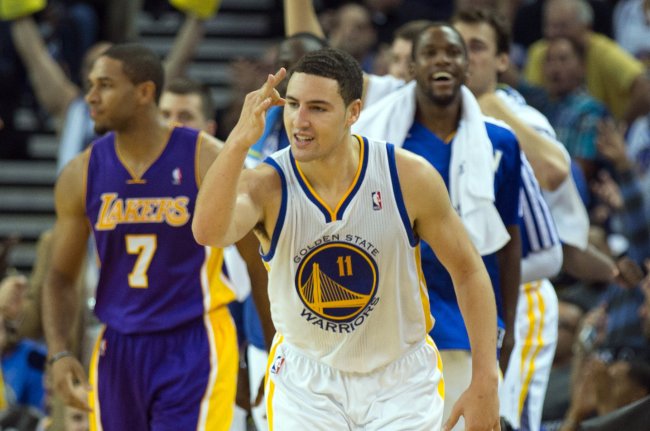 Kelley L Cox-USA TODAY Sports
Klay Thompson has scored the last seven points for Golden State. He's now got 38 on the night! Meanwhile the Lakers can't even score on a three-on-one break.
Warriors 95, Lakers 62 — 0:15 remaining in third quarter
NBATV offers us a shot of Kobe Bryant. He looks unimpressed by the Warriors' omnipotence.
Animated: Warriors Andre Iguodala goes behind the back on a fast break, lays in David Lee's touch pass http://t.co/RjUvp0K6ca

— CJ Fogler (@cjzero) October 31, 2013
Even Draymond Green is dropping triples! Klay Thompson has a regular-season personal best with 33 points. And a lot of hashtags are notifying ESPN that Iguodala's behind-the-back give-and-go with Lee is a top-10 play.
Warriors 90, Lakers 58 — 3:09 remaining in third quarter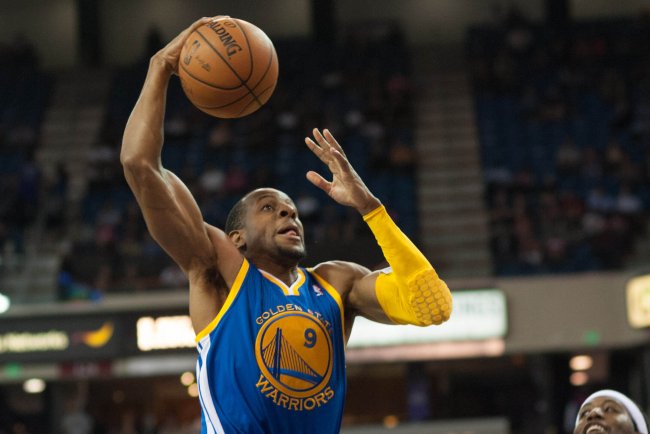 Ed Szczepanski-USA TODAY Sports
The treys continue to fall for the Warriors as Iguodala hits one now. They come right back down and Iggy lays it in off a pretty behind-the-back pass that comes right back from David Lee. It's an offensive and defensive clinic occurring in Oakland.
Warriors 83, Lakers 56 — 4:20 remaining in third quarter
Foul trouble looms for Golden State however. Curry has four fouls while Thompson, Lee and Bogut have three apiece.
Steph Curry is left wide open and he drains the trey, of course. He had just five points, but DO NOT leave Curry open behind the arc.
Warriors 76, Lakers 52 — 6:34 remaining in third quarter
This article is
What is the duplicate article?
Why is this article offensive?
Where is this article plagiarized from?
Why is this article poorly edited?