Milwaukee Bucks vs. New York Knicks: Postgame Grades and Analysis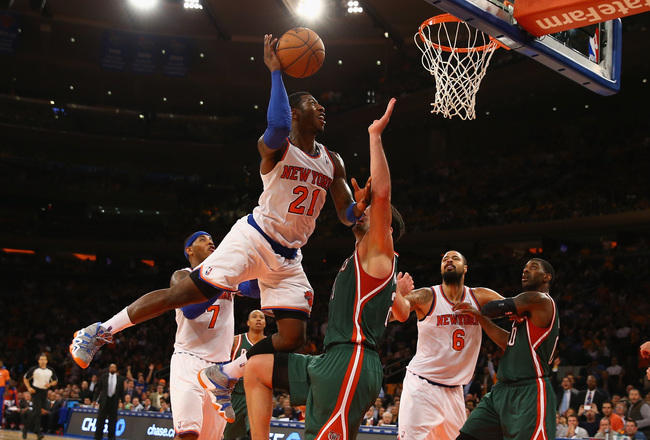 Al Bello/Getty Images
The New York Knicks looked like world-beaters in building a 25-point lead against the short-handed Milwaukee Bucks.
In the third quarter, though, the Knicks started turning the ball over like it was covered in WD-40, and the Bucks managed to not only climb back into the game, but even take a brief fourth-quarter lead.
And just when it seemed to Knicks would choke their way to an embarrassing opening loss, Tyson Chandler and the defense tightened the screws on defense, flushed home a few offensive rebounds, and put the game on ice.
This was a sloppy basketball game, with both sides committing north of 20 turnovers apiece.
Let's get to the individual grades.
Point Guard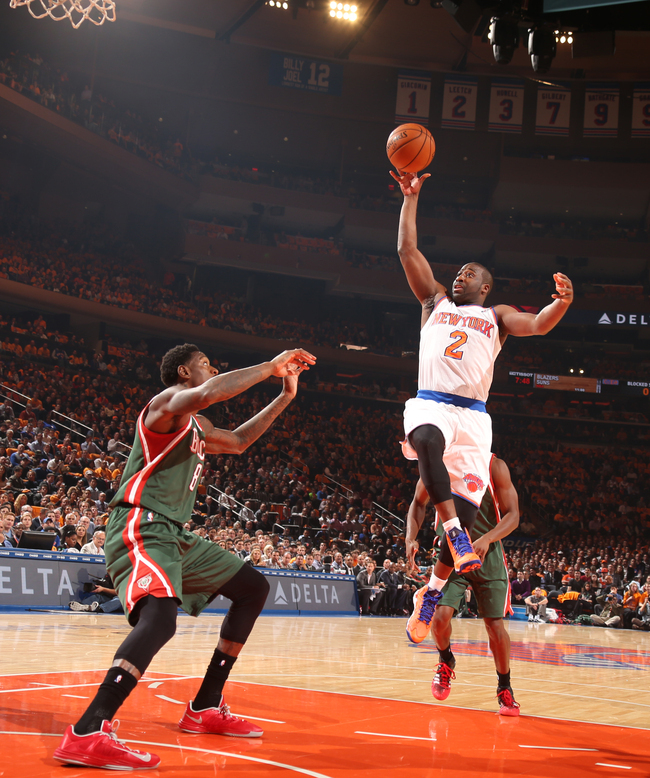 Nathaniel S. Butler/Getty Images
Raymond Felton, NYK: B
Felton was on fire to start to the game in every facet: shooting, passing and defense. He was remarkably active on the defensive end, playing the passing lanes and netting three steals. The Knicks lost all semblance of rhythm when he left the game with a hamstring strain, and both Felton and the Knicks struggled to regain that rhythm once he came back in the game.
Brandon Knight, MIL: Inc
Unfortunately for Knight, he exited the game with a leg injury just two minutes into the game. His absence was felt in the first half, as the Bucks struggled to move the ball on offense.
Shooting Guard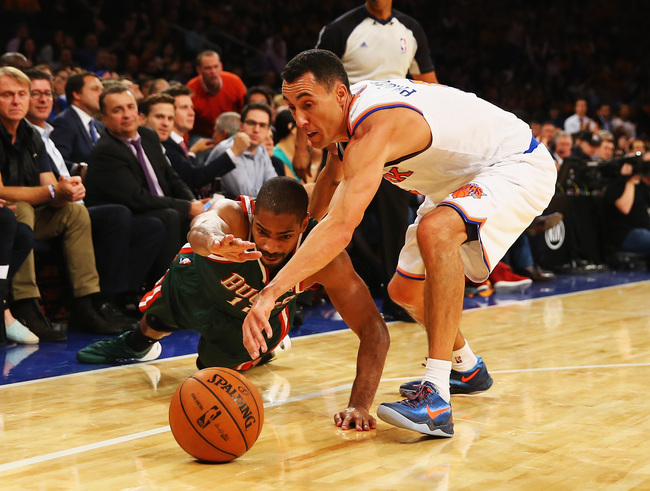 Al Bello/Getty Images
Pablo Prigioni, NYK: C+
The two-point guard lineup looked dynamic in the first half, and Prigioni was a big reason why.
The problems came in the second half, when Prigioni looked downright shaky with the ball in his hands, turning the ball over again and again.
Prigioni made up for that shakiness on the defensive end, harassing Buck ball-handlers throughout all four quarters.
O.J. Mayo, MIL: C
Mayo, perhaps the best-known Bucks player, didn't assert himself much throughout this game. He shot 6-of-12 for 13 points, but he was shut out from beyond the arc (0-of-3).
Small Forward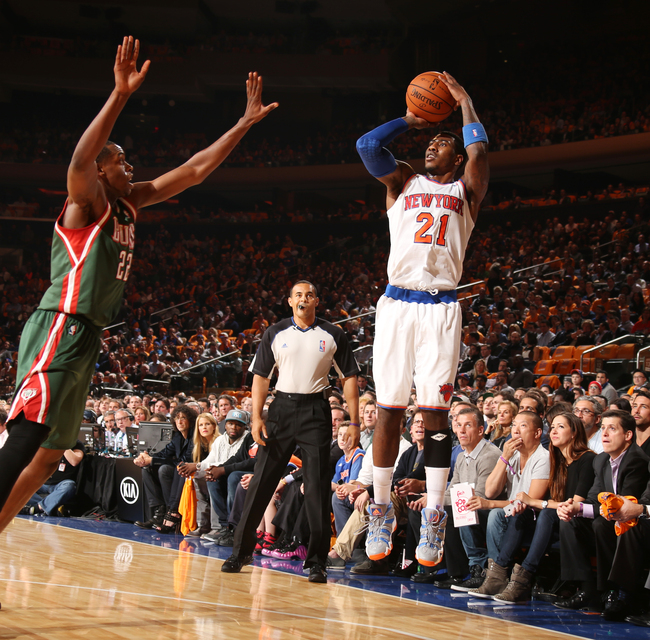 Nathaniel S. Butler/Getty Images
Iman Shumpert, NYK: B
Shumpert, the Knicks' best three-point shooter during the preseason, was cold from downtown tonight, hitting just one of his five attempts. He did finish a few pretty layups, though.
On defense, he didn't net any steals, but he was a consistent presence in the passing lanes, getting his hands on a number of deflections.
Caron Butler, MIL: D

Butler did shoot an efficient 5-of-9 from the field, but he committed a ghastly seven turnovers. Hopefully he won't have to handle the ball as much when the Bucks' point guards return.
Power Forward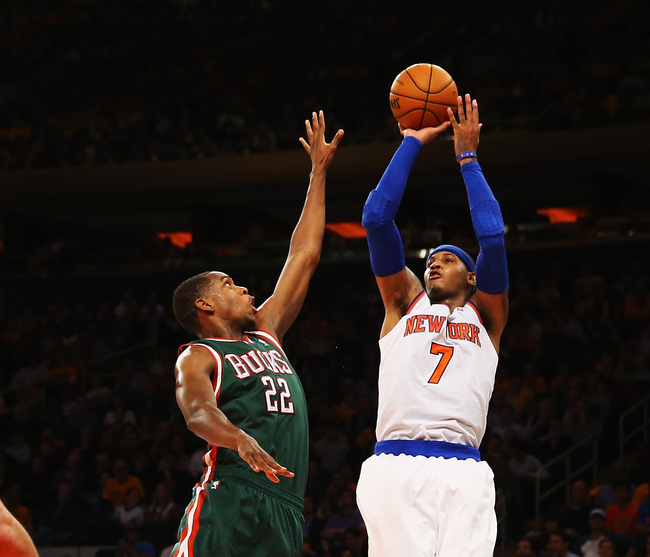 Al Bello/Getty Images
Carmelo Anthony, NYK: D
An embarrassing performance for the Knicks' star forward...for about 46 minutes. Melo found himself in early foul trouble and didn't really find a rhythm as the Knicks built a huge first-half lead. He tried too many isolations as the Knicks panicked down the stretch.
But he did come up with a pair of huge buckets—one tip-in and one jumper—in the final minutes.
Khris Middleton, MIL: D
A grand total of zero rebounds for the Bucks' nominal power forward.
Center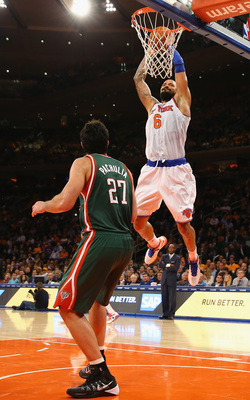 Al Bello/Getty Images
Tyson Chandler, NYK: A+
Chandler saved the Knicks' bacon in this game.
After last spring's lackluster playoff performance, the real Tyson Chandler showed up right from the opening tip, doing what he does best: jamming home monster flushes from point-blank range and harassing shots.
He single-handedly swung the game in the final minutes with a vicious putback jam on one end, followed by a block on the other end.
Knicks broadcaster and legend Walt Frazier summed up Chandler's night in his own perfect "Clyde" style: "Nasty, sassy man!"
Larry Sanders, MIL: F
A disappointing game from the defensive stalwart. Sanders only played 12 minutes because of foul trouble, and the Bucks played much better with him on the bench.
Sixth Man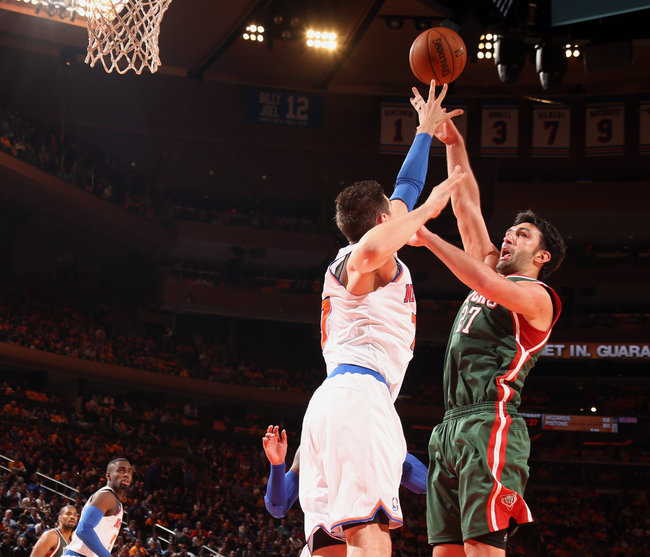 Nathaniel S. Butler/Getty Images
Andrea Bargnani, NYK: D
It didn't take long for the Garden faithful to start booing the former No. 1 overall pick. He missed all of his shots in the first half and finished 3-of-9 from the floor (0-of-3 from downtown) with three turnovers.
Ersan Ilyasova, MIL: A
Though he's been plagued by an injury throughout the preseason, Ilyasova made the most of his 20 minutes, shooting 5-of-6 from the floor and grabbing an impressive three steals.
Bench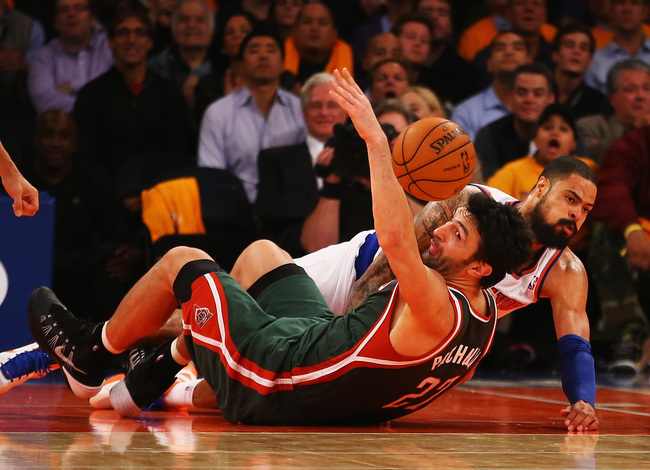 Al Bello/Getty Images
Knicks: D
Bargnani struggled with his shot, and point guard Beno Udrih struggled with his handle. The Knicks lost quite a few points off their lead with those two on the floor. Metta World Peace and Tim Hardaway Jr. looked solid.
Bucks: A
Illyasova and Zaza Pachulia (6-of-10, 13 points) were Milwaukee's best two players in this game, while Gary Neal dished five assists without a turnover.
Keep Reading