Real Madrid 7-3 Sevilla: 6 Things We Learned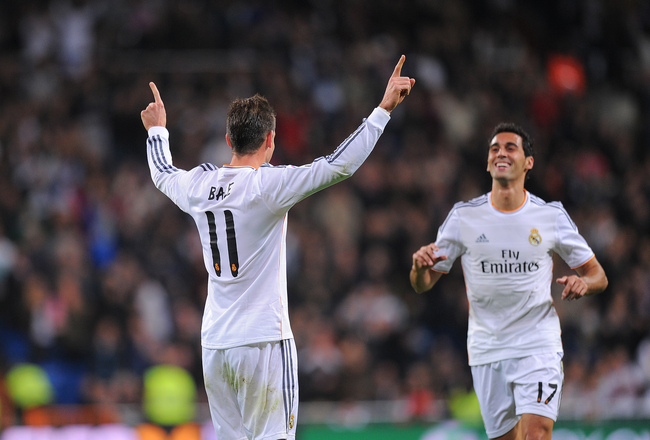 Fans were treated to a thrilling contest at the Santiago Bernabeu on Wednesday night, as Real Madrid saw off Sevilla by the unbelievable score of 7-3. There were a lot of goals, but there was also a lot of drama.
It is sometimes hard to judge matches like these when so much happens, but that is what we intend to do. In this article, we will take a look at six things we learned from the goalfest.
As always, feel free to get involved in the comment section below, and note that all statistics are courtesy of WhoScored.com.
Arbeloa Is Still the Weak Link for Real Madrid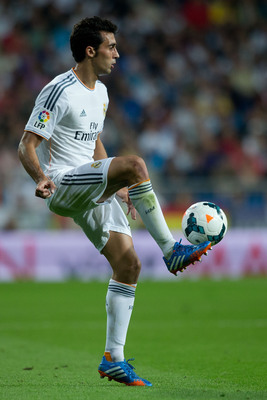 Despite the amazing match put in by Real Madrid, the defense was far from acceptable. In truth, most of the defensive blunders came as a result of the poor display by Alvaro Arbeloa.
The right-back has been the weak point in the chain for Real Madrid for a while now, and showed it again in the match against Sevilla.
Arbeloa was beaten three times, which all could have led to a goal. He was horribly out of position on one of Sevilla's goals and made only two tackles throughout the whole match.
You have to wonder if Sevilla really would have had as many chances as they did if someone else had been in for Arbeloa. He may be experienced, but the Spanish international is a big liability.
Success Comes and Goes with Ivan Rakitic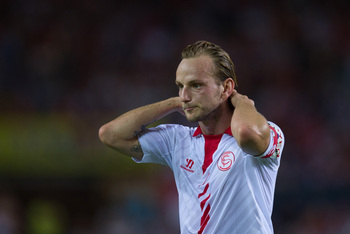 So far this season, Sevilla's success has relied heavily on how well Ivan Rakitic plays. Ever since Alvaro Negredo left the club, the 25-year-old now runs the show.
Against Real Madrid, Rakitic managed to get off six shots and scored two of those chances. He also completed 85 percent of his passes and was the key linkup for every attack the club launched against its hosts.
When Rakitic has played badly this season, Sevilla have suffered. If the club is to find success this year, Rakitic will be forced to carry a heavy burden.
Not many are expecting Sevilla to finish in the European zone of the La Liga table this season. However, if they do, most fans will be thanking Rakitic for it.
Bale Is Finding His Confidence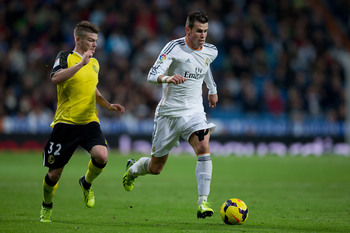 Until the win over Sevilla, Gareth Bale had been very disappointing. Not only had the Welshman played badly, but he also looked lost and very uncomfortable at times.
But all that changed at the Santiago Bernabeu.
Bale scored two goals and provided two assists as well. His play on the right wing was exhilarating, and he showed just what he is capable of. Most importantly, he was confident.
The world's most expensive player no longer looked confused or timid. He left it all on the pitch and played with the same pace and danger that he did in England.
Madridistas will be hoping that this is a sign of what will come in the near future.
It was only one game, and fans should not lose it just yet. However, if Bale does manage to keep this up, then Real Madrid can consider it money well spent.
Sevilla's Defense Costs the Club Again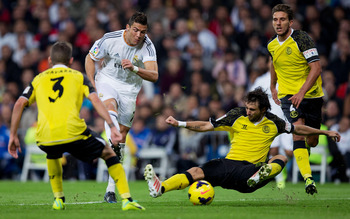 Sevilla do not boast one of the best defenses in Spain. They may be a fun club to watch and have been successful in the past, but their back line needs a lot of work.
The club has suffered majorly when defending fast opponents this season, and it showed again at the Santiago Bernabeu.
Cristiano Ronaldo, Bale and Isco were able to fly past defenders and get several shots on goal for the simple reason that Sevilla just couldn't keep up. Imagine if Sevilla had scored their three goals while not allowing all seven past the keeper.
It is becoming a familiar story. Sevilla play well, but the defense is nowhere to be found. Rakitic is not able to do everything. Manager Unai Emery must fix the defensive problems, or Sevilla could be in for a long season.
This Is Exactly What Real Madrid Were Hoping For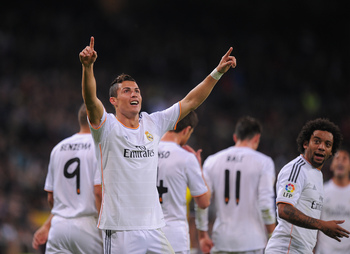 When the season began and Real Madrid had added Gareth Bale to the attacking line, this is exactly what the club had in mind.
The pure talent up front was too much for Sevilla to handle, and the combination of Ronaldo and Bale proved absolutely unstoppable. There may have been a penalty and two deflected goals, but the score line accurately represented the way Los Blancos played.
Madridistas everywhere have been waiting for this. Now they have finally gotten a taste of just how good the attacking can be, and things just got a lot more optimistic in Spain's capital city.
While this attacking onslaught was furious and praiseworthy, let's not start throwing a party just yet. It was one game, and there are many more to come this season. But if this continues, La Decima isn't far out of reach.
Now Carlos Ancelotti just has to figure out how to get the best out of his defenders.
La Liga Referees Are Terrible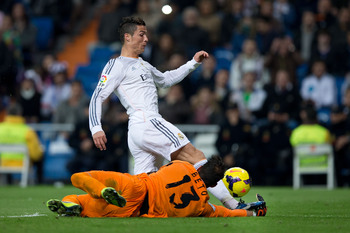 Gonzalo Arroyo Moreno/Getty Images
We have all known this for a while. It seems as though every country has a problem with referees, but none seem to be quite as bad as those in Spain.
In the match at the Santiago Bernabeu, the referee gave out five yellow cards, a red card and awarded three penalties. That is just ludicrous.
Not only did the ref make some awful calls, but he also had no control of the match whatsoever. Though seeing 10 goals scored in a single match shows how blistering the attacking play was, it can also be indicative of how out of control the referee allowed the match to be.
How much longer will La Liga and the world of football allow referees to dictate so much of the games? Well, it doesn't look like it will be fixed any time soon.
For now, we can only sit back and laugh and cry at the terrible calls.
What did you learn from Real Madrid's romp? What do you make of all the calls? Leave your thoughts and comments below!
Follow me on Twitter for more discussions on La Liga!
Keep Reading