Iman Shumpert's Development Is Key to the New York Knicks 2013-14 Season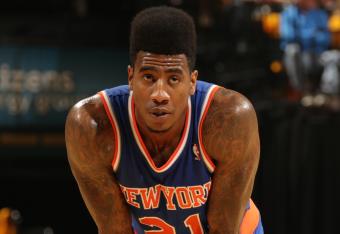 Iman Shumpert is the wild card for the 2013-14 New York Knicks. While the performances of his superstar teammates are mostly predictable, fans are unsure of the young shooting guard's ultimate abilities. Carmelo Anthony and J.R. Smith are going to shoot and shoot a lot. Tyson Chandler will snatch rebounds and clog the paint. Raymond Felton will throw passes and Metta World Peace will throw elbows. What about Shumpert?
The third-year shooting guard out of Georgia Tech is probably the only player on the team not in or past his prime. Discovering how high his ceiling actually is will be the key to the Knicks season and their more distant future. His role on the team can be broken down into three categories.
Offense
The Knicks racked up wins last year largely because of their offense. They ranked third in the league in Offensive Efficiency with 108.6 points per 100 possessions, according to ESPN.
But their lack of offensive diversity plagued them in the playoffs. Too much of their attack was coordinated around the isolation of Carmelo Anthony and J.R. Smith. When the two had off nights, the team usually did as well. In the six Knicks playoff wins last season, Anthony and Smith shot 41.7% from the floor. In their six losses, the duo shot 34.3%.
So Shumpert needs to step in as a bonafide third option. He only scored 6.8 points per game last season, but he was returning from a major knee injury and saw his minutes drop from his rookie campaign. Still, he shot over 40% from beyond the arc.
His long range game will continue to be a major part of his and the Knicks' offensive portfolio. The team set a record for three-pointers made last season, but Steve Novak, Chris Copeland, and Jason Kidd have all departed. Those three combined to shoot over a third of the Knicks' three-point shots last season. In lieu of their contributions, there is an opportunity for an expanded role for Shumpert.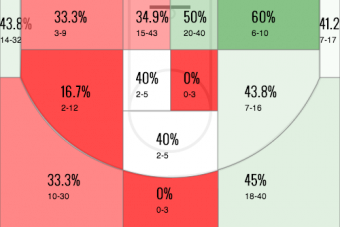 Shumpert said during the summer that he plans on being more active on offense this season. Shumpert admitted that last season, "I would catch the ball, I'd be on my heels instead of my toes. You got to put your defender on your heels," according to the New York Post.
With Smith missing time due to injury and suspension, Shumpert has an early window to make good on that prediction. To truly make an impact, though, he'll need to get back to slashing to the basket, a strategy he abandoned after his first season. He'll find higher percentage shots in the paint and get to the line more often, where he barely averaged a free-throw attempt per game last year.
His shot chart above, via Vorped.com, confirms that he needs more of an inside presence, as well as more accuracy to his left.
Defense
One could argue that Tyson Chandler is the heart of the Knicks defense. But Chandler's play was compromised by a litany of injuries last season. His lanky bearded presence was not as intimidating as it was in his first two Knick seasons, which included a 2011-12 Defensive Player of the Year Award. Conventional trends of aging players would indicate that Chandler, 31, has peaked and is now on the decline.
The heart of the defense, then, now flows through the athletic Shumpert. In a league dominated by star perimeter players, his versatility and speed make him a key asset. Three or four years ago, World Peace would have been assigned to an opponent's go-to scorer, but Metta's shutdown ability has fallen off in recent years, allowing Shumpert to step in as the defense's top weapon.
His value increases even more when considering those players he'll have to guard most often. Derrick Rose, Deron Williams, Joe Johnson, Paul Pierce, Paul George, Dwayne Wade and Lebron James are all elite guards and swingmen that play for Eastern Conference teams generally considered better than the Knicks. How Shumpert fares in limiting these stars' effectiveness in 16 games against the Bulls, Nets, Pacers and Heat—roughly an entire fifth of the schedule—will determine whether the Knicks can leapfrog any of them.
To get a sense of Shumpert's tenacious and hounding style, watch him in isolation against some of the league's best (and enjoy some Meek Mill and Jadakiss in the process).
Intangibles
Shumpert's identity to the team goes beyond a mere breakdown of his specific abilities at each end of the court. It's also about the big orange and blue logo in the middle.
The Knicks have strayed from the tough, blue-collar characteristics that defined their more successful teams of the '90s. The bruising physicality and defensive presence, epitomized by Patrick Ewing and Charles Oakley, warriors of the paint, has been replaced with an emphasis on a high-flying offense that lacks much of an intimidation factor.
Shumpert's aggressive prowess on defense and his old school ultimate-competitor nature—check out this video of him explaining his in-game hatred for opponents—are a throwback to that era. Whereas Smith and Anthony will be trying to light up the scoreboard, it's Shumpert that teams won't want to mix it up with when push comes to shove.
Plus, Shumpert serves an important role as the only player on the roster originally drafted by the Knicks. New York has had a poor drafting history this millennium. Some of their picks have yet to see the NBA (Kostas Papanikolaou) while some are already several years out of the league (Andy Rautins). Poor front office decisions last decade left them with fewer picks. What selections did pan out, such as Danilo Gallinari or David Lee, have been lost to trades.
Some of the best players of the erstwhile Knicks powerhouse teams, most obviously Ewing and Mark Jackson, were original first-round selections of the team's. Shumpert's development into a star for the Knicks would be a nice trend away from their efforts to sign their way to a championship through free agency.
For all the hype surrounding the fad of signing trios of superstars, history has shown that most often the team hoisting the O'Brien trophy come June got there through shrewd drafting. Twenty-three* of the past 30 NBA Finals MVPs were drafted by the championship-winning teams. While Shumpert is not by any means a favorite to be kissing the Bill Russell Award under a sea of confetti next summer, his success might epitomize better ground-up Knicks development moving forward.
There's a sense that the Knicks are aware of Shumpert's value. While the face of the team belongs to Anthony, recent developments indicate that they are trying to groom Shumpert as its heart and soul. The Knicks are using tough love on him, publicly challenging Shumpert to take his game to the next level, according to the Wall Street Journal.
Some have questioned this approach, but there is a positive interpretation. Knowing Shumpert's hostile in-game disposition, Knicks brass may just be rattling his cage a bit before releasing him upon foes during the regular season.
Plus, they just picked up Shumpert's option for the 2014-15 season. That should be only part of a larger effort to ensure his long-term future with the team. His burgeoning offensive skill set, proven defensive ability, and cold-blooded demeanor on the court make his development imperative to the Knicks' success this year.
---
*Kobe Bryant and Dirk Nowitzki were not drafted by the Lakers and Mavericks, respectively, but were traded immediately on draft day. They are included in the 23.
This article is
What is the duplicate article?
Why is this article offensive?
Where is this article plagiarized from?
Why is this article poorly edited?

New York Knicks: Like this team?