Texas A&M Football Recruiting: Could Aggies End Up with No. 1 Class?
Use your ← → (arrow) keys to browse more stories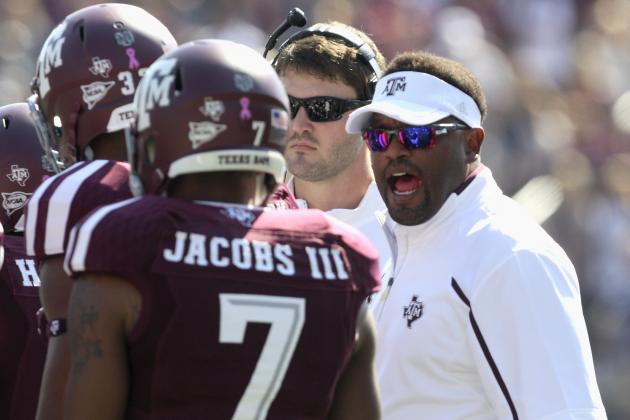 (Photo by Bob Levey/Getty Images)

The Texas A&M Aggies currently have the No. 7-ranked recruiting class in the nation. If head coach Kevin Sumlin and his staff continue their recent hot streak until February, the Aggies could end up with the No. 1 recruiting class in the nation.
In the past two weeks, the Aggies have received commits from three major prospects for the 2014 class and one for 2015. Myles Garrett got the ball rolling when he made a verbal pledge before the Auburn game.
Garrett is a 5-star defensive end, according to 247sports.com, and the No. 1-ranked recruit in Texas. He is a national top-10 recruit who picked the Aggies over offers from Alabama, Florida State and TCU.
The Aggies received a verbal pledge from 2015 defensive tackle prospect Daylon Mack a few days later. Mack does not help Texas A&M in 2015, but the momentum generated from gaining a commit from the top player in Texas in 2015 cannot be underestimated.
Mack's commitment let recruits know that the Aggies will have longevity in the Southeastern Conference. Sumlin and the program are going to be a force to be reckoned with even after Johnny Manziel and the upperclassmen graduate.
Qualen Cunningham, a 4-star defensive end from Arizona, was the next domino to fall. His commitment gave the Aggies another elite weak-side defensive end prospect to go along with Garrett.
Early Offer: Jermaine Eluemunor's #TAMU pledge was well received by many, but not everybody was happy with the news. http://t.co/JEcqolLslC

— Jeremy Crabtree ESPN (@jeremycrabtree) October 29, 2013
The Aggies added junior college offensive lineman Jermaine Eluemunor to the group on Monday. Eluemunor is the top-ranked offensive tackle in the country, and the No. 3-ranked player overall coming from the JUCO ranks.
He should have an immediate impact on the offensive line in 2014. If Aggie right tackle Cedric Ogbuehi decides to leave early for the NFL, Eluemunor will likely start at left tackle. If Ogbuehi stays for his senior season then Eluemunor will likely take over Ogbuehi's previous starting spot at right tackle.
With the addition of Garrett, Cunningham and Eluemunor, the Aggies have climbed as high as No. 5 in the rankings as a class. Whether or not they can take over the top spot depends on whether they reel in a few more blue-chip recruits by signing day.
The Texas A&M class currently sits at 17 verbal commits. They will probably not sign more than 23 in the 2014 class.
There are multiple websites which rank recruits. Most of them have a similar formula of assigning an arbitrary point value to a recruit and then figuring out how many total points a team has, and ranking accordingly.
The Aggies will need to add more 5-star signees to their class if they want to move into the No. 1 spot. They will host a number of nationally ranked recruits in their upcoming home games and will need to have a good showing on the field in order to gain some verbal pledges.
The Aggies are still being considered by offensive linemen Casey Tucker, Braden Smith, Nick Gates and Chris Brown. They are among the finalists for New Orleans Edna Karr standouts Speedy Noil and Gerald Willis.
Rounding out the group of elite prospects are defensive backs Tony Brown, Stephen Parker and Jamal Adams, and defensive tackle Josh Frazier.
If the Aggies can sign two of the aforementioned offensive linemen, one of the talented duo from New Orleans and one of the elite defensive backs along with Frazier, then they will have a chance at inking the No. 1-ranked class on signing day.
Who will end up with the top-ranked recruiting class in 2014?
Recruiting rankings change by the day. The rankings of all of the players who are listed in the various sites' national top-100 lists will fluctuate as the recruits participate in the high school playoffs and all-star games.
One analyst with rank one class as No. 1, while another analyst or website will have a completely different take. These rankings need to be taken with a grain of salt because they vary across the internet.
There is no certainty when it comes to recruiting, and that includes who will end up with the top class. Sumlin and his staff have put A&M in the position to where signing the top class on February 5 is a very real possibility, which is all anyone can ask for at this point.