I'm not exactly sure what the question is, but The Answer is an incomparable individual and one of the most prolific scorers in NBA history.
Allen Iverson hasn't played in the Association since the 2009-10 season, but on Wednesday afternoon he retired from the league, officially ending one of the most unique careers in its history.
The 14-year veteran, who enjoyed most of his success with the Philadelphia 76ers, winning four scoring titles and one MVP award, made his announcement in front of family, friends and media at the Wells Fargo Center, giving us an in-depth look into his individuality as a player and as a man.
Perhaps the most captivating and telling part of A.I.'s retirement speech was his discussion on his cultural impact.
Whether it was because of press conferences, his cornrows, his tattoos or his all-around style, there's no question that Iverson was a controversial but compelling figure in the league. He was different, and that made him stand out. But he embraced that, adopting ideals that most of us would be lucky to have.
From Michael Barkann of CSN Philadelphia:
It's not about how you look on the outside it's about how you are on the inside. My family and my kids and Tawanna Iverson they took

— Michael Barkann (@MBarkannCSN) October 30, 2013
I love them for that (my family) just for loving me the way they loved me.

— Michael Barkann (@MBarkannCSN) October 30, 2013
There is perhaps no one who better embodies that focus-on-the-inside-rather-than-the-out mantra than Iverson, who made up for his lack of size with a gargantuan heart and elite talent.
He finishes his career with 914 NBA games and averages of 26.7 points, 6.2 assists, 3.7 rebounds and 2.2 steals per contest. He shot 42.5 percent from the field and 78 percent from the stripe. But Iverson was about so much more than just the numbers.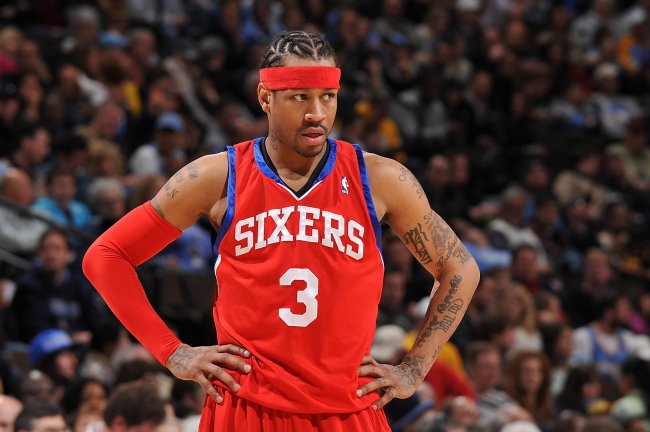 /Getty Images
Again, A.I. didn't come without his controversy when he was a part of the league. He rubbed a lot of people the wrong way. But on Wednesday afternoon, you could see the growth and maturity in the now 38-year-old.
Not only did he talk about his respect for George Thompson (his head coach at Georgetown), Michael Jordan and former Sixers head coach Larry Brown, but he also said—with emphasis and quite a bit of unbridled emotion—that Aaron McKie was the teammate who helped him the most during his career.
The Sporting News' Kami Mattioli provided a split-screen picture while Iverson was talking about McKie:
Split screen of Iverson and Aaron McKie. "It was more than just basketball when it came to me and him." pic.twitter.com/3WQbl70JDb

— Kami Mattioli (@kmattio) October 30, 2013
Iverson sometimes gets portrayed negatively, but the genuine nature and loyalty in his voice was apparent on this day.
That also came across when he spoke about his fondness for former 76ers beat writer Phil Jasner, who passed away in 2010.
From the Daily News' Bob Cooney:
Iverson says he wishes Phil Jasner was here and says how inspirational our late friend was to him. Class move.

— Bob Cooney (@BobCooney76) October 30, 2013
Iverson also talked about his family. He said that basketball probably wasn't in his future because he wanted to concentrate on being a good father, noting that ideals such as trust, love and forgiveness were important in his relationship with his kids.
Per Sports Illustrated's Chris Mannix:
Iverson not specific about plans going forward. Says after years of cheating his kids of a Dad, he wants to be one 24/7

— Chris Mannix (@ChrisMannixSI) October 30, 2013
Iverson's ability on the court has never been doubted. As a ball-handler, as a scorer, as an electric athlete capable of getting to the hoop whenever he wanted, he was one of the most impressive, unique players we will ever get to see. And he accomplished close to everything possible.
But during his retirement, we got a slight glimpse into Iverson as a person. And that glimpse revealed a mature, grown-up adult with strong values and immense respect for those who have helped him along his illustrious journey.
The ride of Iverson's brilliant NBA career may have been bumpy at times, but the end result is something he and everyone around him should be proud of.