The Ultimate Fighter 18: Team Rousey vs. Team Tate, Episode 9 Live Results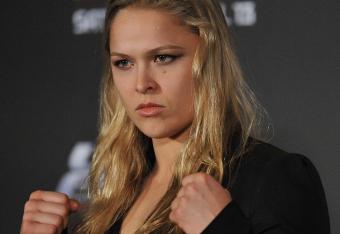 It's a tale of two fights, as we see the prelims come to a close with Sarah Moras vs. Peggy Morgan and Cody Bollinger vs. Anthony Gutierrez in an Ultimate Fighter doubleheader (...or is it?). Fans wondering why there was a clip show last week have their answer.
There's a lot on the line in both fights, as the men and the women stare down the possibility of having to fight teammates in the semifinals. Both matchups end in shocking fashion, and things close with the semi-finals announcements.
This is one to watch, folks!
Make sure to check out Jessamyn Duke's reactions to the episode right here.
Alright, folks! Time for me to go out and celebrate the Red Sox victory. Feel free to follow me on Twitter right here:
The semi-finals picks are very interesting.
I specifically said this at the beginning of the season:
"With her tenacity, she can very easily be favored over many of her fellow castmates. She does, however, find herself at a definite stylistic disadvantage to both Shayna Baszler (whose fearsome catch-wrestling would likely be too much to handle at this point) and Jessica Rakoczy (who is a world-class female boxer)."
I stand by it, so I'll pick Jessica to win that fight. I wouldn't be shocked if Raquel chooses to try and turn into a wrestler (she has definitely shown herself to be the better ground fighter of the two), but the gap between their boxing skills is huge while the gap between their grappling skills is modest.
Sarah Moras vs. Julianna Pena is interesting. Both fighters come from a grappling background. Moras is the more physically powerful of the two for certain, but Julianna has much more pop in her hands standing. It will ultimately come down to how much of the fight takes place on the ground, but I think Sarah should be able to out-muscle Julianna en route to a decision.
Michael Wootten vs. Chris Holdsworth seems like a slam dunk for Holdsworth, who demolished Chris Beal in episode 3. It is tough to peg how much of that was Beal's broken hand, though, so it's possible the fight was something of a tease. It's hard to pick against Holdsworth, though, so I won't! Going with Holdsworth here.
David Grant vs. Anthony Gutierrez is, obviously, the toughest to call since we haven't seen Gutierrez fight. Not going to touch that one.
Up next week is Michael Wootten vs. Chris Holdsworth.
The picks are in! Your semi-finals are...
Michael Wootten vs. Chris Holdsworth
Sarah Moras vs. Julianna Pena
David Grant vs. Anthony Gutierrez
Raquel Pennington vs. Jessica Rakoczy
Time for the picks for the semi-finals!
Rousey says Jessica Rakoczy and Raquel Pennington are the two best females on the show. Tate disagrees and pegs Julianna Pena as the best.
They call in each lady to see who each wants. All three females want Jessica Rakoczy (who she says is down for whatever).
The men are similar, with David Grant and Gutierrez saying they're down for anybody, while Michael Wootten and Chris Holdsworth.
Sarah Moras vs. Peggy Morgan Round 1
Peggy stuffs Sarah with a hard jab, and is showing some crisp punches. Moras is having trouble closing the distance early, and rushes into a body kick and punch. The punch lands and Peggy is already bleeding.
Still, Moras keeps eating jabs, and lands a right.
Moras gets the clinch and shoots, but can't finish the takedown. She drives through and presses things to the cage, getting double underhooks. Both fighters swap fence-grabbing, but they separate and return to striking distance.
More hard jabs from Peggy, but she unwisely doesn't immediately split from a failed takedown attempt. Sara resecures a leg and explodes into a single, working her way into mount position. Morgan tries to tangle her up, but Sarah is incredibly physically powerful, and just keeps leveraging pressure.
Sarah breaks free and delivers absolutely scary elbows. Peggy can't shake her and takes huge shots. Sarah softens her up enough to try an armbar and secures it. She spreads her out and forces a tap.
Absolutely amazing work by Moras.
Very interesting thinking about last week's clip show. Lots of moving parts in Fox owning both TUF and the World Series, the popularity of women's fights over men's this season, Fox Sports 1's ratings, Bollinger missing weight...very interesting to think about.
Stripping down for weigh-ins, and she has some seriously powerful-looking legs. Peggy has a head's worth of height on her, though.
Peggy Morgan is enormous. 6'1", somehow capable of cutting down to 135 lbs.
Rousey discusses their prioritizing her takedown defense in training, which makes sense. Sarah is a strong BJJ practitioner, while Peggy's greatest skill is her long jab.
Well now it's out. No excuses and I quit. Couldn't make the weight that day and that's all there is to it. Apologize to Anthony and the UFC

— Cody Bollinger (@CodyBollinger) October 31, 2013
And Dana white. I will be back though and that's for sure.

— Cody Bollinger (@CodyBollinger) October 31, 2013
Hahahaha a really tall ginger giraffe @sarahcheesecake

— Peggy Morgan (@peggymorganmma) October 31, 2013
Sarah Moras, who trained at Rory MacDonald's former gym (Toshido MMA in Kelowna, BC) and is emulating him hard, giving wide-eyed, deadpan analysis of Peggy Morgan, who she describes as a "ginger giraffe."
Come on, though, Sarah! We've seen you act silly for eight episodes now. We know you're not the Canadian She-Psycho.
Dana is back from speaking with the Commission and the two options are Gutierrez cutting weight again three days later, or chalking Bollinger's withdrawal up as a forfeit Gutierrez does the smart thing and accepts the forfeit.
Now it's time for the ladies!
Ronda Rousey rips into Miesha Tate for washing her hands of any responsibility when it comes to Bollinger's inability to make weight.
It's definitely complicated. On one hand, Bollinger is an adult who is supposed to be a professional who shouldn't need any hand-holding to do his job. On the other hand, that is sort of what The Ultimate Fighter is about; having experienced fighters help lift up prospects. A major part of MMA right now is effective weight cutting.
Either way, Dana White came off as a huge ass from all this. White isn't his father or his teacher, but condescended over Bollinger not being able to lose 15% of his body. Bad look for Dana.
Dana shows up at the training center and Bollinger is lying down on his backpack away from both teams. Dana proceeds to demean him in front of the entire crew by having him talk about it what happened, then ripping into him. He boots him off the show. Dana then shows off his psychology degree to talk about why he really missed weight (he has one, right?).
Julianna Pena ends up being the only person shown criticizing him. The two feuded earlier in the season (episode three, to be exact), while Gutierrez expresses sympathy.
Dana asks what they will do next and what the Commission will allow. Miesha's male fighters are medically suspended, opening the door for a return for Team Rousey's Chris Beal.
After the commercial break, Miesha and Caraway are trying to coax Cody into an ice bath, and he refuses to enter. He officially calls it quits and absolutely demolishes a bottle of juice and carton of milk.
Raquel Pennington and Roxanne Modafferi get him to his feet and convince him to get into the bath. According to Bollinger, by then it was "already too late." Miesha expresses her frustration over him shutting down. She discusses how there will be a "special meeting" with Dana White to talk about the development and what comes next.
Cody Bollinger, with about six pounds left, calls it quits on cutting weight.
Miesha and Caraway keep pushing him, and say they'll put him in an epsom salt bath. Miesha takes out her phone, pulls up a picture of his daughter and gives him a "do it for her" speech.
Bollinger, remarkably, somehow put on weight in the sauna without eating or drinking. Now I'm not a scientist, but I'm pretty sure that means he's magic or mutant.
Funny thing is that Cody Bollinger is clean-shaven for the actual weight-cutting, but all the clips of him talking with the camera have him with his mustache. Silly seeing the side-by-side.
Bollinger is eyeing burgers brought to the house by Miesha Tate and Bryan Caraway mighty hard.
He clocks in at 144.5 the day before the fight. Michael Gutierrez is right about the same.
They put Gutierrez in the blanket wrap. Bollinger is on the treadmill.
Contrary to what the preview showed, the real-life chronology saw Peggy Morgan vs. Sarah Moras before this fight. Why? You'll see shortly.
This article is
What is the duplicate article?
Why is this article offensive?
Where is this article plagiarized from?
Why is this article poorly edited?