It was a light night for WWE Main Event, even by this show's mid-week standards. We saw four matches with relatively nondescript results, but there were a few interesting developments.
Ryback's peculiar move choice, a Santino Marella appearance, and more Summer Rae in-ring action highlighted the episode.
Here's a breakdown of the show.
We kick off #MainEvent with @TrueKofi and @Ryback22 on @ionTV! #WWE

— WWE (@WWE) October 31, 2013
Ryback Defeats Kofi Kingston
This was a well-worked match that featured Ryback delivering a jackhammer to Kingston at one point. I'm not sure how that'll help stop the Goldberg chants, but perhaps WWE is attempting to embrace the insult.
lol Ryback did the Jackhammer to shut the people chanting Goldberg up. #MainEvent

— Sergio Toro (@ClassicMan305) October 31, 2013
Whatever works, I guess.
As usual, Ryback showed decent athleticism and amazing strength in the match. This is a given with him, but he's still missing the gimmick to make him a true star.
Who will be the next to hold a major title?
Kingston's in-ring brilliance is taken for granted as usual, but because he's not a charismatic character on the mic, he seems destined to run in place on the treadmill of WWE mediocrity. He's another one in need of a new gimmick.
I'm not sure who is to blame for Ryback's current state in WWE. It is partly the fault of WWE creative for pushing him too hard too quickly. But some of the blame falls on the big man himself for being average on the mic.
A portion of the problem is the members of the WWE universe who look to accentuate the negative rather than simply enjoy the show.
Many fans are wired to automatically reject anyone they detect is getting a significant push. The only reason Daniel Bryan works so well is obviously because he's great in the ring, but also because WWE creative has been able to trick the WWE universe with his underdog persona.
Hey guys, whether the storyline says it or not, he's a WWE favorite. If he weren't, he wouldn't be headlining pay-per-views.
Take a look at some of the responses after Ryback took out Kofi.
Ryback came. Ryback saw. Ryback rules. Ryback goes to Golden Corral. #WWE #MainEvent

— Aaron (@aj0314) October 31, 2013
Ryback Wins! he will celebrate by visiting Paul Heyman in the hospital. #WWE #MainEvent

— The Fans Podcast (@TheFansPodcast) October 31, 2013
Santino Marella Defeated Heath Slater
The Cobra strikes, and Heath Slater was the one bitten by the world's deadliest sock puppet.
You have to love Santino's comedy relief segments of the show, but one has to wonder if such a talented in-ring performer has something to offer as a more serious character.
As for Slater, he and 3MB are the resident Jake "The Milkman" Millimans and Brooklyn Brawlers of today's WWE. That's a shame for two-thirds of the group. Slater and Drew McIntyre are actually pretty sharp, but this is the niche they've been given.
The match went as you'd expect. Santino clowns the company's biggest jokes and scores the victory. Here's some reaction from the Santino-Slater match:
Santino Marella taking on Heath Slater next. Anyone got a pillow? #MainEvent #WWE #WGS

— Billy Boudeaux (@thewrestlegamer) October 31, 2013
Recap of Damien Sandow's Match with John Cena and Big Show's Lawsuit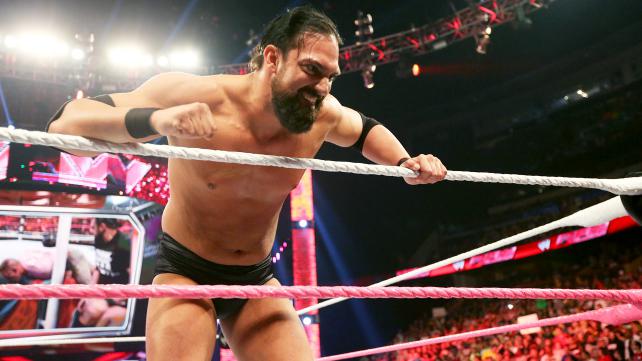 Sandow and Cena put on a classic match to kick off Monday Night Raw. It had drama, awesome moves and awesome mic work to set the stage. Whether the fans boo Cena or not, he continues to prove why he still deserves his spot among the company's elite.
His mic work is exemplary, he's strong as an ox, he moves well, and he tells a story in his matches with facial expressions and body language. What else can you ask for?
Meanwhile, Sandow is a rising star with all kinds of potential. It would have been cool to see him win the World Heavyweight Title, but considering he hasn't strung together a ton of noteworthy wins in the past week, a title run seemed a bit premature.
That said, I'd be surprised if he isn't wearing gold by February.
The Big Show's lawsuit seems like it is destined to lead to Vince McMahon's return to WWE television as a babyface. Might he have to come back to save the company from the mess the kiddies have made? It seems about right, but we'll have to wait and see for sure.
Sucks so bad Damein Sandow lost his chance at the WHC after cashing in and losing. #MainEvent

— Mr Wrestling (@TNAWWEGuy) October 31, 2013
Triple H Bans the Big Show for Life
With his awesomely manufactured scowl, Triple H declares the Big Show banned from WWE for life. The big man's lawsuit has created a pretty cool angle heading into the last two months of the year.
Fandango with Summer Rae Defeats The Great Khali with Natalya with Hornswoggle
Though this match wasn't great, I'm still impressed with Summer Rae's emergence as a relevant on-screen character. I'm still waiting to hear her voice during a promo, but she showed some intensity in her singles match on Raw against Natalya.
She seems to have some strong heel instincts and reminds me of Kelly Kelly with a mean streak, if that makes any sense. Fandango got the win, but he seems to have fallen off a bit; the WWE universe tired of his constant aversions to actually wrestling.
Thus he's having these types of matches where it would appear he's too big for the competition, yet not big enough to be in a better showcase.
Is the WWE community still Fandangoing? Also, whatever happened to the old Fandango dancer?
Missing Fandango Dancer. #WWE #MainEvent pic.twitter.com/1OtnPmHPqj

— The Fans Podcast (@TheFansPodcast) October 31, 2013
Los Matadores Defeat Los Locales
Hopefully, this is the last time we have to watch Los Matadores take on the likes of 3MB or Los Locales. There seems to be enough of a push here for the duo to join the serious conversation in the tag team division.
The undefeated streak continues on #WWE #MainEvent as @WWELosMatadores defeat Los Locales!

— WWE (@WWE) October 31, 2013
A tag team tournament to crown the No. 1 contenders would be pretty cool considering some of the dynamic performers in the division. Tag teams are becoming pretty hot in WWE right now, and Los Matadores could add to the momentum.
Putting them in a tournament would be a natural progression for their push.
Follow me for news and musings on WWE.