Buffalo Bills Playbook = Audible 101 (T-Gun)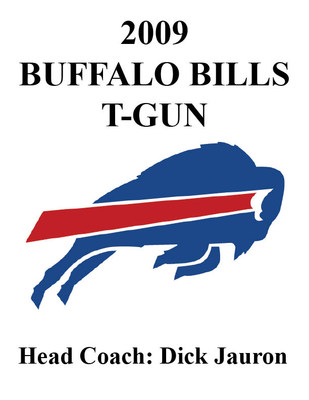 The 2009 Buffalo Bills are looking to bring a new offense to the field. With all of their new weapons, they are in a great position to instill the no-huddle offense.
Here are a couple of examples of plays used in the vintage K-Gun via 1994.
I have inserted the Buffalo Bills 2009 corresponding receivers to provide illustration if the type of mismatches opposing defenses will face.
If Edwards sees a blitz coming from the left side he might audible this play: Aud. 40 (T-Gun) 6+8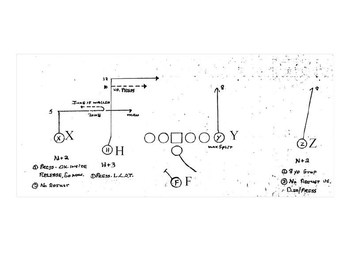 In this play, X (Terrell Owens) goes five yards across the middle. H (Roscoe Parrish) goes 12 yards and across the middle. Y (Shawn Nelson) does an eight yard Fly.
Z (Lee Evans) does an eight yard Hitch, with the option to go deep. Marshawn Lynch or the primary running back (F) picks up the blitz early and is a final option for Edwards.
Trent does a rollout to the right with Owens and Roscoe as the primary targets. Roscoe's speed will be tested on this play, as he looks to be covered by the free safety.
With Owens' speed and ability to make plays after the catch, in short yardage situations he will be the primary option in this play, if the strong safety bites on Nelson's Fly route.
Evans is the next option if Owens or Roscoe are covered, as he is always a deep threat.
If Edwards notices a disadvantage in the defensive secondary, he might audible this play: Aud. Cow 65 (T-Gun) 6+8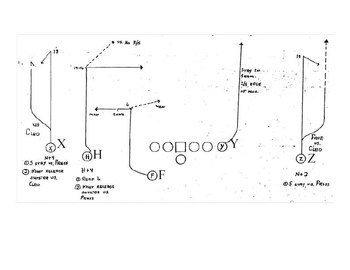 X (Evans) lines up as the boundary receiver on the far left and Z (Owens) the field receiver on the far right.
They both do a Fade or an outside Curl route depending on the defense being man-to-man or zone coverage.
H (Roscoe or Josh Reed) lines up in the slot and does a post route. F (Jackson) does a six yard delayed Hitch route. Y (Nelson) does a Fly.
With everyone being spread out, Edwards' has many options on this play as he can go deep or short to either Owens or Evans on the outside, across the middle to Roscoe or Reed in the slot, or short to Jackson and allow him to make a play.
If the Bills are looking for a sure five yards they will call this play, or go for the end zone: Aud. Cow 86 (T-Gun) 6+8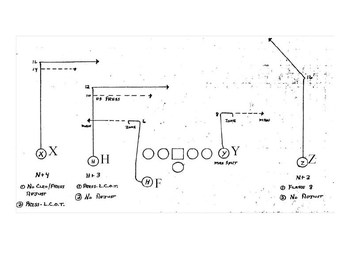 Both X (Evans) and H (Roscoe or Reed) line up on the left boundary side with H in the slot. Both will run In routes with Evans going 15 yards and Roscoe only ten.
The running back does a Quick Out. On the other side, Y (Nelson) does a quick out and receiver Z (Owens) does a post.
If Nelson can draw the strong safety, this leaves Owens in a favorable one-on-one match up and with plenty of speed he will be open deep on a Post route.
Evans and Roscoe look to draw all defenders to the middle of the field leaving the running back open on the left sideline, which can be dangerous as all three backs on the Bills roster are great receivers.
This play will work almost anytime for the Bills, as they have many options all over the field: Aud. Calf 86 D.C. (T-Gun) 6+8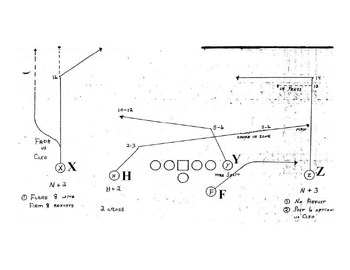 X (Evans) does a Fade route or a Post. H (Roscoe) runs a Quick Slant to the right. Y (Nelson) runs a Quick Slant to the left. Z (Owens) runs a 12 yard In. F (Jackson) runs an Out.
Evans is the primary target in this play and looks to have the attention of both free safety and cornerback on the left boundary. If he gets both of their attention, Nelson will be open vs. a linebacker on the left side of the field.
This play will cause definite matchup issues for teams as Roscoe crosses Nelson to the right side of the field. Roscoe is too fast for a linebacker to keep up with him.
Owens is pulling the cornerback and strong safety to the middle of the field. While Jackson is a last option, if the defense throws a blitz, he will be ready for the ball in a favorable matchup with a linebacker.
In a four-receiver set, the Bills may use this play to spread things out: Aud. Cow 90 Switch (T-Gun) 6+8 up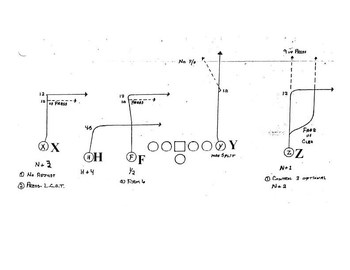 X (Evans) sets up on the left and runs an In route. H (Roscoe) in the slot runs an In route. F (Josh Reed or Steve Johnson) runs an In route.
Y (Nelson) lines up on the right and runs a Fly. Z (Owens) runs an Out or a Fade from the right side. With all receivers on the left side of the field running to the right, there is bound to be one of them open.
As Edwards progresses through his reads he should take into account how much time he has. If Owens has a favorable matchup on the right side, Edwards should look for him.
1994 Buffalo Bills K-Gun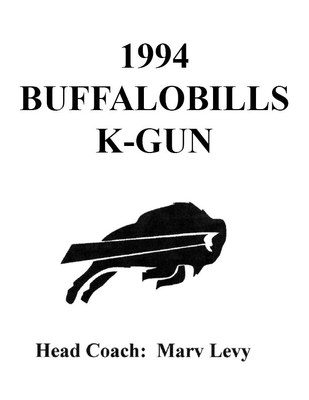 Check out this vintage playbook: http://www.scribd.com/doc/2944874/1994-Buffalo-Bills-K-Gyn-Offense-Marv-Levy
Keep Reading

Buffalo Bills: Like this team?