Ranking the NBA's Top 5 Trade Sellers During 2013-14 Season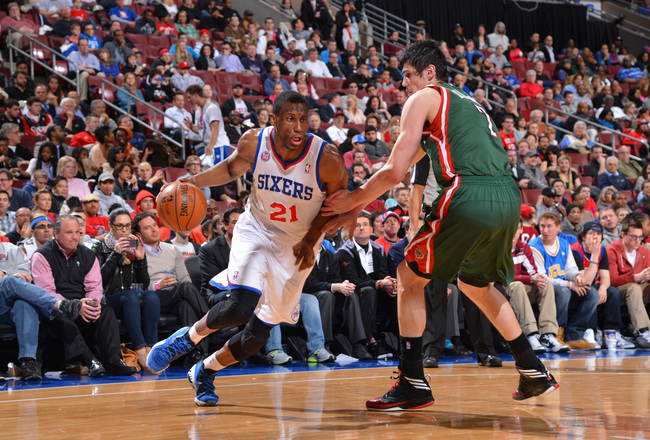 No matter what the preferred nomenclature is, it's hard to deny that the NBA has some clear-cut teams that are selling, rebuilding, or maybe even tanking.
While that may rub some people the wrong away (like season ticket holders), this is the reality of a league that provides incentive to teams for being truly awful.
Because there are no real rewards for the NBA middle class, a handful of cellar-dwellers this season should continue to sell off assets in order to have a better chance at acquiring a franchise-altering player through the draft.
Of course, not all teams sell solely with the draft in mind. A few will do so to shed a little salary, or maybe to clear up playing time for a promising young player.
Either way, the following teams should all be sellers at some point this season.
Honorable Mentions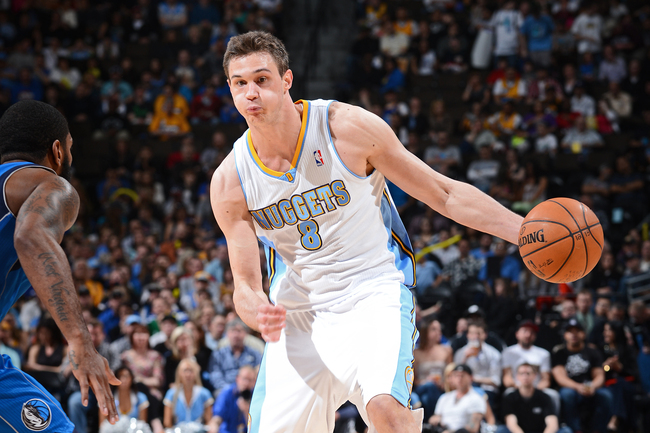 Denver Nuggets
It's pretty hard to tell which direction the Nuggets front office wants to go. The offseason signings of veteran players like Randy Foye and J.J. Hickson would lead you to believe that a return to the playoffs is in the team's sights, but that could change pretty quickly if the Nuggets stumble out of the gates.
With the core group of Ty Lawson, JaVale McGee, Danilo Gallinari and Wilson Chandler all locked up for the next three seasons, the Nuggets have very little financial flexibility going forward. With a new coach and new management perhaps Denver will look to wipe the slate clean at some point this year and start over.
Sacramento Kings
Sacramento's situation isn't all that dissimilar to Denver's. There's a new coach, new management, and a lack of cap room for next year to add a difference maker. The Kings also made some curious offseason signings (Luc Richard Mbah a Moute, Carl Landry) that suggest the team might be buyers, but another poor start could signal the end for a few of the team's veteran players.
With a logjam at point guard and power forward, perhaps the Kings would look to move the salaries of Jason Thompson, Chuck Hayes, Marcus Thornton or even Jimmer Fredette in order to clear playing time and cap room for next offseason. If Sacramento wants to keep Greivis Vasquez or Patrick Patterson next season, now might be the time to sell off a few parts in order to do so.
5) Toronto Raptors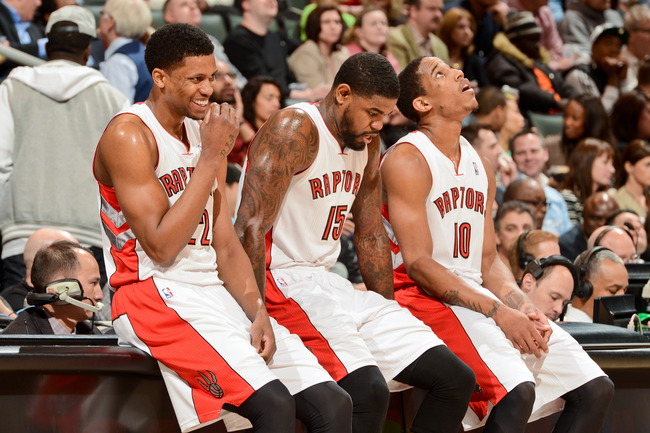 Assets Available: Rudy Gay, DeMar DeRozan, Amir Johnson.
Take a look at Toronto's starting lineup, and maybe you can talk yourself into thinking this is a surefire playoff team. The very bottom of the Eastern Conference playoff picture certainly seems wide open, and there is a lot of intriguing talent here, even though the pieces don't necessarily fit.
To me, the Toronto Raptors are an awful lot like last year's Portland Trail Blazers. The starting lineup should play a ton of minutes and post good numbers, but a truly awful bench could submarine any playoff aspirations.
While Portland decided to stay the course and stick with their core at the trade deadline last year, new Raptors general manager Masai Ujiri may not have the same amount of patience. That's primarily because Rudy Gay could exercise his player option and become an unrestricted free agent after this year, whereas LaMarcus Aldridge could not.
The prospect of losing Gay for nothing isn't all that appealing, so Ujiri may want to start selling parts now, particularly if the Raptors struggle to mesh early on.
Jonas Valanciunas is the one legitimate building block Toronto has. Surrounding him with two wings that can't spread the floor makes almost no sense at all. If Toronto struggles early, that might be the only excuse Ujiri needs to reshape the franchise by selling off a few big names.
4) Orlando Magic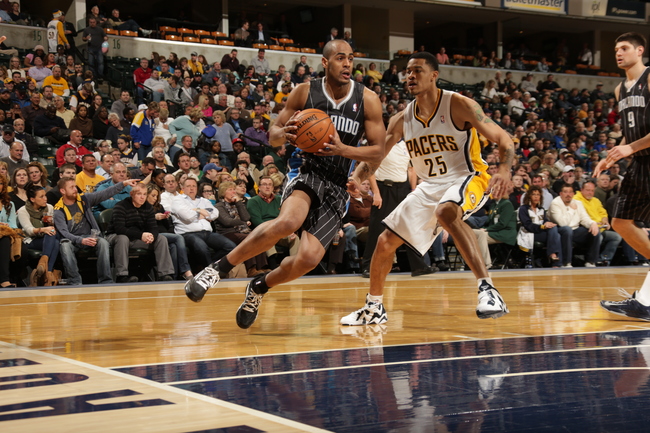 Assets Available: Arron Afflalo, Glen Davis, Jameer Nelson.
Orlando Magic general manager Rob Hennigan has been pretty steadfast in his rebuilding approach. It's been Hennigan's goal to acquire assets and position the Magic to have an absurd amount of cap room for the 2014-15 free agency class, and he's done just that.
Jameer Nelson, Arron Afflalo and Glen Davis are the only veterans making significant money left on the roster, and all three should be gone after next season, one way or another.
Nelson may be done after this year, in fact, as his salary for next season is only partially guaranteed. It's hard to imagine much of a market for Nelson, but perhaps a team looking to shed salary for next season would be interested in his partially guaranteed deal.
Afflalo's contract technically runs through 2015-16 should he choose to stay in Orlando by declining his player option, but it seems more likely that Afflalo would rather enter free agency to secure a long-term deal and play for a real contender. As a 3 and D guy on the wing, Afflalo could return a valuable asset.
Davis, meanwhile, might be on the outside looking in considering his current health status and the frontcourt depth in Orlando. If Big Baby can get back on the floor and establish his trade value, though, he's a movable piece as well.
Orlando is in a very defined position as a seller. There are only a few players available, and any trade that jeopardizes cap space after next season isn't worth mentioning. Orlando should be looking to trade and gain some lottery balls, but they also don't have to sell to keep the rebuilding effort on track. That's a good place to be.
3) Boston Celtics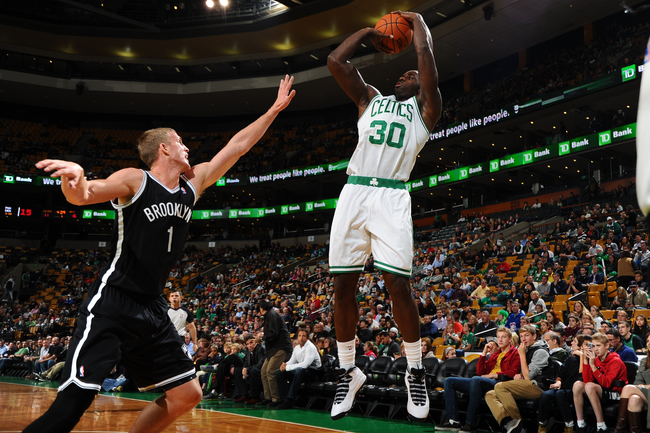 Assets Available: Gerald Wallace, Brandon Bass, Courtney Lee.
The Boston Celtics have a bunch of $60 dollar t-shirts on their roster: the quality is good, sure, but the price is outrageous.
Gerald Wallace, Brandon Bass and Courtney Lee are going to be tough to move, but Celtics general manager Danny Ainge will know to market them to playoff contenders who can afford the price.
Only Wallace's contract is truly damaging. The Celtics would likely need to have a pick or a star (Rajon Rondo) attached to his deal to move it, simply because of the size and length. Since it's probably too early in the rebuilding process for Boston to even use cap room, it seems pretty likely that Wallace will stay in Boston out of necessity.
The big decision, however, is what to do with Rajon Rondo. Once his knee and trade value are fully recovered, perhaps the Celtics will take the nuclear option and blow it all up by moving him for draft picks and/or young players.
There's a very, very slim chance that the Celtics might be buyers this season. Kris Humphries has an expiring deal of $12 million that could be put to good use in a trade, and if the Celtics really want to keep Rondo, acquiring another established player might accomplish that.
That seems unlikely, however, and a true rebuild is probably in order here. Players like Lee and Bass can likely be had for peanuts, and the Celtics might be open to selling anyone else who can bring back more future draft picks to add to an already impressive collection.
2) Phoenix Suns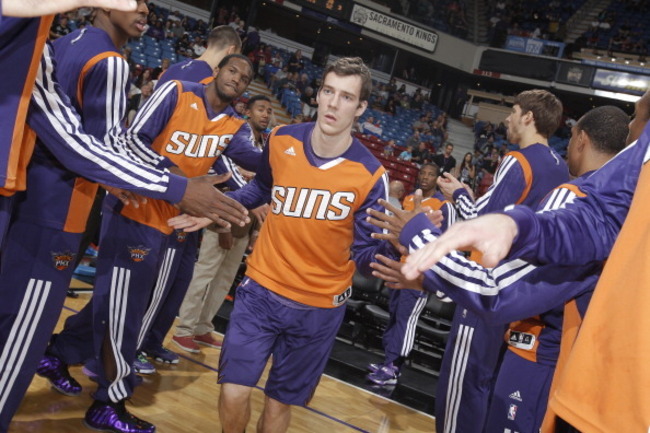 Assets Available: Goran Dragic, Channing Frye, Gerald Green.
The Phoenix Suns decided to deal Marcin Gortat before they could have accidentally won a few too many games, so you know this is a serious rebuild.
Outside of Emeka Okafor, only Goran Dragic, Channing Frye and Gerald Green are on non-rookie contracts. That's pretty incredible, and when you consider that Frye may be the only player of the group that's overpaid, you have to admire the way new general manager Ryan McDonough has cleared the deck.
There's a good chance the Suns aren't quite done selling yet, though. Dragic should be a popular trade target around the league thanks to the presence of Eric Bledsoe, but time and lottery balls are on Phoenix's side.
If Frye is healthy and recovered from his heart complications last season, he could be a sneaky good addition to a team like the Houston Rockets, who are in need of a stretch big man. Like Jared Dudley and Gortat before him, the Suns have no need for Frye given the team's direction.
This could be a tank-off that goes right down to the wire, but Phoenix is probably bad enough to stay just how they are currently composed, if need be. There are no illusions about the Suns being competitive this year, so they'll be selling at the deadline as best as they can.
1) Philadelphia 76ers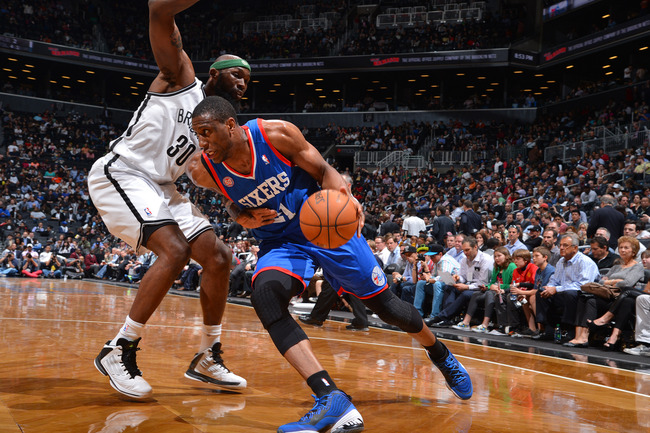 Assets Available: Thaddeus Young, Evan Turner, Spencer Hawes.
The entire Philadelphia 76ers roster reads like the "free stuff" section on Craigslist. This is a historically bad team with a clear objective of bottoming out entirely.
While the 76ers are surely bad enough to earn the most lottery balls, getting rid of salary may be the next step. Thaddeus Young is the team's most attractive trade piece, but there's very little chance that Philadelphia wants to pay him over $9 million a year going forward.
Evan Turner and Spencer Hawes could end up with big numbers by default, and new general manager Sam Hinkie surely wouldn't hesitate to get back any draft pick or young, controllable player in return for empty stats.
The only keepers in Philadelphia are the players Hinkie drafted. This is a fire sale that's already burning, and it probably won't stop anytime soon.
Keep Reading