Real Madrid: Is Carlo Ancelotti Already Running Scared of Barcelona?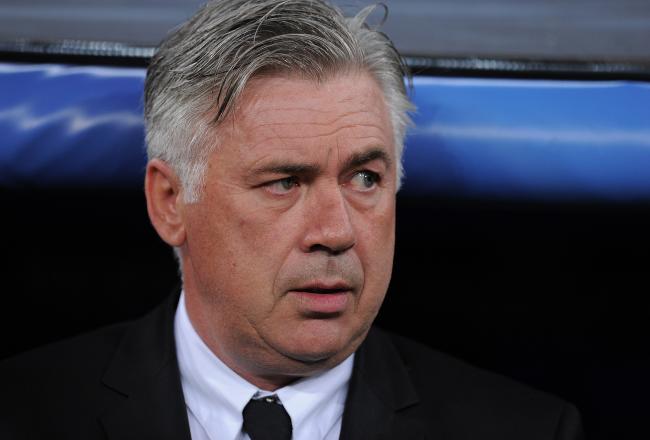 (Photo by Denis Doyle/Getty Images)
Going into the Clasico, the story was Gareth Bale versus Neymar. Coming out of the Clasico, the story is Carlo Ancelotti and his tactics.
By playing Sergio Ramos in midfield, Gareth Bale at the centre of the attack, leaving Isco out and not even including the exciting Alvaro Morata in the match-day squad, Real's Italian coach has done a brilliant job of undoing the recent progress his team had been making following a difficult start to the season.
No matter who is in charge at Real Madrid, they're a team that is always going to be dangerous with the quality of talent at their disposal.
However, with the Clasico defeat still fresh in the minds of fans and onlookers, is Ancelotti demonstrating that he is the best man to lead Real Madrid?
None of Ancelotti's tactical changes worked against Gerardo Martino's Barcelona.
Ramos was completely out of his depth in midfield, his positioning and distribution completely inadequate to deal with an opponent of such skill and composure.
To make matters worse, those playing immediately around Ramos (namely Sami Khedira and Luka Modric) seemed to be completely thrown by his inclusion and spent most of the first half trying to make up for the shortcomings he created.
If Ancelotti really wanted a stronger presence in midfield, and if the in-form Asier Illarramendi really isn't completely fit, then surely Pepe would have been a better choice. At least the Portuguese defender has some legitimate experience playing in front of a back four.
Starting Bale in the centre of an attacking trio with Cristiano Ronaldo and Angel Di Maria was perhaps the most woeful decision of all. Real completely lacked any kind of goal threat during the Welshman's stint up the middle, with all three playing on top of each other at times in a bid to get into the game.
Bale has still yet to adjust to life in La Liga (and in Spain in general), and yet is asked to do a job he has never done before against the toughest opposition he will face domestically this season.
To say Bale had little impact would be an understatement. To say that he was entirely lost would be entirely accurate.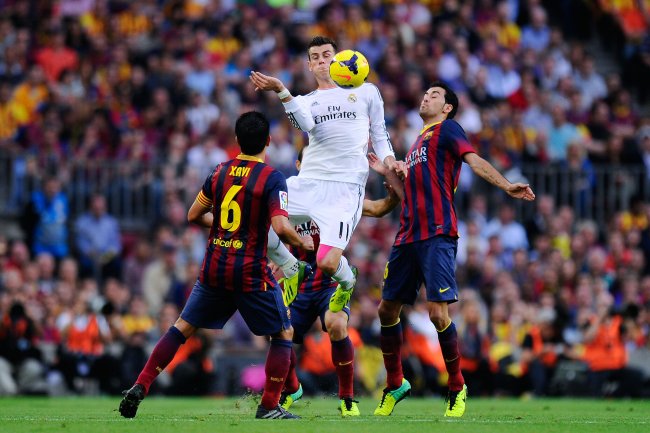 /Getty Images
The most damning indictment of Ancelotti's tactics was that Martino saw it all coming. Barcelona were surprised by nothing Real did.
Lionel Messi was taken out away from his preferred role in the middle of the pitch and put out wide on the right. In doing this, Messi avoided the attentions of Ramos and stretched the Real defence to allow Neymar more space of the left.
The Ballon d'Or elect may not have had the finest game of his career, but his mere presence was enough to impact Real's setup.
Presumably, Real's decision to play that particular forward three was an attempt to hit Barcelona on the counter-attack. However, by having his team sit a little deeper and playing Cesc Fabregas up the middle, Martino prevented that from happening.
Martino's tactical alterations were designed to win the game, while Ancelotti's were designed to avoid defeat and humiliation.
This is not the spirit of Galacticos. What must Zinedine Zidane have been thinking when Ancelotti first explained his plans to the coaching staff?
Prior to the Clasico, Real had won four games on the bounce—scoring 11 goals in the process and conceding just three.
Despite that, Ancelotti decided that his team were not capable of competing against Barcelona by employing their usual style. The changes he made demonstrate a man not completely confident in his team's ability.
Instead of having his players attempt to impose their will on Barcelona by having them line-up in familiar roles and allowing them to express themselves, Ancelotti crumbled and took the role of a reactionary manager.
There was nothing progressive about Real's approach to the Clasico. It had fear written all over it.
By the time Ancelotti saw sense and changed things around in the second half—bringing on Illarramendi, Karim Benzema and Jese—it was too late. The damage had been done and Real were not able to make up the lost ground.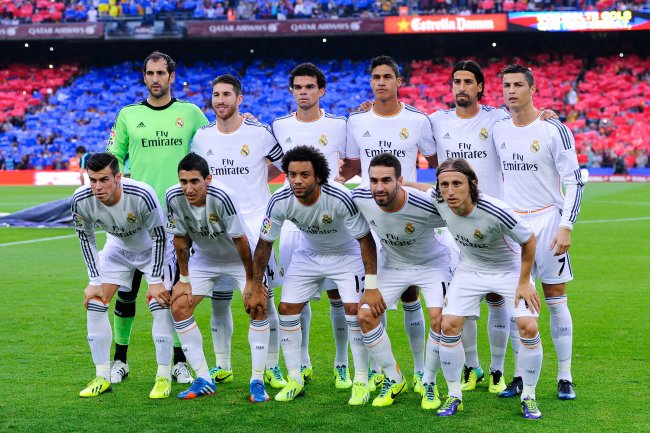 /Getty Images
Will Ancelotti take this kind of approach every time he comes up against strong opposition? If Real take on Bayern Munich in the Champions League, will players play out of position to keep Arjen Robben and Franck Ribery quiet?
Or will he learn from his mistake and trust his players to impose their will on the game, to allow them to take charge and force the other team into retreat and unfamiliar styles?
There are those in Madrid who have pointed to the fact that Ronaldo should have been awarded a penalty and that if Benzema's strike had been a fraction lower it would have been a goal. While both of those points may be correct, it doesn't alter the fact that Ancelotti set his team up in a manner that exuded fear and lacked conviction.
Clearly, the desire was to simply avoid leaving Camp Nou under a cloud of humiliation.
You can argue over the quality of their strikers, but by and large Real Madrid has arguably the strongest and deepest squad in all of European football. Why should they be afraid of anyone?
The biggest question of all is, if the manager doesn't show confidence that the players at his disposal can get the job done, how can the players have confidence in themselves?
Real Madrid are not a team that usually lacks confidence. Real Madrid are not usually a team that bends to the will of others.
If the season's first Clasico is anything to go, that looks to be changing under Ancelotti.
Follow @robertson_john on Twitter.
This article is
What is the duplicate article?
Why is this article offensive?
Where is this article plagiarized from?
Why is this article poorly edited?

Real Madrid: Like this team?