Picks, Predictions and Prognosis for Every Week 10 Big 12 Football Game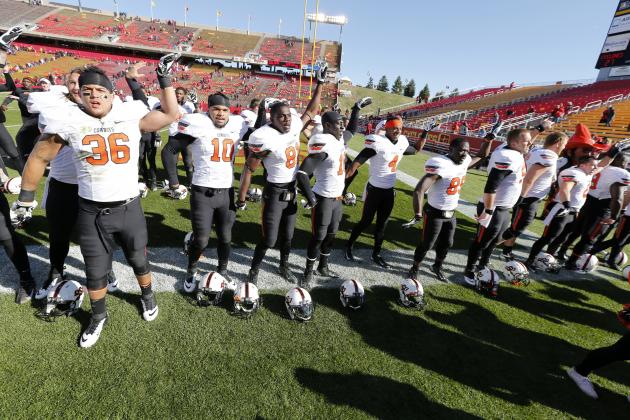 Just like that, we're approaching November. The air is getting cooler, but the Big 12 championship race is only heating up.
Oklahoma State travels to Texas Tech for the next major conference game between two ranked opponents. The Cowboys have had the Red Raiders' number recently and are coming off their best rushing performance of the year against Iowa State.
Texas, which is 4-0 since losing back-to-back games in September, hosts Kansas to try to become bowl eligible.
Speaking of bowl eligibility, Kansas State, TCU and West Virginia all need three wins to get there. K-State will host Iowa State, who can be eliminated from bowl eligibility with a loss, and the Mountaineers head to Fort Worth to take on the Frogs.
So which teams come out on top in Week 10?
(All rankings reflect the latest BCS standings.)
Begin Slideshow

»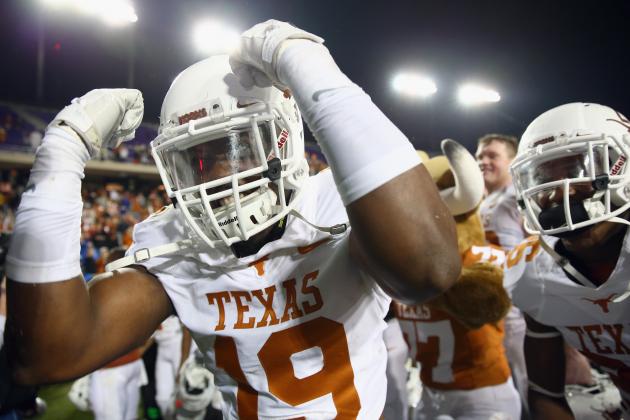 Saturday, Nov. 2 at 3:30 p.m. ET
Texas is nearly a four-touchdown favorite and with good reason. The Longhorns have been on a tear since starting the season 1-2. The defense is playing far sounder under new defensive coordinator Greg Robinson, and the running game has taken off.
That means senior quarterback Case McCoy doesn't have to do much. That shouldn't change against the Jayhawks, though last time McCoy played against Kansas, he had to orchestrate a game-winning drive.
Kansas running back and leading receiver, Tony Pierson, is unlikely to play as he continues to deal with concussion-like symptoms. The Jayhawks' chances at beating Texas on the road were slim to begin with, but not having Pierson severely limits what they can do offensively.
There's no big game for Texas to look ahead to, no reason for the 'Horns to trip up at home.
Score prediction: Texas 35, Kansas 10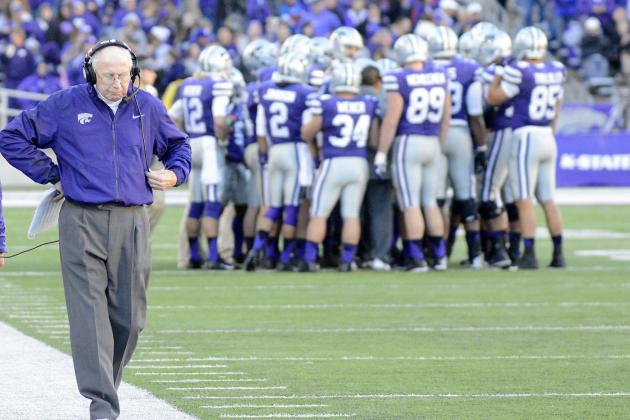 Saturday, Nov. 2 at 3:30 p.m. ET
Oklahoma State running back Desmond Roland gashed the Cyclones in Week 9 with 219 yards rushing and four touchdowns. As it so happens, Kansas State rather enjoys running the ball too.
That should be bad news for Iowa State, whose rushing defense is 110th in the country.
The Cyclones' offense has stalled the past couple of weeks and quarterback play has been a big issue. The latest depth chart lists sophomore Sam Richardson 'or' freshman Grant Rohach as the starter, but there's a good chance both will play.
Kansas State is one of the worst teams in the country in turnover margin. If there's a chance for Iowa State to win, it's by exploiting that.
Score prediction: Kansas State 34, Iowa State 20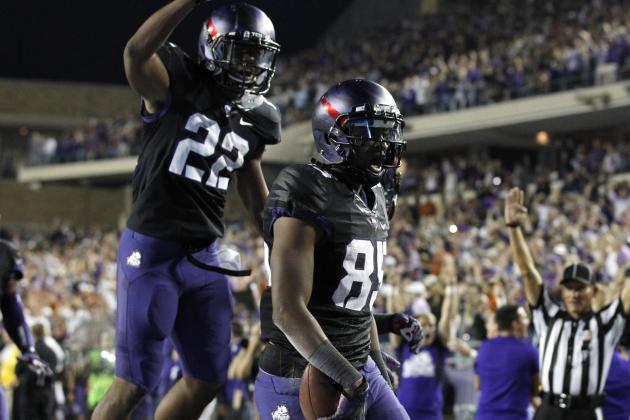 Saturday, Nov. 2 at 3:30 p.m. ET
Inexplicably, TCU is a 14-point favorite over West Virginia. The Horned Frogs average 14 points per Big 12 game, so unless TCU is pitching a shutout, this is one of the weirdest lines of the weekend.
Then again, WVU's offense is one of the worst in the Big 12. So, okay, anything's possible.
These are actually two similar teams beyond their 3-5 records. Both offenses have been plagued by poor offensive line play and inconsistent wide receivers. Quarterbacks have been hurt. Defenses are solid for the most part—but TCU gets the edge there.
This has the feeling of a toss-up game in the worst possible way. The Horned Frogs' secondary will make one or two crucial plays that give TCU the advantage in what looks like it could be an ugly, turnover-filled game.
Score prediction: TCU ugh, West Virginia gross
Real score prediction: TCU 19, WVU 14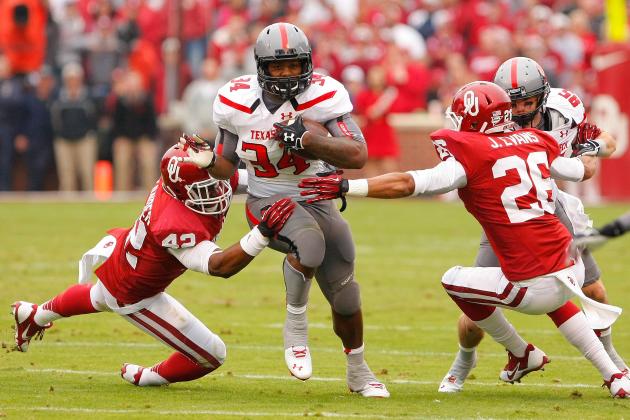 Saturday, Nov. 2 at 7:00 p.m. ET
Oklahoma State has had Texas Tech's number lately, winning the past four games against the Red Raiders. The past two victories have come by an average of 49 points.
This year's matchup would seem to favor Oklahoma State again. The Cowboys found a running game against Iowa State, racking up 342 yards. Then again, the Cyclones are terrible against the run.
Texas Tech is significantly better in that department, but got beat up in a 38-30 loss to Oklahoma in Week 9. The Sooners rushed for 277 yards against Tech, 220 of it after contact. If Oklahoma State can exploit that weakness by feeding running back Desmond Roland again, that should favor the Pokes.
Another area Oklahoma State has the advantage is turnover margin, where it is tied for seventh in the country. Meanwhile, Tech has given the ball away eight times in the past three games. The Cowboys are so-so in pass defense, and the Red Raiders love to pass the ball, so forcing turnovers is going to be critical.
Texas Tech and Oklahoma State have played two quarterbacks this year, but TTU gets the advantage with freshmen Davis Webb and Baker Mayfield. As long as Texas Tech tight end Jace Amaro is fed, and if Tech can play smarter, the home-field advantage will be enough to edge the Pokes.
Score prediction: Texas Tech 30, Oklahoma State 27
Ben Kercheval is the lead writer for Big 12 football. All point spreads via VegasInsider.com. All stats via the NCAA. You can follow Ben on Twitter @BenKercheval.