The Los Angeles Lakers started their 2013-14 season with a bang, beating the heavily-favored Los Angeles Clippers in a Staples Center rivalry matchup. While the win was important, the campaign is long and there are many places where this undermanned squad can stumble.
Until Kobe Bryant returns, the Lakers are going to constantly be at a disadvantage in terms of producing points and will not always be able to count on their bench to shoulder the scoring load, as it did with 76 against the Clips on Tuesday.
Let's take a look at the latest news concerning the Black Mamba, his future with the organization and the status of his Achilles rehabilitation.


Kobe Is Not Worried About Impending Free Agency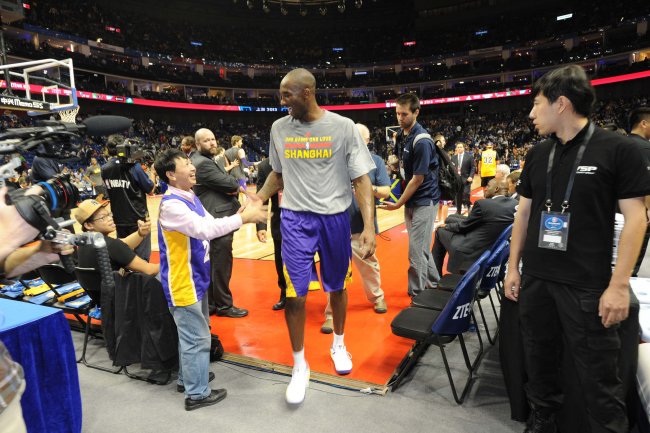 /Getty Images
Bryant is in the last year of his contract and making over $30 million for the upcoming season. However, he's due to hit unrestricted free agency in the offseason and has no guarantees as to what will happen then.
In his a recent interview with Marc J. Spears of Yahoo! Sports, the Mamba did not sound too concerned about what happens down the line and instead seems focused on getting back on the hardwood.
When asked about Lakers VP Jim Buss' statements on how he would not allow the 35-year-old superstar to go elsewhere, Bryant had this to say:
I thought it was a great actually on his part to kind of silence some of the conversation that was brewing. I'm sure we will be in conversation. I'll let [my agent] Rob [Pelinka] handle that. Obviously, I have a lot to focus on right now so I will let them handle that.
When pressed by Spears about the specifics of free agency, Bryant wasn't giving anything away: "Am I a free agent right now? No. Next summer is next summer. How do I know what is going to happen? Jim Buss just said they're going to start conversations now. We will start the conversations and go from there."
Regardless of what happens, L.A. desperately needs the future Hall of Famer back in the lineup in order to make a run this year. After that, his health and future can be properly assessed and a fair contract can be doled out at season's end.


Bryant Cleared For Full Workout Activity
Optimists were hoping to see the Mamba back in the Purple and Gold uniform by the opener, but now realize they have to wait just a bit longer.
According to ESPN Los Angeles' Dave McMenamin, Bryant has been cleared for full weight-bearing running, a significant step towards a full recovery.
However, the reporter noted that the star shooting guard continued to run on the altered-gravity treadmill that he has been using through the rehabilitation process. This may be a part of the "scaled back" workouts that he is utilizing to hopefully return some flexibility to the injured Achilles.
Head coach Mike D'Antoni informed McMenamin that Bryant's status is still up in the air and nothing new has changed on that front:
He'll be back when he can get back. I'm sure he's making progress and he'll be back as soon as he can. We'll all see it together. We're not trying to hide or pull a curtain back, Wizard of Oz is not behind the curtain. He'll go when he can go.
Bryant previously noted that it would take three weeks of "rigorous conditioning" to get into game shape after six months of eating poorly and being unable to work out.
Expect the Mamba to return at something close to full strength and once again surprise all of his doubters, even at his advanced age heading into his 18th NBA season.