World Series 2013: Hope Is Not All Lost for St. Louis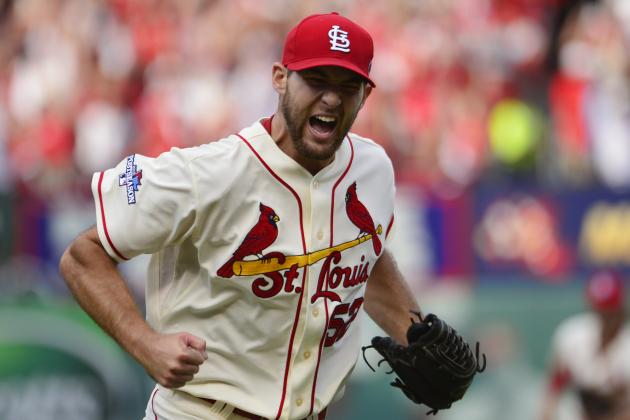 "This will be legendary."

Those were the prophetic words from Cardinal's ace Adam Wainwright when describing how the World Series will wrap-up in Boston.
Gutsy words from a pitcher who just took a hard-luck loss in Game 5, effectively forcing the Cardinals' hands when they return to Beantown tonight for Game 6.
After coughing up a 2-1 series lead and taking back-to-back losses at home it would seem that the likelihood of the Cardinals winning the entire series is probably hovering around the team's collective batting average.
The offense just isn't there. The defense has been just as bad and it's been costly. The bottom of the order have been virtually guaranteed outs.
It's win-or-go-home time for the Cardinals. There are no more second chances, no more excuses. The "we have to be better" mantra has to translate onto the field. They have no choice but to "be better."
The Boston Red Sox have proven that they have the motivation and the wherewithal to win important games, and they don't come any bigger than winning that elusive fourth game at the very end of October.
But the Cardinals are not bent out of shape, and they have all the tools required to force a Game 7. Here are a few advantages the Cards have that should keep fans hopeful for Games 6 and 7.




All statistics provided by www.baseball-reference.com unless otherwise noted
Begin Slideshow

»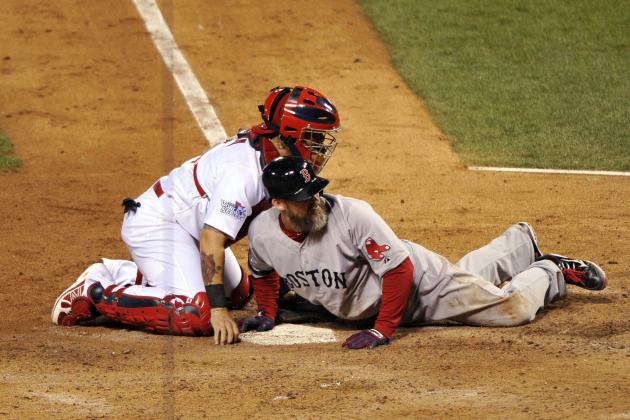 Aside from Game 1—an 8-1 blow-out by the Red Sox—every game in this series has been decided by two runs or fewer.
In no way does that give the Cardinals an edge, but it does show that the two best teams in baseball have mirrored each other well.
From both sides, the offense has been lacking. Players have looked lost at the plate. Entire games have been decided by costly mistakes and a single swing of the bat.
The Red Sox's edge going into Game 6 is not overwhelming. They are up in the series and they are playing at home, but their offensive woes are no small shortcoming, and they're coming up against a pitcher who has been able to keep potent offenses in check.
No team has had any decided advantage so far. There has been no evident momentum. When one team wins, the other team comes back to win two more. Come Game 6, both teams will be playing from scratch, and the Cardinals have at least one reason to be very hopeful.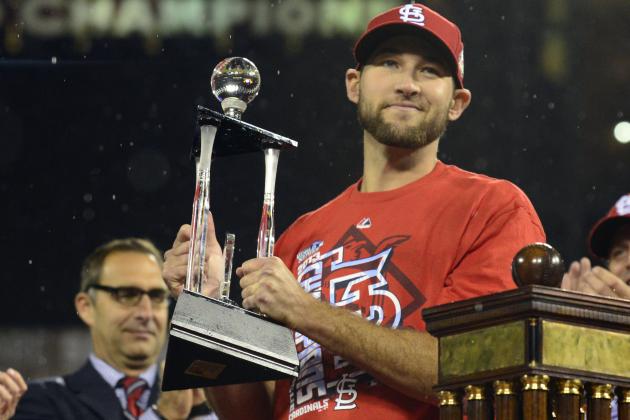 When Albert Pujols jumped ship to California for a multi-year, multi-million dollar mega-deal, the Cardinals acquired a first round draft pick that turned into the then 20-year old Michael Wacha.
Now, at just 22-years old, Wacha is not only being placed in severely high pressure situations at the highest professional level, but he is also expected to perform well.
And performed he has.
In four postseason starts, Wacha has an ERA of 1.00. In 27 innings pitched, he's allowed only 11 hits and has whiffed 28 batters. His current postseason record stands at 4-0.
In an exceptional series against the Dodgers, he was awarded the NLCS MVP. He twice out-dueled likely NL Cy Young Award Winner Clayton Kershaw and delivered two very important wins against a very dominant pitcher.
He was also the starter in Game 4 of the NLDS, when the Cardinals were down 2-1 and facing early elimination from the postseason. In the entire game, he gave up one hit—an eighth inning home run to Pedro Alvarez. The Cardinals won the game 2-1, and Wainwright delivered a complete Game 5 to allow the Cardinals to advance.
Certainly this kid can't be this good all of the time. But as of right now, Wacha is on fire, and the Cardinals have no reason to believe that Wacha won't be able to deliver again in Game 6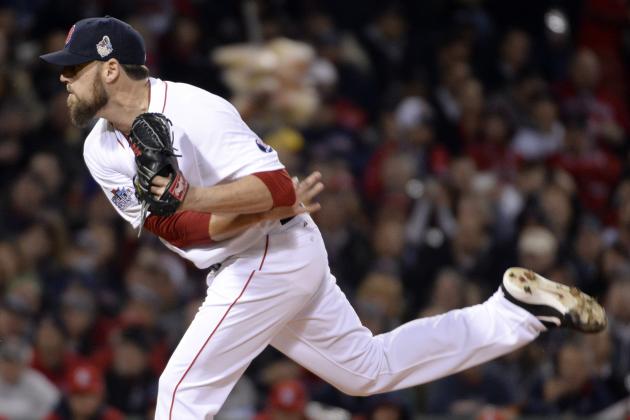 John Lackey will take the mound for the Red Sox in Game 6
One thing both Cardinals players and fans can be thankful for is that they will no longer have to see Jon Lester take the mound.
Instead, they await two far-more-hittable veterans in the 35-year old John Lackey and 32-year old Jake Peavy.
The match-ups will be identical to Games 2 and 3—the only two games the Cardinals have won in this series. Given Lackey's relief appearance in Game 4, the right-hander could be thrown out of rhythm, something both Wacha and the Cardinals' hitters should hone in on and use to their advantage.
If the Cardinals prevail in Game 6, both teams should be in for a wild Game 7. Peavy is the one pitcher the Cardinals seemed to solve in Game 3, and hard-throwing rookie Joe Kelly is as unpredictable as he is talented. Neither starter has participated in a winner-takes-all elimination game at the MLB level.
Given Wacha's postseason dominance and the Cardinal's first go-around with Jake Peavy, the Cardinals should have the edge in starting pitching in Games 6 and 7. They need only hope that their bats will follow.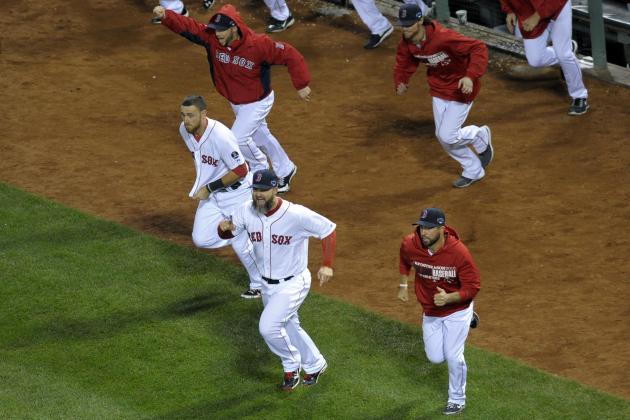 The put-away game in any sport, in any competitive tournament, is the hardest to win. And as recent history tells us, the Cardinals are in no way an easy out.
Going back to the 2011 postseason, the Cardinals are 8-1 in elimination games. That record includes three different series (2011 NLDS, 2011 World Series, 2013 NLDS) where the Cardinals rallied from a two-game deficit while facing elimination.
That, of course, includes the last time the Cardinals played in Game 6 of the World Series, where they found themselves twice down to their final strike, and still managed to escape that game—and later, that series—with the win.
Boston may have a certain level of comfort heading home just one win away from securing another World Series title, but the Cardinals have a proven track record of resilience and determination, and they have all the tools necessary to come away with two games on the road.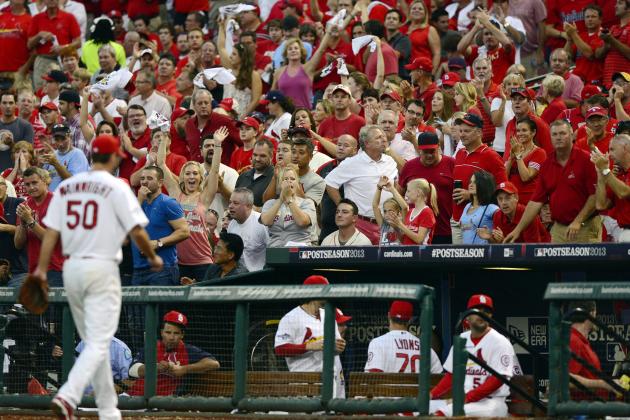 That may feel like a dagger to the heart of most Cardinal's fans at this point, but the fact of that matter is, the Cardinals probably shouldn't have been the best team in the league this year.
They were a decent team on paper, but they were a team handicapped by injuries. Chris Carpenter, Jaime Garcia, Jason Motte, and Rafael Furcal all saw zero playing time this year. The Cardinals were forced to dig deeper into their system than they ever expected to.
Yet, everything miraculously came together.
Matt Carpenter was asked to play an unfamiliar position and became an all-star. Starter Shelby Miller won 15 games in his rookie campaign. Joe Kelly, who lost his starting role to Miller at the beginning of the season, re-claimed a spot in the starting rotation in July and went 10-2. Edward Mujica became a bonafide closer in place of the injured Motte.
Then there's Michael Wacha and Trevor Rosenthal and Carlos Martinez. The list goes on.
They won their eleventh division title. They broke the MLB record for highest batting average with runners in scoring position. They've overcome obstacles all year.
The fact that they made it to the World Series at all is astounding. The fact that they did it in such a dominant fashion is not only exciting for the present, but it provides an intriguing insight into the future.
The Cardinals have every opportunity to steal two games and upset the Red Sox in seven, but even if they don't, make no bones about it—the future is bright in St. Louis. The Cards will be back.