Cardinals vs. Red Sox: Breaking Down Marquee Pitching Matchup for Game 6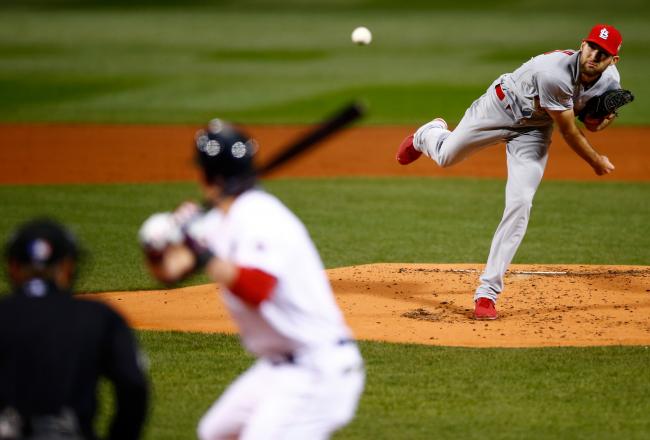 (Photo by Jared Wickerham/Getty Images)
The Boston Red Sox are one game away from winning their third World Series in 10 years, but the St. Louis Cardinals will not give up that easily.
Boston is actually hoping for a great deal of history at some point in the next two games, as the team has not won the championship at home since 1918. The MLB Twitter account provided this interesting note:
Last time @RedSox clinched #WorldSeries at Fenway, a 23-year-old Babe Ruth was an 8th-inning defensive replacement. pic.twitter.com/IeXTSJu3Kd

— MLB (@MLB) October 30, 2013
Still, Game 6 will come down to nothing more than the starting pitching matchup. This is a clear battle between youth and experience as Michael Wacha opposes John Lackey.
Whichever pitcher can perform better will likely lead his team to victory. Here is a look at which player has the advantage coming into Wednesday's action.
Michael Wacha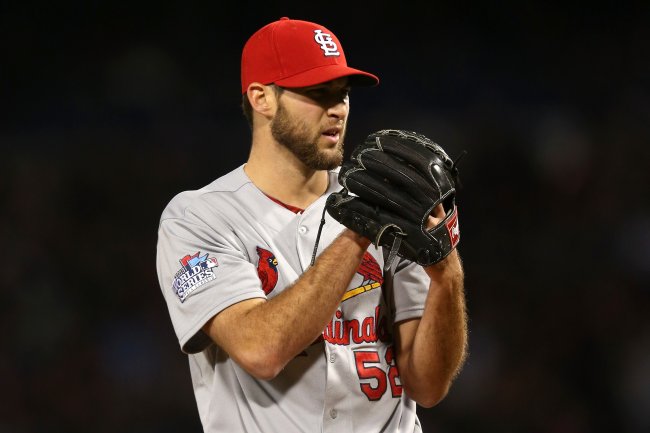 /Getty Images
It is starting to seem as though nothing can get to Wacha as he continues to perform well in high-pressure situations.
The 22-year-old rookie only made nine starts during the regular season, but he was quite impressive in September before breaking out in the postseason. So far, he has won all four of his playoff starts while posting a 1.00 ERA.
He has displayed excellent poise on the mound for his age, which helps him utilize his electric pitches to get batters out.
However, the Red Sox provided a blueprint on how to beat Wacha in his most recent start in Game 2. The hitters were patient and it led to walks, a high pitch count and eventually mistakes by the youngster.
When Wacha could not locate his secondary pitches in the game, he ended up walking four batters, which ties a career high. David Ortiz finally made him pay with a two-run home run in the sixth, which led to the end of the pitcher's night after 114 pitches.
Boston has to utilize the same strategy in this one. The team has not been hitting well, but at least it has managed 14 walks in the five games. The players need to see as many pitches as possible to get more comfortable and possibly knock Wacha out of the game.
Of course, the pitcher can also look at this as a way to improve. With the exception of Ortiz, the Red Sox lineup has not scared anyone this postseason, especially in the World Series. While Big Papi is crushing the ball to a .733 batting average, everyone else combined for a .151 mark.
Wacha can be extremely careful with Ortiz, but feel free to go right after the rest of the order to shut it down.
John Lackey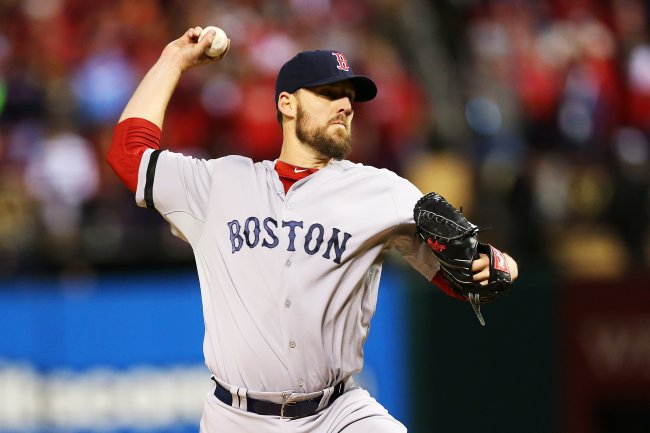 /Getty Images
Although Lackey has not been anywhere near as dominant as Wacha, he is doing a good job of giving his team a chance to win. He has put together a 3.26 ERA this postseason, including a scoreless inning in relief in Game 4.
When he is on, it is not due to overpowering stuff, but instead good command while keeping hitters off-balance. For the most part, his pitches are tough to square up, which leads to a lot of fly balls. The key for this game is to make sure that these fly balls stay in the park.
Lackey allowed 26 home runs this season, which was among the worst mark in the majors. In three different games he allowed at least three long balls.
While this has not come up in the postseason, the Cardinals are certainly capable of taking the veteran pitcher deep in Game 6.
Six different players on St. Louis hit double-digit home runs this season, led by Matt Holliday and Carlos Beltran in the middle of the order. Both of them have proven the ability to hit big shots in the postseason, so Lackey must be careful with each hitter.
If he can avoid a multi-run home run, he should at least give his team a chance in his home ballpark.
As for the Cardinals, it will be important to get runs across when they have the opportunity. Lackey was one of the best in the league this season at coming through in clutch situations. Opponents only batted .229 against him with runners in scoring position, which dropped to .195 with two outs.
St. Louis has done a solid job in these situations to this point, but that must continue in order to win Game 6.
Prediction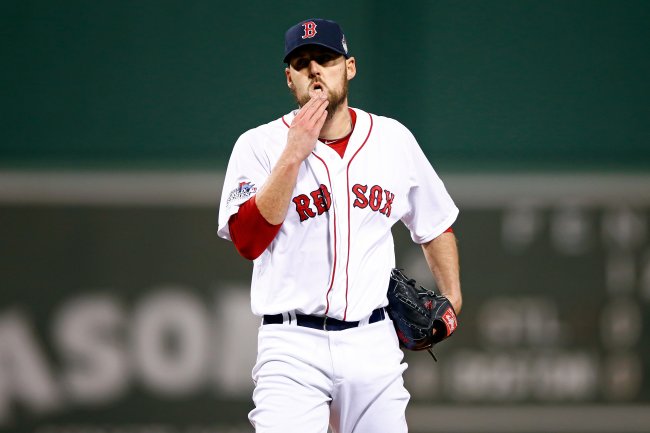 /Getty Images
Lackey has been much better at Fenway Park this season, but he has gotten away with some bad pitches this postseason. One of the big hitters on St. Louis is going to finally make him pay with an important home run in the middle innings.
The veteran will have a solid outing, although the Red Sox should not be expecting much more than six innings while allowing three runs.
Meanwhile, Wacha should get back on track after a relatively weak performance the last time he took the mound. Few players outside of Ortiz have done anything for Boston, and this will not change through Game 6.
The young pitcher will make it through seven innings of one-run ball to help even up the series for the Cardinals.
Follow Rob Goldberg on Twitter for the latest breaking news and analysis.
This article is
What is the duplicate article?
Why is this article offensive?
Where is this article plagiarized from?
Why is this article poorly edited?