Matt Garza Rumors: Latest Buzz and Speculation Surrounding Star SP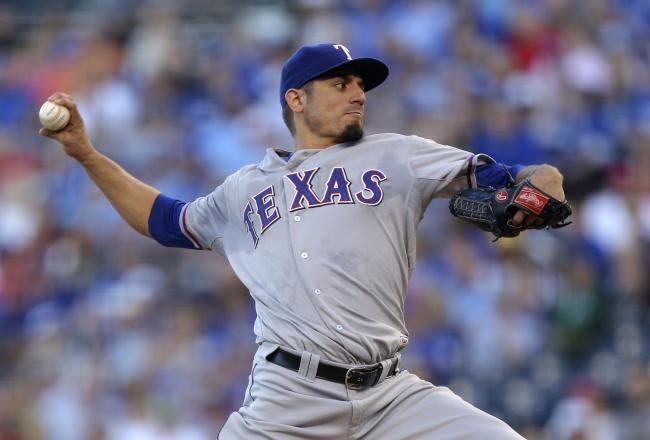 In what promises to be a weak free-agent class as far as starting pitching is concerned, veteran right-hander Matt Garza should receive plenty of interest. Some mediocre pitchers have signed monster deals in recent years, which means signing Garza is going to be a pricey proposition.
Updates for Monday, Nov. 11
CBS Sports' Jon Heyman reports the San Francisco Giants have expressed interest in Garza:
The Giants have shown interest in Matt Garza, Ervin Santana, Ubaldo Jimenez and many other free-agent starters. The Giants feel they have three very good pitchers to fill their top three slots with Matt Cain, Madison Bumgarner and Tim Lincecum. So while they may wind up with a mid-rotation starter, they are looking at the better pitchers on the market as well.
Follow @MikeChiari on Twitter
Garza is coming off an interesting 2013 season that saw him get a late start due to injury. When he eventually got going, though, Garza was a force for the Chicago Cubs. The 29-year-old righty went 6-1 with a 3.17 ERA while with the Cubbies, but he was ultimately traded to the Texas Rangers.
Knowing full well that they were either unwilling or unable to re-sign Garza, the floundering Cubs sent him to the Lone Star State in exchange for an attractive package of prospects. The Rangers hoped Garza would be the piece de resistance needed to put them over the top, but that simply wasn't the case.
Garza regressed after the trade, posting a 4-5 record to go along with a 4.38 ERA for the Rangers. Although Texas can't yet be counted out of the Garza sweepstakes entirely, it appears the Rangers might already be willing to move on.
According to Jeff Passan of Yahoo! Sports, the Garza trade only happened because the front office was pressured by ownership. While the Rangers organization would never admit to that, it seems likely, as frustration was building after years of coming up just short in their bid to win a World Series.
If the front office wasn't enamored with trading for Garza in the first place, it's unlikely the Rangers are willing to dish out a long-term, big-money contract.
With that said, Garza will have no problem finding a new team. Doug Mittler of ESPN.com suggests the Cleveland Indians are an option. The Indians really turned things around this past season under manager Terry Francona, and they surprised many by reaching the playoffs. They were able to do it without great starting pitching, and their current rotation may be further depleted.
Both Ubaldo Jimenez and Scott Kazmir are free agents, which means Cleveland will have to reload if it loses one or both of them. The Indians need pitching depth behind Justin Masterson, and Garza could ultimately be an ideal signing as a No. 2 or No. 3 starter.
Somebody is going to pay through the nose to sign Garza, because that is the nature of the beast when it comes to starting pitchers on the open market. Garza is certainly a quality starter, but he has never proven to be an ace.
He has yet to receive an All-Star nod, and he has won more than 11 games in a season just once, as he triumphed 15 times for the Tampa Bay Rays in 2010. He also has a career ERA of 3.84, which suggests he should be considered a high-end No. 3 starter at best.
The market dictates that he will be paid like a No. 1, though. Garza has all the talent in the world, and it's entirely possible that everything will come together for him at some point, but signing him is unquestionably a roll of the dice at this point.
Garza may not be scooped up right away, as teams may wait to see what type of market is set, but he'll become the best possible option before long. Signing Garza could ultimately be looked upon as a big mistake, but it could just as easily be a franchise-altering move for the better if he finally reaches the immense ceiling he has always aspired to.
This article is
What is the duplicate article?
Why is this article offensive?
Where is this article plagiarized from?
Why is this article poorly edited?